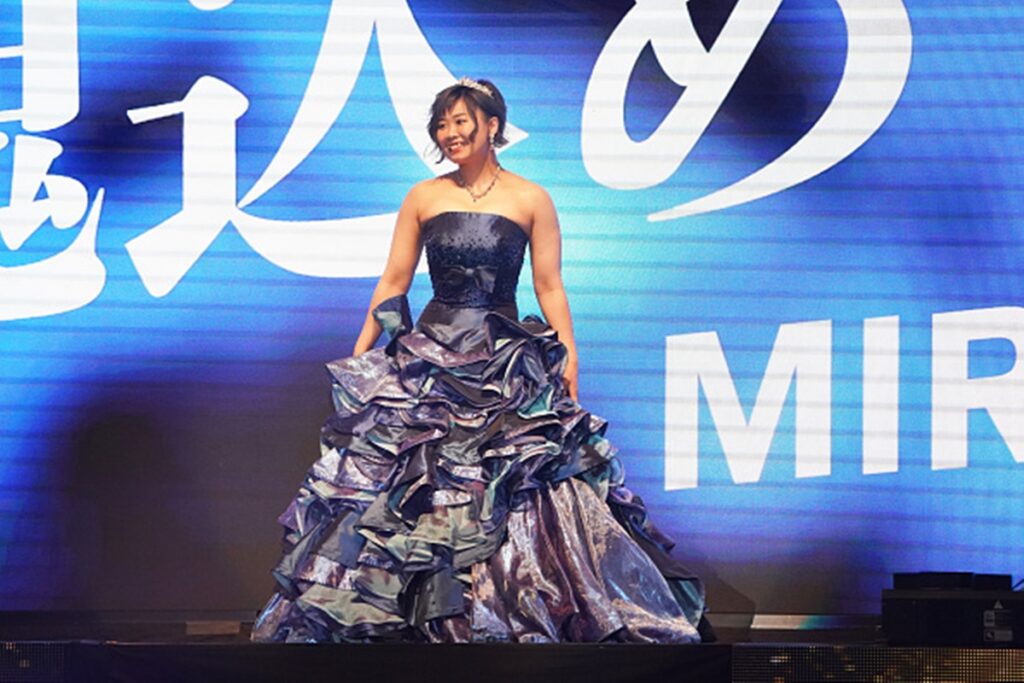 STARDOM
With Stardom's All Star Grand Queendom promising to be the promotion's biggest and best show to date, anticipation is rightly at its highest. Just a week out from the historic event at the Yokohama Arena, however, the Stardom had yet another PPV event to bring to us, as the finals of the 2023 Cinderella Tournament was finally upon us.
Following an opening few rounds filled with shocks and upsets, the final four came down to Waka Tsukiyama of Cosmic Angels, Donna Del Mondo's Mai Sakurai, and both MIRAI and Ami Sourei of God's Eye. Tsukiyama only recently captured her first career win at New Blood Premium, although she'd developed a winning streak since that day that led her to a surprising semi-final appearance.
Despite this run of form, Tsukiyama was no match for her former stablemate Mai Sakurai, who throughout the tournament had declared herself a noble lady amongst commoners unworthy of becoming Cinderella. Several fans had predicting Tsukiyama to finally get one over Sakurai here, however it wasn't to be, and thus following a surprisingly short bout between the pair, Sakurai pinned Tsukiyama after hitting a Harlem Hangover to advanced to the finals later in the show.
The other half of the bracket saw last year's Cinderella winner MIRAI take on her New Eras tag team partner and Future of Stardom Champion Ami Sourei. The pair both sported new gear in this bout, with both God's Eye members certainly looking the part as top championship contenders. The crowd were into this match, although it was evident that the pair were holding back to an extent, which is to be expected considering one of them would be advancing to the finals. Ultimately, it was MIRAI who got the better of her God's Eye stablemate, and thus, the 2023 Cinderella Tournament Final was now set between Mai Sakurai and MIRAI.
Elsewhere in the show, the 7Upp trio of Nanae Takahashi, Yuu, and Yuna Mizumori defeated STARS' Mayu Iwatani, Saya Iida, and Hanan, with Takahashi submitting Iida. The star of this match was undoubtedly Hanan, with the former Future of Stardom Champion's exchanges with Yuu firing the crowd up, further displaying the star that she's set to become for the company.
The main highlight of this bout came after the bell however, as the IWGP Women's Champion Mercedes Moné, disguised in a black wig and Stardom tracksuit, attacked Iwatani ahead of their match at All Star Grand Queendom. The moment marked the first time Moné had stepped foot inside the Stardom ring and only further built excitement towards what many fans have labelled as a dream match for years now.
Following a perfect mix of striking and technical wrestling from Syuri and Konami, the final of the 2023 Cinderella Tournament was upon us. The match had plenty of heat, likely due to Mai Sakurai's heelish antics throughout the tournament, however it would be MIRAI that emerged victorious, crowning her as the second-ever repeat winner of the Cinderella Tournament after only Mayu Iwatani in 2015 and 2016. As is routine with the Cinderella Tournament, would return to the ring at the end of the show in her dress to address the crowd.
Before that though, it was time for our main event, as Donna Del Mondo's Giulia, Maika, Himeka, and Thekla took on the Cosmic Angels team of Tam Nakano, Mina Shirakawa, Natsupoi, and SAKI in a 2 out of 3 falls match. This would be Himeka's final ever outing alongside her DDM stablemates ahead of her upcoming retirement match with Maika, however the main story in this match would be the interactions between Giulia and Tam ahead of their main event bout for the World of Stardom Championship.
Playing on their upcoming title match, Giulia scored the first fall over Nakano with a Northern Lights Bomb, only for Nakano to respond by claiming the second fall over Giulia with Twilight Dream, further emphasising the pair's ability to one-up eachother as their monumental showdown draws near. The final and decisive pinfall was captured by Maika as she hit the Michinoku Driver on Natsupoi to claim the win for Donna Del Mondo.
After the bout, and a scathing promo from Giulia towards Tam Nakano, Mina Shirakawa announced her intention to leave Cosmic Angels in order to make Club Venus its own independent unit. The next challenger for the Wonder of Stardom Championship claimed she holds no ill will towards the members of Cosmic Angels, however she felt as though the time was right to go her own way.
Following this revelation, Waka Tsukiyama was asked by Shirakawa whether she wanted to follow her and join Club Venus, and after an emotional period of consideration, Waka agreed, and thus Cosmic Angels had lost yet another member.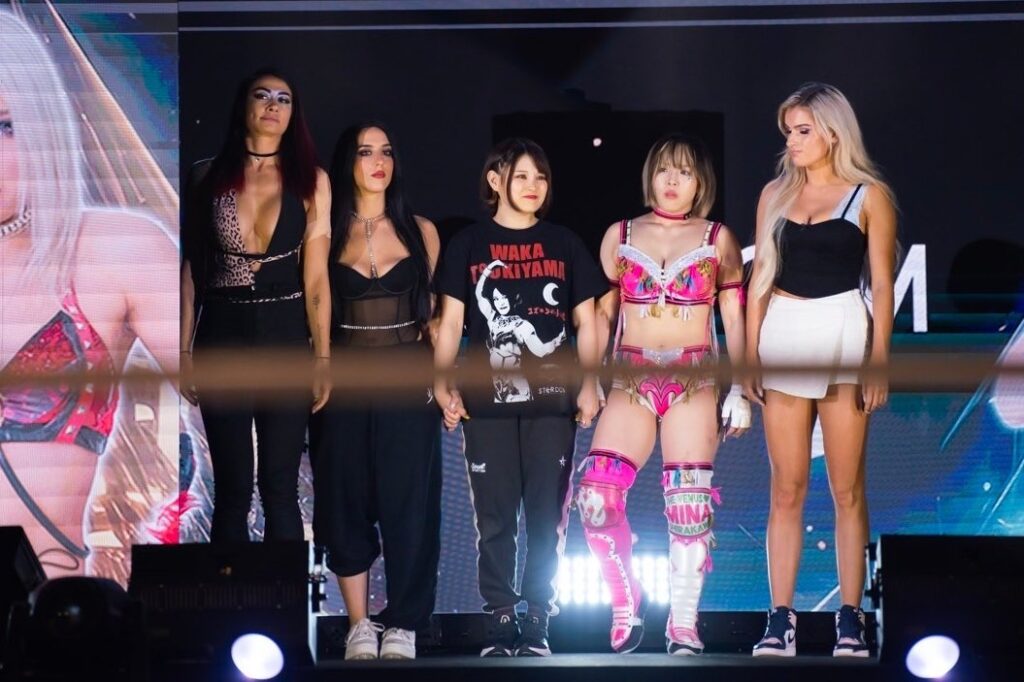 However, just when all appeared lost for Tam, Saori Anou appeared. The former ICExInfinity entered the ring and expressed her desire to join the faction, to which Tam gladly accepted. As a result, the stable now consists entirely of Actwres Girl'z alumni.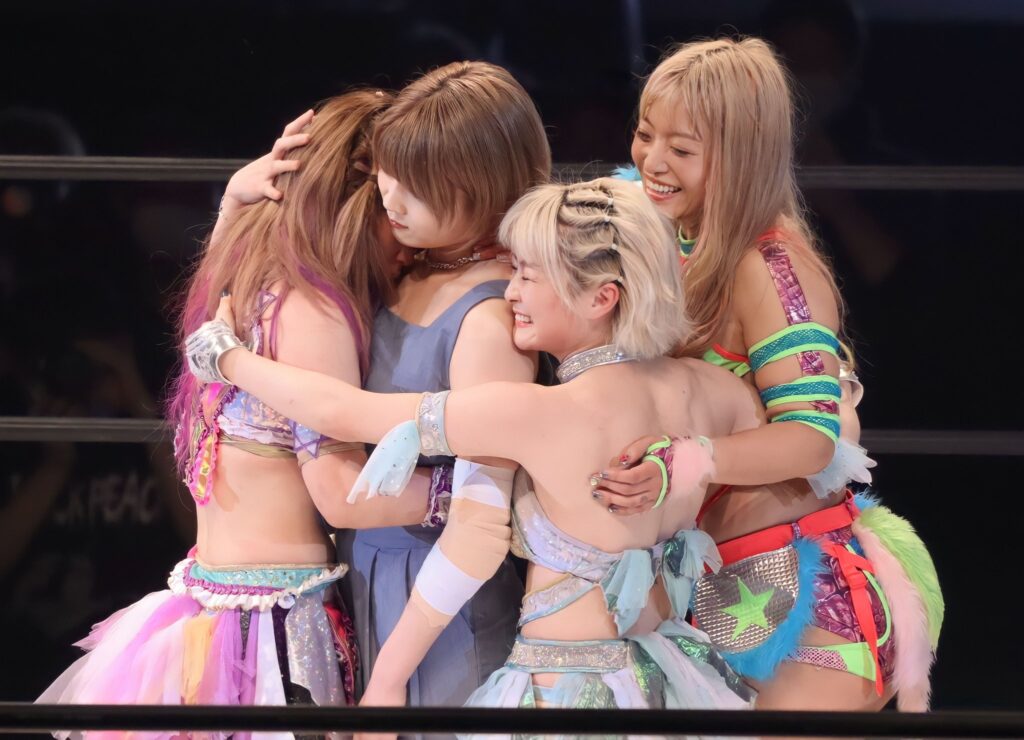 To close the show, two-time Cinderella Tournament winner MIRAI made her way back to the ring to address the fans in attendance and reveal her wish. MIRAI stated that she's currently considering the World of Stardom Championship, Wonder of Stardom Championship, and the IWGP Women's Championship, however she's yet to make a decision and thus will reveal her wish after All Star Grand Queendom on April 23rd. And that closes out the finals of the 2023 Cinderella Tournament, an event that served as the perfect go-home show to what looks set to be the promotion's biggest event to date.
---
TJPW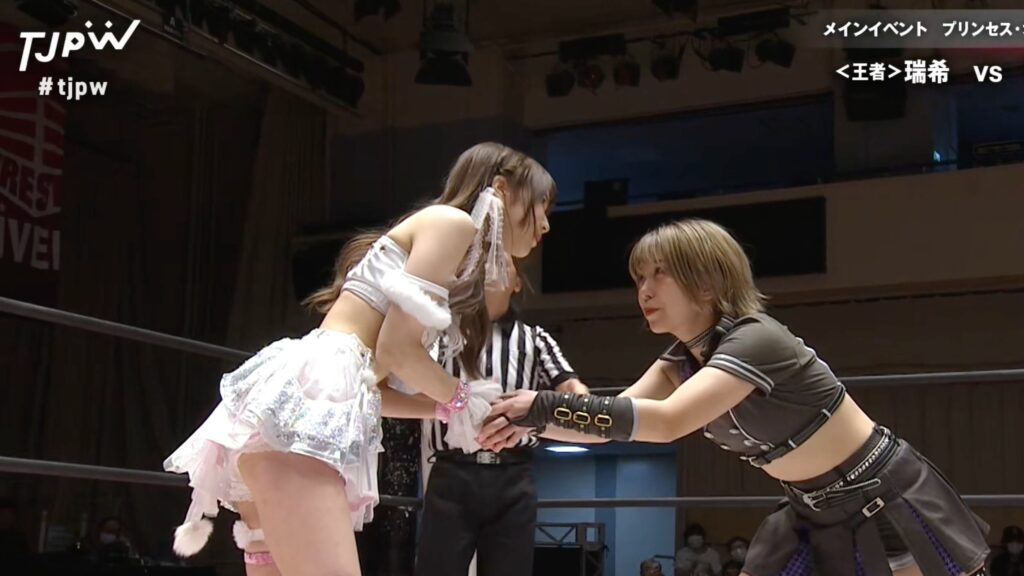 TJPW also made the headlines this week, as they presented Stand Alone '23 from Korakuen Hall. The show was headlined by the newly-crowned Princess of Princess Champion Mizuki defending her title for the first time against Nao Kakuta. The bout started slowly but gradually built up into an entertaining outing for both women. The quality of the match was perhaps hampered by the fact that the result was never in doubt. However, as first title defences go, this was a respectable showing for Mizuki.
Earlier in the show, the makeshift team of Pom Harajuku and Max The Impaler defeated Mahiro Kiryu and Yuka Sakazaki. This match unsurprisingly centred around the unlikely alliance between Pom and Max, with the former offering up a pitiful amount of offence whilst the latter was dominant throughout. The pair surprisingly showed a considerable degree of chemistry, and with a win under their belt, perhaps this duo has a successful future in the tag team division.
Rika Tatsumi also defended her International Princess Championship against Vert Vixen in a solid showing for the Austin, Texas native. Rika Tatsumi is without a doubt TJPW's finest when it comes to structuring a match, and thus, it was no surprise to see her have yet another impressive defence with a dance partner like Vixen.
---
SENDAI GIRLS/PINX!
Shifting the focus back to the upcoming All Star Grand Queendom PPV event, this past Sunday's Sendai Girls show from Shin-Kiba 1st Ring saw God's Eye leader and former World of Stardom Champion make a shocking appearance, stepping into the ring with Chihiro Hashimoto and covering the former Sendai Girls World Champion in beer.
Closing out this week in joshi wrestling, the full card for the 3rd Hana Kimura Memorial Show "Pinx!", set for May 23rd, was revealed, with several joshi stars from across Stardom Sendai Girls, Wave, and elsewhere all set to compete.

Annual Battle Royal:
Chihiro Hashimoto vs Fuminori Abe vs Hanako Nakamori vs Menso-re Oyaji vs Super Delfin vs Tatsuhito Senga vs Tsutomu Oosugi vs surprise opponents.

Singles match:
Saori Anou vs Miyuki Takase

Tag team match:
Mika Iwata & Mio Momono vs Aja Kong & X

Six-woman tag team match:
VENY, Natsupoi & Syuri vs Konami, Kaori Yoneyama & Rina

Four-way tag team match to determine Biggest Brother:
Masao Hanabatake & Shotaro Ashino vs Ryo Mizunami & Sonoko Kato vs Yuko Miyamoto & Ram Kaicho vs Koji Kanemoto & X

Singles match
"Good ol' Hana Kimura" vs X
---
ALL STAR GRAND QUEENDOM
Looking ahead to next week, Stardom look set to grab all the headlines as they present All Star Grand Queendom on April 23rd from Yokohama Arena. The historic event will be main-evented by Giulia vs Tam Nakano for the World of Stardom Championship, with Saya Kamitani putting the Wonder of Stardom Championship on the line against Club Venus leader Mina Shirakawa.

Mayu Iwatani will challenge Mercedes Moné for the IWGP Women's Championship in a dream match few would've ever considered a possibility. Hikeka will compete in her final match against none other than her tag team partner Maika with emotions likely to be running high. The aforementioned clash between Syuri and Chihiro Hashimoto is sure to be physical and technically immense, with the bout being contested under submission and KO only rules.
Mei Seira, formerly Mei Hoshizuki of Marvelous, will finally make her in-ring return as she teams with Starlight Kid to take on AZM and Mei Suruga in what should be a masterclass in high speed wrestling. Additionally, the star-studded team of KAIRI, Natsupoi, and Saori Anou, known collectively as REstart, will challenge Prominence for the Artist of Stardom Championships.