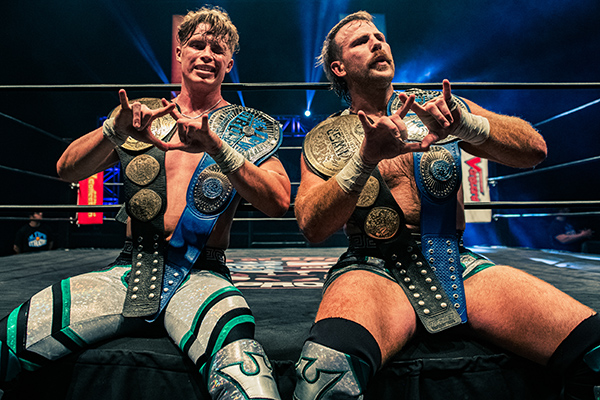 The tag team scene in 2022 and 2023 has been on an absolute high. Yes, tag team wrestling has been in a great place before in the landscape of all-time tag teams, from Harlem Heat to The Hardy Boyz to Motor City Machine Guns. Perhaps even more. But so many incredible teams have been stepping up and making their name and veterans have been making their own waves.
The Usos. The aforementioned MCMG, FTR, The Briscoe Brothers, Sami Zayn and Kevin Owens, The Street Profits. Alpha Academy. Bishamon. The Lucha Brothers. I could go on, but as of 2023, it's shaping up to be Aussie Open's year.
Mark Davis, born in Queensland, Australia, and Kyle Fletcher, born in Sydney, New South Wales, have found a brotherhood despite being far apart in in-ring experience. Davis had debuted in 2007, while Fletcher stepped foot into the ring for the first time in 2014. Both men were born almost a decade apart. And they are the conversation – if you haven't been hearing, you better damn well start listening.
If you're a watcher of NJPW, AEW, or Ring of Honor, you've undoubtedly seen them and already know how great they are. You've seen the slender, blonde Kyle Fletcher and the beefy, moustachioed Mark Davis in tag team action, singles competition, or alongside their United Empire brethren led by Will Ospreay.
Starting their careers in Australia's independent scene, most notably in Melbourne City Wrestling, but had yet to tag together. That would come later, in the United Kingdom. It was there that they would combine their efforts, having travelled separately in 2016, wrestling for WhatCulture Pro-Wrestling and Attack! Pro Wrestling before expanding to Revolution Pro Wrestling (RevPro) and further into Europe for Westside Xtreme Wrestling (wXw). Their time on the scene was tempering steel, watering the seeds of their already burgeoning tag team chemistry.
Fortune would favor them further in the Spring of 2019, thankfully, as they became wXw World Tag Team Champions before having their 147-day reign ended by the new WWE signees, Ilja Dragunov and WALTER in Oberhausen, Germany on August 3, before regaining it a month later in Hamburg.
Sadly, this reign was not to bear any fruit nor profit; before Mark Davis suffered a leg injury. The first of many setbacks.
The duo came back in better fashion, winning the British Tag Team Championships from Suzuki-Gun before soon losing it and joining New Japan Pro Wrestling.
Another promotion, a big-time company compared to the amazing promotions they've wrestled for, Aussie Open made the most of their debut at 2019's Royal Quest, losing to the Guerillas of Destiny.
No bother, because they'll get back there, right? 2020 is going to be their year.
Again, another obstacle. The COVID-19 pandemic ripped the world from underneath everyone, beyond wrestling and entertainment. Lives were upended, and this was no exception. Mark and Kyle still wrestled, but not nearly as much. They'd have to relegate it to Australia and be content.
While many across the world made art, the medium of professional wrestling had to sit in the corner if they weren't mainstream wrestling companies.
Fortuitously for the pair, they'd be granted a boon. Returning to RevPro once more, they'd wear gold yet again for the company. As time progressed, they'd make a decision that would change the trajectory of their careers by joining Will Ospreay in the United Empire, turning heel in the process.
The United Empire, a collection of talents the world over, sought to expand their dominion, and what better than two boys from the land down under?
Finally, finally, things seemed to be heading earnestly their way. After time in the United States for New Japan Strong, they earned a title shot from then-IWGP Tag Team Champions, FTR, at Royal Quest II in 2022 for the first time since pre-pandemic. Of course, a team of the same feather, FTR would be successful in retaining, but never did Aussie Open give up. They've been through a litany of hurdles and stops; what's a title loss compared to the world ending?
It was also in New Japan that the Aussies became the inaugural Strong Openweight Tag-Team Champions, which ended in 76 days to the hands of the legendary Motor City Machine Guns.
With NJPW's World Tag League looming over the horizon, Fletcher and Davis officially wrestled in Japan for the first time, going so far as to make it to the finals unsuccessfully against Bishamon. Another hindrance they'd have to keep their heads tucked in for.
That's not to say that Mark and Kyle were not making time in the U.S., however. No, they've been getting more eyes in the west thanks to their consistent world-traveling. In AEW, they've competed in Forbidden Door matches, either by themselves or with Ospreay. The most notable of this time saw them compete for the inaugural AEW World Trios Championship Tournament. Two exceptional matches from this series featured them defeating Death Triangle in an exceptional match that will be sure to get your blood pumping. If that wasn't enough, they'd have another classic with The Elite in Ospreay's ongoing rivalry with Kenny Omega. The United Empire boys made sure to impress, and even in loss, they sure did exactly that.
Aussie Open's momentum was not done, for both Fletcher, Davis, and Ospreay would put on incredible performances in the New Japan Cup. The story of the Cup featured the likes of Bullet Club drama, the change in allegiance and fate for Sanada, and the testament to the fortitude that is Aussie Open.
Fletcher would make his advances in the tournament in outstanding fashion against Yoshi-Hashi of Bishamon in a match that would wake anyone's eyes, should they be sleeping on the agile Australian. He would, however, lose to Hirooki Goto later on. Davis, meanwhile, would initially lose his opportunity to advance thanks to stablemate and leader, Will Ospreay in yet another banger – a bout that saw Davis advance regardless, due to Ospreay suffering an injury in the match. With a second chance and a renewed vigour, Davis fought his heart out past the next competitor, EVIL, before succumbing to Sanada in the semifinals.
This hard work and fighting spirit would not go unrewarded, however, as Aussie Open was delivered an opportunity to challenge Bishamon for the IWGP Tag Team Championship at Sakura Genesis.
With glass slippers firmly on their feet, this had to be the dance. They're already at the ballroom, so Kyle and Mark needed to waltz their asses off. No exceptions, no excuses, no surrender. They were made to defy and rebel against a world that told them time and time again "no". This was the moment.
Bishamon threw everything and was absolutely unforgiving in their efforts to retain. Like surgeons, they kept Mark and Kyle apart with tactical precision. Kyle, in particular, was receiving an unholy beating. With white wrapped around his forehead, he sweated and cried out, but never did he give up. Like Ospreay at Wrestle Kingdom 17, Fletcher held on and fought in a state that would be hard for anybody to continue moving in, let alone fight. But he persevered, long enough for an equally worn Mark Davis to come in and make the save. This entire babyface comeback saw me pounding my desk, my heart pumping furiously with adrenaline, my teeth gritted, and tears streaming down my cheeks. When the world hands you nothing but ticking grenades, you damn well better absorb the explosion and come out like steel.
There should not have been anything left in the tank for Aussie Open. The gas should have been run out, but with Kyle Fletcher over Hirooki Goto, the tag team gold was theirs. Elation. Pure, unbridled elation. After years of having the rug pulled from beneath, two Australian boys made it happen and completed their journey – only to have more to go. As I stated in the beginning, this is their year.
Don't believe me? Check out 2023's Capital Collision event from Washington D.C. that saw them challenge new tag team Kazuchika Okada and Hiroshi Tanahashi and the Strong Openweight Champions in MCMG to reclaim the belts from the very men that took it from them.
Mark was as monstrous and crushing as ever against the sly Detroit natives and against arguably the two biggest singles stars of New Japan Pro Wrestling, but Kyle was as aerial and quick as a speeding falcon in the day's sky. That moonsault onto the barricade still looks mighty painful, though.
In the end, Aussie Open found another accolade to add to their résumé, as the new and two-time Strong Openweight Tag Team Champions. Two belts each for two unrelenting wrestlers.
And again, their story isn't over – the crowd dictated that as much. Chants of "FTR" filled the arena, and sensing the disrespect and uphill battle still to come as the greatest tag team in the world, Fletcher would declare that he and Mark would be even better belt collectors.
For two teams who have been through so much, the idea of FTR and Aussie Open running it back is so tantalizing. Two teams who had faced adversity, battling it out to see who is truly the best.
The 2020s have thus far seen FTR be one of the most impressive teams, but with Aussie Open being another tag team giant on the horizon, the unstoppable force must soon meet the immovable object. Hurdles are only but mere stairs to the Aussies now.
With each song, their dance becomes more fluid, more beautiful, more intense as each band stops playing, and the curtains close throughout Aussie Open's story – the story of the Cinderella Men.