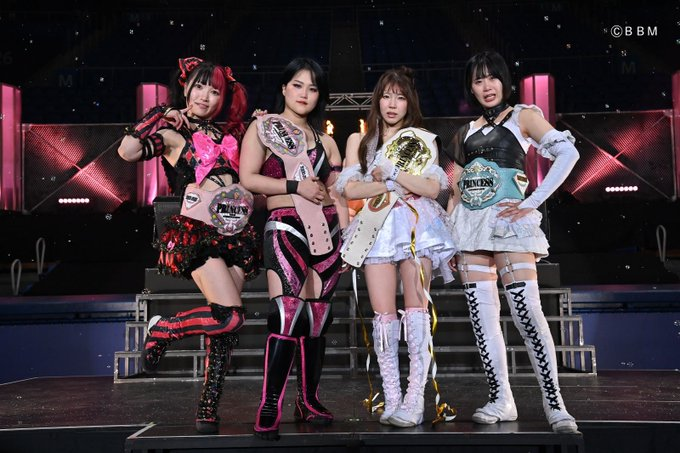 TJPW Grand Princess '23 took place on March 18th at the Ariake Coliseum in Tokyo, and it was another great major Tokyo Joshi Pro show! All titles switched hands, with some amazing and entertaining matches.
The Match between the Daisy Monkey Partners Suzume and Arisu Endo was the perfect way to start this big show for TJPW and set the tone. Endo gaining a lot of momentum in the last couple of weeks after gaining the first singles victory of her career against Moka Miyamoto, while Suzume being on her way up to singles gold for some time now. The two knew each other's move sets so well that they out-sped and circled around each other until they hit a lot of their big moves. Suzume in the end picks up the win after hitting the "Ring A Bell" to continue her way to a potential title match. A great match showcasing two of the younger gen who absolutely will be main eventers one day.

The 2023 class was put on full display in the 2nd match. Both Haru Kazeshiro & Runa Okubo made their debuts teaming with Kaya Toribami & Toga against Mahiro Kiryu, Shino Suzuki, Wakana Uehara, and HIMAWARI. All new rookies had a great showing in this match and promise a great future for Tokyo Joshi Pro.

The Raku multi-woman match on big shows is always entertaining for many fans. Here she continued the "story" of Raku and Ram Kaicho acting like a married couple to not talking anymore. Raku felt "betrayed" by Kaicho's actions. In-ring wise, this was nothing special. Free WiFi held this match together with their good chemistry. Hikari Noa & Nao Kakuta both picked up Pom Harajuku in a Double Argentine Backbreaker and then flipped her over into a Facebuster for the pin. Their new Tag Team finisher is called "5G".

Ryo Mizunami's annual big show match in TJPW was this time against Moka Miyamoto. It was a simple veteran vs rookie match where Aniki dominated Moka for the most part with Moka trying to fight back and get her offense in to get some pinfall attempts, but the gap in experience was too much for Miyamoto and she ended up getting pinned with the Diving Guillotine Drop. She had a great performance here that puts her on the map as someone who can break out in TJPW this year. Backstage Mizunami praised Miyamoto for still having life in her eyes after getting beaten.
The typical Hyper Misao comedy match entertained as usual. She teamed up with her Kyoraku Kyomei Tag Team Partner Shoko Nakajima against Haruna Neko and Andreza Giant Panda. Kyoraku Kyomei picked up the win in a fun match. This was a comedy match involving a giant panda, a lightsaber, a party popper cannon, and a bike collision. If that sounds at all intriguing to you, this is well worth checking out.

NEO Biishiki-gun graced us with her presence when Mei & Sakisama wrestled for the first time in a year when they faced the returning Billie Starkz and Yuki Kamifuku. It was a fun match with a sick spot when Billie dived to the outside onto Mei. NEO Biishiki-gun picked up the win in their return match without any big problems and hopefully this time stay around for a longer time.
Aja Kong vs. Yuki Arai was the first major match of this show. Facing one of the greatest Wrestlers of all time is a big thing for Yuki Arai. Arai tried her best to take down the legit, but she just couldn't beat Aja Kong. She took some risk by using a Missile Dropkick for the first time to rock her opponent. The size difference rendered both the Sharpshooter and the Full Nelson Buster useless, so Arai found ways to hit the Finally kick from higher ground, whether it was from standing on the ropes or standing on the ring apron while Kong was outside. In the end, Aja destroyed the Genius Girl to end the match in a dominant way. This match helped Yuki Arai a lot, and she looked great here. She's slotted to be a major star in wrestling.

Rika Tatsumi can now call herself the first-ever Grand Slam Champion in TJPW history. She defeated her Hakuchumu partner Miu Watanabe to win the International Princess Title, becoming the only wrestler to have won that, the Princess Of Princess Title and the Princess Tag Team Titles in their career. The Match itself was fantastic and the best match of the night. Miu and Rika had great chemistry and put on a show. Rika countering the Giant Swing with a choke was fantastic, while Miu reversed the Dragon Sleeper of the White Dragon into a Dragon Sleeper Swing. But the Dragon Sleeper came back as a way for Tatsumi to counter the Tear Drop. Rika then switched it into the White Dragon Sleeper to make Watanabe submit. A MUST WATCH for every Joshi fan. One of the best Joshi matches of the year.
The reign of the Wasteland War Party is over when 121000000 defeated them in the Co Mainer of the show. Maki Itoh & Miyu Yamashita have been teaming up for a while, but never were able to win Tag Gold. Their road from winning the Max Heart Tournament to this has been fantastic and their title win was deserved. WWP have been a great addition to TJPW since their arrival. From their fun comedy matches with Pom to their destroying every opponent in their way. Hopefully, they will be back!

The Princess Of Princess Title Match in the Main Event was the end of the road for Mizuki to finally win the big one. It was an emotional match for both Magical Sugar Rabbits because neither wanted to fight each other but knew it had to happen. Mizuki wanted it more from the beginning and forced her friend to fight her. It then took two Cutie Specials for Mizuki to finally become the new champion. A great match that was all about the result, in the end. Mizuki is the first Princess Of Princess Champion that isn't one of the four Pillars since Reiki Saiki held it in 2017. This feels like the start of the post-Pillars on-top era in TJPW that international fans wanted for years.