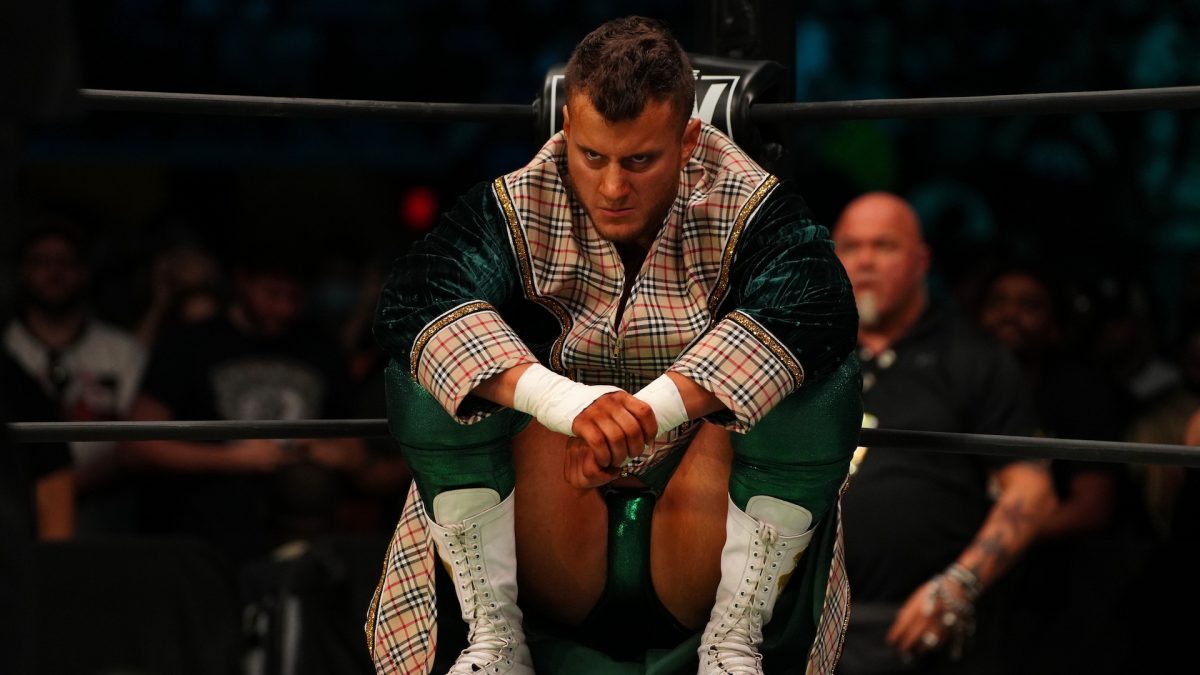 One of the best told AEW storylines heading into their Double or Nothing PPV earlier this year saw Wardlow finally deciding to walk his own path, with a match between himself and MJF culminating a story that began nearly three years ago when Wardlow was revealed as MJF's bodyguard. Ahead of the event however, MJF missed a fanfest, as well as reportedly buying a ticket out of Las Vegas.
This naturally caused quite the stir online, with many believing that the planned bout between MJF and Wardlow would be unable to go ahead. Ultimately cooler heads prevailed, and MJF showed up to the Double or Nothing PPV, losing in quick fashion to his former bodyguard.
Appearing on The MMA Hour with Ariel Helwani, MJF discussed the drama surrounding him heading into the event, refusing to clarify whether or not he bought a plane ticket out of Las Vegas. MJF also noted that whilst he signed a new deal with AEW ahead of his recent return at All Out, the deal did not extend past his current expiry date of January 2024.
"I cannot confirm or deny there being a plane ticket. What I will say is this. I'm a businessman. I do what I have to do in order to ensure that what I need gets done. It got done. I'm back. I'm making a stupid, absurd amount of money now, and I didn't have to sign a contract extension,"

-MJF
Staying on the topic of his new deal, MJF was asked to comment on whether AEW President Tony Khan wanted him to sign an extension, leading to the current number one contender for the AEW World Championship making it all too clear that that was the case.
"Who wouldn't want to sign me to an extension? If it was up to Tony Khan, I'd be signed until 2060."

-MJF
During the episode of AEW Dynamite immediately following Double or Nothing, MJF cut a seemingly work/shoot promo airing his grievances with the fans, the locker room, and Tony Khan himself, with a key focus being on his level of pay compared to several ex-WWE names that had joined the company since its formation in 2019.
Speaking on the promo in question, MJF stated that it was an "oratory exhibition", and one that "at the time it felt warranted." When asked about his relationship with Khan at the time of the promo, Friedman revealed that it was far less positive than it is today.
"Not good. Now, it's great."

-MJF
During his absence, many questioned whether or not MJF would return to AEW at all, with rumours rampant that WWE were interested in signing the former Pinnacle leader. When asked what it took for him to return to the company, MJF made it clear that money was the key factor involved.
"Money. I'm a simple man. I go out there, all I do is win. I'm winning in the ring. I'm winning on the mic. I'm constantly winning. Obviously, I had no problem with how I was being showcased. That wasn't the issue. The issue was money. I was looking to my left and my right, and I was hearing rumblings about what guys were making when I was two times, three times the draw they were minute-by-minute. I've seen the analytics. I went, 'That doesn't work for me.' I'm MJ freakin F. Pay up. Not just in AEW. Guys in WWE, guys in IMPACT, guys in Ring of Honor at the time."

-MJF
When asked to comment on whether he was making less money than those working in IMPACT, MJF refused to get into the specifics, although he did have some choice words for New Japan Pro Wrestling.
"I'm not saying that I was or that I wasn't. I'm just saying, I saw what a lot of top guys were making across the board, except I don't pay attention to New Japan, that's a garbage promotion. The fact that people still talk about it like it's a thing is hilarious to me. Whatever."

-MJF
Staying on the offensive in NJPW's direction, MJF touched upon the recent PWI 500 rankings, claiming that no one has talked about Kazuchika Okada since 2014. He did however reveal that he likes "Killer Khan", who we can only assume he's referencing the United Empire's Great O-Khan.
During his absence, MJF was erased from all of AEW's social media sites, as well as from their official roster page. MJF himself even remained silent on social media, a rare occurance for someone usually unafraid of voicing his own opinions. When asked where he was during his three month absence, MJF shared the following:
"When I went home, I made it very clear to Tony Khan, 'Pay up or daddy doesn't show up.' Fact. I took my now beautiful Fiance to Greece for two weeks. On the last three days of the trip we went to Venice in Italy. I then went home, and I stayed home. I did not leave my home because I did not one single solitary wrestling fan to see me out in the wild. They don't deserve to see me unless I'm getting paid to be seen. That's why the greatest trick the devil ever pulled was convincing the world he does not exist, which is exactly what I did for three straight months. I take what I do very seriously. If you want to see a star, pay to see a star. I stayed in my home. I went to a gym inside of my home. I did not leave my home. The only time I left my home was for those two weeks. I was committed to making sure that, if any wrestling fan wanted to get a taste of MJF, MJF needed to get that money, and I did."

-MJF
MJF returned to AEW during the All Out PPV, entering the Casino Ladder Match as The Joker sporting a devil mask. MJF went on to win the match with the help of Stokely Hathaway and The Firm (Ethan Page, W. Morrissey, Gunn Club, & Lee Moriarty). MJF re-emerged at the end of the show, unmasking himself and confronting the new AEW World Champion CM Punk.
Punk has since been stripped of the AEW World Championship following the drama that unfolded following the All Out post-event press conference, with a tournament to crown a new champion set to culminate on Wednesday at AEW Dynamite Grand Slam when Jon Moxley faces Bryan Danielson. Having won the Casino Ladder Match as previously mentioned, MJF will be waiting in the wings ready to take on whoever emerges victorious at any time he pleases.