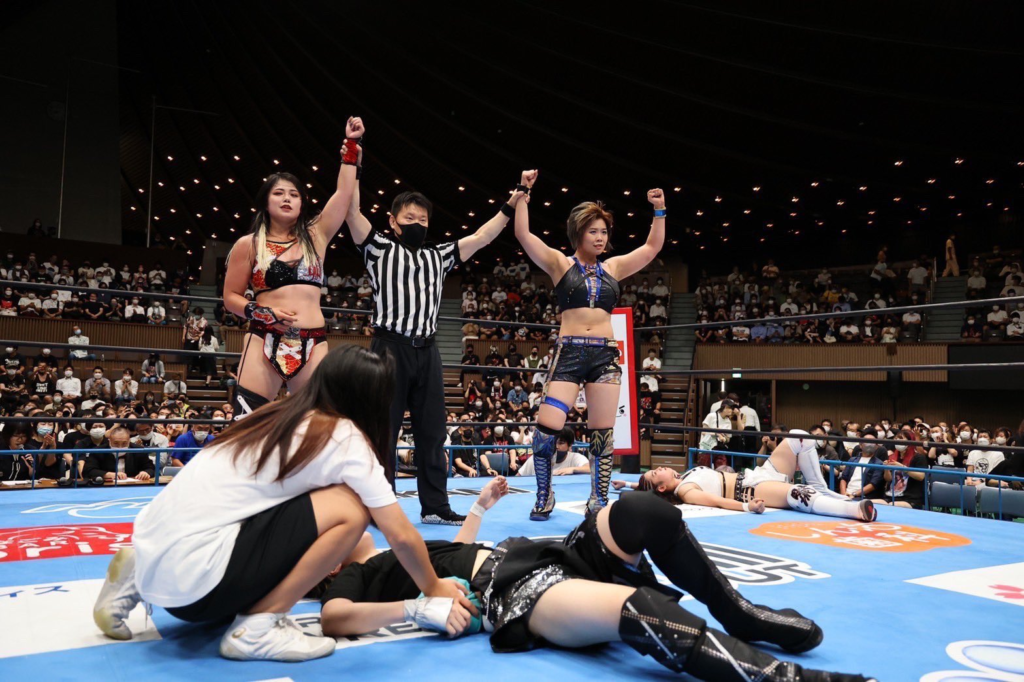 STARDOM
The 5STAR continued last week with three big shows and slowly Wrestlers start to get eliminated. Hanan was the first one to be out and her winless run continues with a loss to Natsupoi on Day 14. Hanan is now at a 0-9 record and likely isn't picking up a win in this tournament, but that was never the goal, rather gain a lot of experience and that is what she did. The next one out was Saya Iida who was able to pick her biggest singles win of her career against Hazuki on Monday, but due to her loss against Suzu Suzuki, she got her 6th loss and is unable to win the Block now. The last one who is out of the Blue Stars Block is Momo Watanabe. The finalist of the 2021 5STAR GP lost her 6th match in this tournament last week. In the Red Stars Block, only two are eliminated so far. The first one is Unagi Sayaka who lost her 8th match this past week by losing three in a row against Tam, Maika and Koguma. The speed of her rise in 2021 is as fast as it is going down again in 2022. She lost all her momentum of last year and was only able to secure one win thus far. The other one out is DDM's newest addition Mai Sakurai, who only has one match left in her schedule and only can reach 11 Points which wouldn't be enough to catch up with the others and have a chance to win the Block.
The 5STAR is still really open with 8 Wrestlers on each Block who have over 10 Points and the gaps are getting closer and closer. Everything is still possible. The Blue Stars Block is getting more and more interesting since Hazuki lost her 3rd Match in a row. Giulia was able to secure a win over Ami Sourei and is now at 13 Points, only one point behind Hazuki. MIRAI & Kamitami also have 13 Points after a time limit draw against each other. Mayu Iwatani is slowly catching up too after defeating Suzu Suzuki to get to 11 Points. The Blue Stars Block is likely getting decided between those five Names, but Starlight Kid & Suzu are gaining a lot of momentum lately. Starlight Kid was able to defeat the Cosmic Angel Members Mina Shirakawa & Natsupoi to get to double digits, while Suzu got wins over Iida & Watanabe to pick up two more victories.
The Red Star Block is even closer with five Wrestlers sitting at 12 Points. Tam Nakano has the best position in the final matches with a 6-2 record after defeating Unagi and Risa Sera this week but at the same time, she has the hardest program left with Momo Kohgo, Utami, Syuri and SAKI. DDM's Maika & Himeka also sit at 12 Points. The MaiHime Tag Partners are facing each other on the final day, which could be a Red Stars Block decider Match. Maika has the better record of them (6-3) but that could change soon with her facing Momo Kohgo & Mai Sakurai next week. On Paper that sound like easy points for Maika but especially Mai Sakurai was able to secure some upsets in this tournament. Syuri is also still in the tournament race and is aiming for her second win in a row. She finally recovered from her three match losing streak by now winning her last two matches. Syuri is still facing Tam Nakano and Risa Sera. The latter is currently sitting at 11 Points, shortly behind the top field and is still in the race for the Crown. AZM is the last one sitting at 12 Points. The High-Speed Champion has likely the easiest last matches with Unagi, Koguma and Saki Kashima but all three are always a threat and could upset AZM. The next shows can decide a lot with multiple Wrestlers who are in contention to win their Block facing each other.
Full Results Of The 5STAR GP Matches:
Day 14 on September 12th in Korakuen Hall
Natsupoi defeats Hanan
Mina Shirakawa defeats Ami Sourei
SAKI defeats Saki Kashima
Saya Iida defeats Hazuki
Utami Hayashishita defeats Mai Sakurai
Syuri defeats Momo Kohgo
Risa Sera defeats AZM
Tam Nakano defeats Unagi Sayaka
Mayu Iwatani defeats Suzu Suzuki

Day 15 on September 17th in Osaka
Suzu Suzuki defeats Saya Iida
Maika defeats Unagi Sayaka
Mai Sakurai vs Risa Sera ends in a double count-out
MIRAI defeats Mina Shirakawa
Utami Hayashishita vs Saki Kashima defeats Utami Hayashishita
Syuri defeats SAKI
Starlight Kid defeats Natsupoi

Day 16 on September 18th in Osaka
Koguma defeats Unagi Sayaka
SAKI defeats Mai Sakurai
Starlight Kid defeats Mina Shirakawa
Giulia defeats Ami Sourei
Saya Kamitani vs MIRAI ends in a 15 minute draw
Tam Nakano defeats Risa Sera
Suzu Suzuki defeats Momo Watanabe

Next Week's 5STAR Grand Prix + Additional Matches:
Day 17 on September 19th in Nagoya
Maika vs Mai Sakurai
AZM vs Unagi Sayaka
Suzu Suzuki vs Mina Shirakawa
Tam Nakano vs Momo Kohgo
Risa Sera vs Koguma
Utami Hayashishita vs SAKI

Day 18 on September 23rd in Korakuen Hall
Risa Sera vs Saki Kashima
AZM vs Koguma
Momo Kohgo vs SAKI
Syuri vs Tam Nakano
Natsupoi vs Saya Iida
Mina Shirakawa vs Saya Kamitani
Hanan vs Suzu Suzuki
MIRAI vs Starlight Kid
Hazuki vs Momo Watanabe

Day 19 on September 24th in Belle Salle Takadanobaba
Maika vs Mai Sakurai
Himeka vs Unagi Sayaka
Utami Hayashishita vs Tam Nakano
Hanan vs Mina Shirakawa
Saya Iida vs Starlight Kid
Suzu Suzuki vs Ami Sourei
Mayu Iwatani vs Momo Kohgo
Saya Kamitani vs Giulia
AZM (c) vs Fukigen Death vs Hazuki – High-Speed Title

STARDOM in Showcase 2 on September 25th in Belle Salle Takadanobaba
Suzu Suzuki vs Starlight Kid
Hanan vs Saya Iida
Tam Nakano & Natsupoi vs Mina Shirakawa & Unagi Sayaka vs SAKI & Hikari Shimizu – Cosmic Rules Match
Giulia & Rina Yamashita vs Ruaka & Momo Watanabe – Hardcore Match
AZM vs Ram Kaicho vs Mayu Iwatani vs Maika – Falls Count Anywhere Match
Syuri & Lady C & Utami Hayashishita vs Yuu & ?? & ?? – Captain Falls Match

Official 5STAR Grand Prix Standings following Day 16:

RED STARS BLOCK –
12 – AZM (6-3-0)
12 – Himeka (6-4-0)
12 – Maika (6-3-0)
12 – Syuri (6-4-0)
12 – Tam Nakano (6-2-0)
11 – Risa Sera (5-3-1)
10 – Koguma (5-4-0)
10 – Utami Hayashishita (5-4-0)
9 – Mai Sakurai (4-6-1) (OUT)
8 – Saki Kashima (4-6-0)
8 – SAKI (4-5-0)
2 – Unagi Sayaka (1-8-0) (OUT)
2 – Momo Kohgo (1-7-0)

BLUE STARS BLOCK –
14 – Hazuki (7-3-0)
13 – Saya Kamitani (6-2-1)
13 – Giulia (6-2-1)
13 – MIRAI (6-3-1)
11 – Mayu Iwatani (5-3-1)
10 – Ami Sourei (5-5-0)
10 – Starlight Kid (5-3-0)
10 – Natsupoi (5-5-0)
6 – Suzu Suzuki (3-4-0)
6 – Mina Shirakawa (3-5-0)
6 – Momo Watanabe (3-6-0) (OUT)
4 – Saya Iida (2-6-0) (OUT)
0 – Hanan (0-9-0) (OUT)

Match Recommendation:
Mayu Iwatani vs Suzu Suzuki (12/09/2022)
---
TJPW
The Build Up for Wrestle Princess 3 continues in TJPW with another Tour Show happening in Shinjuku FACE. Abadon was scheduled to make her TJPW debut here against Moka Miyamoto but due to visa issues, she got replaced by Mei Suruga. In the Main Event, the next International Princess Title Challenger was decided in a match between two rising stars in TJPW that gained a lot of momentum over the Summer with Suzume & Miu Watanabe. This Match proved yet again that both are ready for the bigger spots and should be featured in bigger matches more than before. The Match was about the Speed of Suzume vs the Power of Miu Watanabe. In the end, Miu Watanabe's power prevailed and she was able to beat Suzume. The new No. 1 Contender for the IP Belt will challenge Alex Windsor at Wrestle Princess 3 on October 9th.
Current Wrestle Princess 3 Match Card:
Alex Windsor (c) vs Miu Watanabe – International Princess Title
Saki Akai & Yuki Arai (c) vs Nightshade & Rhia O'Reilly – Princess Tag Team Title
Shoko Nakajima (c) vs Yuka Sakazaki – Princess Of Princess Title
Recommended Matches:
Miu Watanabe vs Suzume (16/09/2022)
---
Marvelous
Marvelous had a Show in Shin-Kiba on the 16th with an AAAW Tag Team Title Match Main Eventing. Chikayo Nagashima & Takumi Iroha were able to defeat the current Champions Itsuki Aoki & Rin Kadokura to be the 17th Champions. The Match was originally scheduled for the KAORU retirement show but got changed to a singles match between Aoki & Iroha when Rin Kadokura got tested positive for Covid. It is the 5th AAAW Tag Title win for Nagashima while it is the first reign of Iroha. With that, Iroha is now a double Champion in Marvelous with her holding the AAAW Singles & Tag Title simultaneously.
---
Performer Of The Week
With her great performance in the JTO Tag Match, Donna del Mondo's Maika is the Performer Of The Week. In the maybe best Match of her career, she made Inaba & Aoi look like total stars by bumping a lot for them and sold their offense amazingly. But her offense was also incredible. Her power moves had a lot of impact and her exchanges with Inaba were the best of the whole week. An incredible performance that made me once again think, "Man. She is a Star". It's only a matter of time till she gets the ball in STARDOM.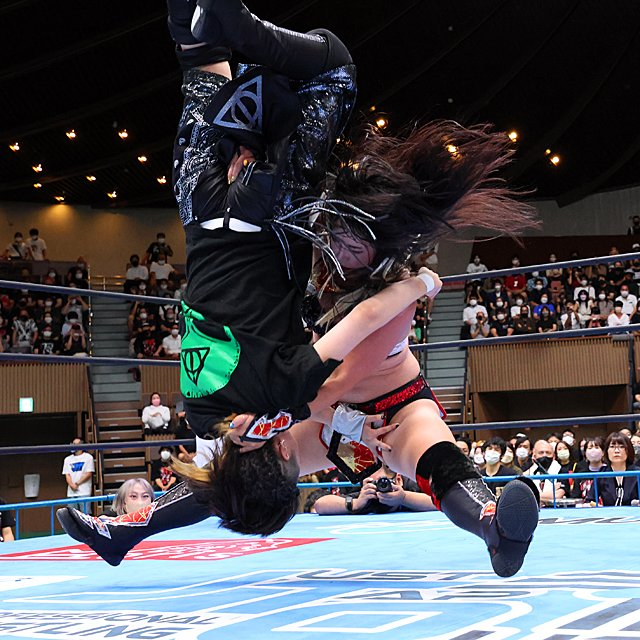 ---
Match Of The Week
The best Match of the week happened in JTO. It was the Tag Match between STARDOM's MIRAI & Maika against JTO's Aoi & Tomoka Inaba on TAKA Michinoku's 30th Anniversary Show and he's the connection between all four of them. All four Wrestlers in this Match were trained by him. MIRAI & Inaba started to train in the K-Dojo (now 2AW) and now are Stable Mates in God's Eye while Maika & Aoi started to train in the JTO Dojo but their story goes way deeper than that. Maika & Inaba are big rivals from the first JTO Show and wrestled each other twice before in singles Matches with both winning one match each. From the moment they started to wrestle each other in this match the intensity of the Match picked up. Inaba went away from her limb work and started to kick as hard as she can again. Inaba's Kicks and Maika's Lariats colliding made a loud sound. An amazing spot was Maika's Superplex but Inaba instantly recovered from and kicked Maika's head off.
The Match happened in front of a cheering crowd which was the first time Maika & MIRAI have wrestled in front of one since the pandemic started and the crowd was really loud for the match. Multiple chants for everyone involved in this Match. While the focal point of the match was on the background story of Maika & Inaba the other two in the match did a lot as well. MIRAI hit multiple incredibly looking Lariats and bumped really well for the JTO Talents. The moment when Aoi and Inaba destroyed Maika with two finishers, but Mirai saved her, delivered two of the most powerful lariats and screamed "MAIKA" is unforgettable. Aoi had a great underdog performance. She has wrestled under 40 matches yet and totally was on the level of the others in this match which proves again that TAKA is a fantastic trainer. In the end, Maika hit Aoi with the Sasanqua and then the Michinoku Driver II to win an incredible match that every Joshi Fan should check out now and prove that Maika & MIRAI are still a step ahead of her JTO opponents even though the gap is getting closer. After the Match Inaba's younger sister who has yet to make her debut came into the ring and had a staredown with Maika.

(**** 1/2)