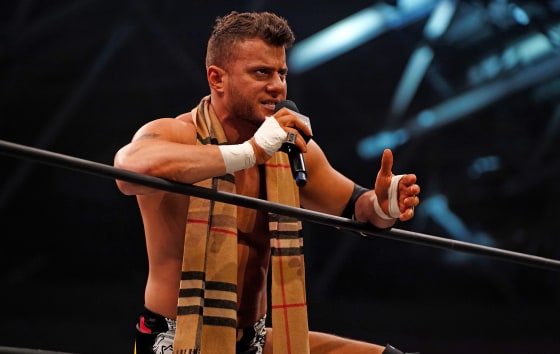 In November of last year, MJF captured the AEW World Championship from Jon Moxley and has since often referred the fact that his AEW contract is set to expire early next year. Fightful Select recently noted that whilst MJF did indeed sign a contract extension early into the company's life span that would've expired early in 2024, there has been no confirmation as of yet as to when his current deal runs out.
Despite this, MJF is never hesitant to remind those that ask that there'll be a monumental bidding war for his services in early 2024, with Fightful Select now reporting that one party MJF has made this abundantly clear to is WWE, with one talent telling Fightful that the AEW World Champion is looking forward to joining the company.
"This extends to WWE, as well. Including one WWE talent outright admitting that MJF said "I'm looking forward to being there in 2024," before noting that while MJF wanted them to think he was serious, they take it with a grain of salt. Word of him saying that had made its way to other talent there, as well."
The report also states that one WWE source believes the company are "obviously" interested in MJF, however many within WWE are also said to be unsure as to when his contract actually expires and are operating under assumptions and what the AEW star has told people.
As of writing, Fightful are reporting that they've yet to hear from anyone close to MJF regarding him extending his AEW contract, although its been assumed by many that that is the case.