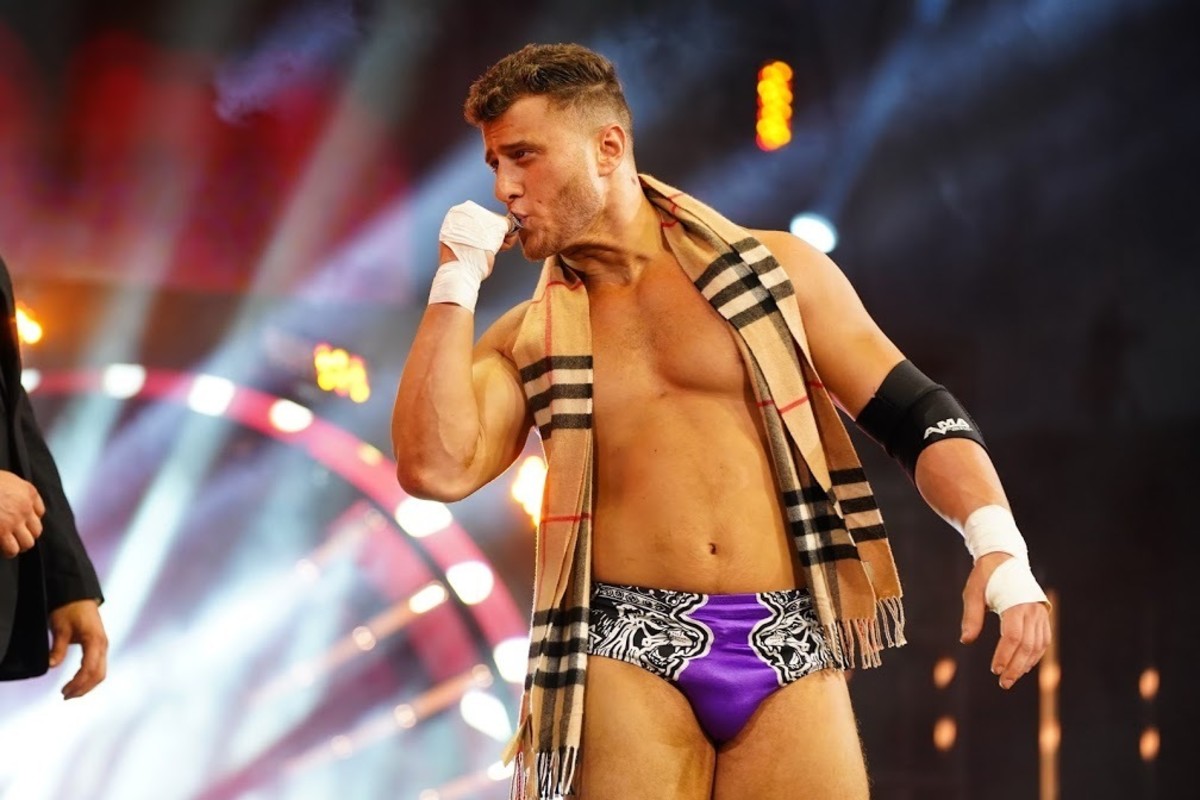 Since AEW's formation in January of 2019, the company, many ex-WWE talents have joined the roster, including the likes of Bryan Danielson, Keith Lee, and Swerve Strickland.
One AEW star that doesn't seem best pleased about the influx of former WWE stars joining the promotion is AEW original MJF. The Pinnacle leader recently sat down with Brandon Walker of Barstool Rasslin' and discussed his displeasure at the wages these former WWE stars are receiving in comparison to himself.
"I think there is a lot of stuff going on in this company that is inaccurate. I think all these fucking ex-WWE guys that are making an absurd amount of money when, quite frankly, they cant sniff my fucking jock when it comes to the ratings I pull in whenever I'm on screen, I think they can all go to hell. Somebody in the upper management has a problem with me and it's very obvious if you see what I'm dealing with week to week,"

-MJF
It was then pointed out to MJF that his stablemate Shawn Spears is one of these ex-WWE talents, promoting MJF claim that Spears was underutilised by WWE. He also highlighted that his own AEW exploits would prevent himself from being misused, should he ever cross the divide.
"Shawn Spears is an ex-WWE guy. Now, if/when I were to go over there, I'd have me a ball because I built my brand and established myself here. When I go over there, I'm not gonna have to deal with the same type of bullshit that poor Shawn Spears had to deal with. A guy like that has been criminally underrated for over a decade."

-MJF
MJF has made no secrets about the fact his AEW contract is set to expire in 2024, with the Long Island native strongly suggesting that he'll be weighing up his options when that time rolls around.
Alongside MJF and Shawn Spears as members of The Pinnacle, FTR are currently having what many consider to be the run of their careers, holding both the ROH & AAA Tag Team Championships. MJF had high praise for the duo during the interview, hailing them as the greatest tag-team of all time.
"I honestly think they're the best tag team of all time. I know to some, that may be a bold statement. I think in 20 years when people look back at all these great tag team's body of work, The Dudley Boyz, The Hardy Boyz, Midnight Express, Rockers, Rock 'N Roll Express, when you think of all these great, incredible tag teams, I think your going to have no choice but to bring up FTR."

-MJF
Crossing the divide and looking towards WWE, MJF hinted at a potential clash between himself and current Undisputed WWE Universal Champion Roman Reigns, a bout that could be made possible should he make the switch in 2024.
"I would imagine. I think me and him would have a tremendous match. I think it would be a friendly competition. I would also love to wrestle Seth Rollins. I would love to wrestle The Miz."

-MJF
When considering a possible move from AEW to WWE for MJF, it's hard not to look at the current success of Cody Rhodes, who became the first notable AEW name to jump ship at Wrestlemania 38 earlier this year. MJF revealed that he and Rhodes remain in touch despite the latter's AEW departure.
"We still talk sometimes to this day. Cody Rhodes is a sweetheart. He texted my parents and offered them tickets for the Long Island show for SmackDown. They couldn't go. They were busy, but I mean, it was very sweet of him to do. Have you seen his baby? What a cute baby."

-MJF
It will certainly be interesting to see where MJF decides his future will lie when 2024 is upon us, with a bidding war between the two companies a certainty for the AEW star. MJF is currently set to take on Wardlow at the upcoming Double or Nothing PPV, providing Wardlow can stick to the terms laid out by his former stablemate.
H/T to Fightful and WrestlingNews.co for the transcription.