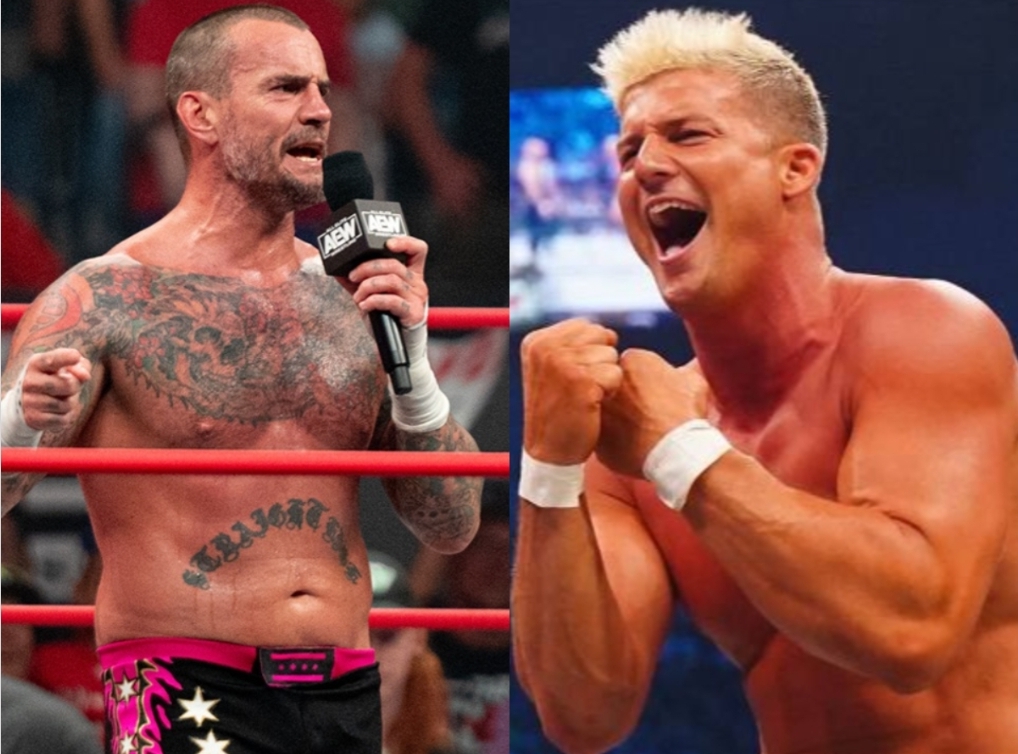 Further context has now been provided regarding Ryan Nemeth not being allowed into the Collision taping.
Following this past Saturday's episode of AEW Collision, Fightful Select reported that both 'Hangman' Adam Page and Ryan Nemeth had been turned away from the taping, with the Wrestling Observer adding that Christopher Daniels and Matt Hardy were also denied entry to the taping, with varies reports citing CM Punk's involvement in a number of these cases.
PWTorch is now reporting that Punk had confronted Nemeth at the AEW Dynamite taping on June 21st, with the man currently referring to himself as the Real AEW World Champion taking issue with a tweet from Nemeth labelling him "literally the softest man alive".
"When Punk made an unadvertised appearance at Dynamite on June 21, PWTorch has learned that he confronted Ryan Nemeth backstage over a tweet where Nemeth indicated loyalty to The Elite. Nemeth had referred to Punk as "literally the softest man alive" in response to Punk referring to the Young Bucks as "Counterfeit Bucks.""

-PWTorch
Nemeth's relationship with The Elite is no secret, with the 38-year-old frequently appearing on their 'Being The Elite' YouTube series.
The report then dives in to the nature of the incident, with Punk believed to have gotten inches from Nemeth's face before questioning whether they needed to settle their issues outside in what witnesses described as an "awkward and weird" exchange.
"At that Dynamite, PWTorch sources indicated Punk confronted Nemeth in the locker room. The story conveyed to PWTorch is that Punk cornered Nemeth in the locker room, got inches from his face, and angrily and aggressively asked if they had a problem or if they needed to settle things outside. Punk cited to Nemeth that his comments on Twitter inflamed existing tensions and that the optics of the tweet sent a bad message. This incident was witnessed by numerous wrestlers and was characterized as awkward and weird."

-PWTorch
Nemeth is then said to have moved the argument into the hallway, whilst Punk continued to berate him. In response to Nemeth defending his judgement in calling Punk "soft" due to him firing the first shot at Bucks, the Chicago-native claimed that Nemeth's response came at a poor time and actively diminished the public image everyone was working to repair.
This reportedly prompted Nemeth to ask whether he should simply ignore the things that Punk says on TV, with Punk stating that that'd be the right choice at the time. The pair are then said to have shaken hands, although tensions were still believed to be high as they went their separate ways.
After confiding in his friends backstage, Nemeth decided to lay low due to the difference in leverage between himself and Punk in AEW, with fears that his job could be at risk should Punk speak out about him. He's also since deactivated his Twitter account.
Per Fightful Select's report, Nemeth arrived at the Colision in Greensboro on Saturday night for his first scheduled match in a while, but was told he wasn't needed anymore and was given itinerary to return home.
Talent are in an awkward position when it comes to speaking on CM Punk, with AEW President Tony Khan having made it clear how big of a fan he is of the 44-year-old. PWTorch highlighted Khan's reaction to Punk's from injury/suspension earlier this summer as an example of this, adding that wrestlers are aware of the risks of getting on his bad side.
"When Punk first returned earlier this summer after his hiatus dating back to the prior year's All Out media Q&A, Khan stood up backstage in the gorilla position with his headset on and started pumping his fist and chanting "C.M. Punk!" enthusiastically as Punk walked by. The feeling backstage among wrestlers not in a position of power with a big contract is to lay low when it comes to Punk because you don't want to be on what is essentially his enemies list."

-PWTorch
Outside of these issues, Punk has largely received praise for his leadership behind the scenes, with willingness to ensure Collision remains a drama-free environment leading to his cautiousness over allowing talent he perceives as disloyal or too closely aligned with The Elite backstage.
The report then notes that Punk sees Collision as his show, however it is the willingness to provide the type of leadership that he is critical of the executive vice presidents not providing on Dynamite that is leading to him essentially having the power to veto who can and can't be present at the tapings.