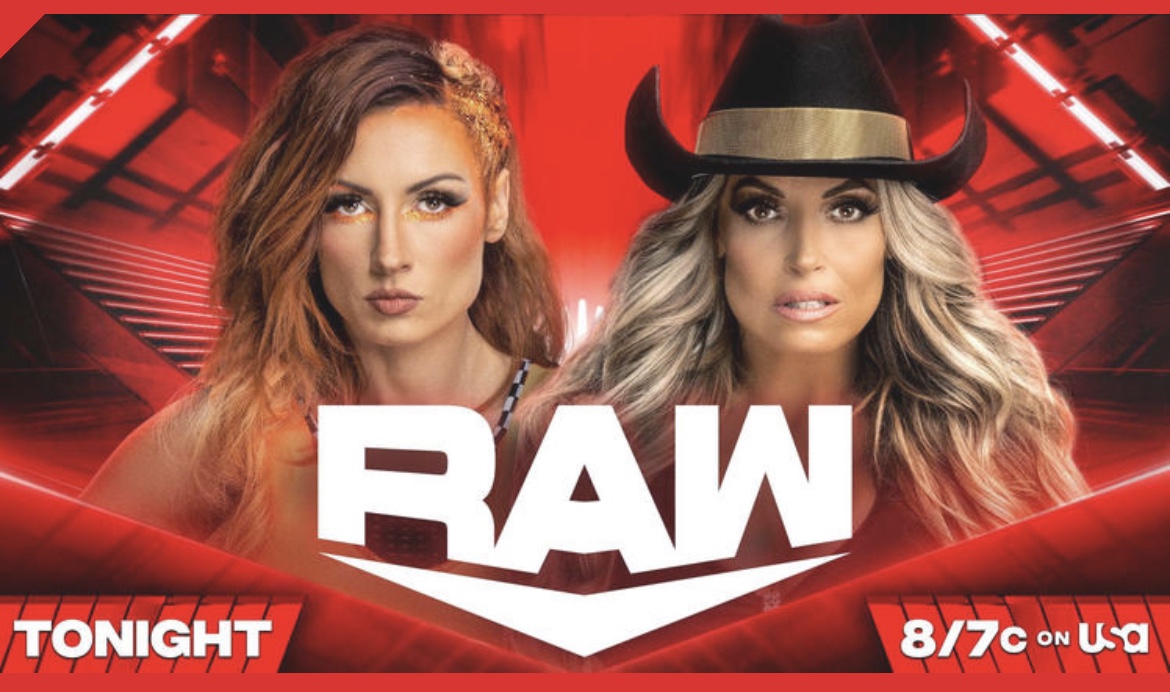 Welcome to the Wrestlepurists' live coverage of Monday Night Raw for the August 14th, 2023 episode.
JUDGMENT DAY IN-RING PROMO
We are live in Winnipeg, MB Canada for the long awaited rematch between Becky Lynch and Trish Stratus. It wouldn't be Monday Night Raw in 2023 if we didn't start the show with the Judgment Day. Just like last week, they come out sans Finn Balor. Rhea Ripley welcomes us to Monday Night Raw, but acknowledges that lately things haven't been going their way. Damian Priest says that at Summerslam, Finn Balor should have won the World title. And last week, the Judgment Day should have won their match. But as long as Priest has the briefcase, the Judgment Day dictates what happens around Raw. Priest is clearly pissed that Finn isn't out with them and says everyone can tell something is wrong. Priest tries to get Dominik Mysterio to agree, but he isn't interested in disagreeing with Rhea Ripley. JD McDonagh is out with a mic and says he has a message for them from Finn. JD says the message is not to worry about JD and Finn's friendship, but about the real targets like Sami Zayn and Seth Rollins. Rhea interrupts and says the Judgment Day takes orders from no one, especially from someone who isn't in the Judgment Day. Dominik agrees, or at least I think he does through all of the boos. Dominik says he just found out that Canada is a part of North America (pop!) so he is apparently the champion of this dump. JD says its no problem, he was just delivering a message from Finn. Rhea says they have a message that JD can take back, "tell Finn that we need to talk." Before they can finish Sami Zayn's music hits and he rushes down the ring to meet JD. Sami beats down JD, who reaches for the salvation of the Judgment Day but they don't lift a finger. Sami takes a moment to stare down the Judgment Day, and that opens the opportunity for JD to slam Sami's injured arm against the ring post as we head to break.
I really enjoyed this opening segment. We get a Judgment Day segment to start Raw too much nowadays, so I loved that they did something different with it. I especially loved Priest's delivery and urgency, showing a different kind of energy when addressing Finn's absence.
SAMI ZAYN DEFEATS JD MCDONAGH
During the break this match was made official, and its a one armed Sami Zayn versus a fresh JD McDonagh. I love these kind of match-ups for younger stars where they put them in the ring with main-event talent, but give the older talent some sort of injury to allow the younger wrestler to exploit. JD's gimmick in NXT was a surgical like attack on opponents limbs, and he is following that up here as he is all over Sami's arm. One particularly impressive move sees JD grab Sami's arm, leap over the ropes, and hang Sami's arm up on them. Sami goes high risk but eats a drop kick from JD on the way down. Despite the injury, Sami is still able to explode off the ropes and hit some big clotheslines to keep JD at bay. JD hits a C4 that only gets a two count but immediately transitions it into a crossface on Sami. JD has the injured arm hooked, man this is one hell of a showcase for him. Sami fights through the pain to hit the exploder suplex onto JD, and right on cue Finn Balor makes his way to the ring. Finn rushes towards the ring but stops short of entering which allows JD to roll up Sami for a close two count. JD throws Sami off the ropes and catches him with a headbutt. JD goes for broke with a moonsault but Sami gets the feet up in time. Finn up on the apron but Sami knocks him off and then runs to the opposite corner for a Helluva Kick on JD! One, two, three! Finn runs into the ring but Sami bails to celebrate.
Really good match, no harm for JD in losing to Sami (even with just one arm) but interesting to see Finn get involved in another finish that doesn't go his buddies way.
BACKSTAGE WITH ADAM PEARCE & CHELSEA GREEN
Adam Pearce is backstage with Chelsea Green. Pearce is trying to strip Chelsea of the WWE Women's Tag Team Championships because of Sonya Deville's injury. Chelsea is begging Pearce not to, and threatens to call her lawyer or even go to HR. Pearce asks Chelsea what she would have him do? Chelsea says she wants to hold auditions for a partner "Chelsea's Got Talent' (which she's been doing online and is getting over.) Kayden Carter and Katana Chance come in and say they heard about Sonya's injury from TMZ and came in to talk to him about the championships. TMZ? I know they broke the story but it's been a week. Come on ladies, you've heard it from more than TMZ. Anyway, Piper Niven comes into frame and knocks out Katana. Piper tells Chelsea that she is her new partner. Chelsea says she will happily take her Instagram handle, but Piper grabs one of the titles and tells Chelsea that she IS her new partner. Not a terrible segment to put Piper in as the partner, but I would have really enjoyed a few weeks of Chelsea Got Talent vignettes on Raw before we got there.
INTERVIEW WITH CODY RHODES
Byron Saxton is backstage with the American Nightmare Cody Rhodes. Byron says many consider his opponent tonight Finn Balor to be a "loose cannon." Cody says in a way he admires Finn. Finn was a leader in Ireland, in Japan, and now in WWE. Cody says the Judgment Day is full of dangerous leaders, even Dirty Dom is a champion. Cody will be ready for Finn Balor tonight.
GUNTHER PROMO
GUNTHER is out with Giovanni Vinci and Ludwig Kaiser. GUNTHER is standing on the announce desk to cut his promo, love that they gave him his own spot for promos. GUNTHER says that as a European he is always excited to come to Canada. But after walking around Winnipeg, he understands why they call this the armpit of Canada. He says he is really here to address the new number one contender Chad Gable. GUNTHER says he was very impressed by Gable's win last week. However, GUNTHER has achieved more in a year than Gable has in his whole career. He says its ridiculous that the people think Gable will be the one to dethrone him. SHOOOOOSH! Out comes Gable with Otis and Maxxine Durpi in tow. Gable says two weeks ago GUNTHER said Gable couldn't last five minutes, but he did. It's funny because now GUNTHER is the one on the clock. GUNTHER is weeks away from setting the all time record for holding the Intercontinental Championship. The problem is, Chad Gable has been waiting for an opportunity for ten years. Gable is standing in GUNTHER's way, and he will be the one to dethrone the champion. Gable calls for Vinci to come into the ring for their match, but Kaiser gets on the mic and says Vinci will embarrass Gable, just like Kaiser embarrassed "your freak friend" last week. Kaiser says eventually Maxxine will understand that she should be with them, and not with the Alpha Academy. Kaiser calls the Academy a sinking ship, and he is holding his hand out to save her. Kaiser says if she doesn't join him, she will become what Gable and Otis already are…an embarrassment. That earns Kaiser a slap, as Vinci steps in and we head to break. Honestly I could see them eventually pairing Kaiser and Maxxine together, not sure if they can resist putting two people that conventionally attractive together.
CHAD GABLE DEFEATS GIOVANNI VINCI
Nice to see Vinci get some singles shine after it's been mostly Kaiser in that role recently. Vinci is definitely not lacking in the ring, an extremely impressive athlete who could blow of the roof off this place with Gable if given the time. Vinci catches Gable mid air and hits a beauty of a powerslam for a two count. Vinci hits a GUNTHEResque chop on Gable that has the Olympian crumble to the mat. Vinci keeps up the chops but Gable fires himself up and asks for more! Gable hits a rolling neckbreaker on Vinci which he follows up with a Moonsault that he misses. Gable lands on his feet but eats a driver from Vinci for his trouble. The two men jostle for position until Vinci finds himself chest first against a turnbuckle and you know what that means…Chaos Theory Suplex! One, two, three. Gable picks up the win in a fun short match. GUNTHER is on the table again and says this is not how this ends. He challenges Otis to a match RIGHT NOW and oh man I didn't know I needed this one. That leads us into…
GUNTHER DEFEATS OTIS
Otis is shaking from thighs to fingers before he locks up with the Intercontinental champion. The two start with a test in strength, which GUNTHER doesn't allow to end in a clean break. Otis is able to roll out of one of GUNTHER's strikes, but eats a big boot on the rebound. GUNTHER starts to get nasty, tearing at the nose and mouth of Otis right in front of Gable and Maxxine. Otis fends off some big shots from GUNTHER and starts throwing some of his own. Otis finally takes down the champion and gives him a "suck it" for good measure. My god these two are just laying in some lariats, neither knocking the other down until Otis catches GUNTHER for a fallaway slam. Otis goes for the Caterpillar but is countered by a boot from GUNTHER and then a massive Powerbomb for the three count (seriously watch that Powerbomb back). Before the bell has even rung, Chad Gable hits a german suplex on GUNTHER! Despite Otis's loss, the Alpha Academy still has momentum. Also it can't be understated, watching GUNTHER and his opponent of the week beating the hell out of each other never gets old.
BACKSTAGE WITH THE JUDGMENT DAY
The Judgment day is backstage in full force and Priest is questioning Finn for not being out there at the start of Raw, but then showing up for JD. Finn argues with him before Rhea steps in and tells them to quit it, and this is why people aren't scared of them anymore. JD tries to come into the conversation and Priest tells him off. Finn stops Priest and says tonight they have an opportunity with Cody Rhodes to make a statement. It seems like for now, the Judgment Day is on the same page again.
RECAP OF THE HAIL TO THE CHIEF SEGMENT FROM SMACKDOWN
We see a recap from the main event segment from Smackdown this past Friday. I'm a little more forgiving than most at Jimmy's explanation for his attack, especially if he eventually leans into it being a BS explanation that covered his real jealously. Jey "quitting" is interesting, I'm wondering if they'll actually have him out for any period of time.
INTERVIEW WITH DREW MCINTYRE
We see a video from earlier today that shows Jackie Redmond backstage with the Scottish Warrior Drew Mcintyre, fresh off his loss to GUNTHER. She asks what's next for Drew McIntyre, and before he can answer Matt Riddle comes in and says he is so happy to see Drew. Riddle says he accepted the Viking Raiders challenge for a tag team match, and asks Drew if he will be his partner. Drew finally gets Riddle to stop talking and says if Riddle can't find a tag partner for tonight, he will consider it. Drew heel turn incoming?
VIDEO PACKAGE FOR INDI HARTWELL
We see a video package for Indi Hartwell. Especially on a three hour show, it never hurts to take a moment to remind or introduce viewers to the accomplishments of one of your newer wrestlers. She has a match with Rhea Ripley tonight, even better timing.
MATT RIDDLE & DREW MCINTYRE DEFEAT VIKING RAIDERS
Matt Riddle is out and hoping that Drew McIntyre accepts the offer to be his partner. The Viking Raiders are out before any partner can be announced. Just as the referee is going to ring the bell, we heard the sound of swords and Drew McIntyre is out to be Riddle's partner after all. Cole says we could call them the "Scottish HIGHlanders" and, honestly pretty good Cole. I'm still very thankful we have Cole and Barret on Raw. Erik and Ivar are trying to isolate Riddle, but he is able to fight both of them off, sending Erik and Ivar to the outside. Erik catches Riddle's attempt at a penalty kick, and transfers him over to Ivar who sits his whole body onto Riddle as we head to break. My brother-in-law and I discuss the sword that Drew has, and he makes a fair point that if you're gonna have a prop you probably shouldn't bring something that you aren't going to be able to use. I told him about Chainsaw Charlie. I'm honestly surprised we never got Shotgun Willy back during the Attitude Era. Back from break and Drew has still yet to get into the match, which is a real big Looney Tunes "heel turn incoming" sign if I've ever seen one. Riddle finally breaks free and makes the tag to Drew and I was wrong! Drew hits shoulder tackles on Ivar and a belly to belly on Erik. Drew tries for the Futureshock DDT but Ivar is too big to lock it on. But Drew is able to nail Ivar with a Michinoku Driver for a two count. Drew brings Erik back into the ring and calls for the three count. Ivar gets up on the apron which allows Erik to nail Drew with a knee. Riddle tags in and the Viking Raiders hit a double team move that gets only two. Riddle hits a flash knee and tags in Drew, who takes out Ivar with the Glasgow kiss headbutt. Riddle hits the Floating Bro to the outside on Ivar and back in the ring Drew connects with the Claymore on Erik for the win.
BACKSTAGE WITH INDI HARTWELL & CANDICE LERAE
We see a recap of last weeks brawl with Raquel Rodriguez and Rhea Ripley that got Indi Hartwel and Candice Lerae involved. Backstage Indi is warming up with Candice looking on. Raquel comes in and apologizes for not getting cleared tonight, but says it is Indi's night tonight.
BACKSTAGE WITH DREW MCINTYRE & MATT RIDDLE
RIddle and Drew are walking backstage and Riddle is excited about their prospects in the tag team division. Drew tells him to slow down a bit, but Riddle is thinking Tag Team titles. In comes the New Day (holding chairs lol!), who are upset that they would dare say such things on Kofi Kingston's birthday?!? They run down all of the crazy tag team changes in the last few months, and challenge Riddle and Drew to a tag team match next week. Before Drew can say anything, Riddle interjects and accepts. Okay, so maybe a more slow burn coming for Drew? Either way, I forgot just how much of a boost the New Day brings to a show. So glad to have them back.
RHEA RIPLEY DEFEATS INDI HARTWELL
As Indi Hartwell makes her way to the ring, Cole says him and Barrett talked to Indi today and she said she met Rhea eleven years ago in Australia. Indi apparently always feels like she is a step behind Rhea in her career, which is a great addition from commentary. Rhea is obviously dominant early, but Indi sticks and moves allowing Rhea to crash into the ringpost. Indi hits a spinebuster but it only gets a one count on Rhea. Rhea and Indi go on the outside and Rhea sends her into the post multiple times. Rhea throws Indi back into the ring and then runs back on the outside to take out Candice. Indi gets a two count on a rollup when Rhea is back in the ring, but a headbutt followed by a Riptide puts this one to bed. Candice jumps in the ring and starts throwing hands at the champion. Indi and Candice double team Rhea and are able to escape. I'm a big fan of Candice Lerae, and I think her and Rhea will kill it.
SHINSUKE NAKAMURA INTERVIEW WITH MICHAEL COLE
We see a recap of Shinsuke Nakamura turning on Seth Rollins with a Kinshasa as Raw went off the air last week. Shinsuke Nakamura is out looking FLY for an interview with Michael Cole. Cole asks why on earth did Nakamura attack Seth last week after Nakamura said he had respect for Seth. Nakamura answers in Japanese first, and then says "I want the World title." Cole asks if he needed to kick Seth in the head. Nakamura again answers in Japanese, a pretty detailed response and then says in English "I win the World title." as Seth Rollins music hits. Nakamura has a great eye roll and is really playing this great as Seth comes to the ring. Seth says Cole did a great job but he will take it from here. Seth says he has to hand it to Nakamura, he set Seth up and he knocked him out. Seth says the World title explanation seems too obvious. Seth isn't hard to find, so maybe Nakamura has a deeper reason. Seth says he is a fighting champion and all Nakamura had to do was ask. Seth is less concerned with why Nakamura kicked him in the face, instead how he can get even. Seth says he has a surprise for Nakamura – he wins. The best way for Seth to get what he wants is to give Nakamura what he wants. So, it will be Shinsuke Nakamura against Seth Rollins for the World Heavyweight Championship. Nakamura names the time and place, and Seth will be there to kick his ass. Seth asks for a handshake from Nakamura and then for him to get out of his ring. Nakamura shakes his hand and then whispers something to Seth that completely changes Seth's demeanor. Before Seth can catch himself, Nakamura nails Seth with another Kinshasa! This was great, loved Nakamura in the more quiet confident type. The whisper is SUPER interesting to me. Finger crossed it's not something stupid.
INTERVIEW WITH THE MIZ
We see a recap from the excellent LA Knight/Miz promo battle from last week. Byron Saxton is backstage and asks the Miz about the altercation with Knight last week. Miz paints it as Miz getting the better of him, but Byron mentions that wasn't how it went when things got physical. Miz is furious and says what Knight has done isn't impressive. So next week on Raw, the Miz will beat someone bigger than LA Knight has ever defeated. And heck, he may even show up on Smackdown.
BECKY LYNCH VERSUS TRISH STRATUS ENDS IN A DOUBLE COUNTOUT
So they are kicking off the third hour with the rematch between Becky Lynch and Trish Stratus. Look you'll get no argument with me that Finn Balor versus Cody Rhodes isn't a huge matchup, but Becky and Trish not main-eventing is a bitter pill to swallow. You already had them not on Summerslam, and now they aren't main-eventing this show? I don't know, just seems lame to me. This program has really fallen flat for me, but I wouldn't be shocked if these two killed it tonight. Becky is all smiles as she finally has Trish one on one, with Zoey Stark barred from ringside. Becky takes the fight right to Trish, but Trish uses the mask as a weapon to flip momentum. Becky hits a baseball slide to Trish and then a forearm off the apron that…did not look good. Seemingly just some mistiming on the spot. I'm wondering if that facemask is hard to see through? Becky kicks Trish and the masks flies off, but Trish quickly puts it back on. Trish goes for the Stratosphere in the corner, but they have to do the spot over. The two however do a good job of not making it look awkward and brawli through the fix. Outside the ring Trish takes her mask off and she is healed! Probably should have done this almost immediately into the match, but I'll take it. Back from break and Becky is a house of fire, working a mile a minute here. Trish calls for the Stratusfaction but Becky gets out of it. Trish tries for a tornado DDT off the top but Becky is able to counter. The two struggle for the advantage, until Becky nails Trish with a superplex for the two count. Trish tries to leave the ringside area but Becky catches her. Both women brawl over the barricade and a DOUBLE COUNTOUT?!? Oh man lol I mean, I get why it wasn't the main-event. I just assumed…well the two of them continue to beat the hell out of each other in the stands, out to the concourse area of the arena. These two are not done, not by a long shot. Becky is throwing Trish into what is or isn't nailed down. Trish is throwing merch at Becky, but gets distracted posing with her own shirt lol. Becky has Trish up on the merch table and is about to hit a Manhandle Slam until a hooded figure sweeps her leg. Its…Zoey Stark. Wait why was Zoey in a disguise if she was banned from ringside and they are pretty far from ringside? I'll give them that maybe she was going to try to interfere and she had to change course when the brawl went to the concourse.

This was…a lot. Sloppy at first, not sure how much Trish's mask had to do with that. I am glad however that these two will seemingly get a PPV blowoff. Just never a fan of advertising your big rematch with the lacky banned from ringside ending in a double countout.
BACKSTAGE WITH IMPERIUM
Imperium is backstage and Kaiser is ranting. GUNTHER says enough. Ever since they've come to Raw, Vinci has been a disappointment. And Kaiser has been distracted by Maxxine. Kaiser tries to fix it by saying he will go to Adam Pearce but GUNTHER says no, HE will go to Adam Pearce and sort things out. GUNTHER says if Chad Gable wants his title, he will have to take it from him next week. Hmm not on Payback? Let's see, I'm assuming no clean finish there.
BACKSTAGE WITH TRISH STRATUS & ZOEY STARK
Trish Stratus and Zoey Stark are walking backstage and Adam Pearce barges in. Pearce says everytime we try and do Trish versus Becky, Zoey gets involved. The next time they face each other, it will be inside a Steel Cage! The two protest as Pearce storms off. Okay, at least they get that.
CODY RHODES DEFEATS FINN BALOR
Big time main event here with former Bullet Club members Cody Rhodes and Finn Balor squaring off. Cody shows off his strength, holding Finn up for a delayed front suplex. Finn corners Cody for some shoulder blocks into the corner, trying to wear the American Nightmare down with a series of chops and dropkicks. Cody hits the old Hardcore Holly "low blow" on Finn. Cody is on the outside when Dominik runs down to the ring. Cody grabs him for a suplex but Finn hits a baseball slide on Cody to break it up as we head to break. Big LOL at Dominik running with an axe-handle cocked for almost the entire run down the ramp. Back from break and Finn is in control, but Cody quickly finds his groove and hits a powerslam and then a Disaster Kick for a two count. Even more trouble for Cody as Damian Priest comes down to ringside. Cody tries for the Cross Rhodes but Finn counters it, nailing a Slingblade. The two men trade counters until Finn hits the shotgun dropkick on Cody to set him up for the finish. Finn goes for the Coup De Grace but Cody moves. Cross Rhodes attempt number two but Finn rolls out. However he can't escape a Cody Cutter that sends Finn out of the ring. Cody readies for a dive but Priest grabs Cody's leg. Finn tries for the sneak attack but Cody moves and dumps Finn onto Priest, before hitting a dive on both members of the Judgment Day. Cody goes up top but Dominik crotches Cody while Rhea distracts the referee. Finn hits a superplex to Cody from the very top for a close two count. Dominik throws a steel chair into the ring but the referee catches it. As he is getting rid of it, Priest slides the briefcase into Finn but it goes between his legs into the arms of Cody, who nails Finn and then Priest with the briefcase. Cody hits the Cross Rhodes on Finn for the three count.
After the match Dominik and Priest attack Cody but Sami Zayn is out with a steel chair to even the odds! He takes out all three male members of the Judgment Day with the chair until JD McDonagh comes from behind and nails Sami on the back of the head with an eblow. Priest doesn't question it as him and Finn beat down on Sami. Cody tries for the save, but eats a South of Heaven from Senor Money in the Bank. Finn follows that up with a Coup De Grace on Cody. Priest and Finn toss Sami outside to Dominik and Rhea who immediately put the boots to Sami. Finn hits a Coup De Grace onto Sami as well. All hell is breaking loose as the Judgment Day clears the announce table. Finn feds Sami to Priest, who hits the Razor's Edge on Sami through the table! Finn goes back in the ring and hits another Coup De Grace on a lifeless Cody Rhodes. What a shot, and a really powerful closing angle after all the Judgment Day drama the last few weeks. I wouldn't be surprised to see Priest okay an addition of JD after his interference tonight sparked their big beat-down. Also after that briefcase mistake by Priest, all I can think of is Big Bossman accidentally throwing the nightstick to the Rock at Survivor Series '98.