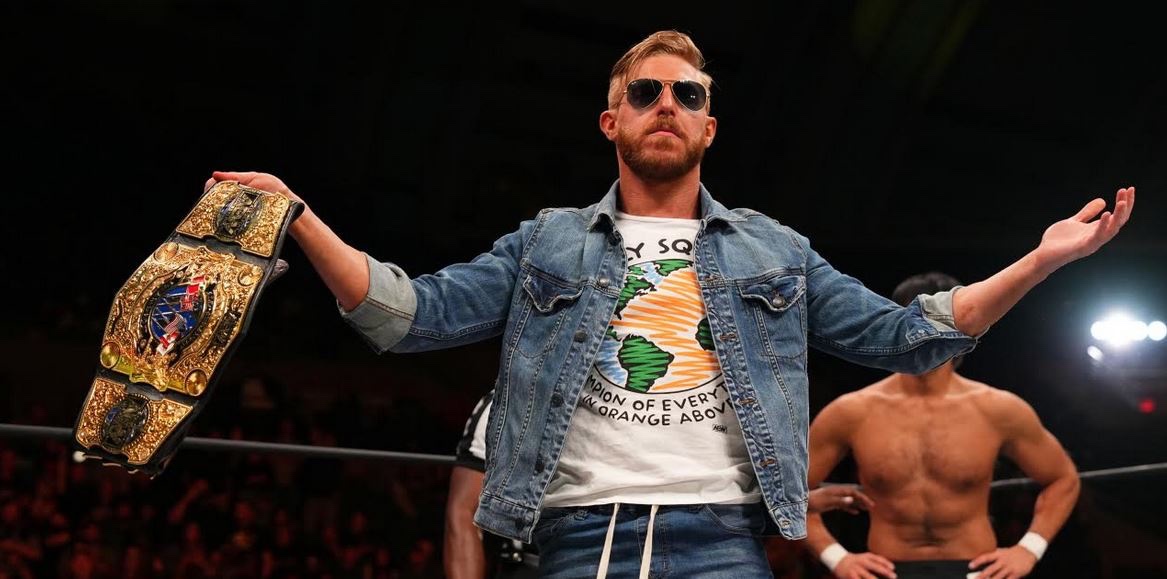 Orange Cassidy has given some thoughts regarding his AEW International Championship reign.
Last October, Orange Cassidy claimed the then AEW All-Atlantic Championship. As of writing, he has been champion for 239 days, and fans have been treated to regular high-quality title defences each week on Dynamite.
To this point, Cassidy has successfully put the championship on the line against roster members such as Daniel Garcia, Bandido, Buddy Matthews, and, most recently, Swerve Strickland. The company are overtly telling the story that Cassidy's constant willingness to defend his gold is taking its toll on his body and fans are under the impression that the end of his long reign isn't too far away.
To comment on his run with the gold, Cassidy sat down with Jack Farmer of Wrestling Inc. where his revealed that it wasn't his idea to string together such a long streak of title defences, with the star feeling as if the belt didn't really have an identity when he got his hands on it.
"I'll tell you what wasn't my idea to get beat up every single week and defend this thing. When I got the All-Atlantic Championship in October, the idea was just really to beat Pac, and just finally get that win over him. And along with it came the All-Atlantic Championship and I didn't really know what this title meant. I didn't know what it was for. I didn't really understand… It didn't have an identity really, but it did have a lineage already of Pac who is obviously one of the best wrestlers in the world,"

-Orange Cassidy
Furthermore, the current International Champion went on to say how it quickly became apparent that he wanted to use the title as a way of giving opportunities to other talented performers.
"To live up to that, I ain't got nothing to prove to anybody. I'm going to do what I'm going to do. It's going to be what I want to do. But when I had the Independent Wrestling Championship early in my career on the Indies, I had this philosophy of, if you want a shot, I'll give it to you. And I think I wanted to use this as a tool to get people on television that you normally wouldn't see on television. Maybe somebody that works really, really hard that deserves a title shot. And I decided to make this title the belt that everybody else who wasn't ranked number one could go after and show different styles, show different wrestling, show the wide variety of fantastic talent that AEW has. It's just unfortunate that I'll have to punch them all in the face to win this back. It was something I stumbled upon. I didn't really set out to do that, it's just what happened,"

-Orange Cassidy
The 39-year-old retained his title against Swerve Strickland this past Wednesday on Dynamite, with his next challenger currently unclear. Though, given the nature of his run so far, it surely won't be long before Cassidy is back out there seeking to defend his gold.
As always, we'll aim to provide any updates on Orange Cassidy and his AEW International Championship run as we hear more.