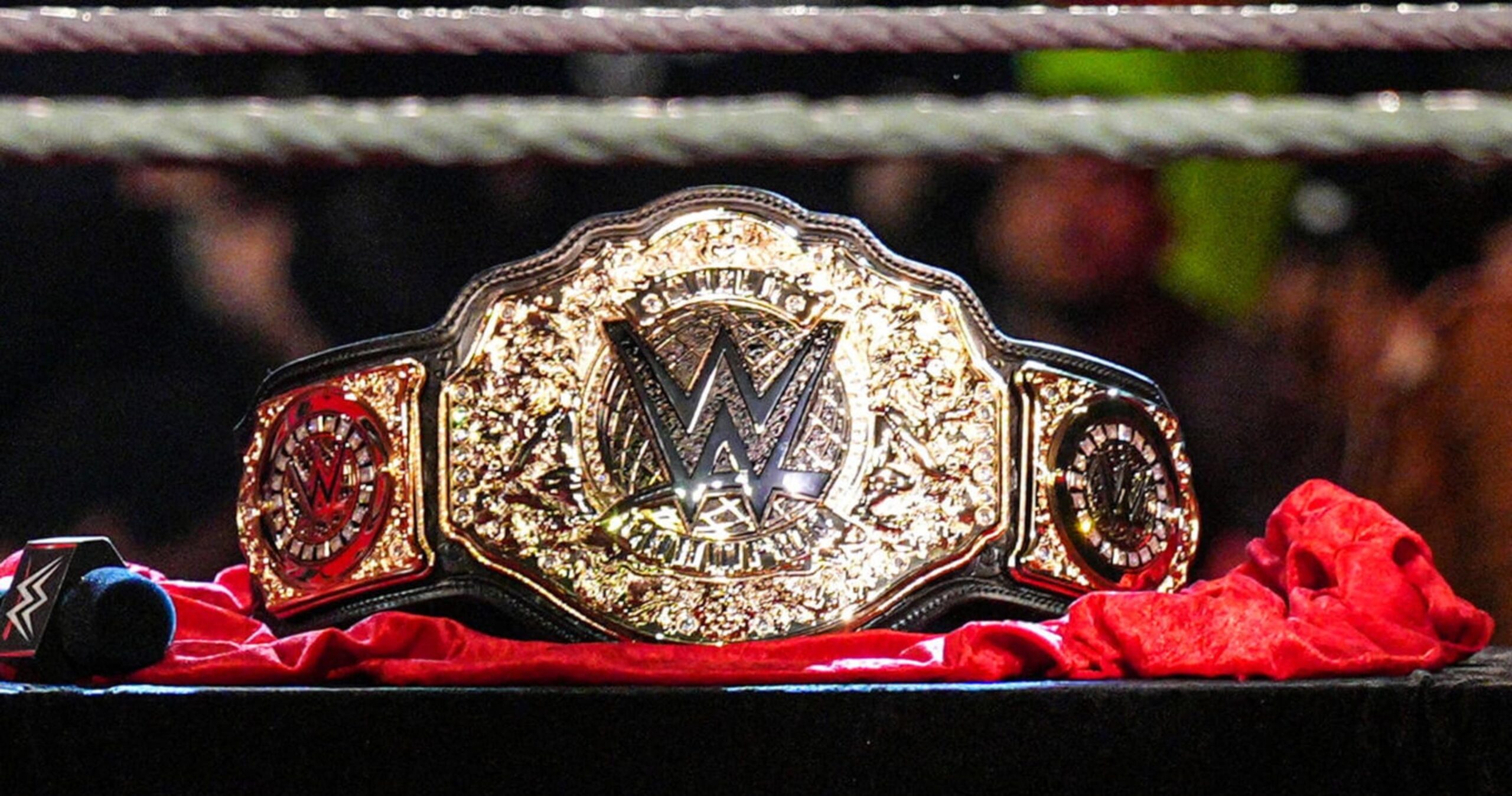 WWE has done a bad job of launching new world titles since the turn of the century. The old World Heavyweight Championship got off to a rough start by being won… sorry given… to Triple H on an episode of Raw. The Universal title didn't fare much better, becoming the laughingstock of the wrestling world on its first night due to the gaudy red design; it pretty much killed SummerSlam 2016 and the belt was seen as a joke by many until Roman Reigns won it in 2020.
Triple H and co. will have to hope that the third time's the charm then with their new 'improved' World Heavyweight Championship. While the design obviously can't match up to the Big Gold Belt of old, its introduction finally gives Raw the world champion it has been crying out for since WrestleMania 38. With a top title finally being able to exist away from the clutches of Roman Reigns, let's have a look at which fresh faces could be grabbing it in the coming years.
And hey, if your favourite wrestler isn't on here, don't worry about it! The glory of this is that there's now plenty of world titles to go around…
SETH ROLLINS –
Ok, well, they're not all fresh.
While AJ Styles getting a final run as world champion is a nice thought, Seth Rollins is the only logical winner of Saturday's match.
For starters, unlike Styles, Rollins was actually drafted to Raw, which means him winning it won't further highlight how pointless the recent Draft was. Furthermore, Seth has been grinding away on Monday nights for years now, regularly providing the best match on the show and providing a reason to tune in even when RAW is at its most dire. A run with the brand's top title for the first time since 2019 is the least he deserves.
The Architect is a reliable hand, and giving him a run with the new belt is a great way to get the title lineage restarted. He can feud with Judgement Day over the summer, running back his SummerSlam 2016 match with Finn Balor before eventually losing the title to…
DAMIAN PRIEST
Ultimately, the purpose of introducing a new world title should be to give main event runs to guys who are more than ready for a world title, but who wouldn't get the chance otherwise because of Roman's grip on the WWE Universal Championship. In a similar vein to how the first two Universal Champions were first-time world champions, what better way to establish this belt as an exciting prospect than by giving it to someone who has never held a world title just months after its introduction?
Championships should always be made by the star who holds them, not the other way around, and of all the upper mid-carders WWE has at their disposal, Damian Priest feels like the biggest star who can help make the World Heavyweight Championship. Management has done a great job with his presentation since WrestleMania, and he deserves immense credit for his match with Bad Bunny at Backlash. Even if you don't feel like Priest is quite on the level of a world champion just yet, there is plenty of time for him to get in some big wins so that he is.
Beating Seth Rollins for the title would be a deserved reward for an excellent few years on the main roster for the Archer of Infamy.
SETH ROLLINS (2)
Seth winning back the belt from Priest would probably annoy some fans, but it works for two reasons. Firstly, Priest can win the title in the summer and hold it for the rest of the year, so it's not like he's a quick transitional champion. Secondly, you do not want a relative up-and-comer like Priest in the position Seth will be in come WrestleMania.
Priest can be protected by losing the title at the Royal Rumble in a multi-man match, meaning he doesn't need to be pinned. He can have the match won before a jealous Finn Balor costs him the match, setting up a big WrestleMania clash between the two.
Rollins is very much in the role of transitional champion here. He's here to get the belt onto one man and one man only.
GUNTHER
Gunther's time is now, there's just no denying it. The Austrian is currently enjoying the best and soon-to-be longest Intercontinental Championship reign of all time. WWE would be wise to strike while the iron is hot and strap a rocket to the back of one of the most unique performers they've had on their books in years.
After beating the Honky Tonk Man's record, Gunther can decide that one title is simply no longer befitting of a man of his stature. He enters the Royal Rumble, decimating all who stand in his way and wins the thing with relative ease.
From there, he goes to WrestleMania, where he has a match with Seth Rollins that parallels John Cena vs. Brock Lesner at SummerSlam 2014. Gunther decimates the Kingslayer, clotheslining, powerbombing, and chopping Rollins to a pulp. The win will establish Gunther as WWE's top monster heel and set him on his way for a yearlong title reign that includes a long-awaited match with Brock Lesnar at SummerSlam.
BIG E
This one is easily the most wishful of the bunch, but the story is just too perfect not to tell.
Few wrestlers are as universally beloved as Big E. His title win on RAW was the best feel-good moment WWE had produced since KofiMania, and his injury early last year was met with collective heartbreak.
Simply put, if Big E can return, he must get another run at the world title. Who knows when Dolph Ziggler's former bodyguard will be able to return to the ring, but the thought of Big E winning the Royal Rumble and vanquishing the seemingly unstoppable Gunther is just too wonderful to not dream of.
WrestleMania can end with Big E once more at the top of the mountain, drawing to an end one of the most inspiring comeback stories in WWE history.
ROMAN REIGNS
Oh, come on. Do you seriously think WWE will introduce a new world title and NOT have Roman Reigns win it at some point? And what's a more WWE way for it to happen than by having him prematurely end the reign of the person we all wanted to be champ instead?
One has to think that by the spring of 2025, Roman will surely have dropped his WWE Universal Championship to… someone. By that point, drafting him over to Raw would make sense, as six years on SmackDown will mean he could do with a change of scenery.
Roman turns up at Backlash and screws Big E out of his newly won championship, putting himself on the mountaintop yet again.
BIG E (2)
If WWE is going to have the gall to have Big E's reign ended by Roman, they better make sure he gets the chance to redeem that loss down the line. After his original title run ended at the hands of Brock Lesnar, fans were furious that he began to immediately slide down the back of the card without a chance at redemption. It is to Triple H's credit that we can hope that he will have the presence of mind to not make this the third instance where a New Day member has lost their world title and immediately slid down the card.
After Roman puts Big E on the shelf for the spring, he returns in June and spends the summer chasing Roman, who keeps avoiding him since he knows that Big E has his number.
It culminates at SummerSlam, where in the main event, Big E puts Roman away and wins back the title. Roman goes away to shoot Fast and Furious XV: Scalextric Boogaloo and Big E finally gets a decent run as the top champ on Raw.
CARMELO HAYES
After the culmination of Roman Reigns vs. Big E, we'll be overdue a brand new champion at the top of the card, and this is where Carmelo Hayes comes in.
Hayes has got everything that a modern WWE star needs. He's got the look, the charisma and the in-ring work needed to be a force in for years to come. After a couple of years working his way up the mid-card, the time will come for him to finally win the big one, beating Big E for the title at Survivor Series.
From here, Hayes can have a star-making title run. After knocking off Big E again in a rematch at the Royal Rumble, he beats Kofi Kingston at the Elimination Chamber before he faces off against the one member of the New Day he underestimated at WrestleMania.
XAVIER WOODS
When we look back on New Day as a faction in 15 years, it would be a real shame to see just two of its members as world champions. While Kofi Kingston and Big E may get more of the plaudits, Xavier Woods deserves a world title win.
After both of his brothers fall at the hands of Hayes, Woods steps up to do what neither of his partners could do and puts Hayes away. Some might point to King of the Ring as Woods' big moment, but the man who is responsible for the formation of the New Day deserves his moment in the sun.
Woods can beat Hayes at 'Mania in an epic match which further cements New Day as one of the greatest factions of all time, while also marking an excellent end to Hayes' first run as world champion.
MJF
Screw it. Why not?
It does feel inevitable that at some point, MJF will step into a WWE ring. Whether it's because of money, creative issues, or anything else, it would really be a shock if Maxwell Jacob Friedman never departs AEW to show his face in WWE at some point.
Imagine the pop that would go off for an MJF debut on the night after WrestleMania. As Woods and co. celebrate in the ring, the 8-bit opening to MJF's theme rings around the arena, and Raw is draped in the colours of that infamous Burberry scarf. MJF arrives, and at Backlash, he beats Woods to mark his arrival in WWE.
He goes on to torment Raw for the remainder of the year, before his reign finally ends at WrestleMania at the hands of a certain American Nightmare who comes back to haunt him after eight long years.