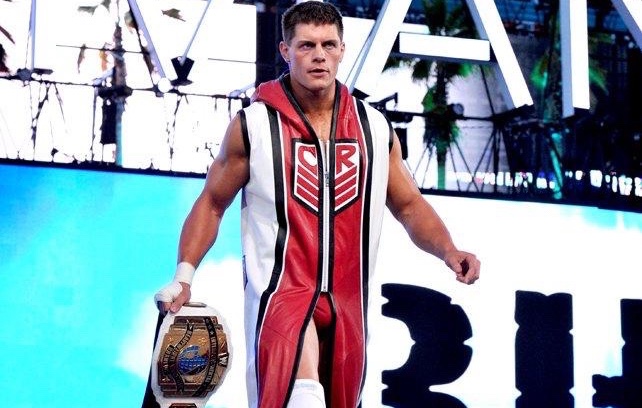 Cody Rhodes has been the pro wrestling star that has been most talked about on the road to WrestleMania 38 in Dallas. Ever since his surprising departure from All Elite Wrestling, fans and pundits alike have been anticipating his next move. With the American Nightmare likely to return to his former home of WWE, it has led many to remember his first run with the promotion.

Signing with the company in 2006, Cody Rhodes spent nearly a decade honing his craft in Vince McMahon's promotion. The youngest Rhodes son evolved before everyone's eyes. Introduced with Dusty Rhodes by his side, he went from the second generation star to a member of Legacy to Dashing to Un-Dashing to Intercontinental Champion to valiant babyface to finally, Stardust. Throughout his run, he made several appearances at the biggest event of the year, WrestleMania, in those various personas.

With The American Nightmare set to return at WrestleMania 38, it seems like the ideal time to think back about his first run with WWE and on the grandest stage of them all. Here is the ranking for every Cody Rhodes match at WrestleMania (not including the WrestleMania 30 Andre The Giant Memorial Battle Royal).

5. Cody Rhodes vs. Big Show for the intercontinental Championship – WrestleMania 28


Cody Rhodes was a memorable Intercontinental Champion in 2011-12. He is responsible for reintroducing the original IC Title design, which excited a lot of long time fans. When WrestleMania 28 came around, there were rumors that he might defend his title against Goldust or Booker T, who he had encounters with in the past two Royal Rumble matches.

However, it was Big Show who had the honors of facing the youngest Rhodes. This was a unique buildup because Cody used Show's history of losing at the Show of Shows to get under the skin of his challenger. Up until Mania 28, Show was 0-7 in singles competition at the Showcase of the Immortals. It made for a fun lead-up, but the match itself was nothing to write home about.

Lasting just over five minutes, Show dominated Rhodes and put him away to win the Intercontinental Championship. It was an unfortunate blowoff for what was an intriguing angle that showed off Cody's microphone skills, but didn't deliver a satisfying matchup.
4. Cody Rhodes vs. Ted Dibiase vs. Randy Orton in a Triple Threat Match – WrestleMania 26

At WrestleMania 26, Cody Rhodes finally made his debut at the Show of Shows. After spending over a year in the shadow of Randy Orton in the Legacy stable, Rhodes and Ted Dibiase stepped out and tried to destroy their former leader. This led to a Triple Threat Match at Mania 26 at the University of Phoenix Stadium.

Following an epic heel run that led him to main event the previous year's event, Orton was firmly established as a babyface heading into this event. This placed his former proteges together in trying to take down The Viper. Rhodes and Dibiase worked together for the majority of the bout, but the inevitable implosion came with both men trying to get the victory over one another.

The fans were into Orton and his double rope-hung DDT that became a staple of his three-way matchups. The Legend Killer wanted to put his former teammates away for good, laying Rhodes to waste with a punt kick before finishing off Dibiase with a RKO for the win. This felt like the younger Legacy members just weren't on the level as the former leader.
3. Cody Rhodes vs Rey Mysterio – WrestleMania 27

After receiving that punt kick at WrestleMania 26, Cody Rhodes returned to WWE as a brand new persona. He was now Dashing Cody Rhodes. No longer wanting to live off his family's legacy, Rhodes was more concerned with his looks more than ever. This introduced his signature "Smoke And Mirrors" theme song as well as mirror entrance.

However, Rey Mysterio put a stop to this with one 619 directly with his knee brace to Cody's face. Rhodes was distraught after this incident and felt his face was permanently damaged. After "surgery" to fix his face, Cody came back with a protective face mask and had a vengeful edge to him. Looking for revenge, he challenged Mysterio to a match on the grandest stage of them all.

Rey used his speed and agility to keep Rhodes on his back foot, but Cody continued to use his face mask to his advantage like he had done in the buildup. There was a slick stalling superplex off the second rope from Rhodes that was very impressive despite Rey's size. The physical props were removed by both men with Rhodes removing Rey's knee brace, while Mysterio took off Cody's face mask.

Rey hit the 619, but Cody caught him with the knees when he came off the top rope. Mysterio regained control and put on Cody's mask to deliver some headbutts like Rhodes did earlier. Cody then used Mysterio's knee brace, striking him with it on a dive before delivering the Cross Rhodes in the ring for the win. This was a good match that got a decent amount of time and truly felt like Cody had arrived with a superb character.
2. Stardust vs. Wade Barrett vs. Dolph Ziggler vs. R-Truth vs. Luke Harper vs. Dean Ambrose vs. Daniel Bryan in a seven-way Ladder Match for the Intercontinental Championship – WrestleMania 31

By the time WrestleMania 31 swung around, Cody Rhodes had become Stardust. Through his partnership with brother Goldust, Cody went through a metamorphose that saw him become a persona more akin to his sibling. The two men split shortly before the Show of Shows. After a clash at Fastlane, they went their separate ways and left the door open for Stardust to enter this high risk opener to Mania with the Intercontinental Championship up for grabs.

This was non-stop action from the bell with all seven men brawling. Dean Ambrose flew off a ladder at ringside down on all the competition. Luke Harper played the Terry Funk role with the ladder spin and then took things further to the extreme when he powerbombed Dean Ambrose through a ladder bridge at ringside. IC Champion Wade Barrett took his competitors down with the Bullhammer Elbows. R-Truth brought some comedy along with Stardust who showed off with some Beautiful Disaster kicks.

However, this all came down to Daniel Bryan and Dolph Ziggler. The two popular babyfaces battled atop the ladder, exchanging brutal headbutts. Ziggler was the first to drop to allow Bryan to retrieve the title and complete his remarkable comeback by winning his first Intercontinental Championship. It felt like an appropriate start to what would become a wonderful WrestleMania 31 with Bryan winning gold one year after closing the show as WWE World Heavyweight Champion.
1. Stardust vs. Kevin Owens vs. Sami Zayn vs. Sin Cara vs. Dolph Ziggler vs. The Miz vs. Zack Ryder in a seven-way Ladder Match for the WWE Intercontinental Championship – WrestleMania 32

In a sequel to the previous year, the Intercontinental Championship was once again defended in a death defying multi-man ladder match at WrestleMania 32. This time, Kevin Owens was the reigning champion, while Stardust was once again thrown in with not much direction heading in. Despite his status being lost in the shuffle, Cody Rhodes was able to stand out in a major way with a memorable moment.

Adorned in his dad's signature polka dots just under a year after his passing, Stardust also brought a polka dot ladder that popped the sold-out Dallas crowd in AT&T Stadium. He even got the Terry Funk spinning ladder spot this year in Texas. However, Stardust was taken out for good when Owens toppled Sin Cara off a ladder onto Rhodes who was placed on a ladder bridge.

The centerpiece of this ladder showcase was the rivalry between Owens and Sami Zayn that was spotlighted several times right from the beginning. Owens hit a sick frog splash on Zayn while he laid on a ladder in the ring, while Zayn later killed KO with a wicked half and half suplex onto a ladder.

Everyone had their moments with Ziggler hitting superkicks and of course showing off his expert selling with some awesome bumps. Zayn looked poised to win, but The Miz pushed him off the ladder to massive heat. The A-Lister got cocky and took his time to climb the ladder with no one in sight, but Zack Ryder came out of nowhere to push Miz from the top and retrieved the title to win his first Intercontinental Championship.

This had everything that fans have come to expect from these multi-man ladder matches. There was high impact action, crazy ladder spots, intensity and a hot finish. Despite being in his Stardust persona, this has to be the best Cody Rhodes match at WrestleMania.