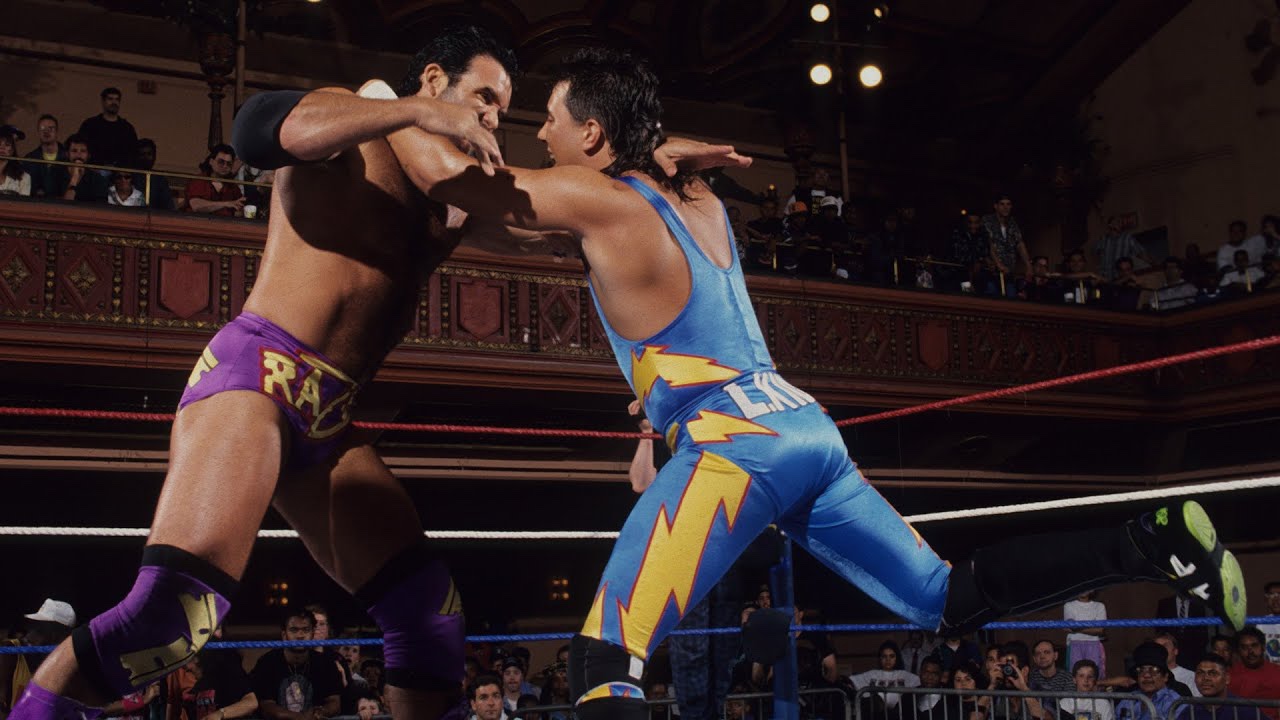 The task of remembering something from even a month ago can be a daunting task. The older that we get, remembering something from twenty-nine years ago is unfathomable, especially when you were just a little one then, no concept of the world and everything around it.
Even still, I remember May 17, 1993, just like it was yesterday.
I was a young three-year-old lad, curious about this situation called life sitting in front of me. I remember bits and pieces that molded my childhood like most kids of that era. Nickelodeon, trips to the neighborhood park, running around and embracing everything around me.
I knew I had seen professional wrestling before. Growing up in Virginia, World Championship Wrestling was a weekly occurrence on Saturday nights, as my father would get his snacks and sit in front of the television at 6:05, ready to witness the significant stars of WCW. He always told me that he would have me on his lap and I would get animated at the various characters that would come through, immediately engaged by their over-the-top gimmicks.
I don't remember any of this.
But one random night, he watched a wrestling show that I had never seen before, but it seemed more colorful than its counterpart. The ropes were red, white, and blue. The small ambiance filled the arena with animated, but passionate fans. The leading commentary voice was a loud bravado of excitement about what was coming as he said, "Welcome to WWF Monday Night Raw!"
I hate to use the cliche, but it was a brand new world.
Now obviously, being young to the world and unaware of what was going on, I didn't understand that I was watching a historic night on this spring Monday evening. In the early days of Raw, it was gracefully only one hour that featured an enhancement match with an unqualified sheep being fed to an established, giant name star with the point of getting over how dominant the prominent name was.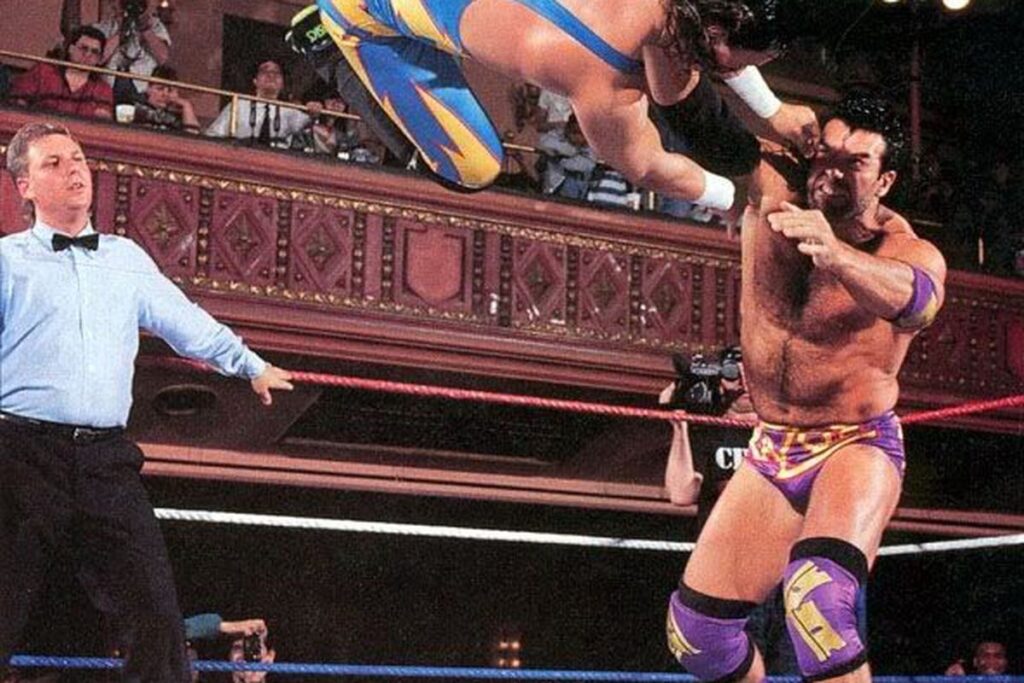 The match that captured my attention was gearing up to be just another one of those. On one side, already standing in the ring was a pale, skinny kid named Sean Waltman, sporting a blue singlet with a yellow lightning bolt on it. That night, he was being dubbed as "The Kid." Waltman had been on the two previous episodes of Raw, as he was destroyed by the sinister Doink The Clown and the devastating Mr. Hughes, so this upcoming match was surely to be no different.
On the other end, making his entrance was the fastest rising star that WWF had on their roster. Draped in gold chains as well as smooth purple trunks and boots was a man who prided himself as being a man of machismo, quickly establishing himself as a big-name player. His name was Razor Ramon, portrayed by the built and charismatic Scott Hall.
Both Waltman and Hall were no rookies to the daunting grounds of the squared circle. Hall was a nine-year pro at this point, with stints in the AWA, Championship Wrestling with Florida and New Japan Pro Wrestling before his biggest claim to fame prior to WWF, a run in WCW as The Diamond Studd. It was there that he would start to show mannerisms of the Ramon character, hurling toothpicks at opponents and telling the camera to "say hello to the bad guy."
His move to the WWF in 1992 was a significant get for the company, and he was instantly in the main event picture with the likes of Randy Savage, Ric Flair and Bret Hart. The sky was the limit, as fans started cheering more and more for Ramon, swiftly propelling him up even further.
Waltman was only a four-year pro but was already highly influential in the lighter-weight style in American wrestling. His bouts with Jerry Lynn and Sabu in the independents were a tape trading sensation, providing a faster pace style instead of the prodding, significant bruiser offense that most fans were accustomed to seeing. His arrival to the WWF was during the infamous Steroid Trial that was taking place, so we were being exposed to smaller yet more dynamic competition.
Being a young child however, I wasn't thinking any of that. All I was seeing were these colorful figures and that the big guy would smash the little guy into oblivion. I distinctly remember being animated during this match with constant oohs and aahs as Ramon slammed Kid into the mat. Ramon was gearing up for an upcoming bout at the inaugural King Of The Ring pay-per-view against Bret Hart, so him dominating and winning was already a foregone conclusion. Ramon whipped Kid into the corner and was gearing to finish him off, but Kid moved, and Ramon ran right into the turnbuckle. The kid saw an opportunity as he climbed to the top rope and executed a beautiful moonsault onto Razor, and the crowd started buzzing, as Kid held onto his pinning position…
One. Two. Three.
The Kid just defeated Razor Ramon on live television.
My dad said the whole neighborhood probably woke up from my sheer level of excitement. I had no idea who these people were, but I felt like I was watching the greatest thing ever. I didn't care what storylines were going on or someone's win-loss record. All I cared about was how much fun I was having. I mimicked the moves I had just witnessed on my pillow as my parents desperately tried to calm me down before bed.
They were unsuccessful, I had gotten bit by the bug. I became a fan of professional wrestling. The Kid was now shooting into superstardom as Hall did the selfless act of making a new star. It was indeed a moment still discussed today with such jubilation. It introduced a new wave of unpredictability that we hadn't seen, especially in the wacky world of Vince McMahon's WWF.
Scott Hall's untimely passing in March of 2022 sent sorrow and pain for friends and fans alike. One day I will sit and write about how much Hall meant to me as a fan and his contributions to the wrestling industry but right now, I write this article in remembrance of him. Without Hall or Waltman, I would not be writing this at all. I can't even imagine where my life would be without it. It all comes back to this particular match. I owe everything that I do in this avenue to the historic nature of this match.
The last time I sat and watched this match was shortly after my son passed away last summer. I cried as that little kid was replaced by a grieving father who yearned to introduce this form of entertainment that he loved to his own. Unfortunately, I didn't get that opportunity, but I still share the same love to my boy in a different way that makes me feel that he is sitting right on my lap.
Just as I did with my dad on that beautiful Monday night.