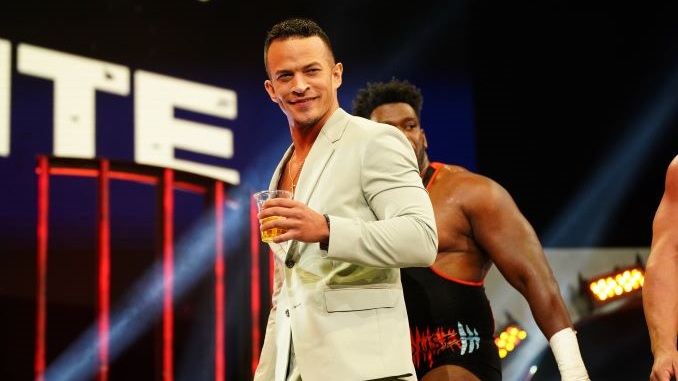 Ricky Starks made his surprise AEW debut on the June 17th, 2020 episode of AEW Dynamite, answering then TNT Champion Cody Rhodes' open challenge.
Whilst Starks came out on the losing side of this bout, he was immediately signed by the company, setting him up as one of AEW's top future prospects.
Starks & Rhodes will forever be linked through this moment, and the Team Taz member even appeared on Cody's "Rhodes to the Top" TV series.
Appearing on Busted Open Radio, Starks revealed that Cody is the man he often finds himself seeking out for advice.
"It's gonna be Cody. I have people I'm able to go to,"

-Ricky Starks
Bully Ray responded to this claim, stating that "it used to be Cody" due to the former TNT Champion signing with WWE. Starks quickly shot this down and reassured Bully Ray that Cody is still the man he seeks advice from to this day.
"It still is Cody. There is nothing wrong with saying that. I don't really have that type of relationship back there (in AEW). There are people I can talk to, for sure, but it's not in terms of taking me under their wing. Sting is a person I talk to with stuff outside of wrestling. Sonjay (Dutt) is a producer I talk to and I like Sonjay a lot because he understands me and that's all I've asked for from people, is to understand me as a person, and he does. Jericho, I've talked to to get advice, but there isn't anyone I go to and sit there and pick their brains because I don't feel like I have that relationship just yet. It's not because of me, it's just how it is there back there and that's cool with me."

-Ricky Starks
Starks was then asked to to elaborate on how Sonjay Dutt understands him better than others. Starks noted that whilst he doesn't consider himself difficult to understand, he acknowledges that there is no difference between his "character" and himself, which he believes is something him and Dutt are on the same page about.
"This is who I am and how I operate and I know it works. Sonjay gets that. We are on the same page when it comes to that type of dynamite. This isn't me saying 'people don't get me back there,' it's more of an artistic and creative understanding and Sonjay is always on point and knows how to get the most. Trying to articulate my ideas is sometimes a hard part for me because my brain is so scattered. Sonjay can look at, organize it, and go, 'here's how we can do it.' That's why I like Sonjay. He's the man when it comes to that."

-Ricky Starks
Starks is set to compete in a triple threat tag-team bout for the AEW Tag Team Championships at the upcoming Double or Nothing PPV, alongside his Team Taz stablemate Powerhouse Hobbs to take Jurassic Express and Keith Lee & Swerve Strickland.
H/T to Fightful for the transcription.