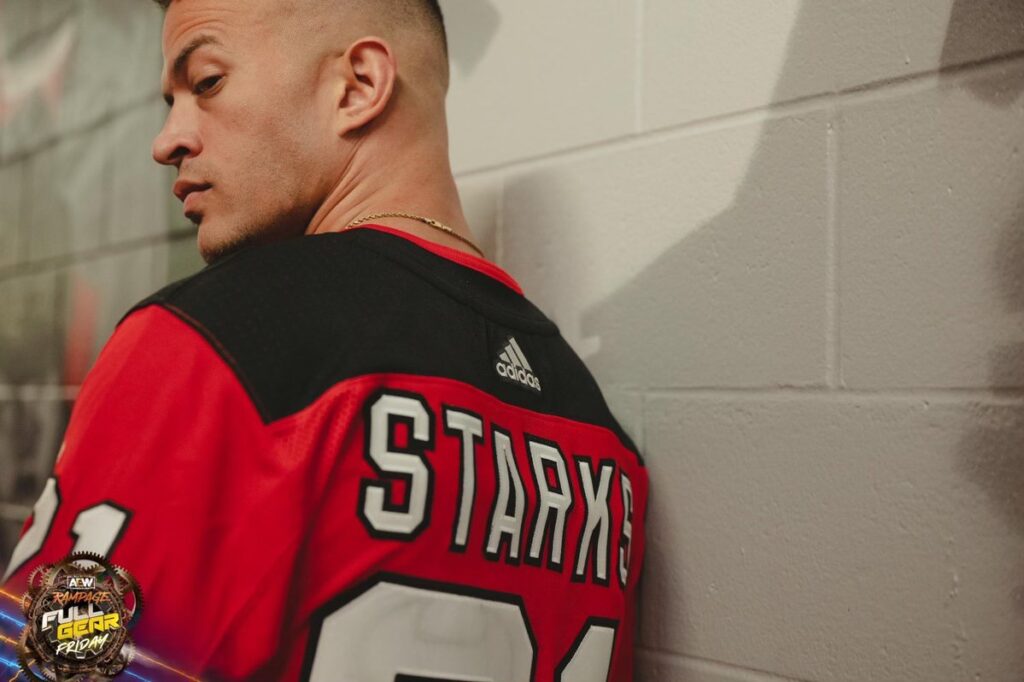 Brick by brick, a house is built. It isn't built in just one day, or one week. It requires time, effort, and patience. Brick by brick. A foundation, to support the weight of what is to come. Walls to keep out the frost of a cold world and the heat of an angry air. Windows to see what is to come. And lastly, a roof, raised, to ground you with its ceiling. Brick by brick.
In the summer of 2020, the world was in the midst of being a different place than we had all known it prior. It was a dark plane of existence, filled with uncertainty and unrest. But it was the start of a journey, in the midst of a dystopian timeline. This journey features a star on the precipice of greatness: Ricky Starks, in his journey through Team Taz and what may lay beyond.
The point of collision laid within a legend of the industry in Taz, as he was molding other wrestlers. Starks came naturally to the team, as he saw the vision, and Taz saw it further, beyond his famous shaded look. Powerhouse Will Hobbs, however, tried to present himself as an honest goody-two-shoes, until his eyes too were opened. He also saw the vision, the blueprint to create a house that will stand in such a way that people would be unable to look away.
The chemistry between Ricky Starks and Powerhouse Will Hobbs as a tag team was undeniable. The possibilities they presented felt infinite and the outcomes absolute.
Whether it's in singles competition or tag team action, Starks makes the most of every opportunity – though his confidence is beyond the stratosphere, he makes their aspirations seem attainable, and… I truly believe it is for him.
June 27, 2022 would see Ricky Starks defend his FTW belt twice in the same night. Though his first opponent was Danhausen, this curse was self-imposed. Still pumped with adrenaline, Starks demanded another opponent and got one that would change both his career and that of his challenger – friend and the son of his mentor – HOOK.
The fight was gone, but the heart and the emotion was still there, as Ricky Starks took the microphone and poured his soul into it, talking his shit and showing love to his fans until Brutus stabbed Caesar in the back. Hobbs had laid out his now former friend, and the game had changed forever among wrestling's present.
In typical HOOK fashion, he dispatched Starks quickly, but not with ease. But the respect was still there. Ricky has grown to know the value of the word 'respect', as he passed the golden torch that he brought back to relevancy. All while the man who started it all watched with a smile and with pride.
While fellow Team Taz members Brian Cage has gone to places of Honor and HOOK is currently paving his own separate path (more on him in a bit), Taz himself sits comfortably on commentary, still putting over his proteges. Hobbs is now targeting his focus on the TNT title, having turned on and finishing his feud with Starks. Taz broke up his team, knowing they've got the tools and the know-how to be great. Almost as if he's content, Taz proudly handed them the reigns and unleashed them to do their thing; he has nothing left for them but his support, for they can carve out their legacies on their own. He gets to watch this with a smile and all the boastful vigor that he is entitled to.
They had all the tools, all he did was provide the instructions, for he too had built a house once, with bricks made of suplexes and windows of superfluous commentary. That twinkle in his eyes (hiding beneath his sunglasses) reflects the gleam of the FTW belt he once wore, made relevant by Starks, now handed off to young HOOK. He saw the vision with them the moment they walked in and joined his ranks.
How could anyone not? Starks himself wields an essence that is so undeniably fashion, dripping with character. He's someone that draws comparisons to The Rock, and to me, has an echo of Razor Ramon, but if you ask me, everything he brings is all him, baby. Effortlessly cool, Ricky's simply adopted parts of what makes other houses great and creates a revolution out of that architecture. And that revolution will be televised.
Rest assured, Ricky's time will come. It's inevitable. Greatness has nothing to do but increase, leaving the roof to be continuously lifted and lifted until it reaches the heavens. When you have a star like him, there's no choice but to do that, for his ceiling moves beyond him with each brick.
It's not going to be easy. He's lost everything, from his belt to his once-reliable partner. Thus, he has to rebuild from the ground up. He has to dig deep and remember just who the hell he is, because all that he fought for was real – he is real. He can do it again, he can build a better home among the rubble.
Perhaps he will, through the rigors of the World Title Eliminator Tournament. He's already dispatched Lance Archer, fellow Taz alumni Brian Cage, and recently defeated "All Ego" Ethan Page in the finals. Two men with nothing to lose and everything to gain. Inevitably Starks overcame this obstacle, now a brick closer to a title opportunity at Winter is Coming, where everything he's been building towards rests upon.
Ricky Starks is almost there, the house is almost built. It may get finished, or maybe it'll face some structural damage, but either way, he's destined to get to where he needs to be.
It doesn't take a day. It takes a while. And the ascent to whatever gold he aspires to assures me that Starks will reach that goal and his house will one day be built.
Brick. By. Brick.