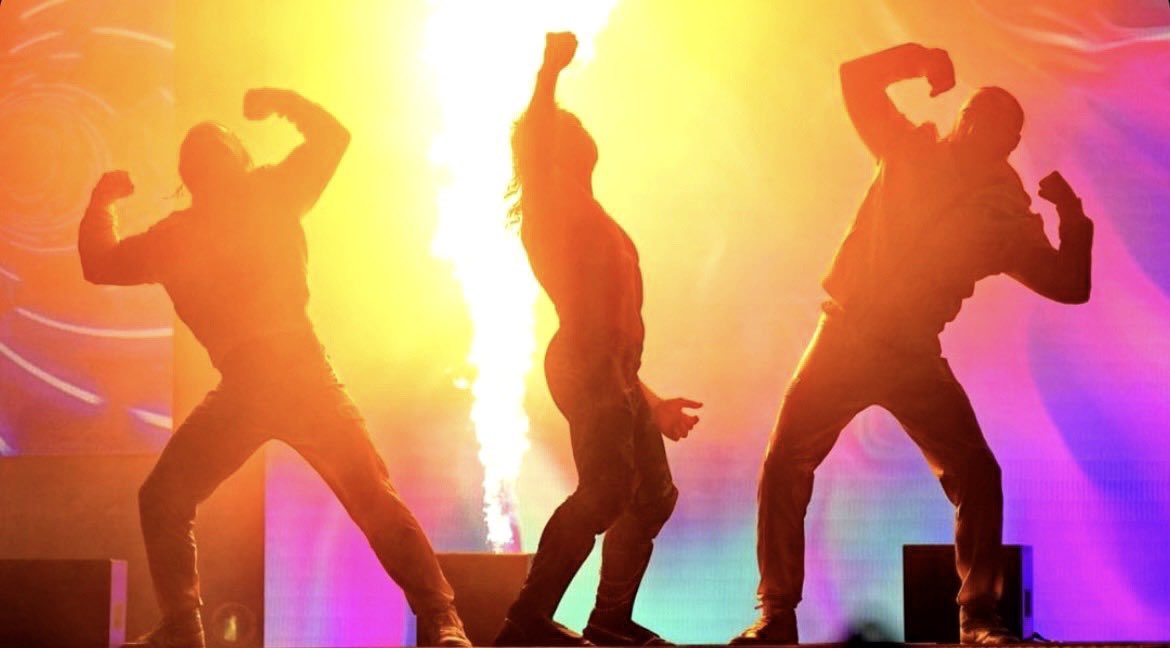 This past Saturday at AEW's annual Full Gear PPV, Kenny Omega, along with his Elite teammates The Young Bucks, made his return to the company following his suspension for the trio's involvement in the "Brawl Out" incident in early September. The bout itself saw The Elite lose out to Death Triangle as they looked to reclaim the AEW Trios Championships that they were forced to relinquish due to the afformentioned incident, although it has since been confirmed that the match was just the first in a best of seven series between the two teams in order to decide who the rightful champions are.
In a recent interview with Sports Illustrated, Omega discussed how The Elite wanted to make sure that their return would be a moment to remember.
"We knew we had to make it special for the fans. It felt like we left people in limbo, so we had to come back emphatically. Our goal is to make wrestling feel like a rock concert. We wanted people to focus entirely on the match, and whether you were rooting for or against us, we wanted people to enjoy it. As soon as the music hit, we wanted it to be a spectacle. We wanted people to know they were in for a ride. Hopefully everyone enjoyed the performance."

-Kenny Omega
As of writing, little is officially known regarding the details of the alleged brawl that broke out between The Elite, CM Punk, and Ace Steel following the All Out PPV on September 4th that resulted in all 5 men, as well as a host of others being suspended by the company.
Speculation has been rampant in the aftermath of the situation, although none of the involved parties have been able to comment due to the ongoing third-pary investigation. Omega was asked about the incident and subsequent suspensions, once again refusing to shed any light on what happened, instead imploring fans to move on and focus on what AEW have to offer moving forward.
"There are things no one can talk about, so I'd encourage people to let it go. It doesn't change that we want a team effort in AEW. I don't even mean implicitly myself and my opponent. It also means the referee, the fans, the people who set up the ring, everyone–even a technical error can ruin the memory of a match. I can refer back to the exploding barbed wire death match. So I encourage people to move away from it because there is no information to be released. Though I cannot talk about it, I do want the fans to know I still want the best for pro wrestling."

-Kenny Omega
Whilst Omega's Full Gear return was undoubtably a success in terms of fan reception and match quality, the events of the day following the event served as a heartbreaking reminder for the former AEW World Champion that his goal in wrestling is to unite, not divide, as he shared his thoughts on the tragic passing of Jason David Frank, as well as the horrific Colorado Springs shooting.
"The day after the pay-per-view, I was absolutely devastated by the loss of Jason David Frank. He's one of my childhood heroes. That evening, there was a mass shooting at an LGBTQ club where five people died. It's absolutely terrible. After such tragedy, it puts everything in perspective. This isn't Kenny Omega and the Young Bucks against CM Punk. It is people trying to show off their craft. You can boo Kenny Omega, or the Young Bucks, or CM Punk, but I hope people don't forget we're human beings struggling to show our art."

-Kenny Omega
Prior to his return on Saturday, Omega had been absent from in-ring action for over two months. Omega had not long made his return from injury that had kept him out of action for the majority of the year, and as a result only worked three matches before receiving his suspension.
Omega made his return at Full Gear in incredible shape, despite the fact that he nearly put himself back on the shelf during his time away. 'The Clearer"s passion for the industry has remained unwavering throughout his career, and thus there's no surprise that he put 110% into his training whilst he had time on his hands.
"I'm finding that I really have to push hard past my limits to create change. Sometimes that means I push myself too hard. I was able to get myself into better shape in the time away because I had a goal and a vision. But it almost came to a screeching halt when I strained a tendon in my knee because I was pushing too hard. The time away wasn't time to rest. That was time for me to put in the work. It was time to train two or three times a day, increasing the intensity of those sessions. I wanted to come away from the time away with something positive."

-Kenny Omega
As previously mentioned, The Elite's defeat to Death Triangle is now known to have been the first in a series of seven bouts between the two trios, a revelation that fans of both teams are likely to be ecstatic with, as both sides have demonstrated their unbelievable chemistry with eachother on multiple occasions now.
To some, a seven match series might seem like overkill, however to Omega, he sees the series as a chance to demonstrate what trios wrestling is all about, citing the two teams' chemistry as the perfect ingredient for the series to be a success.
"We are six individuals with a unique vision on professional wrestling. Our minds are never closed to one idea or another, so the possibility exists for every match to look unique. The Lucha Brothers are known for lucha libre, but Penta and Fénix aren't limited to one style. Pac is the same–he came through the UK indies, then moved onto Dragongate in Japan, which is a totally different style, and it includes lucha libre. He wrestled in WWE, which is sports entertainment, and now AEW, which is a hybrid alternative sports entertainment brand. Death Triangle has such a wide range, and this is a platform, in a potential seven matches, that's a lot of matches to show your craft to a lot of people. If people don't know Death Triangle, they're going to by the end of this series. We take a lot of pride in showing what trios wrestling can be. It could be a daunting task to have these incredibly challenging matches every week, but it's really a chance for us to show that trios wrestling has a place. That's our goal–to show what wrestling can be."

-Kenny Omega
Kenny Omega's involvement in pro-wrestling wasn't just limited to AEW, as during the NJPWxSTARDOM Historic X-over show, the former IWGP Heavyweight Champion appeared on the titantron, challenging the current IWGP US Champion Will Ospreay to a match at Wrestle Kingdom 17.
Discussing what many consider to be a dream match, Omega highlighted the flaws in Ospreay's game that hold him above the United Empire's leader, noting that Kota Ibushi and Jay White have done a better Bob at filling the void left by his NJPW departure in 2019 than Ospreay has.
"I'm returning to New Japan as an ambassador of AEW. I'm returning to New Japan as an ambassador of pro wrestling. I'm also returning home. I left to start this new, exciting opportunity, but it's still home. Now the things Will can do are things I cannot. He's an athletic phenom. But as finely tuned as he is physically, he still hasn't doesn't have the knowledge or experience. I pushed my own physical boundaries in All Japan and DDT, but that's not what I'm known for. My mind is my greatest asset, not my athleticism. That's what's allowed [Hiroshi] Tanahashi to have such a long and flavorful career. I needed someone to take my place in New Japan, I wanted someone to take my place–and it was Will, Jay [White], and [Kota] Ibushi. Will is the only one to have a problem with that."

-Kenny Omega
The match will mark Omega's first trip to the legendary Tokyo Dome since 2019. Interestingly, Omega delivered his promo in Japanese, whereas Ospreay opted to respond in his native tongue. Omega revealed to Sports Illustrated that this decision was made to psychologically affect Ospreay, letting him know that he's still the biggest star in Japan even after being away for so long.
"I had to speak in Japanese to remind him that he doesn't have home court advantage. This is still my home."

-Kenny Omega
As well as Omega's in-ring endeavours, the AEW EVP has also been working hard on the company's inaugural video game, AEW: Fight Forever, which is currently ready for launch. The game's most recent trailer left fans with a lot to be optimistic about, and Omega is excited for people to finally get their hands on a project that he feels will bring back the feeling of classic wrestling titles.
"It's a lot of fun. For people looking for an accurate representation of AEW and our characters, wrestling style, and feel, this is going to be the game for them. If you played the old SmackDown! vs. Raw game, it has that zaniness, some of the same control schemes as No Mercy, and times have changed since 2000–so there are sequences and moves that have never been part of a wrestling game before."

-Kenny Omega
Closing out, Omega left a message for the fans that have stuck with The Elite and AEW throughout their absence, revealing his enthusiasm for the future of the company.
"There is a bond, a connection with fans that is unbreakable. We all felt that on Saturday. And we still have a lot of goals to show the possibilities of wrestling. We're excited to do that with our fans."

-Kenny Omega
The Elite and Death Triangle are set to compete in the second match of their best of seven series during tonight's episode of AEW Dynamite in Chicago, Illinois. The trio have undoubtably been a huge miss during their absence, and so we can't wait to see what this next chapter in their careers will hold for them.