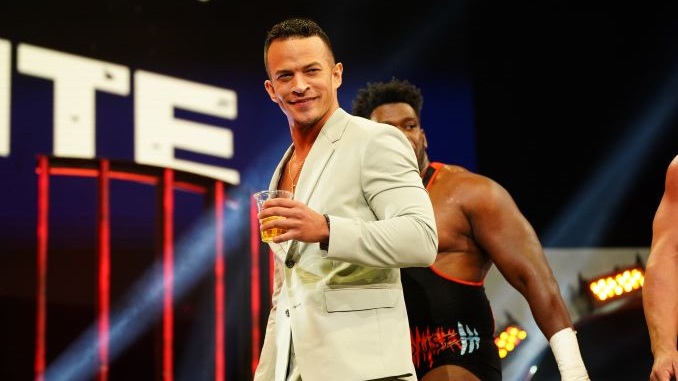 When CM Punk first arrived in AEW, he made it clear he was ready to face all comers, especially the younger talent, and was able to do just that. Powerhouse Hobbs, Darby Allin, Lee Moriarty, and MJF amongst others were all talents Punk had mentioned and was able to work a match with, eventually leading him to the AEW World Title in May of 2022.
One man however that Punk had mentioned early on in his AEW career that he never had the chance to face off with was Ricky Starks. In the now infamous "Send HOOK" promo, Punk called out Starks and asked for Team Taz to send HOOK when feuding with them at the time. Unfortunately for Starks, that match with Punk never came.
In a recent interview with DAZN, Starks spoke about Punk's callout and revealed that despite never actually getting the chance to wrestle each other, the former AEW World Champion mentioning his name helped his momentum.
The Punk thing helped. Him saying those things about me really helped. What would have been great was to actually have a match with him. Things were kind of leading up to that, I thought; that's one of the minor things that I'm actually annoyed about is that I never actually got to have a match. It's not to stroke my own ego, but it's about iron really sharpening iron. I'm the type of person who would be able to benefit from that, in terms of excelling in my talent. At the time where Hobbs turned on me, I think we were already there [crowd reacting favorably and momentum] and it was already a rolling boiling. Things had to have happened in that sense. Otherwise, to go another six or eight months and really just floating in limbo would not have been very beneficial to me, I don't think."

-Ricky Starks
When asked if he thought a match with Punk is still possible at some point in the future, Starks stated that he's hopeful it can happen one day. Additionally, Starks likened Punk to the recently departed William Regal, in that both were always approachable behind the scenes for advice.
"I would hope so, I really do. I thought Punk, (William) Regal, these people that came in were great additions to the locker room. Great additions in terms of what they provided. I know, personally, I was able to talk to Punk a lot and get help on my promos and things like that. Same with Regal, because I've known him for so long. It was kind of a blow that both of these guys left. I am hopeful that down the line I do get that matchup. If not, I get it, that's how the business is, but it would be nice. It would be nice to be able to work with somebody of that caliber because I've yet to work with, besides Sting, I've yet to work with somebody of such a high caliber, and the Sting match was a year or two ago."

-Ricky Starks
CM Punk has not been featured on AEW programming since the All Out PPV, where he won the AEW World Title but unfortunately sustained an injury during the match. Punk was also suspended for his role in the backstage altercation with The Elite (Kenny Omega and the Young Bucks) after his AEW All Out post-match press conference, where he made disparaging remarks about The Elite and others in the company.
Ricky Starks is set to challenge MJF for the AEW World Title and AEW Dynamite Diamond Ring at AEW Dynamite: Winter Is Coming this Wednesday at 8 pm EST on TBS, in what is undoubtedly the 32-year-old's biggest match of his career thus far.