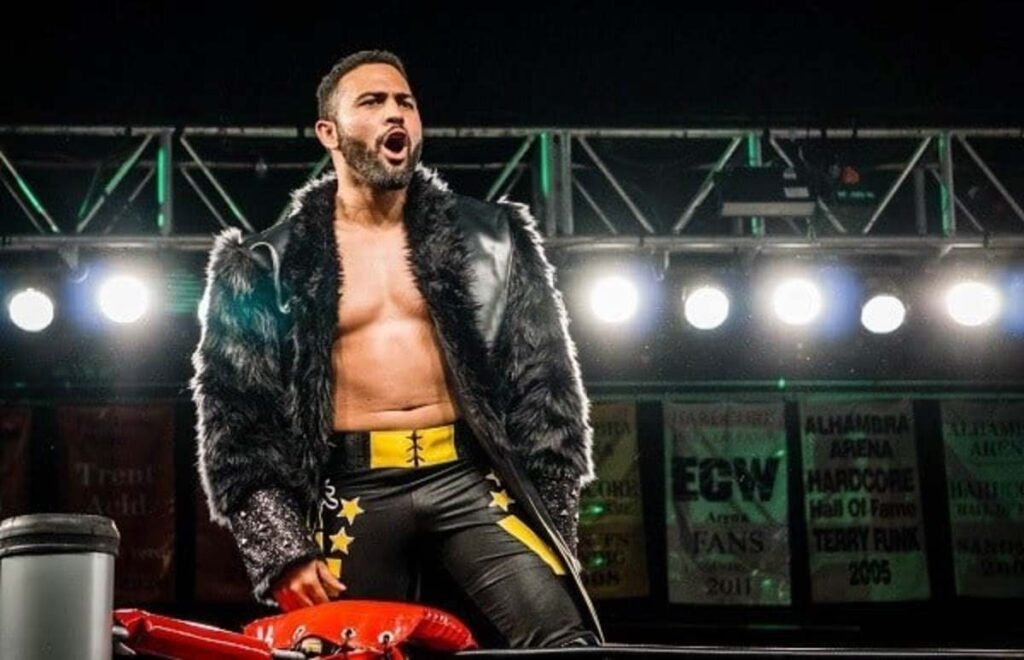 One of the most important figures in wrestling broke down his role as the middleman between multiple promotions.
During last night's episode of WrestlePurists Worldwide, our very own Montel, Ibou, and Joe Hulbert were joined by the current NWA World Historic Welterweight Champion and MLW World Middleweight Champion, Rocky Romero.
During the interview, the NJPW liason and booker of NJPW STRONG was asked if he had any news 1on Mercedes Moné's status with the company amid her current absence due to injury. Whilst Romero was unable to provide any updates, he did note that the former IWGP Women's Champion is recovering well and that there is no issue between both sides.
"I honestly don't have any update right now (on Mercedes Moné). I hope that I'll be talking to her agent and her maybe soon-ish, but I honestly don't have any update yet about anything. The last thing I had heard was that she was recovering well and basically they were gonna let me know, reach out when she was getting close to a comeback so, yeah. There's definitely still communication and I mean obviously though, I don't know what she's gonna wanna do when she comes back for sure. Especially coming back from a serious injury, you know? And that maybe messed up her timeframe of what she wanted to do and how she wanted to do it so, I really couldn't say or speak for her, you know? I don't think it would be fair. No (there's no issue between the two sides). No, no, no. I think that she thoroughly enjoyed her time in New Japan and New Japan loved working with her and obviously would love to continue to work with her. But yeah, I think everybody's pretty happy with the work that we've done obviously."

-Rocky Romero
The 41-year-old plays a crucial role in navigating NJPW's numerous ongoing relationships with the likes of AEW, CMLL, and MLW, a role he credits the legendary Tiger Hattori with having inspired him to fulfil.
When asked if the possibility of an AEW show in Japan or Mexico had been discussed, Romero revealed that whilst that possibility on the Mexico side of things may be far away currently, both ideas have certainly been discussed.
"Yeah, yeah (Romero answered when asked if the idea of an AEW show in Mexico or Japan has been brought up). Definitely, there's been some talk. They're not so easy to do when they're international like that… Say we did a Forbidden Door in Japan, obviously it would be New Japan doing a lot of the heavy lifting because obviously, they have the resources here in Japan or in Mexico, maybe CMLL could be an option. We're pretty far away from that right now. I think because the relationship just got started but yeah, that could definitely be a possibility in the future hopefully. But we'll see."

-Rocky Romero
During the October 20th episode of AEW Rampage, Romero went one-on-one with CMLL's Mistico, with the match being billed as having "Mexico's Pound-for-Pound Crown" on the line. Mistico would emerge victorious from the bout, with many fans hopeful that the showcase would serve as the first step towards a working relationship between AEW and CMLL.
Speaking on the match and the difficulties of putting it together. Romero highlighted the initial hesitancy on CMLL's side before adding that a phone call he was able to set up between AEW President Tony Khan and CMLL head Salvador Lutteroth was crucial.
"So everybody's kind of been linked up, right? AAA's been linked up with AEW, New Japan's been linked up with CMLL and it's just very hard to mix those worlds and it even went so much that if they're on the same card, it's like a no-no. I feel like those things are kind of obviously changing. There's still some rules and things that CMLL asked for just when Místico came to AEW. Obviously, there was no El (Hijo del) Vikingo on the card or certain wrestlers that are obviously super affiliated with AAA so, I mean, and I get it, I get that part. But when I brought the conversation together and we talked about Místico, obviously Tony (Khan) being a big fan of Místico and wanting him to wrestle on AEW and also, he likes CMLL and he used to watch it back in the day so, yeah, I brought it to CMLL. Obviously in the beginning, there was a lot of, 'Wait, what? AEW? Mhm… We don't work with them,' you know? I'm like, 'No, I know. But you work with New Japan and New Japan works with AEW and that's going well so, let's try it out.' But yeah, thankfully, I was able to get Tony and Salvador Lutteroth who is the owner of CMLL on a phone call and had a great conversation and that really — it's all about communication, right? Just like every relationship. When you have good communication, you're able to talk things out. At least you can kind of understand what the other person wants and what the other person is thinking and, 'Hey, well, can you do this? Can you do that?' And it all kind of works out, you know?… Obviously, it's a big deal because CMLL has always been… I don't know how to put this without talking sh*t but, they haven't been friendly to outside companies besides New Japan."

-Rocky Romero
On November 10th, Romero will be present in Garland, Texas for NJPW STRONG's Lonestar Shootout show, with talent from NJPW, AEW, STARDOM, CMLL, and IMPACT all set to be featured.
The show's two headline bouts will see Shingo Takagi put his recently captured NEVER Openweight Championship on the line against Romero's long-time friend Trent Baretta, whilst STARDOM's Mayu Iwatani defends the IWGP Women's Championship against CMLL's Stephanie Vaquer.
As always, we'll aim to provide any further updates on Mercedes Moné's future, as well as the developing relationships between New Japan Pro Wrestling and a number of promotions worldwide, as soon as we hear more.
H/T to POST Wrestling for the transcription.