Lemme Talk to Ya!
Indeed folks, it's LA Knight's guide this week, as one of 2023's most staggering success stories culminates at WWE Crown Jewel. In addition, that PLE hosts Drew McIntyre's latest shot at reclaiming a World's Title, battling Seth Rollins in the event's opener. Elsewhere, Ring of Honor's recent rebuild continues, producing two hits on Honor Club. Meanwhile in Japan, NJPW's Power Struggle delivers a match of the year candidate, being accompanied by some Jon Moxley goodness along the way.
Finally, AJPW's encouraging 2023 continues, as Katsuhiko Nakajima returns to the promotion. With that in mind, to the match graphics!
Darius Martin vs. Lee Moriarty (ROH on HonorClub)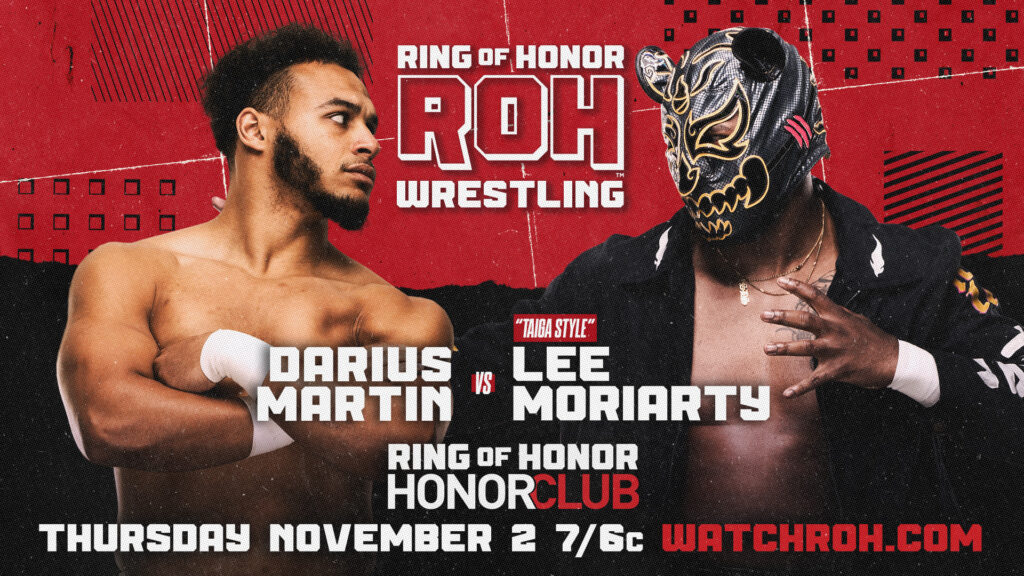 It's been a couple months since Darius Martin's last outing on AEW TV but in the meantime, he's been wrestling weekly on HonorClub. Last week, that meant for an unusually short showing, wrestling Lee Moriarty for not even three minutes. Ultimately, it was more of an angle, with Shane Taylor quite physically guiding Moriarty to victory. That's been Lee's latest direction, landing in Shane Taylor Promotions after his enjoyable pairing with Big Bill faded away.
Clearly, that's been a worthwhile shift for Bill, but it's broadly indicative of Moriarty's time in AEW. Since signing just over two years ago, it's been very stop-start, with Moriarty struggling to make something stick. Most of that has been out of his control though admittedly, his game didn't translate to television quite as smoothly as many had hoped. After all, his presentation seemed actively suited to that setting as his independent crop became notable.
Those elements remain intact too, though they're accompanied by an increasing confidence. It's noticeable how comfortable Moriarty looks in this environment, looking superb opposite Martin, who's not far behind. To my eye, this is the Darius' best performance yet, especially in singles action. He's terrific here, making obvious strides across the board. They didn't take long to get me onboard here either, sharing a refreshingly tight lockup.
In fact, refreshing is an apt description for much of this, actively wrestling for position at the bell. As they hit the mat, it's still flashy, but showcases some struggle with its speed. Those sequences quietly tell a story too, as Martin surprises Moriarty by winning that duel. That success feeds into a more traditional babyface shine, as Martin briefly flurries via dropkick. Moriarty soon cuts Martin off nonetheless, using the ropes to boot his arm loose.
That becomes his overarching target as he steers the ship, executing with consistent snap. Everything is sharp, forcing Martin to actively fight for his space. Darius meets that challenge, firing off some neat uppercuts as his improved strikes take centre stage. As they go beyond that portion into the finish, they ramp up the creativity, including an arm-trapped neckbreaker from Moriarty. Along the way though, Martin is always happy to just clobber him in the meantime.
At just seven minutes or so, this absolutely flies by, feeling like a spirited blast from Nitro's past. It's most encouraging as an example of both wrestlers' progression, with Martin looking almost unrecognizable from his initial singles bouts on HonorClub. On the other hand, Moriarty seems more comfortable than ever, providing frequent reminders of his still palpable potential. Good match, a more crisp television tilt than many major league alternatives.
Athena vs. Mercedes Martinez (ROH on HonorClub)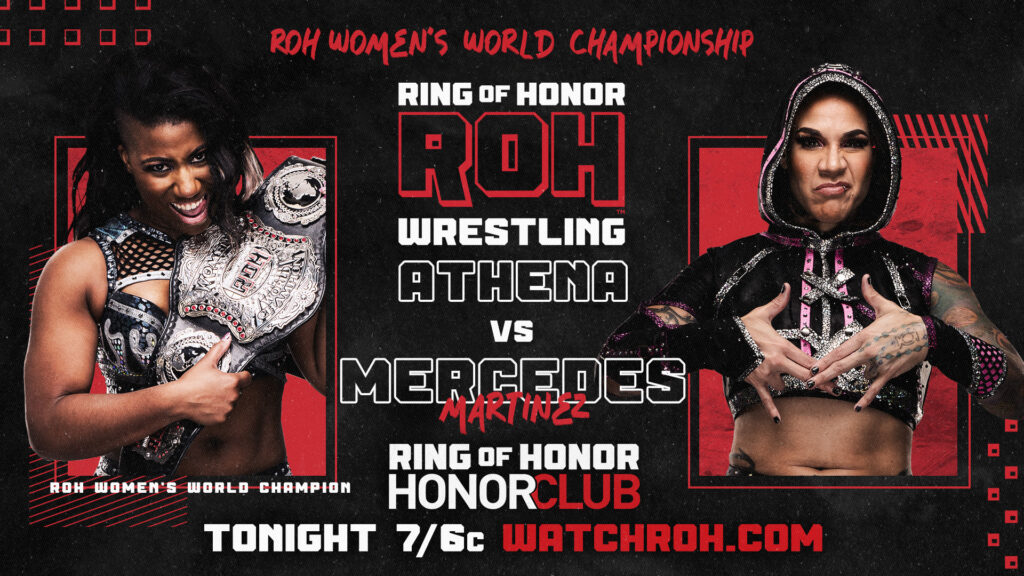 Though it feels like a lifetime ago, we still aren't even a year removed from Final Battle. That night, Athena became ROH Women's World Champion, toppling a familiar face to do so. She and Mercedes Martinez had shared a series in Shimmer over a decade prior, since meeting in a couple different NXT encounters. Athena had recently earned headlines with her violent squash matches, setting the stage for that title win and the reign that it's produced.
It's been a transformative campaign for Athena, producing the finest work of her career and becoming the ace of ROH's reboot. That's included a superb trilogy with Willow Nightingale, as well as hits opposite Kiera Hogan, Leyla Hirsch and Skye Blue, just to name a few. Her match catalogue only tells some of the tale too, as Athena has actively elevated almost every genuine contender, quietly making magic with Billie Starkz along the way.
By contrast, it's been a quiet 2023 for Martinez, not returning to the ring until May. Since then, she's flirted with a run on Collision while mostly winning quickly on HonorClub. As of late, her and Diamante have targeted Athena and Starkz, even giving the champion her first ROH blemish in tag team competition. That set the stage for this title rematch, and it's a comfortable improvement on their Final Battle effort, which was a good bout in its own right.
Interestingly enough, it's a role reversal in terms of setting, as Athena enters the challenger's home state much like Martinez did at Final Battle. That allows for a unique babyface – heel dynamic, which suits Athena's current disposition. She's still a heel, but the Starks relationship is allowing her to reasonably wrestle other heels. As a result, the appeal is unchanged, with Athena setting the tone by landing an immediate forearm while adhering to the code of honor.
She takes much of this, whacking Martinez who as you'd expect, responds accordingly. They have some fun at ringside, as Athena messes with Martinez's sister, brawling back through the ropes only for an Athena dive to return them to the floor. They tease a Martinez cutoff at that juncture, taking advantage of a Diamante distraction yet being suplexed on the outside for her troubles. That allows for a double count-out tease, then fighting upright in centre ring.
Diamante remains a factor throughout, later launching a major false finish for Martinez, dramatically escalating the match. They go a beat or two further also, with Athena biting free of Martinez's submission, then landing a knockout blow that's sold gorgeously. Speaking of such, Martinez takes an especially glorious O-Face, with Diamante extending things even beyond that. The result is a final false finish that's good enough to make you question the obvious, using an exposed buckle for assistance.
Better yet, they even sprinkle in some Billie Starkz business, continuing to advance this show's lead story. Another really strong title defence for the World's Champion, with Martinez producing her most expansive match under an AEW umbrella.
Great-O-Khan vs. Jon Moxley (NJPW Power Struggle)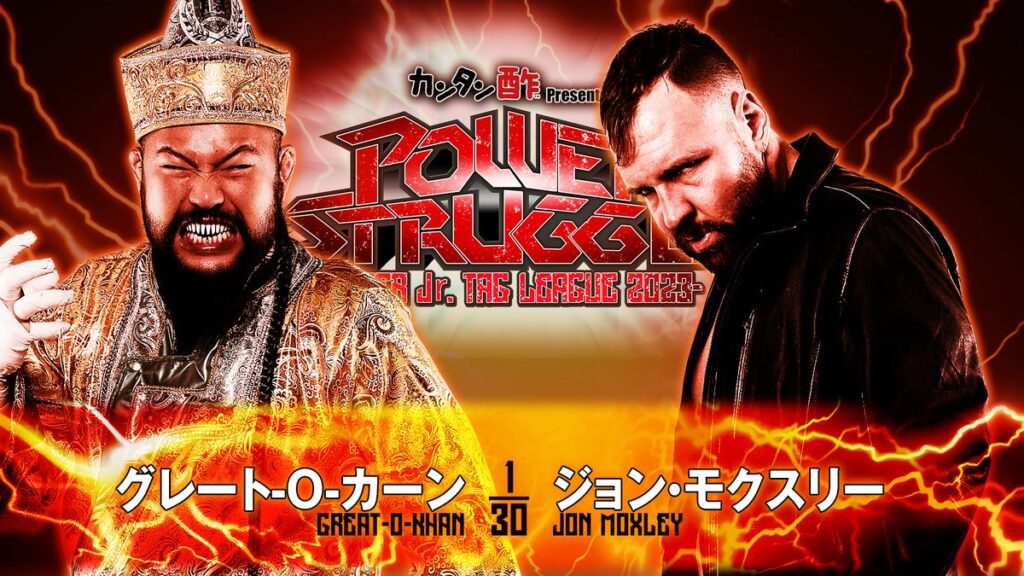 As they put this match together at last month's Royal Quest event, I wasn't quite sure what to think. Certainly, there are more obvious remaining opponents for Moxley in NJPW, but there was a charm to this direction. It felt less predictable than many of those alternatives, also boasting a sizeable distance between its forecasted floor and ceiling. Instinctually though, my assumption was that they'd hit the mat and grapple, for better or worse.
Well, they would indeed grapple, but I think my prediction's accuracy concludes about there.
This is a total throwback and feels genuinely novel in the current NJPW environment, providing Power Struggle with some unapologetic variety. Moxley is at his simplistic best here, and I say that with admiration for his game's increasing range. It's pivotal that he's capable of wrestling different matches, but this remains his bread and butter, just about transforming the setting with merely his entrance. It's Moxley's first match in Japan since July, receiving hero's welcome in Osaka.
Great-O-Khan has a slightly different greeting, jumping Moxley at the bell and swiftly setting the tone. He absolutely relishes this opportunity, gleefully meeting Moxley in the middle and marching into the AEW star's domain. They're able to catch the people off-guard with their approach here too, spilling into the crowd while reaching an almost immediate double count-out. It's a simple enough ploy but really assists the match, having its actual intended effect on Osaka.
As a result, the rest feels like a bonus to the people, emerging as a an organic result of their lunacy at the bell. For this particular matchup, it's a smarter first step, allowing their antics to surprise the live crowd rather than going in with a 'Falls Count Anywhere' stipulation that naturally shapes expectations. Instead, it's Moxley's pitch at the restart, with O-Khan launching a barricade in response. That about sums him up here, turning in a glorious performance.
While violent throughout, this also captures that distinct Terry Funk flavour, being wild enough to produce continued comedy. There aren't exactly elaborate bits either, it's just inherently comedic as the chaos unfolds. That's on display rather quickly, with O-Khan driving Moxley into an entire row of chairs. Naturally, Moxley leaves that trip with a head covered in blood. Just moments later, he collects a stack of those aforementioned barricades, then just nonchalantly chucking them in Moxley's direction.
As you'd expect, Moxley's retort is equally outrageous, throwing a chair of his own before pushing O-Khan off the ramp for a virtual stunt. At that point, he reveals a pair of scissors, doing the unthinkable and chopping O-Khan's hair. Somehow, that escalates proceedings, sparking a brawl that inexplicably turns into a grappling duel in an instant. They are actively trading submissions on the floor, and I mean the floor too, this is a distance from even ringside.
At times, the Osaka crowd goes quiet enough for you to question the approach, but they almost always get them back, maintaining their attention throughout. The highlight is the sequel to that grappling exchange, putting the dukes up for some kind of backyard kickboxing match. It walks this surreal line between movie scene slugfest and ring-less wrestling match, going from snapmares and submissions to a bump down the stairs, with the latter being received like the final line of a theatrical production.
It's maybe the most Jon Moxley NJPW match yet, being fully unlocked by O-Khan's own insanity. That's a key to this one's appeal, feeling entirely natural, even as they take bizarre detours, on occasion quite literally. At all times though, it certainly feels like Great-O-Khan vs. Jon Moxley, embracing just about everything enticing about that matchup. The crowd brawl doesn't obscure their stylistic overlap, only unleashing that potential.
An absolute hoot, a truly refreshing affair.
Shota Umino vs. Will Ospreay (NJPW Power Struggle)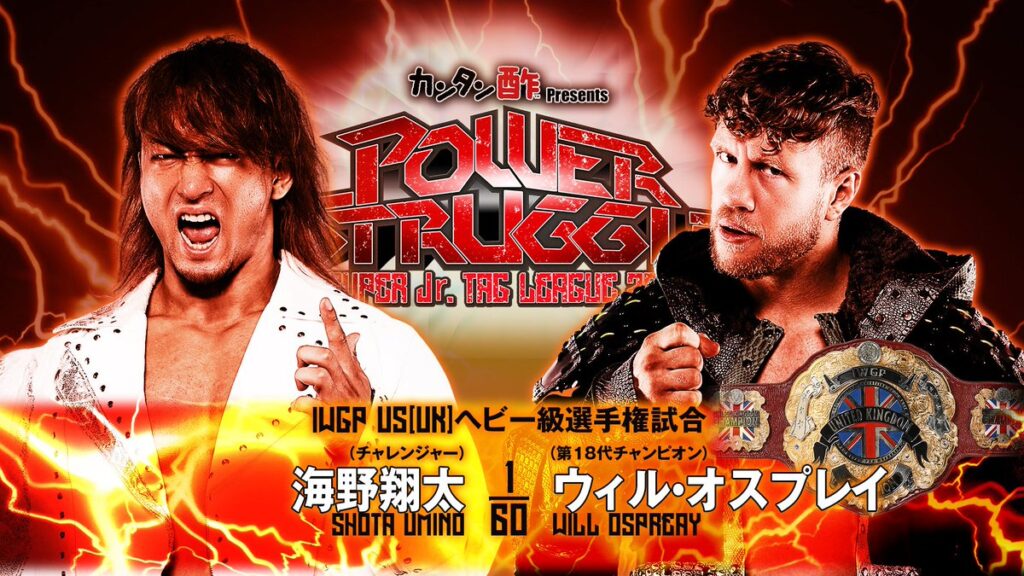 Last October, I was in attendance for the second singles match between Shota Umino and Will Ospreay. They'd met the prior November, going almost half an hour for RevPro's Undisputed British Heavyweight Title. This'd be their first meeting under the NJPW banner however, sparking a pivotal shift in Umino's journey. The match concluded his UK excursion, launching the run that's followed since. That night in London, Ospreay won emphatically, even forcing a referee stoppage.
Just a month later, Umino resurfaced as 'Roughneck,' challenging Ospreay for an IWGP United States Heavyweight Title tilt. While far more competitive, Umino again fell short, since building on that effort and steadily making strides towards main event status. In the meantime, Will Ospreay has cemented his emerging reputation and then some, producing hits almost weekly as the world's most prolific big match wrestler. This is the latest triumph on that front, but it's very much a match about Umino's progression.
More specifically, his emerging killer instinct, requiring an edge to truly test Ospreay. That takes a while to fully become the match's centrepiece, setting the stage with traditional building blocks. It drifts a touch as they veer beyond that portion, particularly as Umino is tasked with steering the ship. They aren't going against the grain with that approach though, as Osaka is very much in Ospreay's corner at the bell. That provides an interesting dynamic, allowing Ospreay to plug in signature bursts as the bout's momentary babyface.
Regardless, Umino's aforementioned killer instinct (or lack thereof) soon plays a part, opting against using the table that Ospreay sets up at ringside. That halts his momentum, putting the champion in control and transforming the match. Umino's nose is busted along the way, bringing a wry smile to his face as he walks through Ospreay's usually overwhelming chops. This idea is nothing new obviously, but it's executed quite superbly here, with Umino's entire demeanour shifting.
Now sporting an almost Moxley-esque attitude, Umino stomps away at Ospreay, then landing a violent DDT on the apron. He even launches him into the crowd, showing significant aggression as he not only returns to the table, but arranges another one alongside it. While Umino is only meeting the challenge in front of him, this direction embraces the audience's support for Ospreay, especially as they increase the pace in centre ring.
For much of this middle portion in particular, Ospreay is firmly on the ropes, with Umino visibly growing into his role as genuine top guy. The final third arrives as after 25 minutes or so, Ospreay uses those two tables, providing the perfect transition to their intended destination. With that, Umino is again positioned as the underdog, climbing back through the ropes for an offensive blitz from Ospreay. He can only survive, doing so with gutsy defiance along the way.
They produce some superb visuals with this route, the kind that'll live long in the memory as turning points in Umino's career. As Ospreay uncorks elbows to the head of his head and neck, Umino crawls to the ropes, then being mounted but spitting fearlessly in response. Ospreay had spat at Umino earlier, doing so just before the kicks that had busted his nose. Inspired by Jon Moxley's sudden presence at ringside, Umino rallies, finding answers as he puts Ospreay back on the ropes.
That launches the final ten minutes, sharing an electric shootout as they race towards a finish. Now truly feeling like Ospreay's equal, Umino secures his own mount position, raining down with blows and even threatening a referee stoppage. Ospreay has a final gasp however, finding an astonishing Hidden Blade to keep the match alive. That last life is one too many for Umino, making Ospreay 4-0 in this matchup. In truth though, Umino couldn't feel more like a winner.
This is not only in the top tier of Ospreay matches this year, it also comes dangerously close to that January 4th one-seed. Better yet, it may be his most productive match of the year, feeling truly transformative for Umino's ascent. It's a special match, pairing multiple pieces with believable, natural transitions. Their path isn't immediate and at 40 minutes, there's obviously a few spare parts, but those work in the eventual direction's favour.
At first, Umino is wrestling a normal enough match but by the end, he's battling in a life and death war. Sublime match, one of 2023's absolute best.
Drew McIntyre vs. Seth Rollins (WWE Crown Jewel)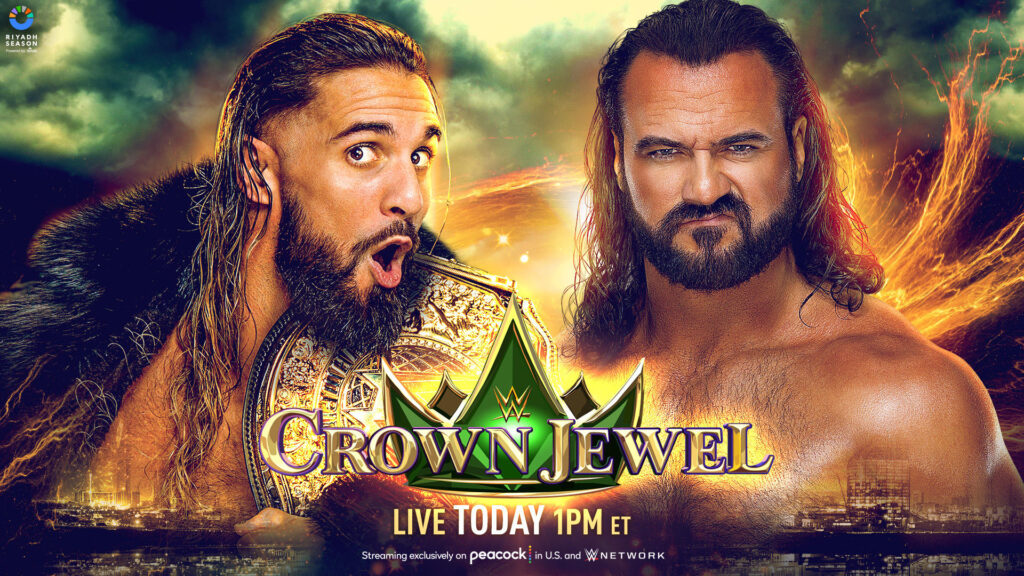 After a shaky start to his July return, Drew McIntyre has quietly reclaimed his place as one of RAW's main characters. In fact, he's been more interesting than ever since the Jey Uso trade, quite understandably struggling to let the past go. McIntyre is in the midst of a presumed heel turn but is a genuinely sympathetic figure, steadily allowing his misfortune to shape a shift in personality. He wore that conflict on Saturday, kicking off Crown Jewel with his biggest match in some time.
Challenging Seth Rollins for the WWE World Heavyweight Title, McIntyre's arc continued, delivering the finest match of this belt's short history in the process. McIntyre's presentation is central to that appeal, receiving chants at the bell and generally providing the bout's heart. The crowd in Riyadh leans firmly in his direction, adding a gravity to this and allowing later near falls to pack an extra punch. He embraces the atmosphere too, producing an impressive performance.
Physically, McIntyre is the subtle heel, taking a lot of this with his obvious physical advantage. He quickly takes over at ringside, catching Rollins' dive and hurling him to the floor. The crowd is onboard with that direction though and McIntyre is perfectly positioned to ride that wave, not behaving in a fashion that shuns their support. Rollins does a nice job of fighting for his space, selling the back rather well early and feeling in genuine jeopardy during the first act.
His offence is a touch sharper too, actively adjusting to McIntyre's standard in that regard. When in doubt, he can fly also, providing the match with some babyface flash. Admittedly, that comes at the cost of his aforementioned selling at times, but McIntyre's work isn't targeted enough for it to be much of a crime. In addition, the match finds a smooth rhythm and escalates steadily, building on the live crowd's initial excitement with a gradual expansion in terms of content.
The crowd is hot enough that they don't have to veer particularly far in that direction either, just requiring a few hits each to keep them rocking. After the more back and forth middle section, McIntyre again takes over on the floor, destroying Rollins' back on the apron. They briefly delay that destination, with Rollins rallying in order to launch McIntyre's own babyface comeback. Again, that's totally at home here, which is an example of them neatly navigating this atmosphere.
In the dying moments, they find a superb false finish, arriving in a fashion that's truly convincing. They let it breathe too, as McIntyre sports that shock just enough without undercutting the drama they've earned. Interestingly, the actual finish arrives immediately afterwards but yet, feels a beat beyond their absolute peak in a way that's noticeable. It's flatter than you'd expect, and perhaps would've benefitted from a slight diversion on Rollins' road home.
Either way, this is very good and the best match of Rollins' reign so far. It's a big one for McIntyre, making the most of this opportunity and doing an awful lot for his case as a headline act. He's been there before obviously but with showings such as this, it's undeniable that McIntyre still belongs at that level. Strong match and even as the opener, Crown Jewel's best bout.
LA Knight vs. Roman Reigns (WWE Crown Jewel)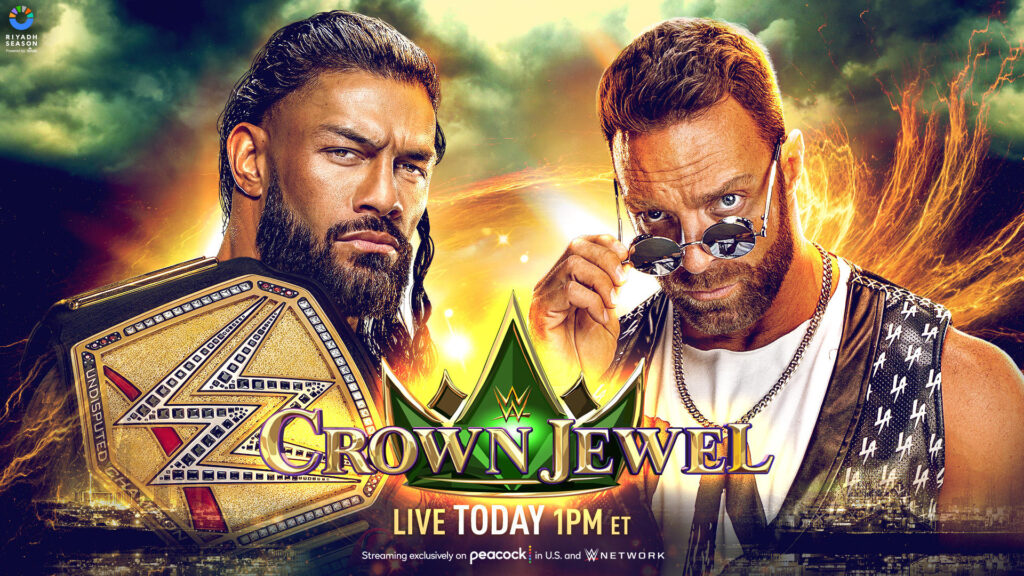 While he's not someone that'll ever dominate a project such as this, I've really enjoyed the LA Knight story. It's been a reminder of wrestling's simplicity, as Knight has climbed the ranks with attitude, catchphrases and trash talk. Each era and generation is different, but those ingredients will always connect, with Knight's once commonplace approach somehow becoming an outlier overnight. The result is a shot at the big time, as Knight rides that wave into a main event match.
It's the biggest bout that wrestling currently offers too, challenging Roman Reigns for his Undisputed WWE Universal Title. This is Reigns' first defence since SummerSlam, producing a rare miss opposite Jey Uso. For my money though, he's back on track here, performing wonderfully well as the mountaintop for Knight to overcome. The atmosphere for this is immense, boasting genuine big fight feel as the pre-match introductions take place.
That's a credit to Knight, feeling like a worthy contender in a scenario where all logic indicated the outcome. Reigns plays with that atmosphere too, but only after a necessary hot start. In building this match, Knight and Reigns established that the former is fearless, not sporting any of the usual respect for the champ. Instead, Knight was unmoved by his presence and thankfully, that carried over to the match itself, immediately uncorking right hands.
Reigns charges into those also, operating without his usual poise after Knight's pre-match bravado. While he'll never be accused of being Bret Hart, Knight is armed with some weaponry, taking a snappy shine until Reigns' initial cutoff. That's the general rhythm, as Reigns plugs Knight's athleticism into a more abbreviated cut of his usual match. They are mostly bursts of offence, with Reigns providing the bridge from one offering to the next.
He's the conductor here, steering the ship seamlessly as with a simple glance, he maintains his heat. Reigns' control segments are more crowd work than anything else, but they're incredibly effective, putting his unparalleled aura to good use. At this length, his game isn't stretched thin either, mostly keeping things moving until Knight's comeback. That arrives after an extended double down, then punching upright as they trade blows to a quite extraordinary reaction.
Knight's actual flurry is merely the basics, but the people are with him, feeling offensively at home opposite Reigns. The meat of the match is better than forecasted, actually trending positively enough that the inevitable shenanigans are frustrating. Interference was inevitable with this scenario but I sensed it'd be necessary when in reality, their natural conclusion would've comfortably delivered. This is at its best when they're wrestling a big time main event, which I didn't personally see coming.
The Bloodline business isn't even bad, necessarily, it's just far too familiar. I understand the motivation to protect Knight, especially after Reigns has required assistance to beat almost every single contender, I just wish it was more creative. Instead, it's more of the same, concluding an enjoyable match in familiarly flat fashion. Even still, this is a good time, closing an uneven PLE with a relative triumph.
To me at least, the story is that Knight didn't require smoke and mirrors, actively belonging beforehand. Reigns is the driving force in that sense, positioning him to succeed and rebounding from that SummerSlam miss. Good match, even managing a few surprising flashes of something far better than that.
Katsuhiko Nakajima vs. Yuma Aoyagi (AJPW Giant Series)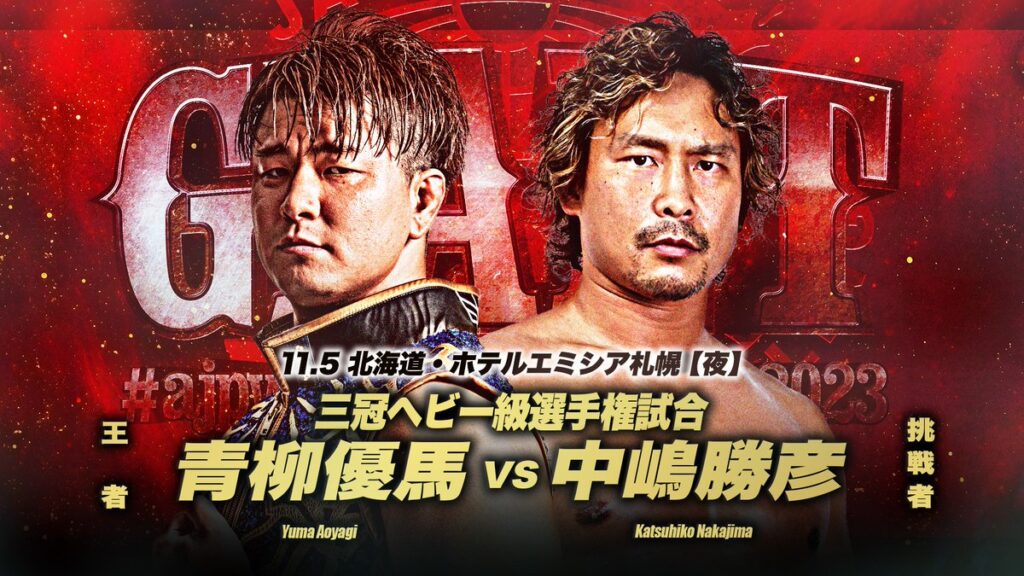 Just a week removed from his NOAH farewell, Katsuhiko Nakajima is back in the headlines. Last month, he re-emerged in All Japan Pro Wrestling, sharing a moment with longtime rival Kento Miyahara after he'd lost to Yuma Aoyagi. Now, in his first match back for the promotion, Nakajima would look to complete the mission that Miyahara couldn't, challenging Aoyagi for his Triple Crown Title. As you'd expect, it's Nakajima's first Triple Crown Title tilt, building on AJPW's encouraging 2023.
Like most of Nakajima's best work, there's a certain danger to this occasion. The scenario is perfectly suited to him also, feeling like an outside wildcard of sorts. Aoyagi certainly portrays him that way, sporting palpable caution at the bell. After all, Aoyagi had shared the ring with Nakajima just once before, standing opposite one another in February's Tokyo Dome trios match at 'Keiji Muto Grand Final Pro-Wrestling Last Love Hold Out.'
My apologies, I just wanted to write that event's name again.
Nonetheless, there is a great deal of tension during the feeling out process, with Nakajima striking first. He fires away at distance, landing early low kicks to rattle the champion. After being greeted by a poker face initially, Nakajima continues to chop away, almost petulantly whacking Aoyagi until he's forced to respond. The champion falls into that trap too, entering a grappling exchange that ultimately gets him dumped on his head.
As you can probably tell, this opening portion is Nakajima at his very best, then launching elbows from mount. That success brings a familiar arrogance to Nakajima's demeanour, remaining dominant as he begins to play with his food. As a result, the door is opened for Aoyagi's retort, landing some blows of his own as they spill to ringside. Even still, Nakajima continues to take much of it, maintaining control until an Aoyagi dropkick sends him flying to the floor.
That transitions the match to something more neutral, with Nakajima's extended sell allowing Aoyagi to capitalise. He feels truly desperate during this rally, pushing that door open in a fashion befitting his status, actively defending what's his. Almost immediately, Aoyagi is looking to close the show, snatching submissions and landing a piledriver as a familiar confidence returns to his demeanour. There's this sense that he's got a grip on things now, thriving in the heat of the battle.
Structurally, it's a very simple match in that sense, with the first ten minutes and change being split directly in half. That sets the stage for the rest, which is a more fluid shootout, as Nakajima kicks his way back to neutral, then applying a submission of his own. Things quite rapidly escalate from there, including a thudding apron suplex from Aoyagi. That physicality is soon accompanied by explosive bursts of pace, trading heavy artillery in back and forth fashion.
They race to the finish with that rhythm, with the strike exchanges steadily favouring Nakajima. It's an electric watch, concluding close to its absolute peak without undercutting the aura that Nakajima had arrived with. Generally speaking, these Triple Crown Title bouts have been a refreshing addition to wrestling's 2023. Though not without their own flaws at times, they are generally built around simple, raw content, building steadily with a timeless pace.
This is no different, even creeping into a tier above where much of this resides. It's very, very good, adding another hit to AJPW's impressive 2023 catalogue.