This week, Sareee and Trinity return to the ring, Best of the Super Juniors rolls on and ROH hosts a Fight Without Honor. These are all important things, certainly, but for a loon such as myself, this edition is about a singular tale, as Roderick Strong has his first singles match since August last year. I kid of course, or kind of anyway but my lord, he's getting started with a Falls Count Anywhere match against Chris Jericho?! We're truly blessed.
Seriously though, it's a neat week for wrestling as almost every show of note seemingly has a hook of some magnitude. We certainly aren't short on options right now, which is of great assistance to a project such as this. Either way, I must once again reiterate that these are NOT necessarily the week's best bouts, but instead a mere collection of matches that I'll be covering in more detail.
Chihiro Hashimoto vs. Sareee (Sareee-ISM)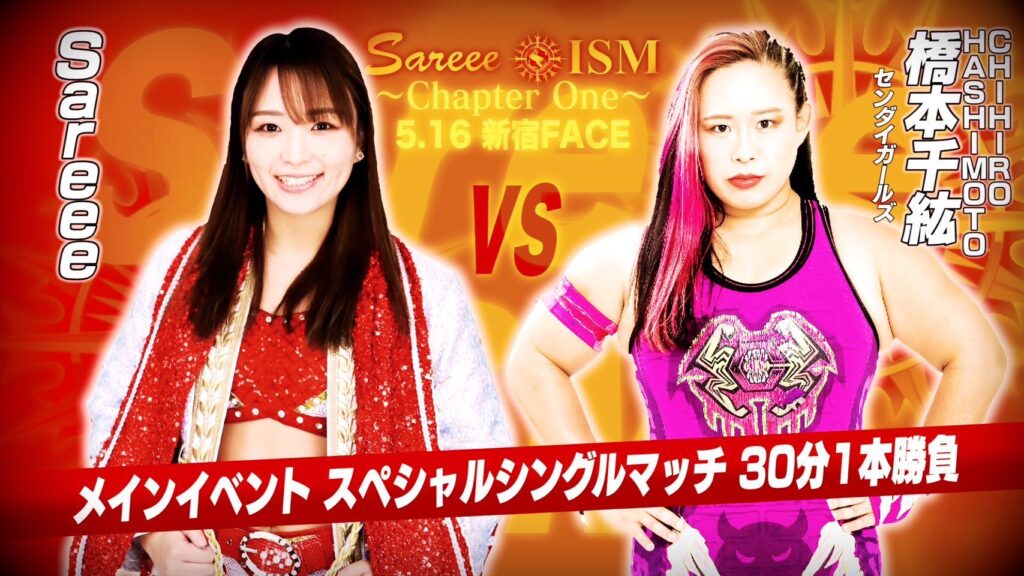 After a bizarre and frustrating stint in NXT, Sareee is back, returning to the ring against Chihiro Hashimoto. Though I'm certainly no expert on their history, this is a familiar pairing, as these two shared an acclaimed series in 2019. It's a simple dynamic, with Sareee scrappily fighting uphill opposite Hashimoto's destructive dominance. That's very much how this match gets underway also, reiterating that styles clash and finding its footing as a tactical affair.
Sareee's success comes with an increased speed, while Hashimoto makes each blow count, slowing things on the mat where necessary. It's not an electric opening act, but its purposeful, only making things feel more chaotic as the action inevitably explodes. The intensity is already building in-ring but only escalates as they fight to the floor, shifting the tone for the extended shootout that follows. Along the way, Sareee targets Hashimoto's left arm, which allows for a quiet theme along the way.
That's especially relevant in the middle and admittedly fades further to the background as the momentum swings back and forth. It's slightly uneven in that sense but the work's quality only improves as they regain their rhythm, becoming especially enthralling late. Though it does feel slightly disconnected from a few of its prior pieces, this match thrives most for me when it's stripped to the raw ingredients of a shootout.
They trend more and more in that direction during the finishing stretch, producing a dramatic, desperate fight that organically earns a quite unique atmosphere. There's a palpable tension that allows the final instances of back and forth to feel truly significant, each shift seemingly drenched in danger. Even as a more direct slugfest though, they maintain that core stylistic clash, as Sareee digs deep for more and more expansive combinations.
Hashimoto's retorts are more blunt, singular retaliations that swiftly settle any emerging doubt. As the match's tonal shift unfolds, Hashimoto's eventual win feels increasingly inevitable, though not without a scare or two in the process. There are multiple matches here in my view, which doesn't make for the most cohesive outcome. With that being said, this is an understandable occasion for such a flaw, as Sareee returns to Japan with a match that encapsulated different pieces of her game, showing just enough of each to leave you wanting more.
There are a few slightly clunky moments early but this is paced in a fashion that allows them to settle, ultimately delivering a really strong match. At times, it does feel like a compilation of the different dynamics that this pairing allows, but the individual pieces are executed so steadily that even without much connective tissue, you're happily along for the ride.
The Creed Brothers vs. The Dyad (WWE NXT)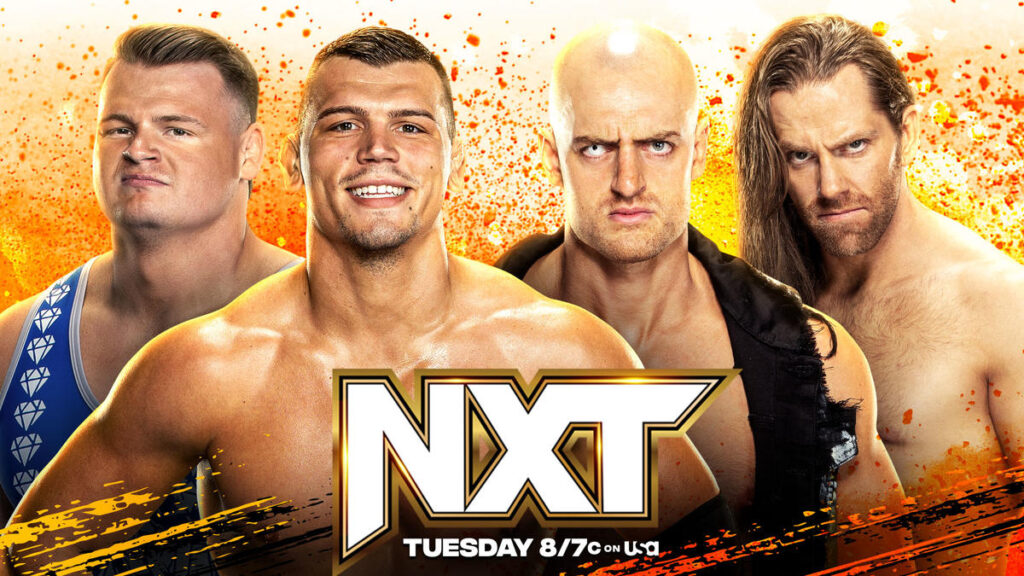 Though I've not seen every match of theirs by any means, I've yet to see a Creed Brothers outing that has undone my love at first sight adoration. There is something refreshingly raw about this team, a sense that they don't always know exactly what they're doing, which I mean as the sincerest compliment. Seriously though, while still brand new, these two are absurd athletes and have shown immense promise as a team, with Julius feeling like a potential gamechanger in particular.
In theory, The Dyad should be the perfect team to showcase those strengths, ideally building a traditional tag tilt around their potential. That's not quite the case, but these two teams produced something enjoyable regardless. To their credit, Fowler and Reid mostly play bumping heels here, and The Creed Brothers certainly give them ample offence to bump for. Julius is especially staggering, particularly early. While not nearly as graceful, Brutus' raw physicality allows for a nice contrast too.
Structurally, it's pretty loose, as they tease some heat on Brutus before eventually isolating Julius. However, neither cut-off overly sticks and they allow Julius to turn the tide during an ad, before regaining their grip on things afterwards. I understand that idea, as it keeps the match moving and doesn't exhaust your shtick while most of the television audience is either staring at Burger King ads or not watching at all. However, it's a slightly puzzling choice here, as Brutus' hot tag comes almost immediately following the break anyway.
Fortunately, it's terrific in the most perfectly meathead fashion imaginable, ensuring that the action remains compelling if nothing else. After Brutus and Fowler wipe each other out with bombs in centre ring, Julius pairs with Reid for an athletic exchange that really gets the people rocking. It feels like a babyface spot to me, but is creative regardless and executed perfectly to boot. Moreover, it sets the stage for a finish that's fast approaching, allowing the match to conclude close to its peak.
I think there's a version of this pairing that I'd much prefer, with Fowler and Reid taking a substantial heat segment or two that'd allow The Creed Brothers' comebacks to pack an extra punch. That doesn't necessarily make this match bad though, as it's a good time all the same. The Dyad are slotted in a certain role here and played it well, mostly just feeding Brutus and Julius while finish aside, operating as understated glue guys.
It's a really fun match, packed with action and excitement as The Creed Brothers continue to jump off the page as prospects. Personally, I'd like to see their qualities plugged into something more tightly structured but they're still finding their way, and this is probably the most flattering presentation for now.
Mike Bailey vs. Titan (NJPW Best of the Super Juniors)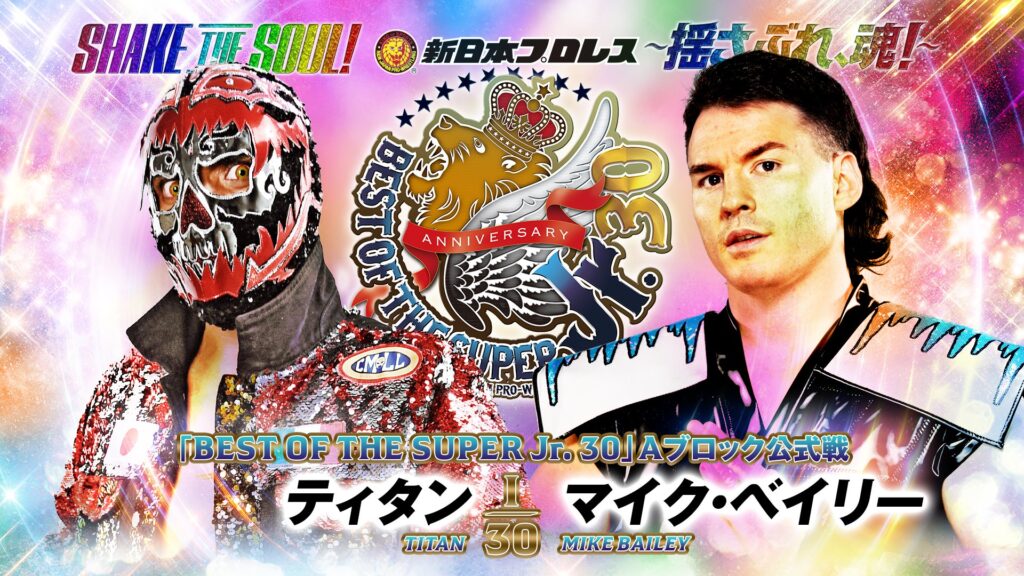 Last week, I opted to cover Hiromu Takahashi's rematch with Lio Rush, intrigued by how they'd build on virtual perfection in March. In the end however, 'Speedball' Mike Bailey was my favourite Takahashi opponent of the tournament's opening week. He's our focus here, taking on CMLL's Titan, whose own opening night encounter with TJP earned positive reviews. At just shy of ten minutes, this is almost exactly what you'd expect, an all action offensive display.
There is an interesting slant to accompany those combinations though, with the bout initially getting underway as a pure babyface match. There's some playful crowd work as well as a handshake, with flashy sequences then taking centre stage before a fiery strike exchange to boot. Bailey is more versatile than often giving credit for however, and adds some colour to the match by just poking his head in the opposite direction.
For this match at least, he takes an extended portion, sporting a little cockiness along the way. I personally enjoy this version of Bailey, as his sheer speed feels almost more disrespectful when paired with a knowing smirk. He sneaks that into the party here, which neatly sets the stage for Titan's comeback. Don't get me wrong, Bailey is no moustache-twirling villain here, he just leans a way that makes Titan's night easier.
It also gives some personality to the expansive exchanges that you'd expect, which indeed arrive before long. Better yet, they're perfectly placed too, producing the finish and not even slightly overstaying their welcome. In fact, these two gelled so seamlessly that I'd like to see an extended cut, but this was a blast nonetheless. I've not seen every match of this tournament by any means, but there's something noticeably refreshing to the undercards bouts that I've encountered.
The pace is brisk and easy, exciting junior heavyweight wrestling that doesn't exhaust itself with over-indulgence. It's still rich with creativity and innovation of course, but it feels contained, armed with the self-awareness to flow without much excess. Either way, these two were a natural pairing, producing a hit while barely scratching the surface.
Chris Jericho vs. Roderick Strong (AEW Dynamite)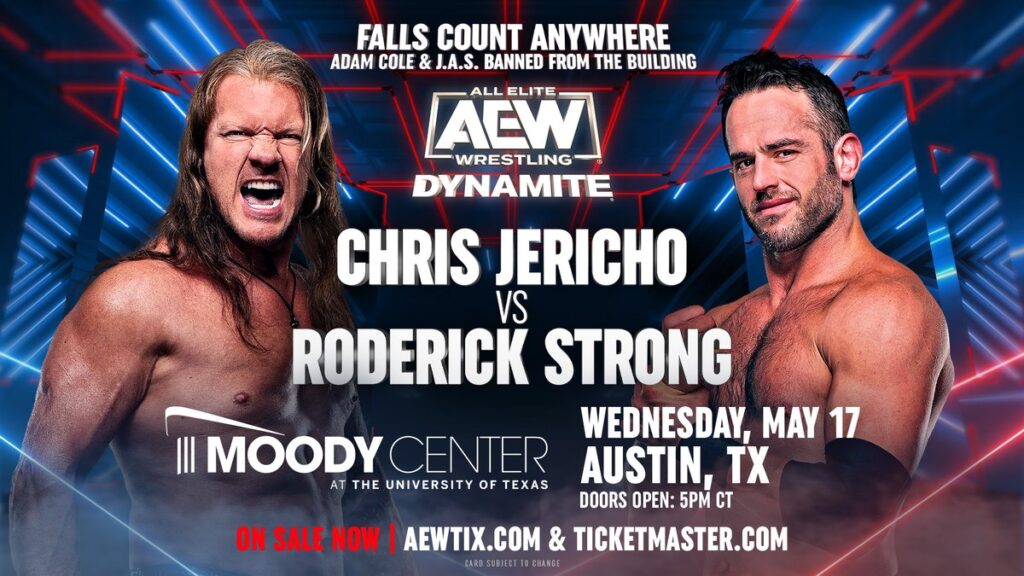 There is nothing quite like Roderick Strong unleashed. One of the golden generation's greats, Strong is always good but when called upon like this, very few can so easily ascend to excellence. On paper, this sure felt like one of those occasions, as Strong entered his first singles match in AEW after quite violently finding his feet in an 8-man tag. He had the right dance partner too, even if that may not have been immediately obvious.
Jericho is important and so this immediately mattered but even more pivotally, he is also truly insane. I am not here to re-litigate the debate surrounding Jericho's current place in AEW, nor his increasingly polarising presentation. Those conversations are certainly worthwhile and have their place elsewhere, but I remain in awe of Jericho's absolute glee for scenarios such as this. At 52 years old, after multiple hall of fame careers, Jericho watched Roderick Strong and said "yes, sign me up."
That should be unfathomable but it couldn't be less surprising, because we've seen this story before. It's that mentality which unlocks the match too, ultimately reaching heights that exceeded even the highest expectations. Jericho gives Strong ample room to fill and he seizes upon that exactly as you'd expect, unleashing a simply absurd offensive frenzy. Within seconds, the match feels frighteningly chaotic, packed with passion before they even exit the ring.
Even after a year of inactivity and injury, Strong remains an unrelenting force of nature, chasing Jericho with an outright onslaught. It's really quite freakish. Every single blow looks devastating, his quantity never detracting from the quality. Though he certainly acts as one at times, Jericho is no mere punching bag here either, coming admirably close to matching Strong's intensity where necessary. He finds a nice balance, still feeling overwhelmed but reddening Strong's chest nonetheless.
The early action is immense, but the Falls Count Anywhere stipulation ultimately decides the bout's direction. Too often, that stipulation feels totally interchangeable but every once in a while, a match takes it just literally enough to produce something memorable. Due to the finish, this was one of those cases, with Jericho and Strong fighting through the building in a fashion that married the strengths of differing wrestling brawls. Inevitably, there is some walk 'n' brawl, but that initial aggression seldom fades.
That being said, they do find the room for the kind of shenanigans that you'd expect from Jericho in this setting, with cute little set pieces popping up along the way. It's inherently humorous before long, as they embrace every feasible surrounding in pursuit of destroying one another. Whenever it even threatens to veer too far in that direction though, Strong simply clobbers Jericho and this thing returns to the visceral fistfight that we started with.
They never lose that, even while sprinkling in some more glossy entertainment. Speaking of such, the finish is an objective hit in the lane of Jericho humour, as Strong lures him into a trap by backing his way out of the building. As soon as Strong does so, it's clear to the audience that Adam Cole is waiting but like a true professional wrestling villain, Jericho is oblivious, celebrating his chase and questioning if Strong is "scared of the demo god."
Even as a single piece of Cole's programme with Jericho, it's a huge win for Strong, the kind that allows him credibility as he settles into his supporting role with the promotion. It's an equally sizeable win for Jericho though, whose value feels reiterated after a slim few months. This was the Jericho who toughed his way through that Ring of Honor Title reign last fall, inexplicably wrestling everyone else's match and willingly accepting the battering that choice ensured.
This was the kind of pairing that may have initially seemed jarring but after any thought, quickly became obvious. Roderick Strong is a machine built for graps and Chris Jericho is the exact lunatic that'd allow such a thing to reveal itself. For this match type, it's just about perfect.
Action Andretti & Darius Martin vs. The Kingdom (ROH on HonorClub)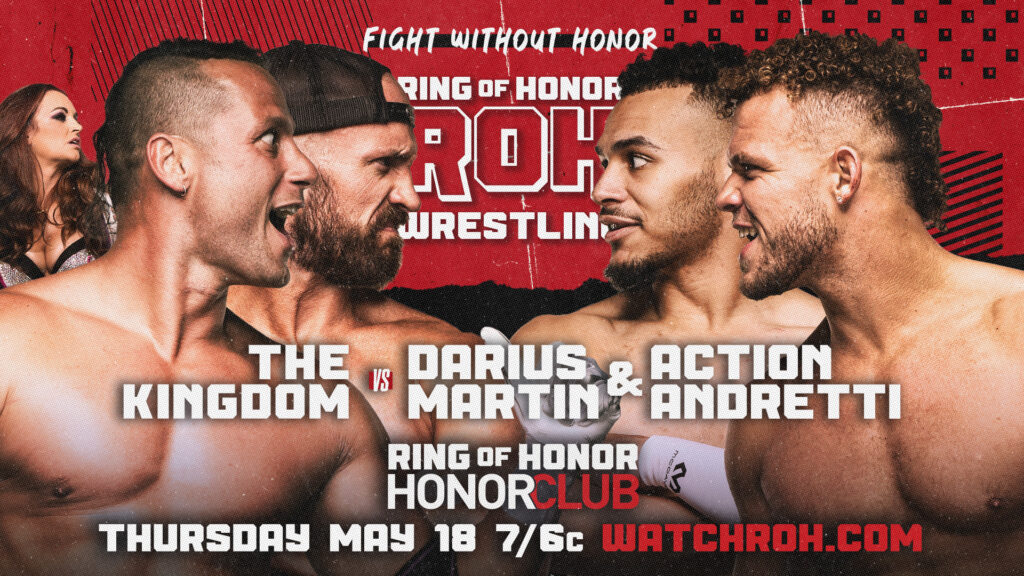 Like much of Ring of Honor TV, this one crept up on folks, but has been building in some form or fashion since even before the HonorClub revival. The Kingdom and Top Flight feuded their way into Supercard of Honor, with Dante's injury only increasing the intensity. They've now reached a Fight Without Honor, as Action Andretti steps up alongside Darius. The result is an especially extreme incarnation of the match that you'd expect, a typically insane showing from all involved.
Particularly in the studio setting, this is a quite absurd effort, instantly pushing a pace that only accelerates afterwards. They set the tone with a brawl on the ramp, introducing weaponry right away. That ensures an immediate intensity, with Andretti and Martin going through the gears as vengeful babyfaces. Bennett is bleeding within seconds, but The Kingdom quickly rally, taking their own chaotic control segment as a scene of sheer mayhem transforms Universal Studios.
Those defined portions allow the match to settle some, with both teams finding their natural role. Ultimately though, it's not one about structure but instead, the complete anarchy on display. Inevitably, it's a match made by the quite horrifying set-pieces that pop up along the way, but its core identity does standalone without those instances. There is a genuine sense of hatred between both teams, a bitterness that flavours the highlights with something more frightening than innovative.
There is definite creativity throughout and that's a strength of the match, with Andretti and Martin adjusting seamlessly to the environment. The Kingdom always have big ideas also, but I never felt this devolved into mindless action, as there was a clear sense of escalation from one spot to the next. The fight's ferocity is constantly climbing, with some unintentional ugliness only adding to the appeal. Even when flying, it always feels like a fight too, grounded by a collective scrappiness.
The involvement of Maria is handled perfectly also, initially interfering to halt Andretti and Martin before getting increasingly desperate in the final act. She ultimately pays the price though, being inadvertently flattened by a Bennett forearm for what may have been the bout's biggest reaction, even in a match as thrilling as this. There is such an enthusiasm to this bout, just an overwhelming joy to destroy one another in the most inventive fashion possible.
On some level, that's to be expected from Andretti and Martin, two young pros who are building their name on excitement. That doesn't make it any less impressive, but it's hard not to leave this match with anything but amazement at The Kingdom's recent consistency. This act's form since reuniting in 2020 was a story that flew under the radar, so much so that there was pushback as they made their AEW debut. In hindsight, that's unfathomable.
They were never a bad team, but a real grit has emerged in Bennett's work especially, a toughness that's married neatly with their usual chemistry and energy. They're a team absolutely desperate to make every match work, no matter their role nor the amount of eyeballs directed their way. Here, they not only matched their young opponents' output but led the way, producing a match that in so many ways, far exceeded the relative limitations of this show.
That's who The Kingdom are though, an extraordinarily reliant presence on this programme. Andretti and Martin remain promising in their own right, with the former again proving that his initial success wasn't an outlier.
KiLynn King vs. Trinity (IMPACT Wrestling)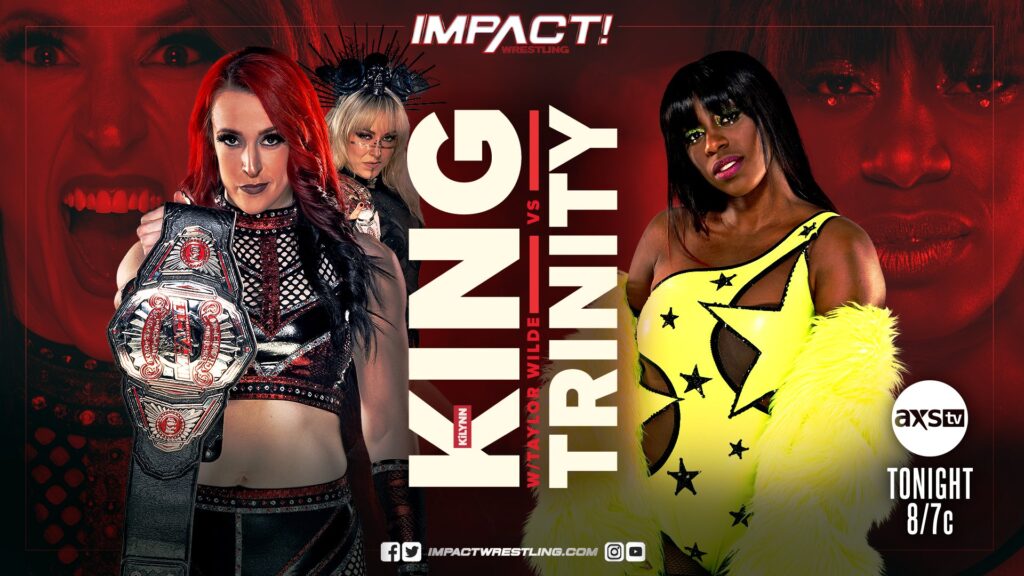 This is Trinity's first match outside of the WWE system, which is intriguing in itself. This whole run has my attention though, especially in IMPACT. Trinity certainly had some major moments in WWE, but was generally a supporting act, for better or worse. Here, she has a chance to be the central attraction of a featured and talented division, which is a compelling scenario that theoretically at least, should position Trinity to succeed.
Speaking of such, her opponent here is the always impressive KiLynn King. This is a bold choice by IMPACT as for all her talent, King is still not even five years removed from her in-ring debut. With that being said, this promotion's agenting is generally tight, so much so that more expansive pairings can have their ceiling limited on occasion. That approach equally allows for a certain safety net though, raising the floor for the brand's uniquely varied roster.
This match undeniably benefits from that but even after a year out of the ring, Trinity's sharpness shined brightest. Given an extended shine, she's able to play some hits, with King feeding seamlessly before taking over after via Taylor Wilde interference. King is such a poised professional in this setting, taking a nice control segment that ensures struggle without erasing Trinity's star power. Trinity protects herself in that regard too, maintaining the flash to stand out on offence alone.
There is a familiarity to this simple layout that certainly assists her also, though this particular pairing produces some really solid physicality. Trinity appears to be making a point of increasing things on that front and King always brings it in that regard anyway. The meat of the match is rock solid and they still find the time for a neat finishing stretch, going long enough to make this worthwhile without slotting Trinity as just another contender.
It's the ideal outing for this scenario, as a more direct squash match would've achieved infinity less. If you're here for Trinity only, she shines bright and even if nothing outrageous, gets back in action with something substantial. On the other hand, anyone uncertain of Trinity's effectiveness outside of WWE has at least some questions answered, showing no rust and proving she more than belongs. Credit to King also, who performed with remarkable maturity for a talent still finding her feet.
Rey Mysterio & Santos Escobar vs. The Usos (WWE SmackDown)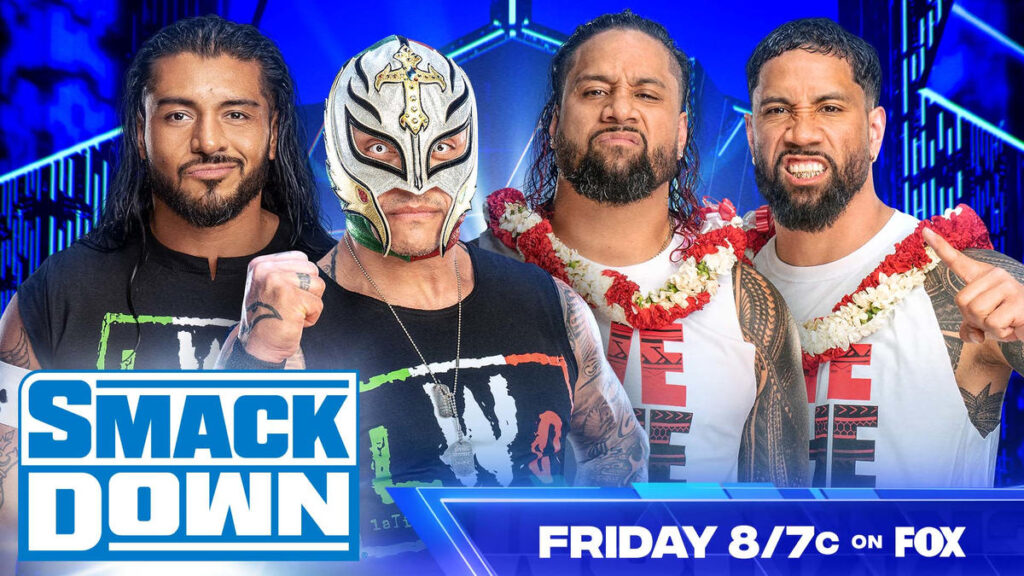 There are few things in wrestling that I enjoy more than Rey Mysterio's weekly 3.5* televisual feast. Part of the charm of course is that such a thing has now existed for much of the past thirty years, but the appeal is hardly nostalgic. Instead, he's just still that same wizard, constantly adding to his endless catalogue of TV thrillers. He's not alone in that regard either, as The Usos have also cemented themselves as especially prolific in this setting.
The hook here is that Jimmy and Jey are on thin ice, struggling to appease Roman Reigns while by contrast, Mysterio's LWO reboot goes from strength to strength. Those elements are somewhat present throughout this one too, though it's mostly the match that you'd expect. Thankfully, that's a match I was happy to watch, as The Usos frontloaded a hint of heat on Mysterio before taking an extended control segment on Escobar.
It isn't an overly natural role for Escobar, though it's still nice to see him positioned as prominently as he is here. For now, he remains a supporting player in the stories of others, but it's clear that this act has already been immensely helpful for Escobar, finally getting some sustained main roster exposure after an extended wait in NXT. As most Usos matches do, this picks up immensely at the heat's conclusion, with Mysterio's hot tag allowing for an especially peppy edition.
There is something so comforting about Mysterio's silky smooth sequencing, especially when fed as neatly as Jey Uso's effort here. It's not just the Rey show by any means either, as he evades both Usos for a gorgeous transition to Escobar's big dive. They don't close with one of The Usos' more expansive finishing stretches, but do play a chord or two and frankly, that's more than sufficient considering the popularity of both acts.
There is one particular false finish that stuns the place, as a classic Uso combination doesn't close the show. Instead, the LWO get a huge win to close SmackDown, but only after interference from Kevin Owens and Sami Zayn. While I understand the champs seeking revenge for this episode's opening segment, I didn't love the finish as it felt as though The Usos simply being caught would've better suited the story at play.
Speaking of such, they do indeed have a certain desperation here, especially as their usual playbook fails them. It's relatively restrained in that regard too, which has been an issue at times with The Bloodline's more heavy-handed beats. Either way, this is a seamless television main event that scratches the itch without forgetting its place. The live crowd loved it and I'm not far behind them, just a breezy platter of tasty television wrestling.