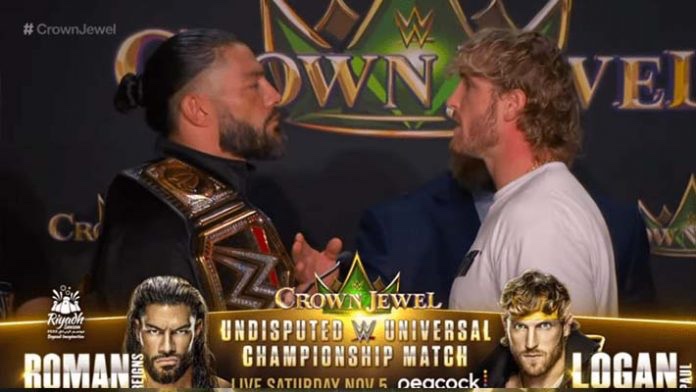 The Tribal Chief, Head of the table and leader of The Bloodline was victorious in a bout against Drew McIntyre in the laters home field advantage.
After the bell live fans and those watching on had several questions, and none of them involved the sing along that closed out the show. Interest was at an all time high to determine who would be next in line to challenge the unified champion.
Logan Paul ended up accepting the challenge to step up to the table and face The Tribal Chief. The event will be Logan Pauls third match in the WWE and will see him challenge for the unified belts at Crown Jewel on November fifth.
Logan Paul being so quickly inserted into the title picture has rubbed man fans and wrestlers the wrong. Many feel that chance should've been awarded to a full time wrestler regardless of Logan Paul's impressive debut and second match against The Miz.
Roman Reigns took the time to speak to SecondsOut Radio Rahim, where he was quizzed on this personal feelings in regards to his rookie opponent.
"Be so good that nobody can take your spot. I don't care who they bring in, you can bring in anyone, and they ain't going to take the Tribal Chief's spot."

Roman Reigns
After his successful title defense against Drew McIntyre, Tyson Fury joined Reigns in the ring after giving Austin Theory a stiff jab whilst Theory was attempting to cash in his Money In The Bank Briefcase. Speculation was at an all time high that Fury may be in The Tribal Cheif's near future.
H/T to WrestlingInc for the transcription