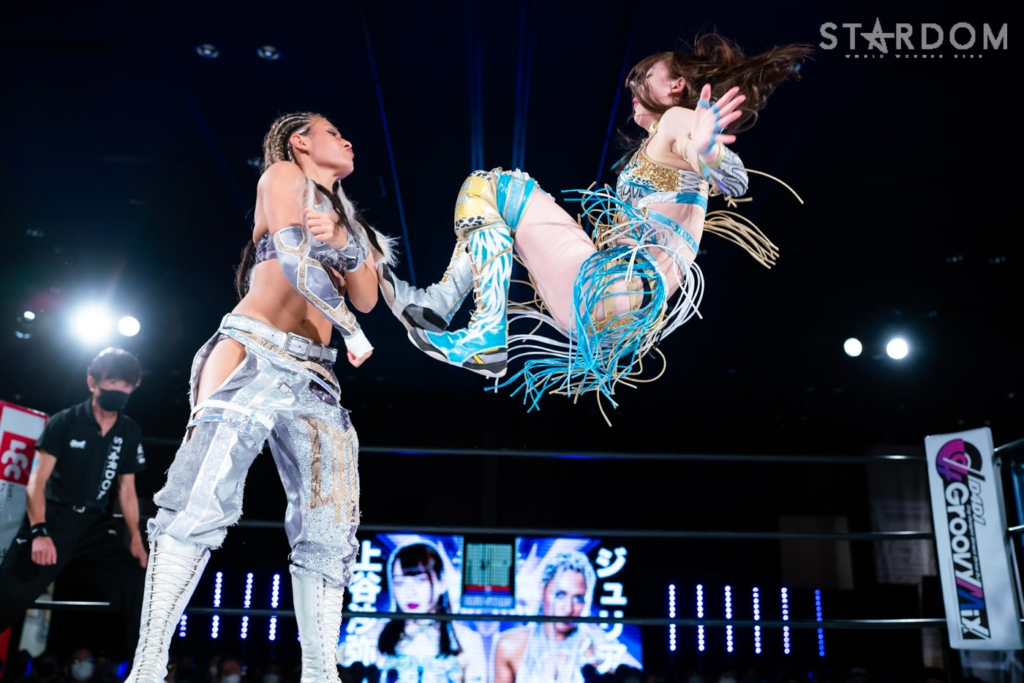 STARDOM
The last 5STAR Shows before the final occurred this past week and a lot happened that changed the favorites going into the final day. In the Red Stars Block, 7 of the 13 Wrestlers are still in the Race of winning the Block. The first one is Risa Sera with 13 Points and a 6-3-1 record. She has the least points out of the 7. Utami Hayashishita, who won her matches against SAKI & Tam Nakano to get to 14 Points with a 7-4 record. Also on 14 Points with a 7-4 record is Tam Nakano who started last week with a 6-2 record but after winning her Match against Momo Kohgo she lost her past two matches against Utami & Syuri. The current World Of STARDOM Champion Syuri is also still in the race after defeating Tam Nakano to get also at the 7-4 record. AZM, Maika and Himeka also are at 14 Points with a 7-4 record. AZM lost her match to Koguma. She was also able to retain her High-Speed Belt against Hazuki & Fukigen Death in a Three Way Match. Maika won her match against Mai Sakurai but lost her match to Momo Kohgo. Her opponent on Saturday, Himeka was able to secure her win against Unagi Sayaka.
The Blue Stars block is also really close as well. MIRAI, Mayu Iwatani & Saya Kamitani are all on 13 Points with a 6-3-1 record. MIRAI lost her match against SLK to stay at 13 Points, Saya Kamitani took two big losses against Giulia and Mina Shirakawa. Mina picked up her biggest singles win of her career. Mayu Iwatani won her match against Hazuki but lost to Momo Watanabe. Hazuki is still at 14 Points after struggling to win against Mayu and is now 0-4 in her past four matches after starting the tournament with a 7-0 record. Starlight Kid made a big jump this week to 14 Points and a 7-4 record with wins over MIRAI & Saya Iida but also a loss to Suzu Suzuki who is the winner of the past week's 5STAR shows. She won all her four matches to get to 14 Points as well. Giulia is the leader of the Blue Stars Block with 15 Points and a 7-3-1 record going into the last day.

The 2nd Showcase show also happened and it had a lot of fun matches. The Falls Count Anywhere Match was the clear Match of the Night with a lot of fun spots. The Show ended with a big but also awful angle. Yuna Manase & Nanae Takahashi were revealed as the two Grim Reapers together with Yuu and they defeated the Bodyguards of Rossy Ogawa Syuri, Lady C and Utami in a Captain's Falls Match. After the Match the 2nd ever World Of STARDOM Champion Alpha Female appeared on the screen and announced that she, Yuu, Nanae and Yuna Manase are the "Neo Stardom Army" and they want to destroy STARDOM and bring back the "Passion" from the early days of STARDOM.
Full Results Of The 5STAR GP Matches:
Day 17 on September 19th in Nagoya
Maika defeats Mai Sakurai
AZM defeats Unagi Sayaka
Suzu Suzuki defeats Mina Shirakawa
Tam Nakano defeats Momo Kohgo
Risa Sera defeats Koguma
Utami Hayashishita defeats SAKI

Day 18 on September 23rd in Korakuen Hall
Suzu Suzuki defeats Hanan
Natsupoi defeats Saya Iida
SAKI defeats Momo Kohgo
Koguma defeats AZM
Saki Kashima defeats Risa Sera
Starlight Kid defeats MIRAI
Mina Shirakawa defeats Saya Kamitani
Momo Watanabe defeats Giulia
Mayu Iwatani defeats Hazuki
Syuri defeats Tam Nakano

Day 19 on September 24th in Belle Salle Takadanobaba
Hanan defeats Mina Shirakawa
Momo Kohgo defeats Maika
Starlight Kid defeats Saya Iida
Suzu Suzuki defeats Ami Sourei
Himeka defeats Unagi Sayaka
Momo Watanabe defeats Mayu Iwatani
Utami Hayashishita defeats Tam Nakano
Giulia defeats Saya Kamitani
AZM (c) defeats Fukigen Death & Hazuki to retain her High-Speed Title

STARDOM in Showcase 2 on September 25th in Bella Salle Takadanobaba
Hanan defeats Saya Iida
Suzu Suzuki defeats Starlight Kid
AZM & Ram Kaicho & Mayu Iwatani defeat Maika – Falls Count Anywhere Match
Tam Nakano & Natsupoi & SAKI & Hikari Shimizu defeat Mina Shirakawa & Unagi Sayaka in a Cosmic Rules Match
Giulia & Rina Yamashita defeat Ruaka & Momo Watanabe in a Hardcore Match
Yuu & Yuna Manase & Nanae Takahashi defeat Syuri & Lady C & Utami Hayashishita v Captain Falls Match

Next Week's 5STAR Grand Prix + Additional Matches:
Momo Kohgo vs Unagi Sayaka
AZM vs Saki Kashima
Koguma vs Utami Hayashishita
SAKI vs Tam Nakano
Himeka vs Maika
Risa Sera vs Syuri
Mina Shirakawa vs Natsupoi
MIRAI vs Saya Iida
Ami Sourei vs Saya Kamitani
Hazuki vs Momo Watanabe
Mayu Iwatani vs Starlight Kid
Giulia vs Suzu Suzuki

Official 5STAR Grand Prix Standings following Day 16:
RED STARS BLOCK –
14 – AZM (7-4-0)
14 – Himeka (7-4-0)
14 – Maika (7-4-0)
14 – Syuri (7-4-0)
14 – Tam Nakano (7-4-0)
14 – Utami Hayashishita (7-4-0)
13 – Risa Sera (6-4-1)
12 – Koguma (6-5-0) (OUT)
10 – SAKI (5-6-0) (OUT)
10 – Saki Kashima (5-6-0) (OUT)
9 – Mai Sakurai (4-7-1) (OUT)
4 – Momo Kohgo (2-9-0) (OUT)
2 – Unagi Sayaka (1-10-0) (OUT)

BLUE STARS BLOCK –
15 – Giulia (7-3-1)
14 – Suzu Suzuki (7-4-0)
14 – Hazuki (7-4-0)
14 – Starlight Kid (7-4-0)
13 – Saya Kamitani (6-4-1)
13 – MIRAI (6-4-1)
13 – Mayu Iwatani (6-4-1)
12 – Natsupoi (6-5-0) (OUT)
10 – Ami Sourei (5-6-0) (OUT)
10 – Momo Watanabe (5-6-0) (OUT)
8 – Mina Shirakawa (4-7-0) (OUT)
4 – Saya Iida (2-9-0) (OUT)
4 – Hanan (2-10-0) (OUT)

Match Recommendation:
Giulia vs Momo Watanabe (23/09/2022)
Hazuki vs Mayu Iwatani (23/09/2022)
Syuri vs Tam Nakano (23/09/2022)
Starlight Kid vs Suzu Suzuki (25/09/2022)
AZM vs Maika vs Mayu Iwatani vs Ram Kaicho (25/09/2022)
---
Ice Ribbon
Ice Ribbon had a big Korakuen Hall Show on the 24th with three title matches. In the first Yuuki Mashiro was able to defend her Triangle Ribbon Title against Cherry & Matsuzawa-san in a fun comedy match. The second one was bigger. Hikaru Shida & Ibuki Hoshi were able to win the International Ribbon Tag Team Titles from Makoto and Hamuko Hoshi in a great Tag Match and unlike her other matches in Japan, the Shining Samurai Shida wasn't the focal point of this match. The story was about Ibuki fighting her mother Hamuko and both had the most time in the ring. In the end, Ibuki was able to pin her mother to get the win. The Match is a good follow-up to their singles match between Shida & Ibuki earlier this summer. The whole story is there to establish and build up Ibuki as a future Main Eventer in Ice Ribbon and it works perfectly. The 19-year-old is already one of the best young talents in Joshi and is constantly improving. In the Main Event of the show, Saori Anou was able to retain her ICExInfinity Title against Stephanie Vaquer in a great match. Vaquer is showing out constantly in various Joshi promotions since the start of her excursion, while Anou proves why Ice Ribbon chose her to be the first Champ in the new era. After the Match, Nao Ishikawa challenged Anou to a future title match.
Match Recommendation:
Hamuko Hoshi & Makoto (c) vs Hikaru Shida & Ibuki Hoshi (24/09/2022)
Saori Anou (c) vs Stephanie Vaquer (24/09/2022)
---
Performer Of The Week
The 19-year-old prodigy Ibuki Hoshi is this week's Performer Of The Week. Her performance in the Tag Title Match was outstanding and proves Ice Ribbon once again right that she is the future of this company together with Asahi. She wrestled in the match with Shida against her Mother Hamuko and Makoto. The story between her and her mother was the focal point of the match and she crowned her outstanding performance in the end with her 2nd International Ribbon Tag Title win.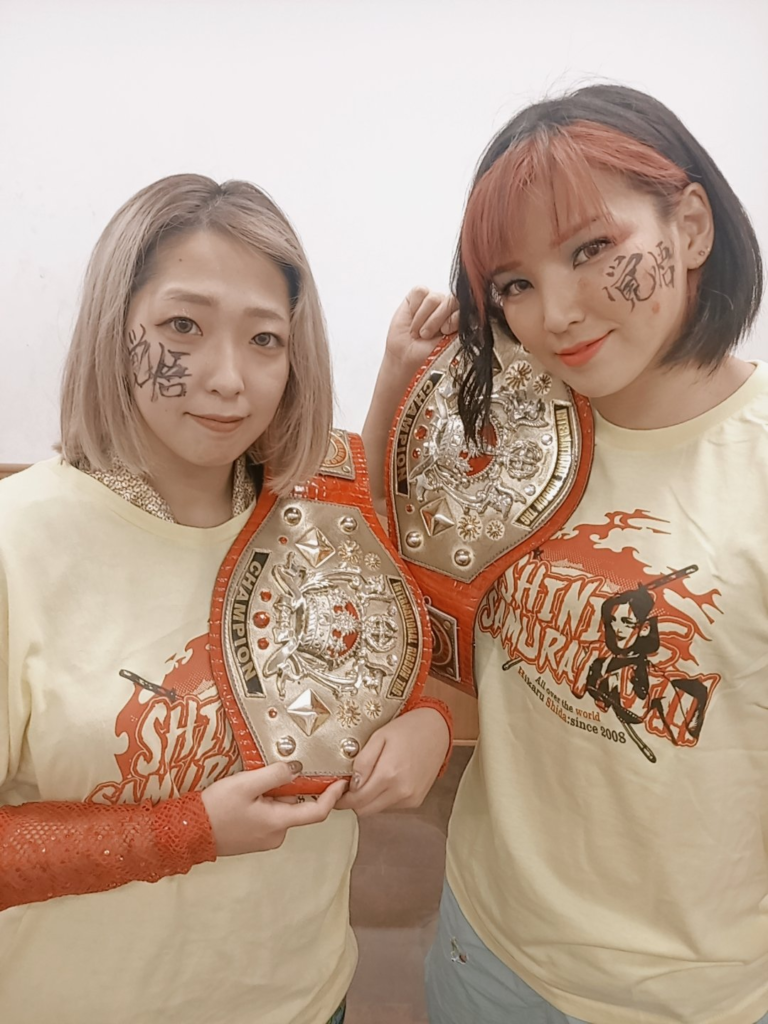 ---
Match Of The Week
The best Match of the weekend was Tam Nakano vs Syuri in a Red Stars Block Match on September 23rd. Another amazing Korakuen Hall Main Event Match from STARDOM with two of the best of the company. The story was pretty simple, Tam Nakano had all momentum and was on fire and desperately wants the Red Belt, while Syuri would have been eliminated if she loses this match. Nonstop action for nearly 15 minutes with both trying their best to win the Match. In the end, Syuri was able to put Nakano to sleep Seven seconds before the time limit expired to keep herself in the tournament

(**** 1/4)