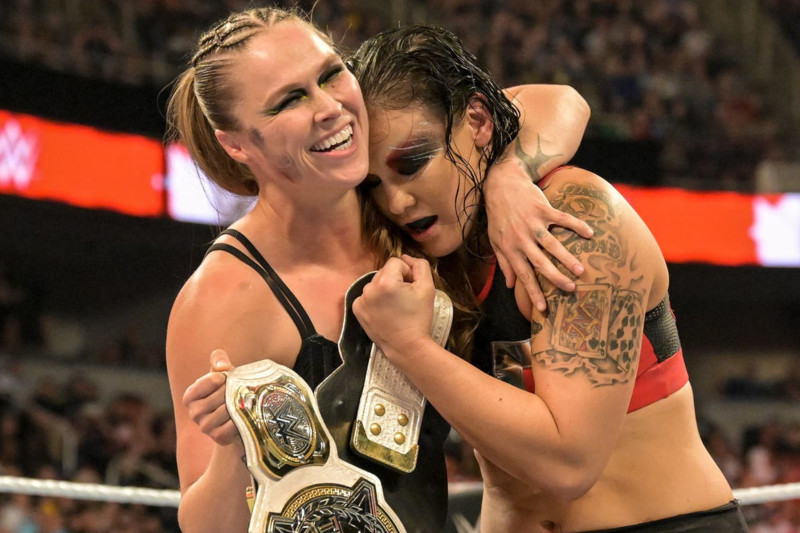 Ronda Rousey has shed light on what she perceives are the short comings of the women's tag team division.
On the May 29th episode of WWE's Monday Night Raw, Shayna Baszler and Ronda Rousey had their hands raised as they emerged victorious from a four way which would determine the new Women's Tag Team Champions. The titles were recently vacated by Liv Morgan and Raquel Rodriguez after an injury to Morgan left the duo unable to defend their championships.
Ever since their introduction in 2019, the Women's Tag team championships have been booked in a dubious manor from time to time, whether that be odd ball thrown together tag teams, assembled purely with a future split in mind, or an overall lack of women's tag teams which would result in a lack of diverse competition for whomever may hold the gold.
Ronda Rousey spoke recently to Ryan Glasspiegel of the New York Post, where she would address the lack of potential contention within the tag team roster, as well as her and Baszler's recent title victory. Rousey made mention their yearning to be fighting champions, but she'd also mention that the lack of diverse competition that waits for them backstage.
"Well, the lack of competition is really the problem. I mean, we want to be the most active champions out there. I want to be able to defend this title every week and even twice a week on both 'SmackDown' and 'Raw'. But with how dismally shallow the women's division is right now, there's not enough women around here to keep us busy for a month. So that's the biggest challenge that we have is to get this company to actually care and invest into this tag division,"

Ronda Rousey
Rousey would continue, stating that the division had been "stripped clean" during her time away from 2019-2022, however now in 2023, everyone is working to put the pieces back together.
"It was like the entire women's division just got stripped clean. Now we're the women that are the women that are left trying to piece together, you know, stories and a division, a tag division with around 10 women or even less on each roster. I mean, we're trying the best that we can to make chicken shit into chicken salad, and we made some amazing chicken salad (Monday night),"

Ronda Rousey
Other subjects of discussion were that of Ronda and Shayna's yearning to form a tag team with her real life friend for years. Ronda attests that their chemistry together is due to the involvement they've had in each others lives for some time now.
"I think that's the one thing that really sets us apart from every single person, every single tag team in, in the history of this company is that we've, we came here already tested and we came here already closer than anyone's ever been. We've literally fought together, bled together, cried together everything. So there's nothing that's going to tear us apart, especially not a fantasy-land company like this,"

Ronda Rousey
Up until their recent title win, Ronda Rousey and Shayna Baszler have been absent from WWE programming since WrestleMania in April of this year.