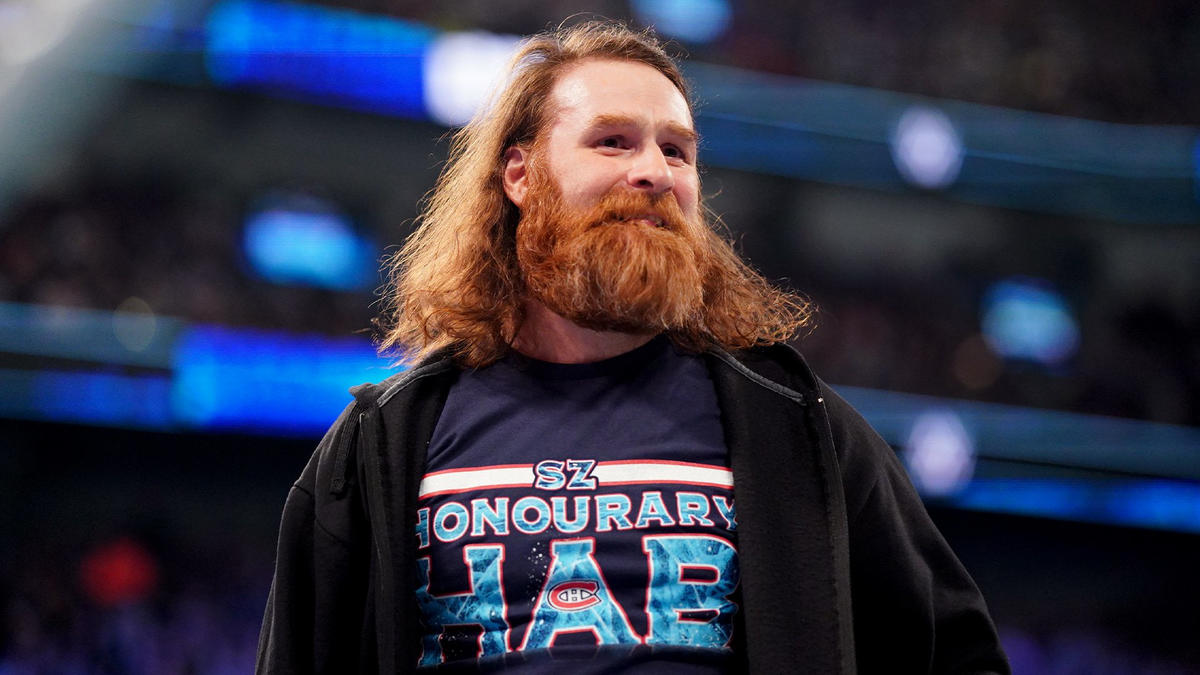 Sami Zayn recently shared his feelings on what his trip to Saudi Arabia with WWE meant to him.
Speaking with Corey Graves and Kevin Patrick on the latest edition of After the Bell, Zayn, a Canadian Muslim of Syrian descent, addressed the long-running rumors and speculation around why he hasn't worked a WWE show in Saudi Arabia since the deal with their government was made in 2018. It had long been believed that the issues between the Saudi and Syrian governments were the driving force behind Zayn's decision to not work those shows, but based on his latest comments, that doesn't appear to be the case.
"It was a really, really, really kind of a heavy trip, to be honest. There was a lot that went into it.

"First of all, the fact that I haven't been there in a few years, and that there's been so much speculation as to why I'm not going and what's the political reasoning, this and that. I won't get into all of it, but I'll tell you 99.9% of what you've read online about this subject — completely fabricated, people assuming things and then running with those assumptions and adding on to them. It's wild. I think it's anytime they can't get a concrete answer, that's kind of what tends to happen. I think that's like human nature, almost.

"It's been years since I've been back to the Middle East. I think the last time I was there was 20, maybe 16, in Dubai, possibly, so it's been a little while. Of course, as you saw on the Premium Live Event, all this to say, I'm Arabic, I'm Muslim, all this stuff and that's my part of the world. I understand those people, those are my people.

"When I went there, I got to go to Mecca, which was just a surreal, surreal experience. And then I also saw my uncles that I hadn't seen in 25 years, I had cousins I hadn't seen in 25 years. I met my great-uncle I didn't even know who existed.

"So, it was pretty heavy in a lot of ways, it had a lot of weight. And then the actual event itself and the reception from the audience, it's kind of what I've been waiting for for a while in a way because, again, I always felt I would have been the natural representative for those shows and I just wasn't. So, it was good to finally be put in that position."

-Sami Zayn
Zayn worked his first show in Saudi Arabia since the WWE-KSA deal in the main event of last Saturday's Night of Champions, successfully defending the Undisputed Tag Team Championships with Kevin Owens against The Bloodline's Roman Reigns & Solo Sikoa. This match comes after Saudi Arabia and Syria announced plans to resume diplomatic missions in both countries, indicating that the previously damaged relationship between governments over the handling of the Syrian Civil War has been mended.
The crowd in Jeddah loved Zayn as he got the one of the loudest reactions of the night, a reaction that only got louder when he introduced him and Owens in Arabic. Based on the most recent developments, it doesn't seem like we'll have to worry about him missing another show in Saudi Arabia anytime soon.
(H/T Cageside Seats)