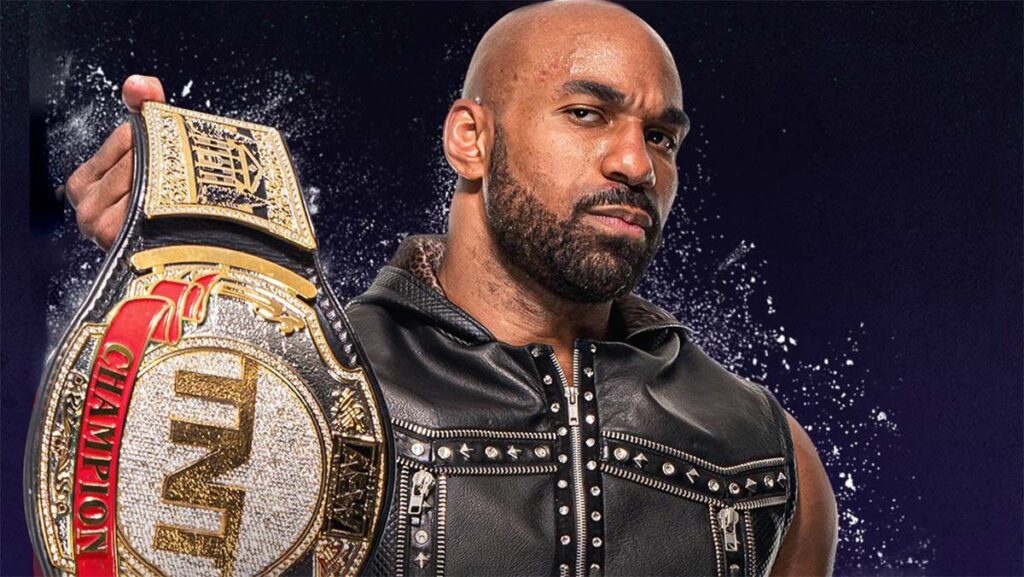 Last week's AEW Dynamite saw Scorpio Sky recapture the TNT Title from Sammy Guevara in an exhilarating ladder match.
Scorpio Sky previously captured the title from Sammy Guevara on the March 9th episode of Dynamite, although his reign would only amount to 38 days, as he lost the title back to Guevara at Battle of the Belts 2 on April 15th.
This match between the pair saw the roles reversed, with Guevara now the heel and Sky serving as the babyface of the bout. Appearing on Throwing Down w/ Renee & Miesha, Sky had the chance to discuss his title victory.
"Yeah, two times [as TNT Champion]. It's really an honor. Just to win it one time is incredible, you know? I know people look at professional wrestling and a lot of things — sometimes people think wins and losses and things like that don't matter but in AEW from the very beginning, they wanted to make a statement that wins and losses do matter and there haven't been a lot of people that have held championships and so to be able to have the honor of being a champion, not only one time but two times and actually three times because I was a tag team champion, it is exactly what I said it was, it was an honor."

-Scorpio Sky
Sky continued, stating his desire for his second reign as TNT Champion to be longer-lasting in the memory of fans, as he looks to have a number of in-ring classics and tell stories whilst reigning as champion.
"I didn't get to do too much in my first run [as TNT Champion]. I lost the title in like 31 days. I only had one title defense unfortunately but, I did regain the championship in the shortest period of time in AEW history, 12 days so now, we've got a new start so the first thing I wanna do is hold onto it for at least 32 days and pop myself. But no, really, I wanna have some classics. I grew up a diehard, passionate wrestling fan that dreamt of winning championships and having classic matches so if I can run with this title for six months, a year or longer and really get in the ring with everyone and have some really memorable championship matches that I used to like watching when I grew up, that one's a goal and telling stories. Most of all above anything else, I wanna tell stories and because that's what people will remember and that's how you leave your mark."

-Scorpio Sky
We look forward to seeing what the future holds for Scorpio Sky, and hope that he gets the chance to display his incredible in-ring talent whilst serving as a fighting champion.
H/T to POST Wrestling for the transcription.