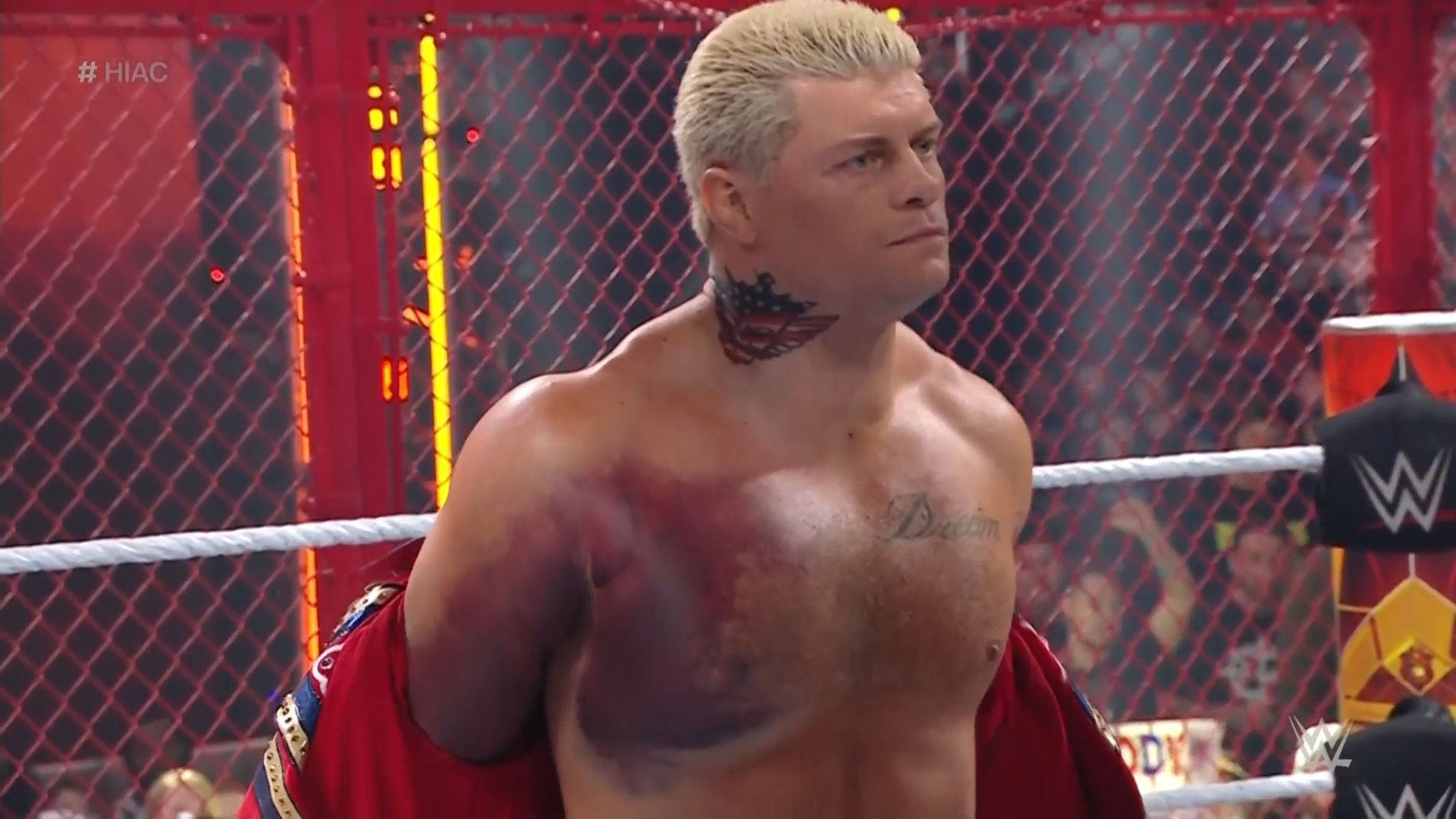 Earlier last month at WWE Hell in a Cell, Cody Rhodes put in one of gutsiest performances in recent times, as he battled through an intense HIAC match with Seth Rollins whilst dealing with a torn pectoral muscle.
Rhodes' injury had been announced by WWE ahead of the match, although The American Nightmare assured fans that the bout would be going ahead as planned. When Rhodes removed his jacket before the bell rang, he revealed a giant bruising on his arm.
Speaking to Stephanie Chase of Digital Spy, Rollins recalled his reaction upon first seeing the state of Rhodes's purple chest.
"It was pretty gnarly, I don't think I expected it to look like that. I've had some torn muscles in my day and I know that the blood seeps down, gravity just takes over but I had never seen anything like that. I remember Triple H had torn his pec some time ago at an event and shared a picture of it and it was pretty brutal but nothing like what we saw from Cody at Hell in a Cell. His bicep, tricep, shoulder, pec it was down to his belly button almost, it was pretty gnarly. It was definitely shocking and I think the way I felt about it was how the audience in Chicago felt. They were just very uncomfortable for the first little bit. I think people were even wary just to cheer for him because it was so wild."

-Seth Rollins
Despite the injury, Rollins and Rhodes were able to deliver an excellent 25-minute Hell in a Cell match that had the Chicago crowd on the edges of their seats. Rollins was asked how the pair managed to navigate the match whilst working around the injury, noting that it was a unique experience.
"It's one of those things where, I've never encountered anything like it, so the preparation is entirely brand-new. It was a full hurdle thrown my way that I'd never seen before and so trying to wrap ourselves around it was an interesting process. I think what we got out of it was magic, how we got there wasn't ideal but that's life, you gotta roll with the punches sometimes."

-Seth Rollins
Rhodes ultimately emerged with the victory, although on the following night's edition of Raw, Rollins attacked Cody to continue to feud between the pair. Cody has since undergone surgery and is now on the road to recovery, with the former AEW EVP expected to be absent for the remainder of 2022.
As always, we wish Cody the best in his recovery, and look forward to his eventual return when the time is right.