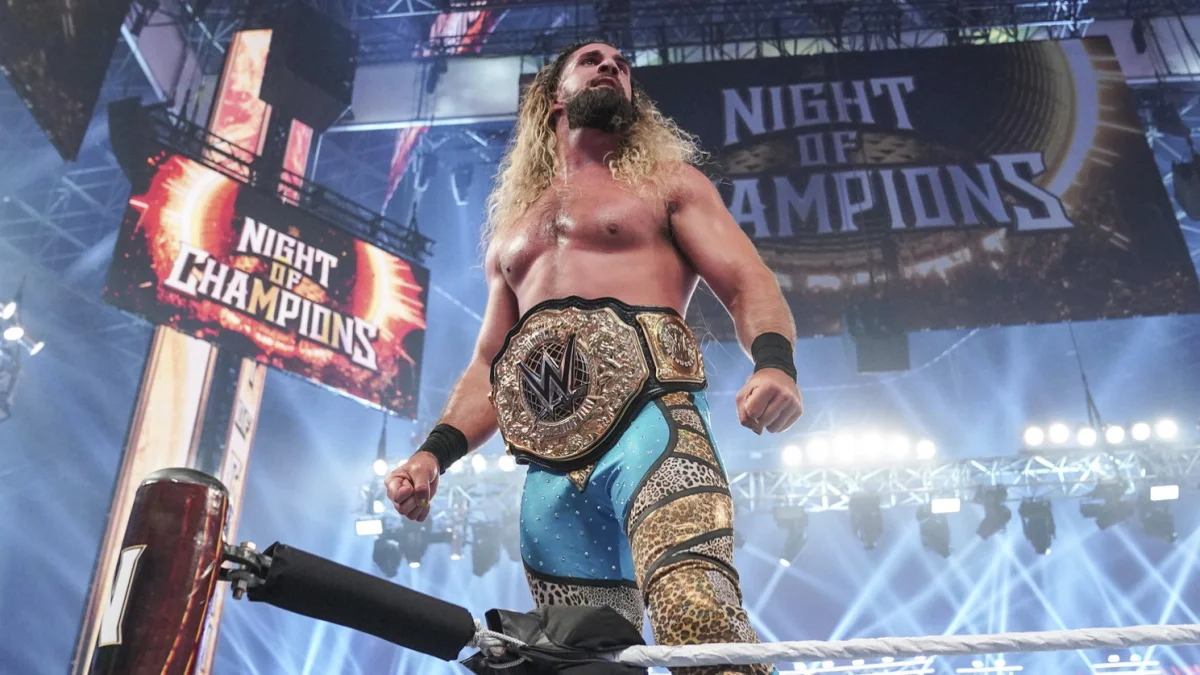 By his own account, the beginning of 2022 was the "most angry" Seth Rollins has ever been.
Rollins is currently one of the most popular wrestlers in WWE, but the road to get there was a difficult one. After competing in a five-way match at Day 1 for the WWE Championship against Brock Lesnar, Big E, Bobby Lashley, and Kevin Owens, Rollins' WrestleMania plans were in question, which reflected in an on-screen angle that saw him attempting to get himself on the Show of Shows. The angle ended with Cody Rhodes returning to WWE and beating him, but there was a stretch where Rollins was unaware of what things were going to look like on a week to week basis.
Speaking with Jimmy Traini of the Sports Illustrated Media podcast, Rollins shed light on his thought process and frustrations through that process.
"I would say the beginning of 2022 was the most angry I've ever been. There is like two to three different instances that I'm not going to get into specifically, but essentially from the Day 1 pay-per-view to getting the match with Cody Rhodes at WrestleMania, that process was very frustrating for me. It ended in a good way and we got into a good place, but getting there was not ideal, and I very much voiced my concerns at that point in time. What I was told, leading into the Day 1 pay-per-view, changed drastically after Day 1 and every single week following that pay-per-view, all the way up to Elimination Chamber. There was like a six-week window where everything I was told was changed from week to week to week. When you're trying to do something creatively, and you have a vision in your head of how you see it, you're trying to piece things together to tell the best story you can. When that consistently gets changed and the rug keeps getting pulled out from underneath you and the goalposts keep moving, and finally the goal posts get ripped out completely and now you're looking at the biggest show of the year with possibly nothing on the table or possibly some bastardized version of what could be good, it leaves you very frustrated with the process. I was very frustrated with the process. Cody Rhodes coming over, us having the story at WrestleMania, having the match, to the last month, like March, I was solid. Everything leading up to that was a difficult time for me, creatively speaking."

– Seth Rollins
Traini followed up by asking Rollins if he felt that his frustrations were being heard, with the World Heavyweight Champion making it clear that his voice is heard backstage.
"Everybody is listening. I've gotten to a place where my opinion is valid and people are hearing what I have to say. Whether or not that opinion goes into the decision-making process is a different story. I'm not privy to a lot of meetings that happen or other conversations with other talent or other executives, but I will voice my concerns to who needs to hear them. Whether or not they take that information and utilize it the way I want them to isn't up to me. It's not my sandbox, I don't make those rules. At the end of the day, I have a job to do, I go out and do it to the best of my ability, but I want to make it the best it can be. Not just for me, but for the entire show, the product, everything. You do your best, at the end of the day, you have a job to do, and you make the best of it. That's part of any work environment, really."

– Seth Rollins
Rollins was also asked about his segment on the Raw after WrestleMania 39. Vince McMahon reportedly drastically rewrote the episode, which was panned by fans and deemed one of the worst Raw episodes of all time, on the day of. Fans thought that Rollins' segment being cut short was part of McMahon's rewrites, but Rollins says it was merely a miscommunication with the production team.
"That was not a big deal. I was upset, but it was mostly production, a miscommunication. That was the night after Mania, and the intent of the segment was to go to break with the audience singing my song, allow them to sing during the break, come back up, they might still be singing, and then drift off into nothingness. For whatever reason, that never made it through to production, so when we go to commercial, instead of letting the crowd party, they did the thing where they black the house, shutdown the music, and play the stupid video packages, which messed up what the whole plan was. The crowd was trying to sing, but you have Stone Cold Steve Austin talking about Broken Skull Ranch. 'Did no one get the memo?' It was just a production snafu. In the middle of the commercial break, I'm yelling to try to get it turned off so they could keep singing, but it was already a disaster. The crowd was confused and didn't know what to make of it. We came back and did the rest of the segment, but it didn't translate the way you wanted because the crowd wasn't able to participate the way the segment was meant to be planned. I wasn't really upset about that, it was just a bad handling."

– Seth Rollins
Seth Rollins is scheduled to defend his World Heavyweight Championship against Finn Balor at SummerSlam on August 5. It will be their second match for the World Heavyweight Championship and third match for a world title, dating back to their match to crown the first Universal Champion at SummerSlam 2016.
Elsewhere on the show, Cody Rhodes will take on Brock Lesnar to end their trilogy, Asuka will defend the WWE Women's Championship against Bianca Belair and Charlotte Flair, and Roman Reigns will put his Undisputed WWE Universal Championship on the line against Jey Uso in Tribal Combat.
H/T to Fightful for the transcription.