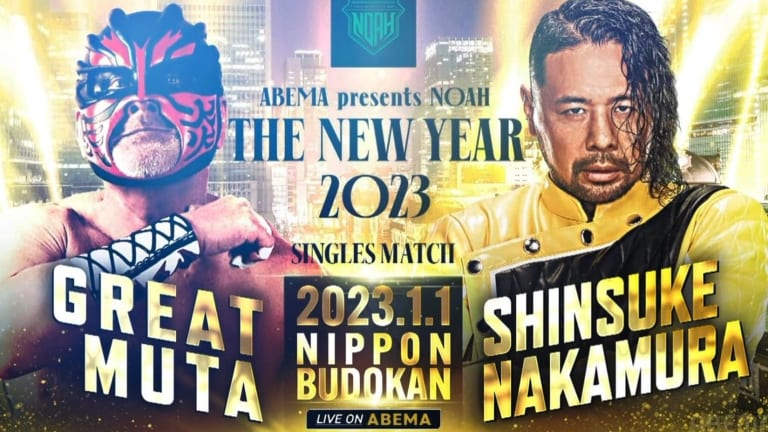 Shinsuke Nakamura looks forward to his match this Sunday vs The Great Muta (Keiji Muto)
Nakamura will take on The Great Muta in a one-time-only singles match for Pro Wrestling NOAH at their "The New Year" Event. As Shinsuke Nakamura is under a WWE contract, he was a very surprising addition to Keiji Muto's retirement tour that ends in February 2023 at the Tokyo Dome.
With the match edging closer, NOAH released an interview with Nakamura on their website. Nakamura expressed his surprise, when discovering that Muto chose him as an opponent for his retirement tour, due to the lack of a student-master relationship between both pro wrestlers, but Nakamura is excited nonetheless to get this opportunity, mentioning his admiration for the Japanese Icon, Muto.
"I was surprised. We didn't have a direct master-disciple relationship. Keiji Muto and I had no direct master-disciple relationship. I lost both times we fought. In a way, as a professional wrestler, I couldn't have a good impression of Keiji Muto. But when I heard that [he wanted to face me], I wondered if somewhere in my heart Mr. Muto was thinking about me. I was surprised and happy at the same time. I was also happy that Keiji Muto would name me as his last opponent before he retired, because it brought me back to the way I felt when I was a kid as a fan. That's great! I thought, wow! I wanted to say to my childhood self, you're awesome! Even though I had admired him from the moment I became a professional wrestler, I knew I would be an enemy in the industry, so I had a pompous attitude from the time I was a youngster. Of course, when I compare myself to various wrestlers, such as Keiji Muto, who I idolized as a child, the Great Muta, and Masahiro Chono, I always saw them as my enemies and competitors. I had lost twice to Mr. Muto in particular… I feel that I was given an opportunity to interact with him that will never come again."

– Shinsuke Nakamura
In the same interview, Nakamura went on to describe how he wants this match to, with him looking to go all out. He also mentioned Muto has his own 'peculiarities' but he wants to enjoy his 'first and last Great Muta' match to the fullest.
"Well, I would like to go all out if I could, but my opponent is the Great Muta, who has his own peculiarities. First of all, this will be the first and last Great Muta match of my wrestling career, so I want to enjoy it and savor it to the fullest."

– Shinsuke Nakamura
Nakamura also went back and shares his views when hearing Muto's retirement announcement. He also stated that he's always though Muto was stubborn.
"I felt that one era was changing to the next. But on the other hand, I thought he was pretty stubborn. Even when he fought me twice in the IWGP, I thought, he's still going for it! But then, you won the belt again in NOAH. I thought he was stubborn."

– Shinsuke Nakamura
H/T to POST Wrestling for the Transcription
Follow @Wrestlepurists on Twitter for more Pro Wrestling Updates
Have a news tip or correction? Leave us a DM on Twitter or email us at [email protected]