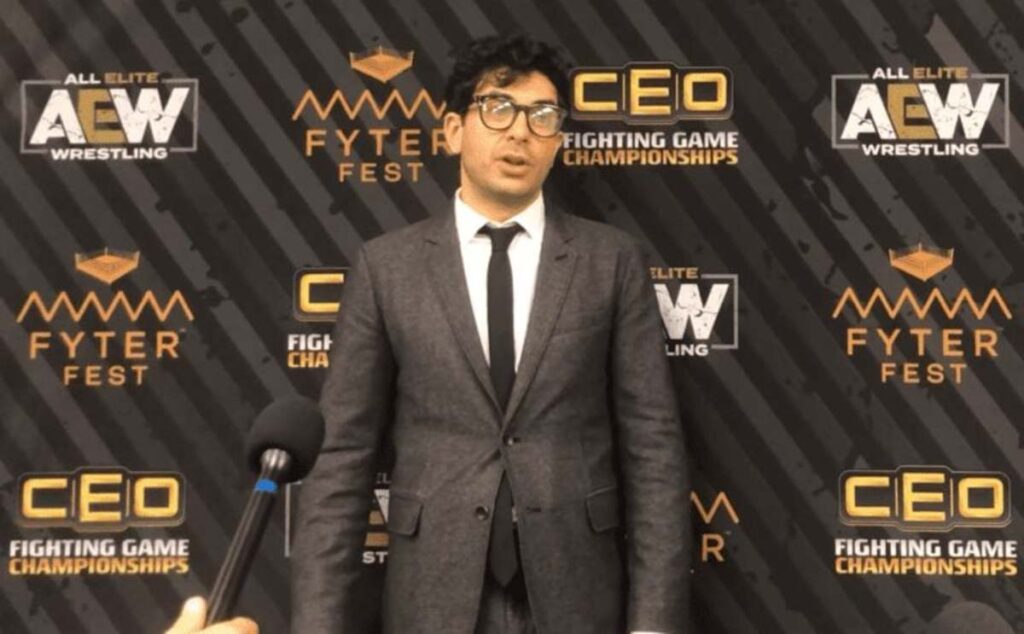 With 2022 nearly at its close, eyes are already on the new year for AEW fans, with their first Dynamite of 2023 set to take place on January 4th in Seattle. The show is set to see the debut of a new set design and intro, marking the start of a new era for the company.
Since the company's inception, AEW have received a number of comparisons to WCW, likely due to them being the biggest competitor to WWE on American soil, as well as airing on TNT.
Speaking to Will Washington, Phil Lindsey, and Righteous Reg of Grapsody, AEW President Tony Khan discussed the downfall of WCW, noting that it was am accumulation of mistakes that led to the company's death in 2001.
"It wasn't even one thing with WCW, it was so many things. It's like death by 1000 cuts. It's an expression, but it's true. 1000 small paper cuts, you probably would bleed out. They're all painful. it wasn't just one thing, it was so many things. Even in some of the shows, the one show, January 4, how many things could there be on one show?"

-Tony Khan
Staying on the topic of WCW's 1999 January 4th show, Khan was asked whether AEW would be delivering a nod to the episode by having their own "finger poke of doom" on the upcoming Dynamite show.
"Well, you know, you never know. On the other hand….I gotta keep you guys on your toes. January 4, we have a huge show coming, the start of a new year for AEW. I've thought about January 4, 1999 and next time I talk to you guys, if you ask me what my show had in common with that January 4 show, I'll tell you. It won't be that [finger poke of doom]."

-Tony Khan
Khan continued, further elaborating on the comparisons that have been made between his company and WCW, noting that whilst some of the links between the two have been positive, he believes AEW are in a far stronger position in terms of not allowing certain issues to threaten their success.
"There are so many great heights, and they are different companies. There are heights WCW rose to, and they were around for a long time and when they rose to the heights they rose to, it was management came in and made great changes, they pivoted the business in a lot of interesting ways, which I think of all of us l talk about for hours in the way they helped grow the business. Just like death by 1000 cuts, they made a lot of changes, you could probably point to a few big ones. Hulk Hogan coming in was a big one. That changed a lot of things. Not all, right away, some big positives at first, not as much for a bit, then a lot more positives for a while. The reason people want to compare the two companies, most of all, is we're the only two wrestling companies to air on TBS and TNT. There are some people that have worked in both companies. Sting is an important face in both companies. Tony Schiavone and Jim Ross have been voices for both companies. The TBS and TNT name being so synonymous with pro wrestling. That is a utility we've been able to provide to the fans, bringing wrestling back to TBS and TNT, that's why people want o make comparisons. They're very different. A lot of reasons, one, why WCW went out of business don't really exist and aren't realistic business concerns for AEW because it's not a company owned by a network or media property. It's a family business, owned and operated and run by me. I love wrestling and I'm not going anywhere."

-Tony Khan
The January 4th edition of Dynamite is set to be followed up by the January 11th episode from the Kia Forum in Los Angeles, California, where Saraya is set to team with a mystery partner against Britt Baker and AEW Women's Champion Jamie Hayter.
We certainly hope 2023 is a great year for AEW, and are looking forward to seeing how Dynamite looks with its new presentation at the top of the new year.
H/T Fightful for the transcription