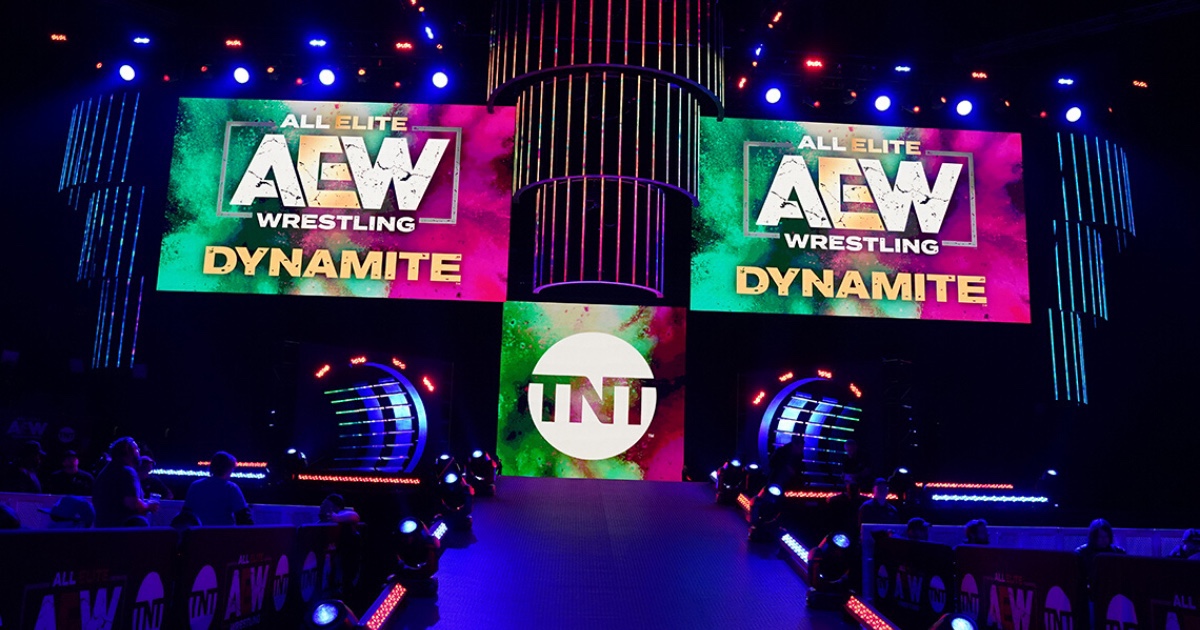 For the last 3 years, All Elite Wrestling has been paramount in keeping the grappling world relevant as the alternative to the well known and world renowed World Wrestling Entertainment brand. All Elite Wrestling has maintained a cult-like following while growing its audience in many facets and there are many reasons for that.
For one, the star power of AEW's day one mainstays like Kenny Omega, Chris Jericho, Hangman Adam Page, The Young Bucks, and MJF have kept fans engaged and excited since AEW Dynamite made its PPV debut in May 2019. While Cody Rhodes and his departure caught some by surprise, losing an essential pillar of AEW's inception meant they had went into a new era, giving way to new pillars and mainstays who have grown with the company.
Those new mainstays include the likes of Eddie Kingston, who arrived during the pandemic era of AEW and has developed into the heart and soul of the company in many ways. The underrated ace of the company has to be the daredevil himself, Darby Allin, who has been a go to guy whenever AEW needs a constant. Orange Cassidy, another early AEW name has become a star himself, drawing good merchandise sales and excitement around his persona. The former FTW champion, Ricky Starks, is on the rise and if he continues his ascension in AEW, he will be a true to life main eventer for years to come. As far as tag teams, one has to give a lot of attention and credit to the Lucha Brothers, as both Penta and Rey Fenix have been outstanding since their arrivals and have rarely missed, if at all. Wardlow, the current TNT Champ, went from being MJF's bodyguard to being a growing star in his own right. One would assume that Wardlow has a strong place in the AEW landscape for the foreseeable future. Speaking of current title holders, there is no one who embodies the spirit of AEW as a mainstay quite like Jon Moxley, the current AEW Champion. If Eddie Kingston is the heart and soul of AEW, then Moxley is absolutely the spirit of AEW. Since his arrival in AEW, there has been no main event star as consistent as Moxley. From his early feuds with Omega and Jericho to his current battles with CM Punk (more on him later), Moxley has been reliable for the company and has been the arguable Wrestler of The Year in 2022. There is no telling how long Moxley plans to continue to wrestle, but as long as he is in AEW, his spot is solidified. With so many solidified names that are built into the fabric of AEW, it is only natural that wrestlers from other companies would decide to come over and join the party.
The summer and early fall of 2021 saw some amazing changes in the AEW landscape, one that still continues to impact the programming on a weekly basis. While the late great Brodie Lee and Matt Hardy truly started the wave of known wrestlers who previously worked for other companies coming in, it would be the summer of 2021 that truly changed the game. While Christian Cage arriving in AEW shortly after appearing in WWE and returning to the ring caused some waves and the moves of Mark Henry and Paul Wight coming to AEW shocked a number of fans, their impact on professional wrestling now is less in the ring, and more in mentorship roles. The same can't be said for Andrade El Idolo. When Andrade arrived in June 2021, the wrestling world was ready. After appearing at TripleMania to challenge Kenny Omega in May 2021, it was almost expected that Andrade would show up in AEW. When he did, he was placed with Vickie Guerrero and Chavo Guerrero, which in hindsight may not have been the best move, but regardless Andrade had arrived. For all of the prior incidents where a former WWE talent jumped over to AEW, this one felt the most significant because of his talent and his age. Andrade is 32, in great shape and had a built in audience that knew his face because of his ties to WWE. Signing him was a huge get for AEW and if they ended their summer with just Andrade on their roster, it would be seen as successful. However, Tony Khan did not stop there. The former Aleister Black/Tommy End would arrive in AEW shortly after under his new altered moniker Malakai Black, immediately jumping into a feud with Cody Rhodes. At this point, with both Andrade and Malakai on the roster, AEW had two potential stars with the immense ability to perform under the bright lights and they could hang up the signings and call it a great summer.
That was not Tony Khan's plan. When one of the biggest names of the last 20 years in wrestling wants in, you go All Out to bring him in and give him what he wants to help lift your company to higher heights. When AEW's new one hour show Rampage was announced for the United Center in Chicago during August 2021, fans gave it a second look and raised an eyebrow. Doing a one hour show in one of the most notable arenas in America seemed like a rather tall task for AEW unless they had something big planned to lure in over 15,000 people. I mean, what could possibly be big enough to sell out the United Center? Michael Jordan coming back to the Bulls? Derrick Rose in his prime? A retired wrestling legend making his first live appearance in over 7 years? Zach Lavi… wait… that's it. A wrestling legend by the name of CM Punk, born and raised in Chicago, would make his AEW debut at The First Dance, providing one of the biggest momentum boosters for AEW since the company began.
Punk's arrival sent shockwaves through the wrestling world, turning all eyes to All Out, his first match with the company. At this point, if you are Tony Khan, adding anymore superstars would be just overkill right? You've had a great summer, since the biggest free agent in wrestling history in Punk, and have an amazing PPV on the way with All Out 2021. Surely, Khan didn't have anymore tricks up his sleeve…. right? Enter Bryan Danielson and Adam Cole in the same closing segment of All Out. The two most important wrestlers of the last 10 years were in AEW (Punk and Bryan) while the former flag carrier of the brand that was going against AEW's flagship show Dynamite (Cole) were all in the same company alongside the already loaded roster of great talent. That summer of 2021 and the Fall that followed it change the game and gave AEW some of the best momentum they could have asked for. Other wrestlers who were previously in WWE also made their way to AEW as Keith Lee, Jeff Hardy, Swerve Strickland, Claudio Castagnoli,
Samoa Joe and more have all arrived and made varying impacts. While some have argued that AEW is too loaded and have too much talent, that sounds like a good problem for any company to have. With AEW still making their own stars while adding built in stars, it provides a perfect balance of the old, the new, and the soon to be future stars. With younger talent like Lee Moriarty, Dante Martin, Sammy Guevara, Jungle Boy and others being able to pick the brains of the legends and older performers, it is safe to say the future of AEW is in good hands, right? You have a perfect blend of talent in AEW along with genius wrestling minds. That blend of talent is going to carry the company for years to come… which leads me to the one area of talent that AEW takes some flack for.
One of the biggest knocks against AEW in recent memory has been their women's division, which admittedly can be a bit up and down in their booking. The talent is there, just sometimes things don't translate as well on Dynamite or Rampage. However, what AEW has managed to do with their women's division is help build more names that can compete and a true superstar in Jade Cargill, who continues to improve with every match. The mainstays of the AEW women's division however would have to be Hikaru Shida and Britt Baker, as they have been the most prominent names in the division from the start pretty much. We also have to give credit to Riho, Nyla Rose, Emi Sakura and The Bunny, who have been working with AEW from the early days as well. Since the early days, we've watched the aforementioned rise of Jade Cargill, the arrivals of Jamie Hayter, Toni Storm, Thunder Rosa, Kris Statlander, Tay Melo, Anna Jay, Athena and more, all of whom play prominent roles in the present and future. Could the AEW women's division improve? Absolutely, but they have been taking steps in the right direction and for a company that's only 3 years old, that speaks volumes. Let's hope they keep that progress up and we see more women in the company obtain STARDOM in the future.
Another beautiful aspect of what AEW does is their partnerships, something that has proved to be beneficial over the last year or two. The working relationship with New Japan Pro Wrestling has given fans a plethora of dream matches and matchups that didn't seem entirely possible previously. The working relationship with NJPW has gone so well that we even got a PPV out of it, with the massively successful Forbidden Door showcasing some of the best wrestling in 2022.
The rumor is that AEW and NJPW will continue working together closely, with Forbidden Door being a regular event yearly, something that bodes well for the future as well. There is talk of some AEW superstars heading over to Japan for Wrestle Kingdom, which if true, is huge for all involved. AEW has established relationships with NWA, IMPACT, DDT, AAA, OWE, TJPW, and there are more partnerships that can be possibly in the works. Partnering together in wrestling makes for a better experience, for both the companies and the fans. With these partnerships likely to expand with less limitations due to COVID, the wrestling world will benefit greatly.
While AEW does NOT represent a perfect wrestling company, they have the pieces in place to last for a long time. The expectations for their next TV deal are huge and if things continue to go the way that they are, AEW should be around for many years to come. They have young talent, talent in their primes, older talents who still have the psychology and mind to perform at a high level as well as a good working relationship with other prominent companies, all of the recent discourse around the company and its fate seems ridiculous. AEW isn't going anywhere, anytime soon. Let's sit back, catch some whiffs, and enjoy the wrestling.
All Out this Sunday.