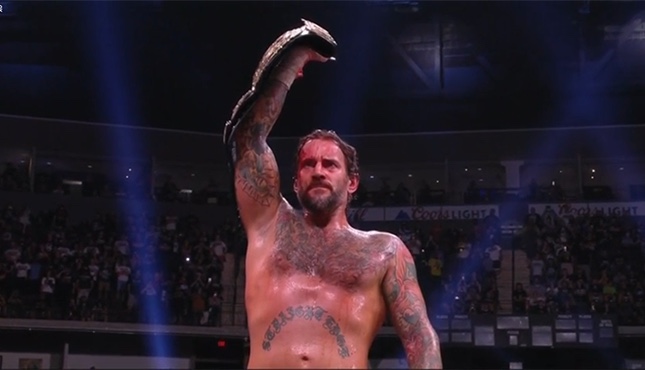 Shortly after winning the AEW World Championship from Jon Moxley, CM Punk at the AEW All Out Post Show Media Scrum addressed rumours surrounding himself, Colt Cabana, Hangman Adam Page and more.
Numerous rumours and reports had circulated that CM Punk was part of the reason for Colt Cabana's lack of usage within AEW, getting to the point of Cabana's contract not being renewed. CM Punk and Colt Cabana are former long time friend, a friendship that ended in a heated court case some years back.
CM Punk made it very clear that he has nothing to do with Colt Cabana and or anything to do with him in years.
"Okay, so you fancy yourself a journalist?Would you say you're friends with Scott Colten (Colt Cabana)? So you're not friends with him. Oh wow. That makes two of us. My point is, if you fancy yourself a journalist, even if it's for the silly world of professional wrestling, and you have journalist integrity, people who report things, mostly that are bulls—-, and slanders, lies against myself, if you are friends with somebody, my spot, if you're not friends with them, I apologize. But you should probably disclose who you're friends with.

"I haven't had anything to do with Scott Colten in almost a decade, probably wanted nothing to do with him even longer than that. It's f—- unfortunate that I have to come up here and speak on this when I'm on my time and this is a f— business. Why I'm a grown-ass adult man, and I decide not to be friends with somebody is nobody else's f—- business. But my friends, if I fall backwards will catch me. Scott Colten I felt never would have. My problem was, I wanted to bring a guy with me to the top that did not want to see me at the top, okay. You can call it jealously, you can call it envy, whatever the f— it is."

– CM Punk
CM Punk would go on to insist that he has nothing to do with Colt Cabana and could care less where he is working or not working and also address a promo earlier on in the year by Hangman Page where Page seemed to allude to Punk's issues with Cabana
"My relationship with Scott Colten ended long before I paid all of his bills," said Punk. "I have every receipt, I have every invoice, I have every email. I have the email where he says and I quote, 'I agree to go online separate ways, I will get my own lawyer, and you do not have to pay anymore.' That's an email that I have. The only reason the public did not see is because when I finally had to counter sue him, through discovery, we discovered he shared a bank account with his mother. That's a fact, and as soon as we discovered that fact and we subpoenaed old Marsha, he sent the email, 'Oh, can we please drop all this?' Now, it's 2022, I haven't been friends with this guy since at least 2014, late 2013. The fact that I have to sit up here because we have irresponsible people who call themselves EVPs and couldn't f—- manage a target, and they spread lies and bull—- and put into the media that I got somebody fired when I have f— all to do with him, want nothing to do with him, do not care where he works, where he doesn't work, where he eats, where he eats.

The fact that I have to get up here and do this in 2022 is f— embarrassing. If y'all are at fault, f— you. If you're not, I apologize. But what did I ever do in this world to deserve an empty-headed f— dumb f— like Hangman Page to go out on national television and f— go into business for himself, for what? What did I do? What did I ever do? Didn't do a goddamned thing."

– CM Punk
Tony Khan would interject and mention that he should have provided additional clarity on the logistics of the situation, however CM Punk would retort that it shouldn't have gotten to that point in the first place.
"It's not his position to make it very f—- clear," Punk said. "There's people who call themselves EVPs that should have f—- known better. The s— was none of their business. I understand sticking up for your f— friends, I f— get it. I stuck up for that guy more then anybody, okay. I paid his bills until I didn't, and it was my decision not to. I'm trying to run a f— business, but somebody who hasn't done a damn thing in this business jeopardizes the first million-dollar house that this company has ever drawn off of my back and goes on national television and does that, it's a disgrace to this industry, it's a disgrace to this company.

"Now we're far behind apologies. I gave him a f— chance. It did not get handled, and you saw what I had to do, which was was very regrettable, lowering myself to his f— level. But that's where we're at right now. I will still walk up and down this hallway and say, 'If you have a f— problem with me, take it up with me. Let's f— go."

CM Punk
H/T WrestleZone