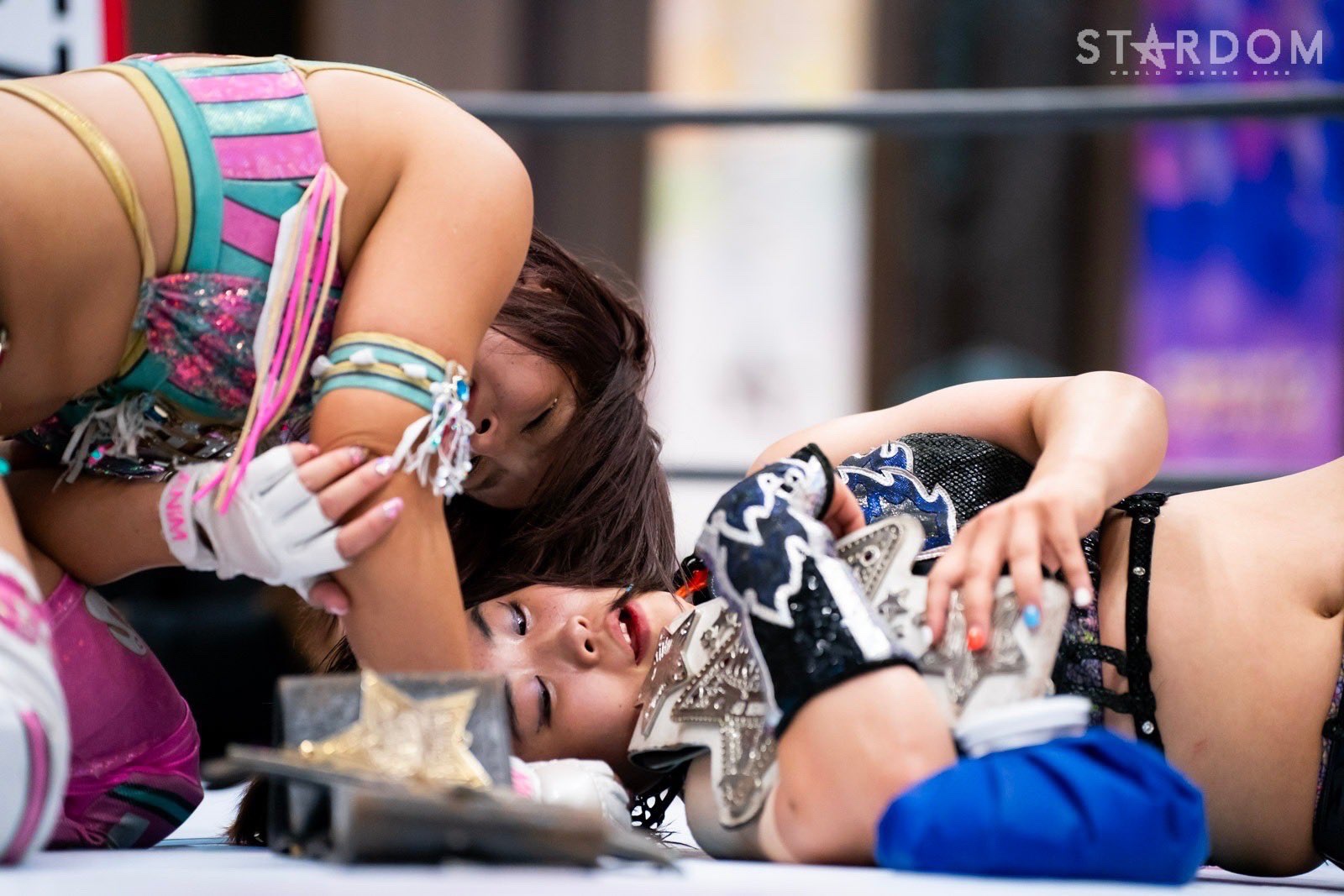 STARDOM
The STARDOM Grand Prix continued this past weekend, with two nights of action consisting of five block matches. In particular, there two huge main events as Mina Shirakawa battled Wonder Of Stardom Champion MIRAI on the 29th of July while Natsupoi faced Suzu Suzuki on the 30th.

Saya Kamitani was also scheduled to compete in a 5STAR Match, but it was unfortunately announced at a press conference that she had suffered a dislocated elbow and will be forced to forfeit the 5STAR GP. There will be no replacement for her, and her matches will be counted as a win for opponents, as of now, there is no news on when she will return. This is sad news considering Kamitani was among the favourites this year, with reports even surfacing that she was the planned winner of the tournament prior to her injury.

The first 5STAR Match of the weekend was Hanan (0-1-0) facing Giulia (0-0-1). The STRONG Women's Champion dominated Hanan from the very beginning after some solid groundwork. The Young Lioness fought her way back into the match and showed great fire throughout the contest, kicking out of multiple big moves. In the end, Giulia was just a level above and had an established control, winning with the Glorious Driver to gain two points and her first win of the tournament.

In another Blue Stars block match, Saori Anou (0-0-1) and Mariah May (1-0-0) faced off. This is a preview of the Goddesses Of Stardom Tag Title Match coming up in August, where Anou and Natsupoi are challenging Rose Gold. The match starts on a high note with May hitting a back suplex in the first moment of the match and then instantly hitting the Powerbomb on the floor. Anou got the control back quickly and started to work the leg of Mariah with multiple great holds. May found her back in the match by winning the striking exchange, a Slingblade, and a nice submission of her own. After an exciting finishing stretch, Anou caught in a leg submission and, with the work done earlier in the match by Saori, Mariah needed to tap, which is taking the the first time she had taken a fall since Risa Sera pinned her in the Triangle Derby six months ago.

In the Main Event of the second night, MIRAI (0-1-0) clashed with Mina Shirakawa (0-1-0). This was a battle between the current Wonder Of Stardom Champion and a former champion in Mina who recently lost the gold. Mina is still aiming for Stardom's White Belt, and this match was chance to get herself back in contention for the title. The Wonder Champion got control of the match early on, working on the right arm of Mina to limit the offense of the Goddesses Champion, but Mina took over the match quickly after during an outside brawl. Back in the ring, it was all Shirakawa. She dominated with effective moves, but MIRAI constantly caught her in an arm submission to slow her down. The match reached the 10-minute mark when both wrestlers decided to pick up the pace even more, being wary of a potential time limit draw. Mina counters a Miramare Shock into a reversed DDT and, on top of that, Mina's neck work seemed to take effect with MIRAI not being able to hold the bridge after an Overhead Belly To Belly Suplex Hold. Mina countered the Lariat with a Discus Forearm and the Implant DDT for a near fall. 30 seconds before the time limit expires, Mina picks up MIRAI and hits the FigureFour Driver MINA for the three count to get her first win in the 5STAR. MIRAI on the other hand stays at 0 points and loses her second match in a row.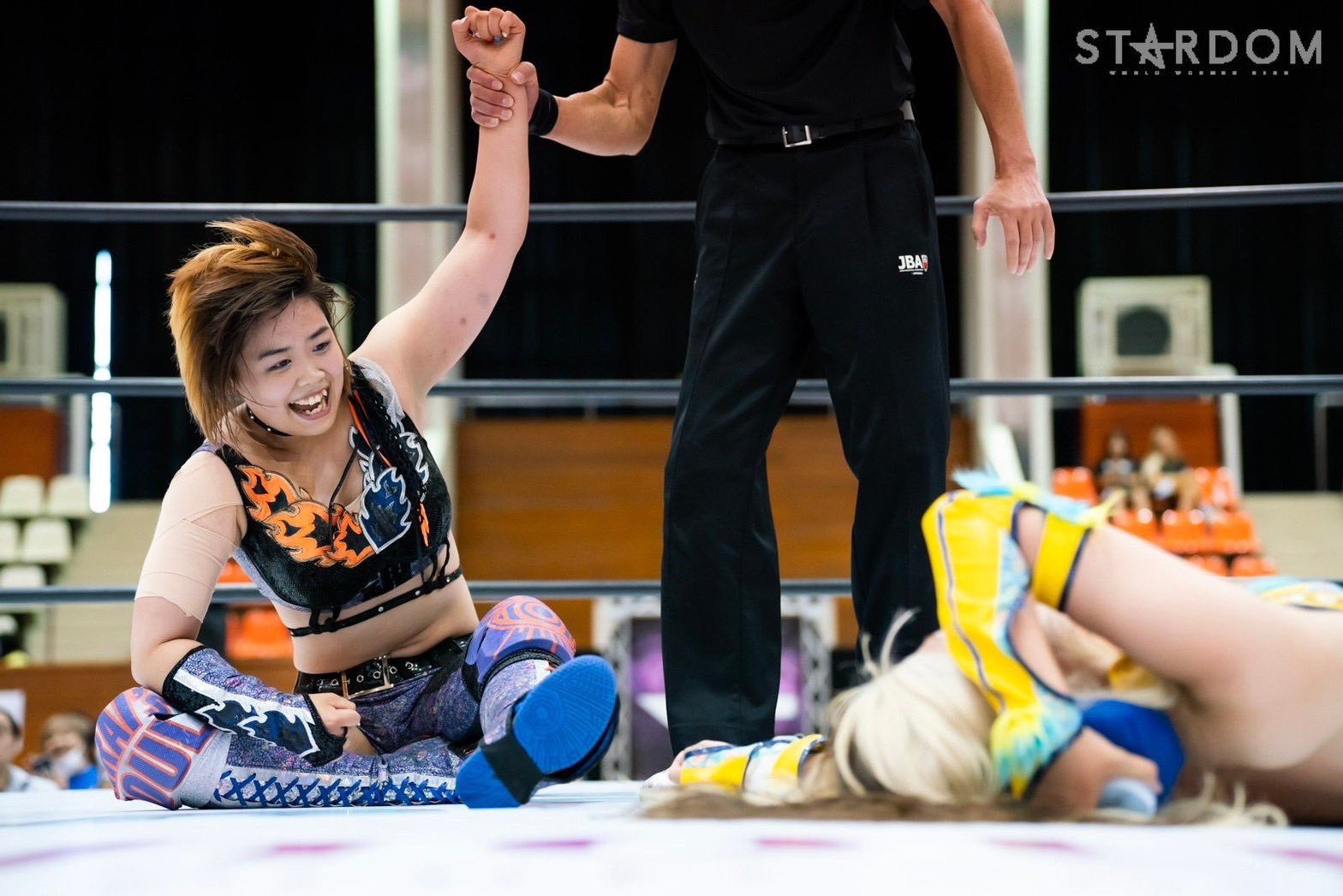 Hanan (0-2-0) faced MIRAI (0-2-0) in the first 5STAR match on Sunday in Konosu. Both wrestlers were desperate to get their first win on the board and they wrestled like it too. MIRAI, who is normally considered to be a tournament specialist, had a tough start with two devastating losses, but, here she showed why she is the Wonder Of Stardom Champion. From the very beginning, this match was fast-paced and highly competitive, with Hanan getting a lot of offense. The Young Lioness was once again the underdog in the match, but here she came as close as ever to stealing a victory in this match. However, the end, MIRAI hit Hanan with two hard-hitting Lariats and a Jumping Lariat to win her first 5STAR Match.

In the last 5STAR Match of the weekend, Natsupoi (1-0-0) tried to continue her winning way by wrestling Suzu Suzuki (0-1-0). Poi comes into her second match with a win over rival Starlight Kid, while Suzu wasn't able to beat Syuri in a war. After a fast-paced start, Suzu starts to take over the match with a bodyslam to the outside, but Poi was able to come back quickly. From then on, it's a 50/50 match-up with both wrestlers laying their strikes in, trying to fight for the upper hand. It was Suzu who won the strike battle, hitting multiple kicks and German Suplexes to continue her dominance. Natsupoi found her way back into the match and from then on this match was fantastic. Suplex after suplex, kick after kick from both Wrestlers, with neither woman being able to keep the other down. In the end, Natsupoi was able to hit the Fairy Strain for the three-count after three consecutive kicks to be the first Wrestler to reach 4 Points. This was the best match of the weekend. Two of the best in the company delivering a great match
Next Week's 5STAR Grand Prix Matches:
Day 4 – August 5
Blue Stars: Saori Anou vs Maika
Blue Stars: MIRAI vs AZM
Red Stars: Suzu Suzuki vs Starlight Kid
Day 5 – August 6
Red Stars: Syuri vs Natsuko Tora
Red Stars: Tam Nakano vs Hazuki
Blue Stars: Saori Anou vs AZM
Blue Stars: Mina Shirakawa vs Hanan
Official 5STAR Grand Prix Standings following Day 3:
RED STARS BLOCK –
4 – Natsupoi (2-0-0)
2 – Syuri (1-0-0)
2 – Mayu Iwatani (1-0-0)
2 – Natsuko Tora (1-0-0)
2 – Tam Nakano (1-0-0)
0 – Starlight Kid (0-1-0)
0 – Suzu Suzuki (0-2-0)
0 – Ami Sourei (0-1-0)
0 – Hazuki (0-1-0)
0 – Saya Kamitani (0-1-0)
BLUE STARS BLOCK –
3 – Saori Anou (1-0-1)
3 – Giulia (1-0-1)
2 – Mariah May (1-1-0)
2 – Utami Hayashishita (1-0-0)
2 – Momo Watanabe (1-0-0)
2 – Maika (1-0-0)
2 – Mina Shirakawa (1-1-0)
2 – MIRAI (1-2-0)
0 – AZM (0-1-0)
0 – Hanan (0-3-0)
---
TJPW
The Princess Cup continued with the quarterfinals of the tournament in the Korakuen Hall. The show featured Yuki Arai vs Arisu Endo, Miu Watanabe vs Yuki Kamifuki, Miyu Yamashita vs Moka Miyamoto, and Shoko Nakajima vs Rika Tatsumi

In the first quarterfinal bout, Yuki Arai faced Arisu Endo. This was a solid match between two of the youngest Wrestlers in TJPW. The match was really tense, back and forth, competitive bout, where both women looked fantastic. A good 12 minutes sprint with Yuki Arai beating Endo with the Finally advancing to the semis finals.

Miu Watanabe continued her Princess Cup Tournament against Yuki Kamifuku with being the huge favorite. Miu beat the living hell out of Kamifuku in this match and was described to be "Terminator Mode" by the English commentary team, and that fit perfectly. She gave Kamiyu close to no time to breathe, dominated her, and was having no trouble. Yuki showed great underdog fire and had a good comeback. Until the end, it looked like Miu will come out as the victor, but Kamifuku had something against it, had a huge comeback, and won with the Fameasser. A huge upset for Kamiyu who knocked out the tournament favorite to advance to the next round.
After a shocking upset over Hyper Misao on the opening night, Moka Miyamoto aims for the next upset against Miyu Yamashita, who has been one of the favorites to win the TPC this year after knocking out the POP Champion Mizuki. Moka really shines when she's put in these grueling matches, working as a determined underdog. She's progressed so much and has a bright future ahead. Miyu was her usual strong self, dominating the match, but Moka made her work for the victory. Miyu advanced as expected, but the match was all about showing that Moka can now hang in with Yamashita, and she proved that she can.

In the Main Event, Shoko Nakajima faced off against Rika Tatsumi with the winner getting the final spot in the semi-finals. Their title encounter from last year's Summer Sun show is one of the best matches in the history of TJPW, and this one wasn't far off. They went all out in this match and after a slow start, they picked up the pace and build-up a fantastic finish stretch. Rika tapped out Shoko with White Dragon Sleeper to advance to the semi-final.

A draw decided the semi-final match-ups, and they are as follows:
Miyu Yamashita vs Yuki Arai
Yuki Kamifuku vs Rika Tatsumi