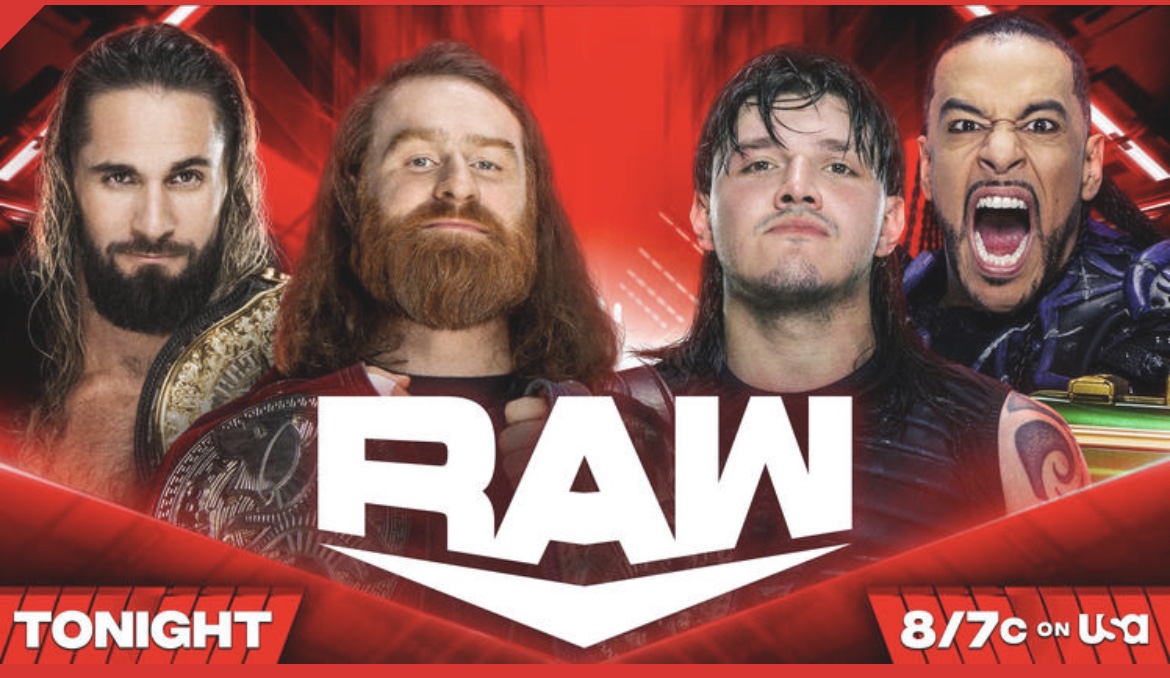 Welcome to the Wrestlepurists' live coverage of Monday Night Raw for the July 31st, 2023 episode.
LOGAN PAUL IN RING PROMO
We are live on Monday Night Raw just days before the biggest party of the summer, Summerslam! Houston has the misfortune of Logan Paul welcoming them to the show. Logan says he isn't here for the fans, he is here for Ricochet. Logan says he was just trying to build hype for their big match last week but he was sneak-attacked and victimized. This Saturday you can forget about a fight, Logan is going to beat Ricochet in the most viral match in WWE history. This brings out Ricochet, who says its clear he is in Logan's head. Ricochet says that while he might not like anything about Logan, he does respect that Logan is an amazing athlete and showman. Logan appreciates that and says Ricochet is one of the greatest to ever do it…until Logan showed up. Logan plays a video of their Royal Rumble spot and extends a fist bump to Ricochet. Ricochet returns it and goes to leave, but Logan says that after the match the ring announcer will be announcing the winner of the match. He points out that Samantha Irvin is Ricochet's fiancee, and he hopes Ricochet doesn't mind that he will have Ricochets' girl saying Logan's name. Ricochet has had enough and the two brawl, until a big right hand from Logan lays out Ricochet. I thought this program was already well done, but throwing the jab in at Ricochet's personal life adds a little more juice to this match.
IMPERIUM INTERVIEW
Jackie Redmond is backstage with all three members of Imperium. She asks GUNTHER whether he is concerned about how unstoppable Drew McIntyre has looked. GUNTHER says he doesn't live in the past, his only problem is disappointment in Ludwig Kaiser. GUNTHER says he would have taken care of Drew himself tonight but Drew has other commitments. So instead, tonight Ludwig will redeem himself against Matt Riddle. Then this Saturday, GUNTHER will end Drew McIntyre for good.
LUDWIG KAISER DEFEATS MATT RIDDLE
GUNTHER says a few encouraging (or threatening?) words to Ludwig Kaiser ahead of his match with Matt Riddle. It's kind of weird that Kaiser is the one under a microscope as it seemed like they were positioning Giovanni Vinci to be the fall guy. Though I'm happy to wait and see as it could be a story of GUNTHER testing his men to be even better. Ludwig starts this match wrestling from behind, perhaps a little too worried about impressing the Intercontinental champion. Ludwig takes control with a wonderful hesitation drop kick, followed by a running European uppercut on the outside. Ludwig spends too much time talking to GUNTHER which allows Riddle to completely flip the momentum with a penalty kick and a dive to the outside as we go to break. We come back with both men jockeying for position, until an overhead kick from Riddle really rocks Ludwig. Riddle hits a flurry of moves including a bridging German but only gets a two count. Riddle and Ludwig are exchanging big strikes and throws, before Riddle connects with a ripcord knee. Riddle wants BroDerek but Vinci is up on the apron for the distraction. Riddle thwarts Vinci and is able to hit a powerbomb on Ludwig that he rolls into an absolute nasty V-Trigger combo that somehow only gets two. Riddle goes for a Floating Bro but Ludwig moves. Ludwig gets up and hits a running Enziguri. GUNTHER orders Ludwig to finish things, and Ludwig sticks Riddle with a modified DDT for the win!
After the match GUNTHER offers a handshake to Ludwig and he accepts. I loved this match and more importantly loved that instead of breaking up a team too early (a WWE staple), they used GUNTHER's disappointment to make Ludwig an even more dangerous competitor.
BACKSTAGE WITH ALPHA ACADEMY AND VIKING RAIDERS
We see Maxxine Dupri warming up backstage with Chad Gable and Otis, juxtaposed with Valhalla praying to…the viking gods? Somehow this match is going to get a great reaction, can't wait.
INTERVIEW WITH LOGAN PAUL
Byron Saxton asks Logan Paul to break down what happened in the ring. Logan says he just gave Ricochet a small taste of what is going to happen at Summerslam. He calls Ricochet a full grown fetus and leaves. They can't all be winners.
BROCK LESNAR VS CODY RHODES VIDEO PACKAGE
We see a video package chronicling the feud between Brock Lesnar and Cody Rhodes. It's really well done but weirdly absent is an explanation as to why Brock attacked Cody. I know, I sound like a broken record. But this could have added so much more to this feud. I thought Brock and Cody were live up next though?
MAXXINE DUPRI DEFEATS VALHALA
After losing her debut in a six person tag team match, Maxxine Dupri makes her singles debut against Valhalla. It's been a pleasant surprise to see how the crowds have reacted to this whole feud. Even if some of the stuff isn't up my alley, anytime the crowd is this into a story I'm going to be ten times more interested. Maxxine hits her patented arm drags to start and Valhalla counters with an arm drag of her own. Really clunky looking sell there from Maxxine, though it also seemed way too close to the ropes. Maxxine hits a fisherman suplex, and then Otis calls for the caterpillar. Not uh, the best one in the world but she hits it. Gable tells Maxxine to go up top and Maxxine hits a crossbody on Valhalla. The two teams brawl on the outside, ending with Gable taking everyone out via a moonsault. Maxxine has Valhalla over her head in an Electric Chair and drops her down, bridges up, and gets the three! Not the smoothest match, but I don't think any of us were expecting that. Only way Maxxine will get better is in the ring, hopefully she gets the chance.
BACKSTAGE WITH SHINSUKE NAKAMURA
Shinsuke Nakamura is warming up in the locker-room. Tommaso Ciampa comes into frame and says they could have both gone their separate ways but clearly Shinsuke still has a problem. So tonight Ciampa is going to fix this problem. Ciampa says he needs to pick up some momentum so it starts tonight with Shinsuke and then the Summerslam battle royal this Saturday. Shinsuke says he will see Ciampa in the ring, and it is him who will win the Summerslam battle royal.
JUDGEMENT DAY IN RING PROMO
We see a video recapping last week's dominance by the Judgment Day. Rhea Ripley says Monday Night Raw doesn't start until they say it does. Rhea asks, who is really going to stop them? Damian Priest runs through a shortlist of the "heroes" of Monday Night Raw. Kevin Owens? They took him out. Sami Zayn? They left him laying. Seth "Freakin" Rollins? Impossible after the beating they gave him last week. And of course we all saw what Rhea did to Liv Morgan last week. Damian says him and Dominik Mysterio will make sure Seth Rollins and Sami will not leave this arena whole. Finn Balor takes the mic and says every week Seth Rollins comes out and acts insane. Him laughing and dancing isn't insanity. Insanity is waking up every morning and seeing the scars that Seth put there. Finn can't erase those scars, but he can put them on Seth. He can take the World Heavyweight Championship from him. Dominik tries to add his two cents but the crowd are all over him as usual. Dominik yells that he is bringing back the Mysterio name. Rhea says that any idiot that tries to get in their way should take a page out of Raquel Rodriguez's book and run and hide. This brings out Raquel who hits the ring and her and Rhea start swinging. Raquel actually has the upper-hand on the Women's World Champion as she throws Rhea into the barricade and the post. Dominik distracts Raquel for a moment, and that allows Rhea to chop block Raquel. Officials and referees are trying to break things up as Rhea gets a few shots in on Raquel's injured leg.
Raquel and Rhea was pretty telegraphed as Rhea's next big program, but this was very well done. Raquel looked badass, and Rhea looked just the right amount of vulnerable.
RONDA ROUSEY AND SHAYNA BASZLER VIDEO PACKAGE PART 1
We see a video package detailing the history between Ronda Rousey and Shayna Baszler. This is a very well done piece that goes back to their days on the Ultimate Fighter. Shayna mentions that she was the sparring partner for every fight camp Ronda ever had, but Ronda never came to her fight camps. This added a lot to their match which is now announced as an MMA Rules match.
BACKSTAGE WITH ALPHA ACADEMY
Chad Gable says he is so proud of Maxxine and she represented the Academy well. He says Otis and him are going to represent the Academy also by winning the Summerslam battle royal. They are interrupted by Imperium and OH LETS GO. Give me GUNTHER and Chad Gable a thousand times. GUNTHER insults them and Ludwig Kaiser says someone like Gable wouldn't last five minutes with GUNTHER. Gable says he could last five hours if he wanted, but he is up for the five minute challenge tonight. OH ITS HAPPENING TONIGHT? Okay everyone stay calm, this is going to be good.
SHINSUKE NAKAMURA DEFEATS TOMMASO CIAMPA
Shinsuke wastes no time taunting Ciampa as the two are cautious to start. Bronson Reed is watching from the back, man did Reed and Shinsuke sign some sort of blood oath that they have to be in a program together at all times? The two men brawl on the outside, with Ciampa hitting a running knee on Shinsuke as we head to break. We come back and the two men are exchanging blows in the middle of the ring. Shinsuke nails a step up enziguri, and follows that up with a sliding german suplex for a two count. Ciampa hits the draping DDT but Shinsuke kicks out at two. Shinsuke hits the running knee to the midsection of Ciampa, but that only gets two as well. Ciampa goes for the Fairytale Ending but Shinsuke reverses out of it. The two jostle for position until Shinsuke rolls Ciampa up and gets a handful of tights for the three count. I still think they left some money on the table with babyface Shinsuke, but it's great to see him pick up a win.
RECAP OF ROMAN REIGNS AND JEY USO STORYLINE FROM SMACKDOWN
We see highlights of the Bloodline/Jey Uso segments from Friday Night Smackdown. These segments are white hot as usual, so I'd say they are a must watch if you didn't catch them live. Love seeing Jey be a full fledged main-event talent.
BACKSTAGE WITH RAQUEL RODRIGUEZ
Raquel is being checked out by a doctor and is clearly in pain. Adam Pearce comes in (and is not texting!) to tell Raquel she isn't cleared. But he gives Raquel his word, the minute she is cleared he will give her the match against Rhea Ripley. Simple and super effective, really want to see that one.
BROCK LESNAR & CODY RHODES FACE TO FACE
Over an hour after they were "up next", Cody Rhodes and Brock Lesnar come face to face days before their rubber match at Summerslam. Brock is out first to a mostly positive reaction but that's followed by some Cody chants. Brock does the Paul Heyman introduction for himself and says this is fight week. Brock says the hype is over and this Saturday he gets paid to fight and kick ass against Cody Rhodes. The crowd is WHAT-ing Brock hard and he is going along with it. Brock says he has already been here way too long tonight (pop!) and invites Cody to come out and shake his hand. Brock counts down from five but Cody doesn't let him get to two, as the American Nightmare is out and not taking his eyes off Brock. He doesn't even stop to do the WOAH with the crowd, the little details like that are so appreciated. Cody gets in the ring, stares Brock down, and then offers his hand. Brock laughs and shakes Cody's hand. The two get close and Brock says a few inaudible words. Cody brings him in close and says something that Brock doesn't like and Brock leaves. As Brock is out of the ring Cody runs the ropes and dives to the outside to take out Brock! Cody reigns down rights but Brock uses the steel stairs to put an abrupt end to Cody's momentum. Brock feigns like he is done and comes back for another stair shot. Brock does it again and this time takes Cody into the ring for a thunderous F-5. Some clunkiness by Brock during his promo but he is so authentic that it works. Like I said, loved that Cody was all business. I'm wondering though, are getting a stipulation for their match? There is plenty of time left tonight for Cody to make the challenge, I would be really surprised if they didn't add one.
GUNTHER DEFEATS CHAD GABLE
Strap in folks, this is gonna be good. GUNTHER tosses Chad Gable aside after their first lock up, and tosses him again after he has Gable in a short submission. Gable tries to go for the legs on the Intercontinental champion but he is too big. GUNTHER pats Gable in a mocking manner and is not taking this challenge from Gable very seriously. Gable kicks out of a pinfall by bridging up with all of GUNTHER's weight on him. Very impressive but one big stomp from the champion cuts off Gable. GUNTHER presses but Gable kicks out at one multiple times to prove a point. With two minutes left GUNTHER says he has time, and pie faces Gable in the corner. That fires up the coach of the Alpha Academy who lifts GUNTHER up but isn't able to hit a suplex. One chop from GUNTHER and Gable is done. GUNTHER takes Gable up for the Powerbomb but Gable reverse and picks the leg! He has the Ankle Lock in tight that GUNTHER has to claw out of. GUNTHER locks in the sleeper hold with forty seconds left. The clock is ticking down but Gable isn't passing out. With twelve seconds left GUNTHER decides to pick Gable up for a Powerbomb but Gable throws some punches and hurricanrana's GUNTHER over the rope to win the five minute challenge!! GUNTHER grabs the microphone from Samantha Irvin and demands the match continue. After a moment, Irvin announces the match will indeed continue, but GUNTHER is hit with a dropkick by Gable on the outside as we head to break.
Gable is trading chops with GUNTHER. It's usually not a great business decision but Gable isn't giving up. GUNTHER is taunting Gable who is on the top rope but Gable grabs GUNTHER's arm into an hanging armbar. Gable starts to focus all his attacks on the arm of GUNTHER and tries to lock in a Fujiwara armbar. The Intercontinental Champion barely fights out and hits a huge german suplex on Gable. GUNTHER goes up top but Gable meets him for a superplex that leaves both men down. Gable is caught by a huge chop but still wont stay down. He hits a deadlift german that somehow only gets a two count. Gable wants the Chaos Theory but a big boot and a Lariat by GUNTHER does it…no it doesn't! Gable kicks out and almost is able to nail the Chaos Theory suplex. GUNTHER is furious and hits three huge chops on Gable, and then a Powerbomb for the three count. WHEW what a fight. I know Drew has a date with GUNTHER on Saturday, but I'm going to need these two to run it back proper soon. GUNTHER gets up on the announce table and says he will not lose the Intercontinental championship at Summerslam. He says he will end Drew once and for all at Summerslam. This is the second time GUNTHER has dropped that line. I'm wondering if its just a line, or if Drew is finishing up after this?
CODY RHODES INTERVIEW
Byron Saxton asks Cody if he will be able to compete at Summerslam. Cody says Brock could break his arm again. He could break his ribs, he could break his jaw, it wouldn't matter. At Summerslam, the aura of the Beast gets shattered. Still no stipulation announcement.
BECKY LYNCH DEFEATS TRISH STRATUS (DQ)
Becky Lynch is out after winning the right to a rematch with Trish Stratus last week. Becky has a mic and says she has done everything she needed to do to get her rematch with Trish Stratus. Becky says she can't think of a better time than now or a better place than here in Houston. Trish Stratus comes out accompanied by Zoey Stark. Trish says she thought about doing the match, but no one tells her when to fight. Trish says she won't cheat Becky out of her rematch. She isn't a cheater unlike the Astros. I feel like this feud should be above cheap sports heat at this point but here we are. As Trish is about to say she can't wrestle, Adam Pearce is out to say that the match is going to happen and its going to happen right now. Wow, this is surprising!. The referee rings the bell and Becky attacks but Zoey Stark almost immediately jumps Becky to get Trish disqualified. Becky takes out Zoey until Trish jumps her from behind. The two on one advantage seems to be too much, but the Man is a house of fire and is fighting off both of them! Becky is about to hit the Manhandle Slam on Trish onto a chair but Zoey saves Trish. Becky dispatches Zoey, but Trish hits Becky with the chair and her and Zoey leave. I'm assuming this match is going to be made official for Summerslam later tonight.
BACKSTAGE WITH ADAM PEARCH, TRISH STRATUS AND ZOEY STARK
Trish and Zoey are walking backstage until they run into Adam Pearce. They try and claim they delivered the rematch that Becky had earned. Adam Pearce announces that in two weeks time in Canada it will be Trish Stratus versus Becky Lynch with Zoey Stark banned from ringside. I'm actually fine with them being moved to Raw where they can have a lot more time. I'm wondering what else is behind the move or if that's that.
RONDA ROUSEY AND SHAYNA BASZLER VIDEO PACKAGE PART 2
This is part two of the video package detailing Shayna Baszler and Ronda Rousey's feud. Ronda says she can't say why Shayna turned on her. Shayna says being friends with Ronda is like being in a toxic relationship. Shayna says Ronda needed her because everyone was ready to step to her and no one will step to Shayna. "She needed me to step in front of her so she could step above me." Great line from Shayna, but Ronda follows up by saying Shayna was the one person who didn't turn on Ronda when everyone else did. Shayna gets emotional and says she gave everything to Ronda a friend could give, and she got nothing back. So at Summerslam Shayna is going to take what matters most to Ronda, her reputation. "She has never been the baddest, it's always been me." Shayna says the worst part is that Shayna is the Godmother to Ronda's daughter. Ronda's daughter will never forgive Shayna for what she will do to her mother. Wow, excellent stuff. Really glad they did these.
SETH ROLLINS & SAMI ZAYN DEFEAT DAMIAN PRIEST & DOMINIM MYSTERIO
With Kevin Owens on the shelf, Seth "Freakin" Rollins is stepping up to team with Sami Zayn against Dominik Mysterio and Damian Priest. There are a lot of different ways things can go on Saturday regarding the World Heavyweight Championship, I'm wondering if we may see a new champion (or two!) on top of the red brand. Rollins and Sami don't wait for the Judgment Day, taking the fight to them on the ramp. Finn Balor gets involved but Rollins chases him to the back before the bell can even ring. Love seeing smart babyfaces try something different after falling to the numbers game week after week. Priest gets the upperhand on Rollins, before handing him off to Dominik. Rollins is able to take over with Dominik in the ring until Rhea gets involved and pulls Dominik to safety. Quick tags between the members of the Judgment Day give them the edge here, with Finn coming back to ringside to fling Rollins off the apron. I appreciate that since Sami and Rollins aren't a regular team, they aren't going to be nearly as effective as a unit as Dominik and Damian are. Rollins hits a roaring elbow on Dominik and then reverses a strike from Priest to get the hot tag to Sami. The crowd come alive as Sami sends both Dominik and Damian to the outside. Sami hits a big dive on Priest before rolling him back into the ring. A tornado DDT looks to have it but Dominik is in before the referee can count to three. Dominik is legal and calls for the 619, but Sami cuts him off with a big clothesline. Dominik and Sami both make tags and Rollins hits a slingblade on Mr. Money in the Bank. Rollins goes wild and hits three dives in a row onto Priest, with the third launching Priest over the announce table. Rollins throws Priest back into the ring and goes for a springboard knee but is caught. Priest wants South of Heaven but Rollins reverses for a superkick. Rhea goes up on the apron for a distraction and Dominik tries to take advantage, until Sami wipes out Dominik. Finn hits a running dropkick on Sami into the barricade. Rollins looks like he is going to dive to the outside on Finn but Priest cuts him off and hits a huge Razor's Edge. Priest goes for the pin but realizes that the Money in the Bank contract is right there. Priest calls for Finn to grab the briefcase, and after a second of hesitation he gives it to Priest. Priest gives the contract to the referee but Rollins superkicks the briefcase into Priests face. The referee is distracted by Rhea which allows Rollins to nail Dominik with the briefcase. Finn tries to choke out Rollins but Sami hits a Helluva kick to knock him off the apron. Rollins hits a stomp on Dominik and gets the three count!
Absolute chaos at the end there, I really love that Priest was smart enough to realize he could cash in on Rollins right there. That hesitation from Finn however may come back to bite him on Saturday whether he wins the title or not. One thing is for sure, Monday Night Raw will look different after this Saturday in Detriot!