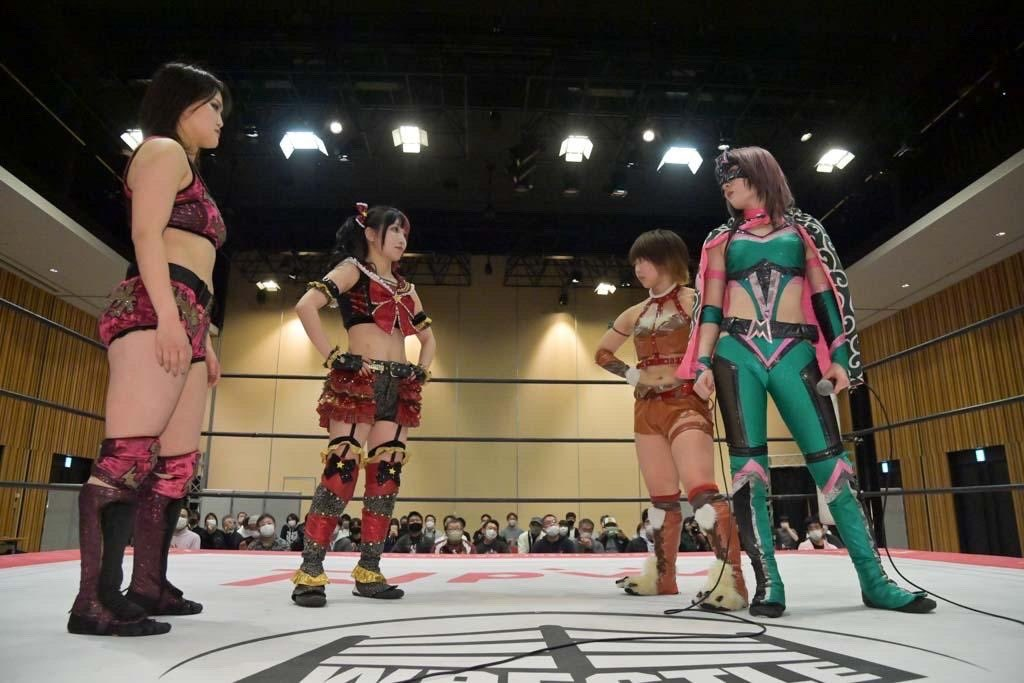 Stardom
The Triangle Derby starts to get into the hot phase, with more and more big Trio Teams facing each other to decide who advance to the semi-finals. Every tournament is important and can decide in which direction the tournament goes for the Trio.
Club Venus is the first trio to finish their Seven Block Matches. The Trio around Mina Shirakawa was able to win the last two matches and end the tournament with a 4-3 record at 8 Points. The most dominant team in this tournament, 7Upp lost their first tournament after having a 4-0 undefeated streak. 7Upp lost their first Match against RebelxEnemy who is getting a lot of momentum lately too. The biggest victory of the tournament came at the hand of Queen's Quest, who defeated the reigning Artist Of Stardom Champions Prominence to gain another two points to sit at 7 Points now.
Stardom announced that from today on, every upcoming Show will have full cheering. On Saturday February 4th Stardom will have the first cheering show in nearly three years. The show in the Osaka #1 EDION arena features Maika & Himeka challenging Nanae Takahashi & Yuu for the Goddesses Of Stardom Titles, Saya Kamitani facing Momo Watanabe with the Wonder Of Stardom Title and the defense record on the line and Suzu Suzuki challenging Giulia in the Main Event for the World Of Stardom Title

Full Card
Unique Glare (Starlight Kid, KARMA & Ruaka) vs. Classmates (Hazuki, Saya Iida & Koguma) – Triangle Derby Match
God's Eye (Syuri, Ami Sourei & Konami) vs Queen's Quest (AZM, Utami Hayashishita & Lady C)
MIRAI vs Chihiro Hashimoto
Naniwa Roulette Single Elimination Tournament to determine the number one contender to any Stardom Championship
7Upp (Nanae Takahashi & Yuu) (c) vs Donna del Mondo (Maika & Himeka) – Goddesses Of Stardom Championship
Saya Kamitani (c) vs Momo Watanabe – Wonder Of Stardom Championship
Giulia (c) vs Suzu Suzuki – World Of Stardom Championship
Official Triangle Derby Standings following Day 9:
RED TRIANGLE BLOCK –
8 – Neo Stardom Army (Nanae Takahashi, Yuu & Yuna Mizumori) (4-1-0)
8 – Club Venus (Mina Shirakawa, Mariah May & Xia Brookside) (4-3-0)
7 – Queen's Quest (Utami Hayashishita, AZM & Saya Kamitani) (3-1-1)
6 – Cosmic Angels (Tam Nakano, Natsupoi & SAKI) (3-2-0)
4 – Unique Glare (Starlight Kid, Ruaka & Haruka Umesaki) (2-2-0)
4 – Bari Bari Bombers (Giulia, Thekla & Mai Sakurai) (2-3-0)
0 – H & M's (Mayu Iwatani, Momo Kohgo & Hanan) (0-5-0)

BLUE TRIANGLE BLOCK –
9 – Abarenbo GE (Syuri, MIRAI & Ami Sourei) (4-1-1)
8 – Prominence (Suzu Suzuki, Risa Sera & Kurumi Hiiragi) (4-2-0)
6 – Gold Ship (Momo Watanabe, Natsuko Tora & Saki Kashima) (3-2-0)
6 – Rebel x Enemy (Ram Kaichow, Maika Ozaki & Maya Yukihi) (3-2-0)
4 – MaiHime With C (Maika, Himeka & Lady C) (2-4-0)
2 – Classmates (Hazuki, Saya Iida & Koguma) (1-4-0)
0 – Team Lollipop (Waka Tsukiyama, Rina Amikura & Yuko Sakurai) (0-4-0)
---
TJPW
The semis of the Max Heart Tag Team Tournament happened this week with two great matches. In the first semi-final the tournament favorites Miyu Yamashita and Maki Itoh faced the surprise Tag Team of this tournament Juria Nagano and Moka Miyamoto who were able to upset Daisey Monkey and Toyo Mates. It was a great underdog performance from Nagano and Moka against one of TJPW's most dominant teams. The Karate Tag Team tried their best against, 121000000, but their efforts were without success. Maki was able to get the job done for the favorites, and they advance to the finals.

In the other semi-final two of the best Tag Teams in TJPW faced each other. Miu Watanabe and Rika Tatsumi faced Shoko Nakajima and Hyper Misao to decide who joins 121000000 in the final of the tournament. These two teams put on a great bout and the best match of the tournament. All four were great in this match and elevated it. In a great ending sequence, the team of Shoko and Misao were able to pick up the win for her team and advance to the finals.
With that the finals of the Max Heart Tournament has been set. It's Shoko Nakajima and Hyper Misao against Miyu Yamashita and Maki Itoh. Miyu has yet to win a tournament in her TJPW career. This could be the time she finally wins her first together with her Tag Partner Maki Itoh. They have been aiming to win the Tag Titles for a while now and they are just one match away to get another chance at the titles held by WWP.