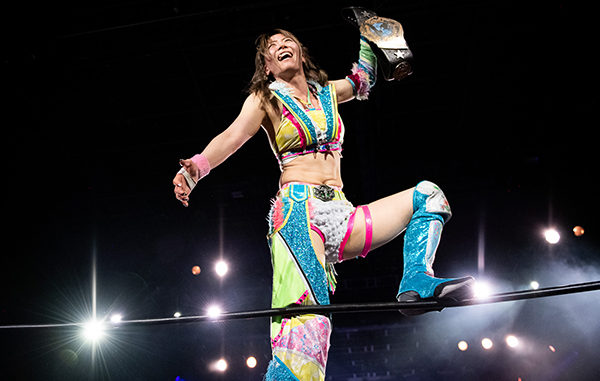 On November 20th, Bushiroad-owned promotions NJPW and World Wonder Ring Stardom came together to present their first ever joint PPV, Historic X-Over, featuring a main event between KAIRI and Mayu Iwatani that would see the winner crowned as the first ever IWGP Women's Champion. Prior to the match, Iwatani had vacated the SWA World Championship, leading many to believe that she'd be walking out of the Ariake Arena victorious, however it would be her former Threedom stablemate KAIRI that would go on to claim the prize, further extending her undefeated streak.
Dave Meltzer of the Wrestling Observer Newsletter has now provided further insight into the decision to put the belt on KAIRI, revealing that Iwatani was originally planned to win the bout, although disputes over increased pay as a result of a probable increase in US booking led to plans changing.
"When the IWGP women's title was announced, the plan was for Iwatani to be the first champion. Stardom had earmarked a big 2023 for her. She's already known as the Stardom icon, but they were going to push that nickname harder because of the release of a major Japanese motion picture on her life that will be released in the latter part of 2023. However, she had asked to renegotiate her deal given that holding that title would mean she would be doing a lot of U.S. bookings as champion next year. The sides didn't come to an agreement on a new deal, but she remains under contract. So essentially she turned down the title for now and Kairi, who was the second choice since she's the best known Stardom wrestler in the U.S., was made champion. But the idea was always for one of them and for the tournament finals to be Kairi as the international division rep and Iwatani as the Japanese division rep."

-WON
As of writing, there has been no indication of the relationship between Iwatani and Stardom deteriorating, and thus there is always potential for new terms to be hashed out at a later.
KAIRI is set to defend her newly won IWGP Women's Championship against Cosmic Angels' Tam Nakano on January 4th at the Tokyo Dome as a part of NJPW's Wrestle Kingdom 17 event.