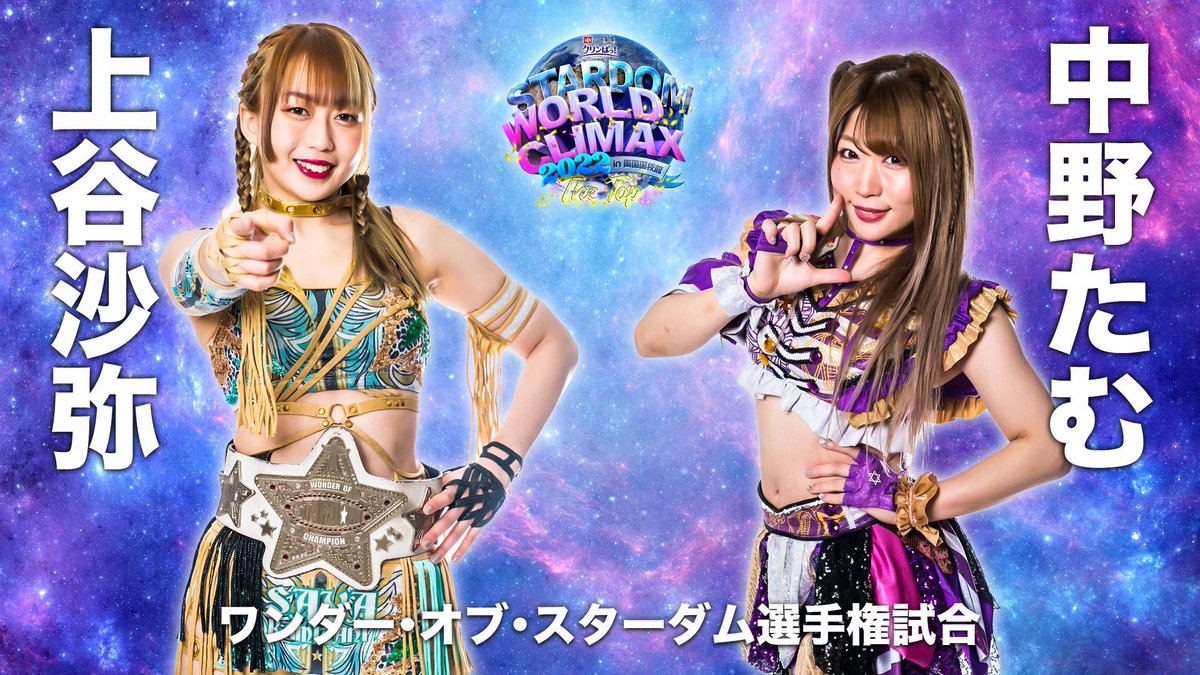 The Weekly Joshi Guide for this week will serve as one thing and one thing only: a complete review of Stardom World Climax.
Day one, ~ The Best ~, was the weaker card on paper but lived up to the high expectations that I had for it. From top to bottom, it felt as though the wrestlers knew how special of a show this was in their performances. Hanan and Rina kicked it off with what may be the best Future of Stardom Championship match ever while Saya Iida and MIRAI followed it up with the guaranteed most underrated match of the show. It was so unique from most matches we see on Stardom PPVs. Best described as a "hoss fight," Iida and MIRAI continuously traded forearms, chops, and lariats until they both collapsed to the mat. Iida looked primed and ready to get the biggest win since her return with her Spinning Brainbuster but it was MIRAI who rolled through to lock on a fantastic Kimura Lock to make Iida tap out. Not only did it exceed expectations but defined how deep of a roster Stardom has.
Being able to see Suzu Suzuki perform in a Stardom ring was as wonderful as you'd expect. Not only did she fit in there like a glove but felt like the star of the match. Her talent radiates when she is in the ring, allowing this tag team match to have a high pace and be a great precursor to day two and beyond for Prominence vs. Donna del Mondo.
Getting to the major four matches of the night, I thought the Goddess of Stardom Championship match was better than most fans did. They brought a sense of urgency to the match and there were minimal Oedo Tai antics to allow it to be complete. Momo Watanabe and Starlight Kid are already a super duo with the offense they're developing and the overall chemistry displayed. The Pendulum Driver they do is one of the best moves in wrestling currently as it was a perfect setup for Watanabe's Peach Thunder onto Koguma which earned them a victory. Hazuki will have a shot to reassert herself in the singles division, something Koguma had continued to do as one-half of the tag champions. Maybe that, more than Watanabe and Kid winning, is the most exciting part of this title change.
Stardom World Climax ~ The Best ~ was a special night. It goes without saying. But there was nothing more special than the moment KAIRI made her entrance. Magic was in the air, really. And the moment you saw her, it was as though she never left. KAIRI isn't a star – she's the definition of a superstar. Many wondered how she would be inside the ring seeing she had been out of action for nearly two years. Well, would you be shocked to know that not only did she not miss a beat but felt she was in her prime all over again? Probably not. Seeing KAIRI and Mayu Iwatani side by side was another magical moment and they made you feel it. Smiles on their faces from start to finish.
Tam Nakano and Unagi Sayaka served as perfect opponents as well with Sayaka playing her part to perfection. After all, the assessor had been so cocky and confident since making the challenge but she learned quick enough KAIRI wasn't like everyone else. Spinning Backfists, releasing her new Kraken submission, and a picture-perfect Insane Elbow for good measure. My oh my is it good to have KAIRI back.
The final matches of the evening were for the Wonder and World of Stardom Championships. First up was the battle between Saya Kamitani and Utami Hayashishita. I will start off by saying it was a good match but nowhere near the incredibly high expectations or the level of what they delivered last year. It was a letdown in that sense but on a show full of great matches, it's okay one was a "miss" (even if it really wasn't). Kamitani and Hayashishita went down the route of epic instead of what Kamitani has been doing in her Wonder of Stardom Championship matches which is probably why it was more letdown than success. Again, it was still good and worth it as Kamitani got one of the most important wins of her career as she pinned Hayashishita in the middle of the ring thanks to a Phoenix Splash.
Ah, and now the main event. Syuri and Giulia promised ALK was ending due to this match and by the end, it was clear as day why. These two took each other to the absolute limit. Violence was the name of the game and winning happened to come second to it. After what was a predictable opening of the former partners feeling one another out through grappling, the match exploded into a violent onslaught featuring a Piledriver through a table via Giulia to Syuri. Yet somehow, it almost felt like an afterthought after all of what they did from there on out. Headbutts that you can hear the thud of. Spine-rattling kicks from both Giulia and of course Syuri. A Punt to Giulia's face, which had me jumping for some sick form of joy.
These two know one another so well that Syuri hitting Giulia's Glorious Driver and Giulia hitting Syuri's Ryuen almost felt expected. It really felt Giulia was closing in on a win when she hit the Northern Lights Bomb but Syuri escaped thanks to a good ole rope break. The champion eventually had enough, hitting the Syu-Sekai to pin Giulia in the middle of the ring to successfully defend her title. Words don't do this match justice in any way. It's a must-see as Syuri continues her streak of what I think is the best wrestler in the world today. Every single major match she has lives up to the hype and often exceeds it. These two told a story going into the match and there was only one way for it to go. Syuri and Giulia delivered to complete a great first night.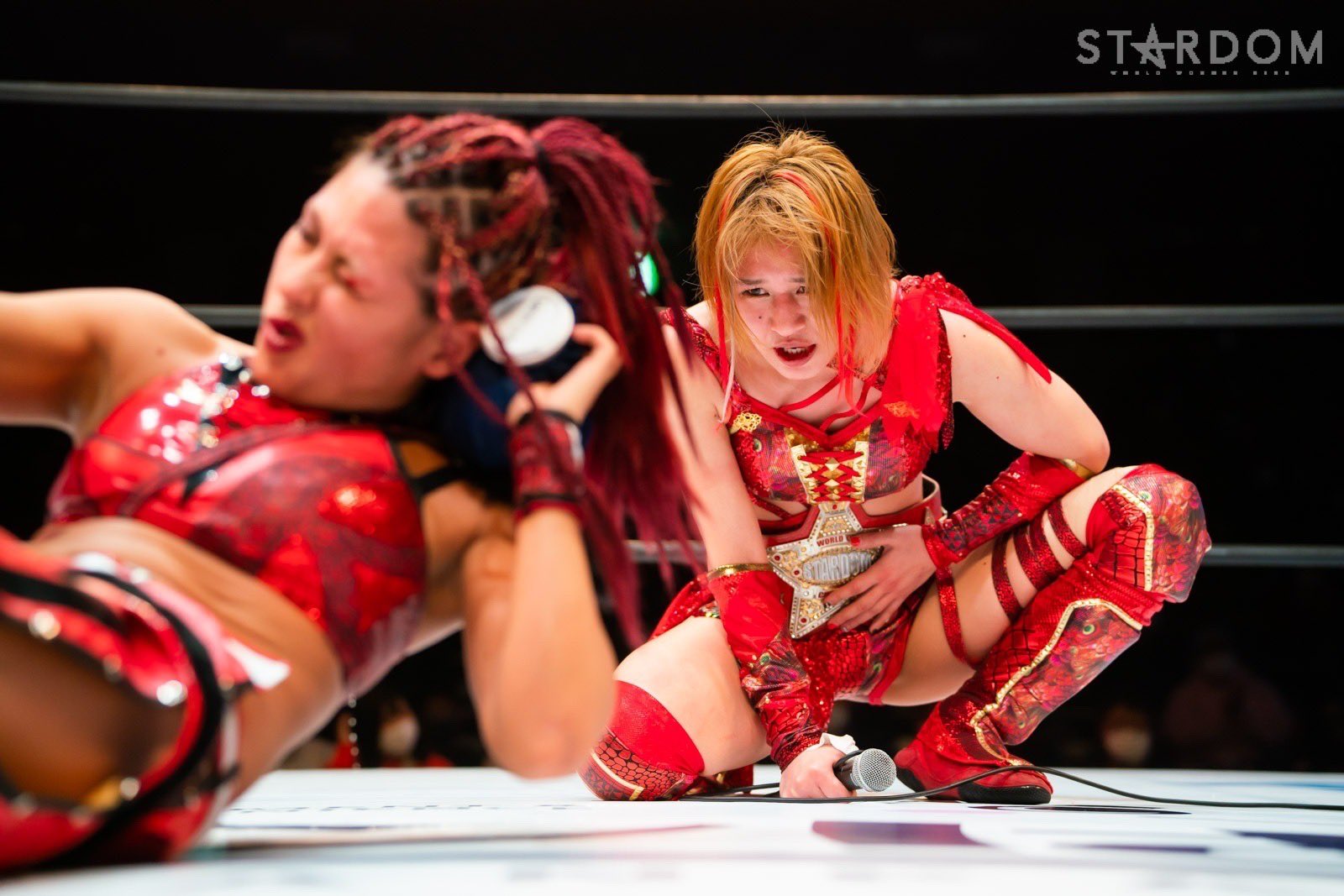 Match Ratings for Stardom World Climax ~ The Best ~
Hanan vs. Rina: ***½
Saya Iida vs. MIRAI: ****
Gauntlet – Himeka, Natsupoi & Mai Sakurai vs. AZM, Lady C & Miyu Amasaki vs. Saki Kashima, Ruaka & Fukigen Death vs. Momo Kohgo, Mina Shirakawa & Waka Tsukiyama: **½
Maika & Thekla vs. Risa Sera & Suzu Suzuki: ***½
Hazuki & Koguma vs. Momo Watanabe & Starlight Kid ****
Mayu Iwatani & KAIRI vs. Tam Nakano & Unagi Sayaka: ****
Saya Kamitani vs. Utami Hayashishita: ****
Syuri vs. Giulia: ****½
What if I told you the second night was that much better.
Stardom World Climax ~ The Top ~ was another special night for Stardom. Matches from top to bottom on the card were must-see. Instead of going through every match as I did for day one, let's skip forward to the great work that was Hazuki vs. Momo Watanabe. If you have any understanding of these two and their history, it wasn't too much of a surprise they tried to destroy one another. My only worry heading into this match was whether or not they'd get the time they deserved but it was answered in no time. As Hazuki continuously put her boot into the face of Watanabe, it was easy to realize all the time they had would be enough no matter how long it was. Watanabe's three-piece finish of Reverse B-Driver, Tequila Sunrise, and a Peach Sunrise for good measure ended all hopes for Hazuki of getting a major singles win. It was worth the watch.
High-speed action is one of the best parts of any Stardom card when they make their way on the show. To the surprise of nobody, AZM, Natsupoi, and Koguma rocked the house with their spring of a triple threat. Don't ask me to tell you what happened because they were going so fast you'd be better off witnessing yourself. They did nail some fantastic near falls before AZM managed to pick up the win with Azumi Sushi though. As I like to say, the near falls were "jump out of your seat" good.
If you thought KAIRI having a tag team match before having her first singles match back in Stardom would take away from her bout with Starlight Kid, I'm here to tell you how wrong you'd be! KAIRI in all her glory is a star that casts a massive shadow but somehow Starlight Kid was able to make her presence felt. My belief is Kid was the perfect first singles opponent for KAIRI because even in defeat, she grows from this. We got all the best hits like day one but those hits came in far more desperation for "The Pirate Princess." The signature Spinning Backfist by KAIRI was the spot of the bout as she caught Kid almost out of nowhere. When KAIRI hit the Insane Elbow to win the match, it finally settled in for me. She was here for longer than just one or two matches. Stardom has KAIRI back and she is going to shine until she doesn't want to anymore. The dream matches are going to be fulfilled.
Donna del Mondo vs. Prominence was everything I wanted it to be — Giulia and Suzu Suzuki hitting each other with all they had and more. Forearms, suplexes, headbutts, repeat. Giulia was forced to acknowledge Suzuki as an equal here, something of which she clearly didn't want to do in this build. The intensity and heat between these two filled Ryogoku Sumo Hall and forced the rest of each group to disappear. We didn't see them for ten minutes and it was tremendous. Giulia's anger added up as she hit the Glorious Driver on Suzuki but before the referee could count three, she lifted up the shoulders of Suzuki to do more. The cockiness of Giulia nearly cost her as Suzuki hit a German Suplex that sent Giulia a mile. Before these two had to finish their problems, Mochi Miyagi tagged in and would be on the wrong end of a Northern Lights Bomb by Giulia. 1…2…3 and just like that, Donna del Mondo had their win. All this match displayed was Giulia and Suzu Suzuki need to go one-on-one as soon as humanly possible.
It's time we say it and we say it loud enough for the people in the back, Saya Kamitani is untouchable right now. So untouchable to the point that Stardom can present her any challenge and she is going to deliver. The perfect example is this match here with Tam Nakano. Not only was it the match of the night — it was the match of the weekend and a true "Match of the Year" contender. What Saya Kamitani and Tam Nakano did in their fifth match over the last year wasn't stumbling upon greatness but creating it. I wasn't all too sure they could follow up their Stardom Dream Queendom match but they somehow bettered it. For the insanity that was the Frankensteiner from the top rope down to the floor and the balcony dive from Tam Nakano, this was far more than just a match of moves.
They channeled what might be the best style for the Wonder of Stardom Championship and it's whatever Kamitani has come up with. All action, high pace, and amazing moments. Kamitani and Utami Hayashishita did something great on the previous night but it didn't hold a candle to this. The finish to the match wasn't even all that spectacular. Kamitani didn't hit the Phoenix Splash. Nakano didn't hit the Twilight Dream (she did hit the devastating Violet Screwdriver, however). Instead, it was a double reversal as Kamitani attempted to hit the Sombra Bomb. Nakano rolled through but before she knew it, Kamitani turned it into a pinfall and a win. This match was the signature match fans were looking for from this show and as I said when starting to discuss this, Kamitani should be the one expected to provide these moving forward. She is untouchable and unstoppable at the moment.
Finally, the main event. Syuri and Mayu Iwatani had to do their best to follow up the phenomenal Wonder of Stardom Championship match with a great match of their own. It wasn't able to reach the same levels as it but it was an ideal main event to complete the night. Syuri and Iwatani were not-so-shockingly at the top of their games. Perhaps their main problem was a lot of it felt almost too flawless for their own good. It should have had some more grit to it but the heat of a rivalry wasn't there like it was. It's simply a nitpick but it is the reason it didn't reach the way-too-lofty expectations I had made for it.
There was some brilliance between these two and much of it came with the art of Syuri attacking Iwatani's knee. As someone who watches Stardom as much as I do, it felt it would play more into her not being able to hit a Moonsault rather than being the downfall and finish to her World of Stardom Title hopes. Syuri's first Stretch Muffler watched Iwatani get spun around as Syuri wretched more and more on the knee. By the time Syuri locked in the second Stretch Muffler, heartbreak was bound to follow. Mayu Iwatani doesn't give up and was never going to. It's what makes "The Icon" one of the all-time greats. But if this match wasn't ended by the referee, who knows the shape her knee would have been in. It was a necessary and one no one was prepared for. Syuri followed up a war with a more traditional main event on day two. There are no reasonable complaints coming here as it was, in fact, a great way to close out Stardom World Climax.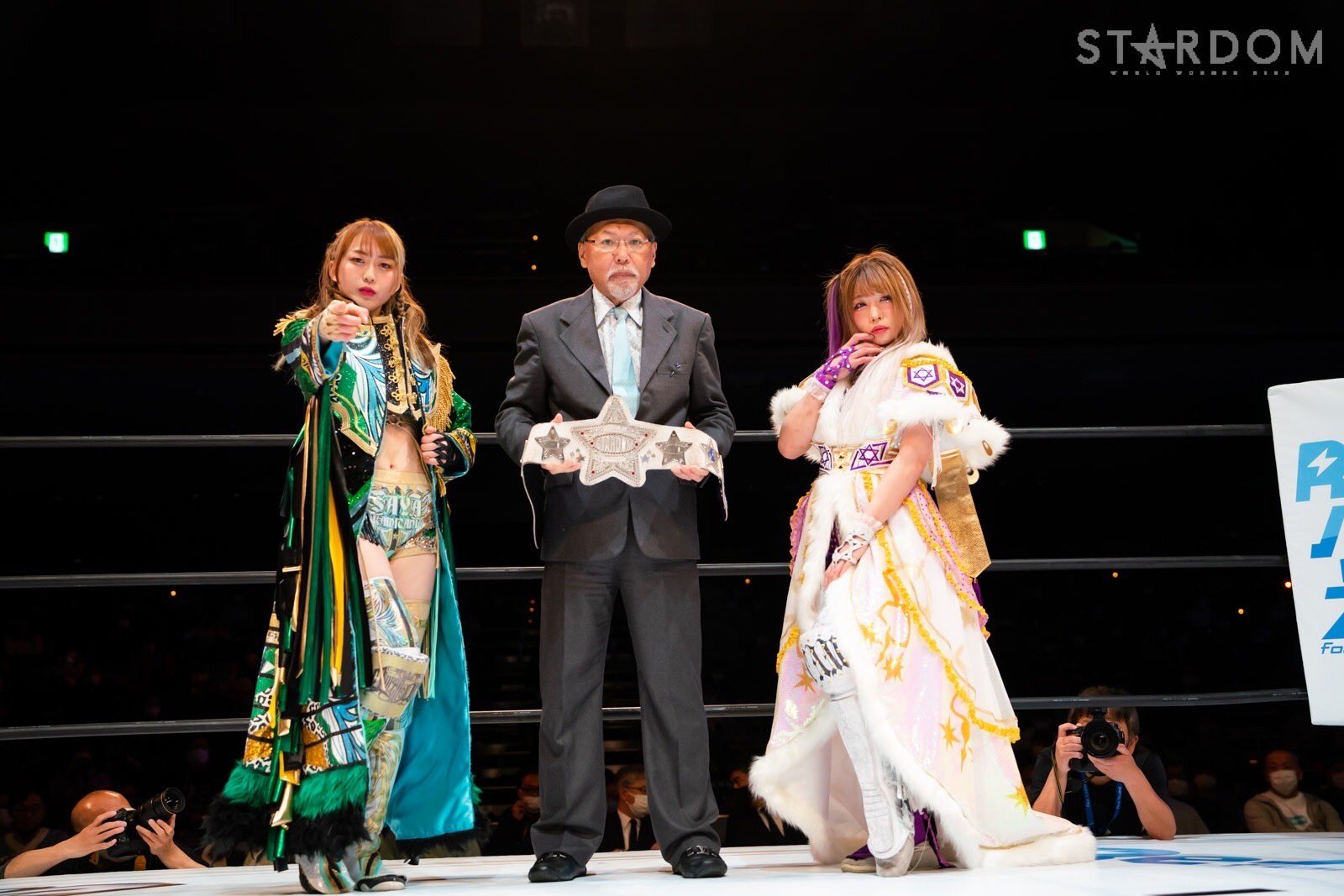 Match Ratings for Stardom World Climax ~ The Top ~
Hanan vs. Mai Sakurai: **½
Cinderella Rumble: *½
Utami Hayashishita vs. MIRAI: ***
Hazuki vs. Momo Watanabe: ****
AZM vs. Natsupoi vs. Koguma: ***¾
KAIRI vs. Starlight Kid: ****¼
Donna del Mondo vs. Prominence: ****
Saya Kamitani vs. Tam Nakano: ****¾
Syuri vs. Mayu Iwatani: ****¼
Overall, Stardom World Climax met the lofty expectations fans had. Was it perfect? No. But it will go down as a "Show of the Year" contender as Stardom continues to be premier professional wrestling.