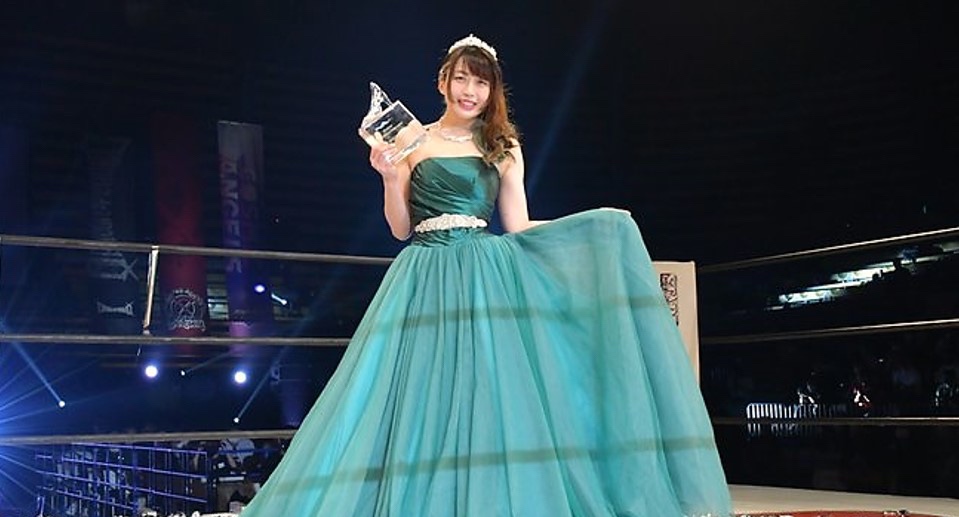 World Wonder Ring Stardom delivered an incredible year of wrestling in 2021, with the Wrestling Observer Newsletter readers voting them as the second-best promotion of the year, and deservedly so. The highly anticipated clash between Utami Hayashishita and Syuri over the former's World of Stardom Championship received rave reviews, most notably Dave Meltzer's 5.5 stars rating, making it the highest rated match in the history of women's professional wrestling to date. This masterpiece of a pro-wrestling match between two of Stardom's finest set the wrestling world alight, and Stardom would only go from strength to strength in capitalising on the new eyes they had on their product. Utami Hayashishita continued her reign of dominance over the ensuing months, fending off challenges from OEDo Tai's leader Natsuko Tora, Marvelous' Takumi Iroha, and Donna Del Mondo's Maika, before finally being defeated by Syuri in December at Stardom Dream Queendom, who had staked her claim for another title shot via winning Stardom's 5 Star Grand Prix in September. To avoid a repeat of their time-limit draw and subsequent double knock out from their first clash, this was a title match with no time-limit, and also saw Syuri putting her SWA World title on the line in a Winner Takes All showdown.
This was not the only major title change that occurred on Stardom's final pay per view event of 2021, as Saya Kamitani toppled Tam Nakano to begin her first reign as Wonder of Stardom Champion. Much like Syuri, this was not Kamitani's first attempt at dethroning Nakano, as her victory in last year's Cinderella Tournament resulted in her challenging the Cosmic Angels' leader at Yokohama Dream Cinderella, although she was ultimately unsuccessful. Kamitani's victory on her second attempt has set her on an incredible path, with high profile victories over Unagi Sayaka and Natsupoi quickly making her one of Stardom's must-see attractions, as well as her performance on NJPW's Wrestle Kingdom 16 main card, proving that she can shine on the biggest of stages.
Stardom showed no signs of slowing down in the early months of 2022, with their World Climax events on March 26th and 27th amassing enormous praise from the joshi-wrestling fanbase. The card featured a returning KAIRI (FKA Kairi Hojo/Sane), an invading Prominence waging war with Donna Del Mondo, and a number of special attraction singles affairs. It also saw both the World of Stardom and Wonder of Stardom Champions, Syuri and Saya Kamitani, retain their gold after back-to-back title defences on each night. This leads Stardom enter their next major event, with their annual Cinderella Tournament commencing earlier today.
For those unfamiliar with Stardom's Cinderella Tournament, it is a knockout style tournament, similar to the New Japan Cup, although as well as pinfalls and submissions, eliminations can also come via throwing your opponent over the top rope, making the likelihood of an upset victory more probable without the need for a definitive finish. The first-round matches have a 10-minute time limit, whilst the second round and beyond sees an increase to 15 minutes. In the event of a time limit draw, both competitors will be eliminated from the tournament, thus giving whoever progresses in the opposing bracket a buy to the next round. The winner of the Cinderella Tournament is crowned in the ring as Cinderella and is presented with one wish, which has traditionally been used to grant the victor with a championship opportunity for either the Red Belt (World) or White Belt (Wonder). Last year's victor Saya Kamitani challenged for the White Belt, as has been the trend in recent years, with Stardom's other major tournament, the 5 Star Grand Prix, serving as a direct route to the Red Belt.
This year's tournament sees the largest number of competitors in the competition to date, with a grand total of 31. The bracket and dates of each match can be seen below: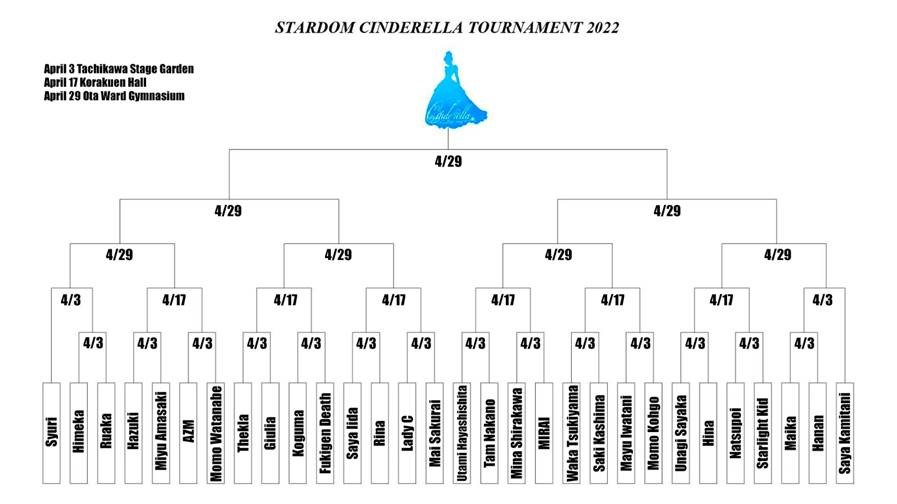 An important detail to note with this year's tournament is that the matches are spread over three dates, with the opening round and one of the last 16 matches taking place earlier today (April 3rd). The remaining last 16 matches take place on April 17th, and the quarter finals through to the final culminate on April 29th. Typically, the Cinderella Tournament has been a one-day event, however with the expansion of Stardom's roster it is easy to see why this decision was made. It is also important to note that Saya Kamitani had a buy into the last 16, as she currently holds one of the company's top championships, being the White Belt. As displayed on the above graphic, Red Belt champion Syuri was also scheduled to bypass the opening round, however her recently acquired "Bodyguard" Ami Sourei stated her intention of participating in the tournament, and thus a first-round clash with her new stablemate was announced. Whilst the number of matches can seem overwhelming at times, the rules in place allow for a number of flash-eliminations, allowing the matches to fly by without too much drag.
Following the events of today's opening round of knockout matches, many predictions made beforehand over a potential winner were thrown out immediately, with the following competitors advancing into the last 16: Syuri, Himeka, Hazuki, AZM, Giulia, Koguma, Saya Iida, Mai Sakurai, MIRAI, Saki Kashima, Mayu Iwatani, Unagi Sayaka, Natsupoi, and Maika. During the show, Saya Kamitani and Maika faced off in the first of the last 16 matches, with both competitors going over the top rope, and therefore being eliminated from the tournament. In the aftermath, Maika challenged Kamitani for her Wonder of Stardom Championship, with many viewers predicting that Maika would eventually win the Cinderella Tournament and go on to challenge for the White Belt as her wish.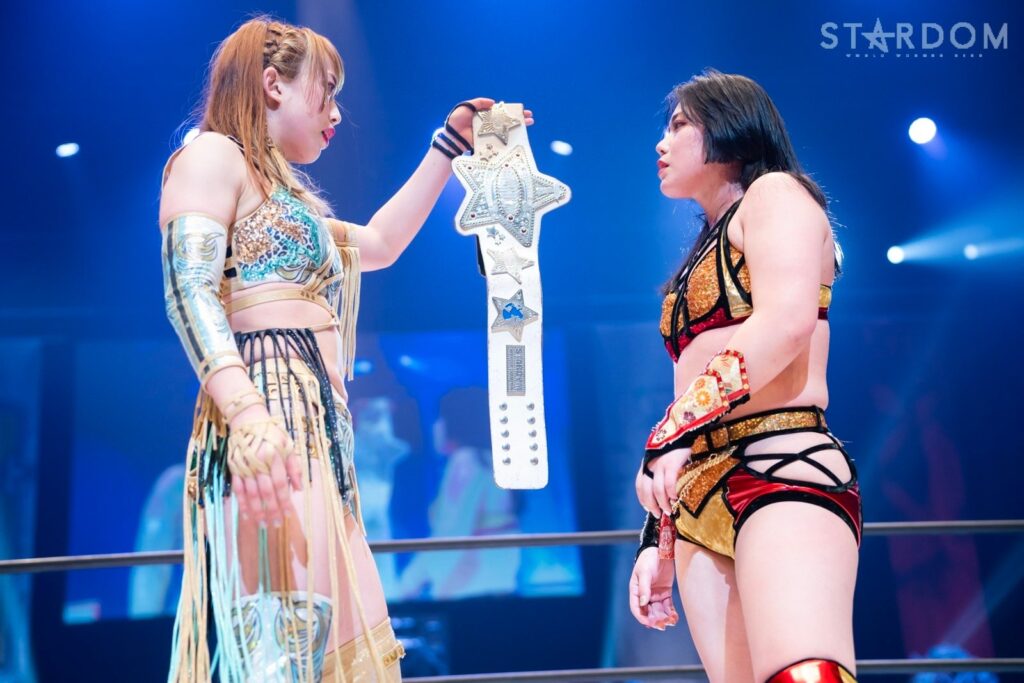 OEDo Tai's duo of favourites were also eliminated in the initial round, as Natsupoi came out victorious over her High-Speed rival Starlight Kid, which was followed by AZM defeating her former Queen's Quest stablemate Momo Watanabe via the Azumi Sushi. Starlight Kid has been a standout performer for Stardom since aligning with OEDo Tai in 2021, reigning over the High-Speed division with an iron fist and becoming a de-facto leader of the heel stable in Natsuko Tora's absence. With the "Dark Sky Tiger" recently dropping her High-Speed title to AZM, many assumed that this was Stardom freeing Kid up for a push higher up the card, making her a top contender for the Cinderella Tournament. OEDo Tai's "Black Peach" also stood out as a major contender, with Watanabe being the runner up in last year's 5 Star GP and having previously stated her ambitions of challenging for Syuri's World of Stardom Championship. Unfortunately for Stardom's resident troublemakers, only Saki Kashima is left standing as the tournament advances onwards, as she overcame Waka Tsukiyama in her tournament opener. Kashima has the potential to go far in this year's tournament, with her ability to gain flash pinfall victories making her one of Stardom's 'spoilers'. She'll need to be on her A-game in the next round however, as she faces off against Stardom's Icon, Mayu Iwatani. This is an encounter with a lot of history behind it, as Kashima is one of many OEDo Tai members to have betrayed Iwatani's STARS faction when turning heel, and Mayu will determined to get one over her former ally.
Following on from OEDo Tai, Donna Del Mondo were another faction many anticipated would leave their mark on this competition, and the events and subsequent fallout from Stardom World Climax has only further heightened their importance. With a split seeming inevitable heading into Syuri's Red Belt defence against stable-leader Giulia on Night 1, the World of Stardom Champion announced that she'd be leaving DDM and forming her own unit, with Ami Sourei (FKA Ami Miura in AWG) being the first to join. As previously mentioned, Syuri would face Sourei in the first round of the Cinderella Tournament, and as many expected, the former Strawweight Queen of Pancrase would progress to the last 16. Interestingly, her opponent in the next round will be another Donna Del Mondo's Himeka, who defeated Ruaka in order to advance. Himeka is another star heavily favourited by many to become this year's Cinderella, although Syuri will undoubtably have her sights set on defeating her former teammate, proving that the path she has chosen to walk is the right one. MIRAI is another Donna Del Mondo member that came out of today's show victorious, defeating Cosmic Angels' Mina Shirakawa, and now has a pathway directly through to the quarter finals due to Utami Hayashishita and Tam Nakano both being eliminated as a result of their time limit draw. By the end of the show however, MIRAI was DDM no longer, as in the aftermath of the aforementioned Syuri vs Ami Sourei clash, Syuri would reveal her new unit's name to be "God's Eye". MIRAI would interrupt this segment, stating her intent to follow Syuri's path and Stardom's newest stable. This furthers the chances of more DDM/God's Eye clashes down the line in this competition, and with many predicting MIRAI to go the way, a Himeka vs MIRAI could very well be on the cards for the final.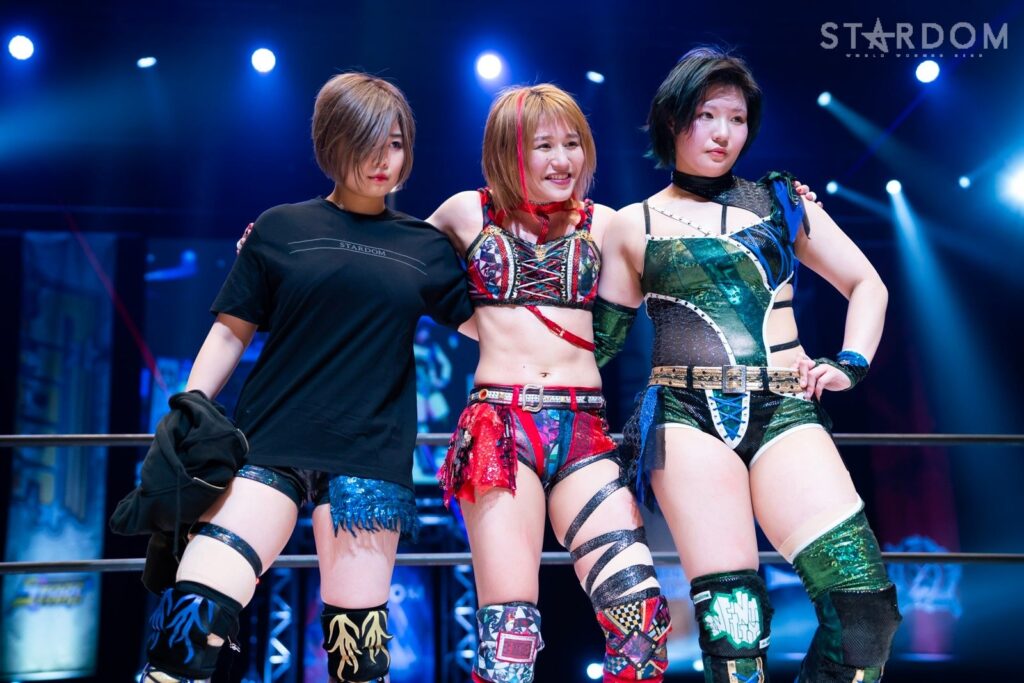 Cosmic Angels' hopes were almost completely shattered on day one of the Cinderella Tournament, as only Unagi Sayaka remains out of their four members, defeating the returning Hina in the shows opening bout. The "delicious" stable's last hope might just go all the way, as Sayaka has frequently been on the precipice of Stardom's main event scene, coming on short against the likes of Tam Nakano and Saya Kamitani in her past White Belt challenges. This may be the time for Stardom to pull the trigger on CA's "Kabuki", as Unagi has shown vast improvements in ring each time she's had the opportunity on Stardom's biggest stages. A rematch with Saya Kamitani may be in store for Unagi should she pull off the major victory, potentially bringing gold back to Stardom's most popular unit of last year.
Queen's Quest, much like Cosmic Angels, had a rough showing in round one, with Miyu, Amasaki, Utami Hayashishita, Hina, Lady C and Saya Kamitani all coming up short to their respective opponents. This leaves only AZM remaining, and the High-Speed Champion will have her work cut out for her in the last 16, as she comes up against former Queen's Quest member Hazuki. Whoever advances in this one will stand in good stead to make their way all the way to the final, with both AZM and Hazuki being seen by many as deserving of a run higher up the card. Hazuki's STARS stablemates Mayu Iwatani, Saya Iida, and Koguma join her in the next round, with Iida potentially being the most intriguing of the bunch. "Macho-Gori" made her return earlier this year at Stardom's New Blood 1 show, and whilst she was unsuccessful on both nights of World Climax, Iida's unmatchable power may be the key to success in the Cinderella Tournament.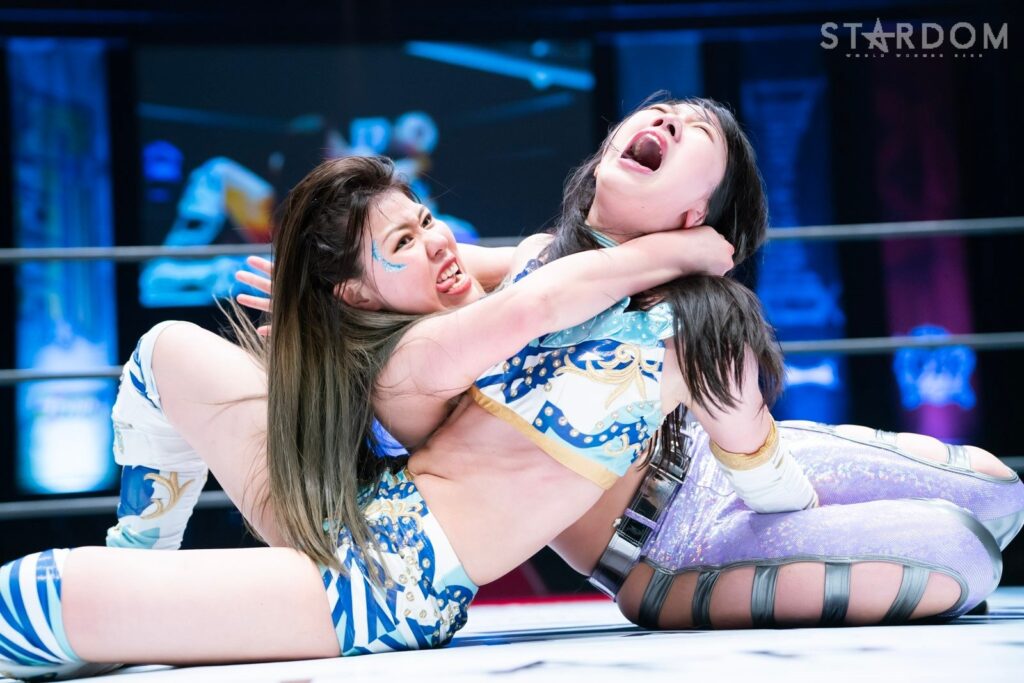 As far as notable absentees go, only OEDo Tai leader Natsuko Tora remains on the shelf with injury and thus she will miss out on a spot here, although her frequent appearances at Stardom shows may indicate that a return for Tora may not be too far away. Finally, the returning KAIRI has not been announced for the Cinderella Tournament, and with the circumstances surrounding her new Stardom deal unknown, it is uncertain how frequently KAIRI will appear moving forward. Despite this, it does appear that regardless of her absence from the line-up, KAIRI has her sights set on Saya Kamitani and her Wonder of Stardom championship, and it's fair to say that a tournament win would be better served as a way of making a new star, as KAIRI has a big enough reputation to set up her title match without needing to do too much to earn it.
Stardom's Cinderella Tournament will be available via their streaming service, Stardom World, and if round one is anything to go by, shows may also be available live via their PIA pay per view service. Today's events set up a number of unmissable encounters, and the tournament as a whole is sure to embolden Stardom's position as the fastest rising wrestling promotion in the world today. In the words of Stars leader Mayu Iwatani: "Check it out!"