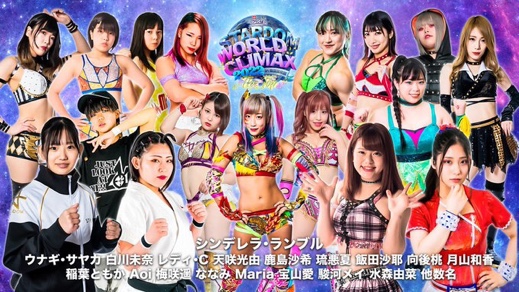 With Stardom's biggest two day or night (depending on where you live) supercalifragilisticexpialidocious extravaganza (I'm really hoping WWE hasn't used that one already) – World Climax just around the corner, there's plenty to look forward to. Syuri vs Giulia and or Mayu Iwatani for the World of Stardom Championship, Tam Nakano vs Saya Kamitani or Utami Hayashishita for the Wonder of Stardom Championship, and of course, the much-anticipated return of the Pirate Princess herself KAIRI…erm just KAIRI taking on the playful, mischievous, and evil Oedo Tai's own Starlight Kid.
The match that has me personally though, is the Cinderella Rumble or what I like to call the forbidden door battle royal. For the uninitiated, the "forbidden door" is a term that has become rather famous or infamous, depending on who you ask among wrestling fans. Basically, it now describes a crossover of any kind between wrestlers from major companies, first coined by Hiroshi Tanahashi in early 2020, when describing the relationship between AEW and New Japan Pro Wrestling. In recent times, the term's usage has greatly expanded, stretching the concept to its limits but nonetheless, the phrase is relevant here.
To explain, the Cinderella Rumble also features talent from smaller promotions such as Gatoh Move, JUST TAP OUT, and Marvelous, just to name a few. This is particularly refreshing as in recent years, Stardom has been keeping things in house, especially during the pandemic. In reality, though, this has been Stardom's mantra from the beginning, having previously featured young independent wrestlers from different parts of the world. That includes Toni Storm, Shayna Baszler, Britt Baker, and Thunder Rosa, then just starting out and now, famed wrestling figures.
Many of today's biggest names at least had a cup of coffee or two in Stardom previously, and the promotion has grown exponentially since then. Stardom now offers a much bigger platform, boasting a genuine international presence and an easily accessible streaming service. This growth was accelerated during the pandemic, as many fans chose to broaden their horizons, especially with Japanese wrestling, and actually look beyond the major companies. One show in particular that thrived was of course ChocoPro, a brand under the Gatoh Move umbrella, led by Emi Sakura.
Subsequently, ChocoPro main eventer Mei Suruga went on to make appearances in other promotions, including Tokyo Joshi Pro Wrestling and of course AEW, managing Emi Sakura herself alongside ChocoPro cohort Lulu Pencil. Well, in this match, Mei Suruga as well as rival and ally Yuna Mizumori will finally be dipping their toes in the Stardom talent pool. While I'm familiar with the ChocoPro representatives in this match though, there are plenty of other wrestlers here who I'm not too familiar with. I'm excited to see what they can bring to the table and we got to see a small teaser of this on the New Blood 1 show, which is free to watch on Stardom's Youtube channel.
One wrestler that caught my eye is JTO's Tomoka Inaba, who also happens to be the Sendai Girls World Junior Champion. She just has a unique presence and aura about her, also being an incredibly exciting watch, adopting that classic Just Tap Out striking and submission style somewhat similarly to Maika, another JTO graduate. Something struck me as special about Tomoka, and I definitely think she'll be one to watch in the future. New Blood 1 in general is an interesting watch, particularly Haruka Umesaki's match, who went hell for leather with Starlight Kid in a tag tilt, building to their eventual singles clash.
It goes without saying that this is a big opportunity for everyone involved and we all know Ogawa is likely going to have his scouting hat on, cherry-picking one or two for his own roster. If nothing else, that's another reason to keep a close eye on this match. Either way, this will undoubtedly mean more eyes and exposure on lesser-known wrestlers, as well as the companies they're representing. Hopefully, each wrestler will at least have their chance to shine and with Stardom's own Mina Shirakawa, Unagi Sayaka, and Saki Kashima also joining the fray, they'll ideally lend a guiding hand, theoretically being the glue that keeps this match together.
In any case, I'm excited about this match, and furthermore, I'm curious to see what this could mean for Stardom. To me, this represents the promotion possibly going back to its roots, perhaps lending an olive branch to other companies or young wrestlers in the future. Clearly, there are a lot of hungry upstarts out there who are chomping at the bit to show off what they can do, much like a young Io Shirai, Kay Lee Ray, or Viper aka Piper Niven aka Doudrop once was. At the World Climax Cinderella Rumble, we could be looking at our next major star and not even know it yet.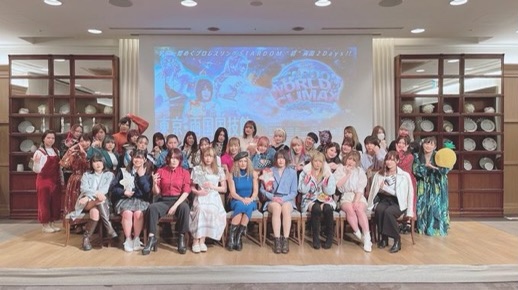 Whilst watching the press conference for this match, you can feel an energy in the room, a lot of these young women with the world at their feet. And with every bump, with every early morning, with every late night, with every drill, with every grueling training regiment, with every drop of blood, sweat, and tears, it's all been leading up to this. With the world watching, they are determined to prove themselves and if I can find a word to describe the look in their eyes, it's hope.