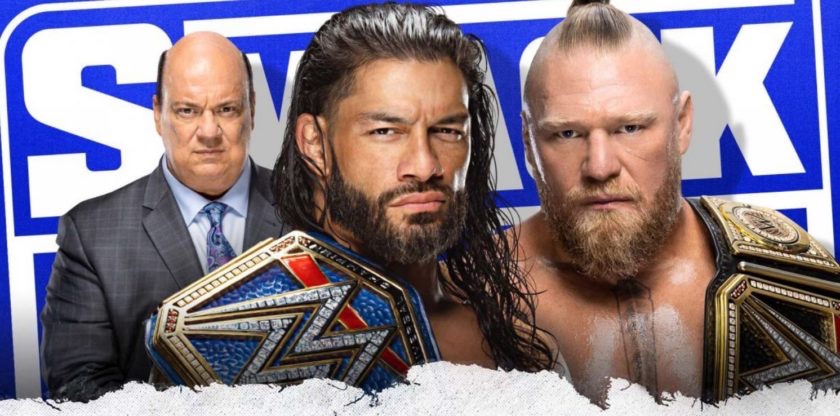 Welcome to Wrestle Purists' coverage of Smackdown on March 25th, 2022.
Brock Lesnar Backstage Promo
Lesnar is waiting outside of Reigns's locker room, says he's been told to not go after Reigns unless provoked. He tells the interviewer he's going to stay in Reigns's locker room and wait for "a good provokin'," before going in and tearing it up a little.
Shinsuke Nakamura defeats Jimmy Uso
The Usos brawl a little with Boogs and Nakamura before the match, but get thrown out. After a commercial break Jimmy and Nakamura are in the ring to start the match. Boogs and Jey get into a fight on the outside, leading to Jimmy getting distracted and Nakamura hitting the Kinshasa for the three count.
Backstage with Brock Lesnar
Right after a recap of the Kevin Owens segment from Raw, the camera cuts to Lesnar still sitting in Reigns's locker room, eating grapes and making more of a mess.
Backstage Interview with Drew McIntyre
McIntyre hypes up his match with Corbin at WrestleMania, saying it's personal and McIntyre wants to beat Corbin a where everyone can see him.
Happy Corbin and Madcap Moss Backstage Promo
After a brief video package on Corbin, he and Moss are talking about the WrestleMania match. Moss tells another really bad joke, and Corbin is not amused.
Xavier Woods defeats Ridge Holland
Kingston cuts a quick promo before the match, introducing the returning Xavier Woods, who will be taking on Holland instead of Kingston. Woods wins in about a minute with a roll up.
Roman Reigns Promo
Reigns and Heyman cut a promo from their car. Reigns threatens Lesnar, telling him he needs to be out of his locker room by the time he makes it to the Barclays Center.
Ronda Rousey In-ring Promo
Rousey says she's going to make Charlotte Flair give her the belt after she beats her at WrestleMania. She then calls out Flair to come to the ring, but Flair appears on the Titantron to say she's not coming. The two trade barbs, and Rousey says if Flair can beat her it will be the biggest thing the other woman has done in her career, then Rousey leaves the ring.
Backstage with Brock Lesnar
An Interviewer talks to Lesnar, asking if he should leave after what Reigns said earlier. Lesnar says he's hoping Reigns shows up, and that he's running out of things to smash.
Angel defeats Ricochet
Commentary tells us before the match that if Angel wins he'll get a title match against Ricochet for the Intercontinental title. Angel gets a quick the roll up victory after Humberto distracts Ricochet
After the match Ricochet cuts a promo, challenging Humberto to a match.
Humberto defeats Ricochet
This match goes longer than the previous one. Ricochet gets counted out after Angel grabs his leg to stop him getting back in the ring, giving Humberto his own win of the champ.
Sami Zayn Backstage Interview
Zayn goes over his match with Johnny Knoxville at WrestleMania. He goes over how Knoxville has no chance in the anything goes match they'll have.
Pat McAfee and Austin Theory Segment
As the commentary team talks about what Zayn said, Austin Theory smacks McAfee from behind and runs off. McAfee chases him backstage, but Theory runs into Mr. McMahon's office.
Triple H Situation is discussed
Before the next match begins, McAfee and Michael Cole discuss Triple H's announcement of his in-ring retirement. For more details, read our article on the announcement here.
Sasha Banks defeats Zelina Vega, Rhea Ripley and Shayna Baszler
The participants teammates start getting involved, and after commercial break we're told they were kicked out from ringside. Banks eventually gets the submission win on Vega after Ripley and Baszler were taken out.
After the match Reigns and Heyman are shown entering the arena. Following the commercial break, a triple threat between Ricochet, Angel and Humberto for the Intercontinental Championship is announced for next week.
Roman Reigns and Brock Lesnar In-ring Segment
Reigns makes his way to the ring with Heyman in tow. Reigns does the usual opening schtick, then threatens Lesnar again. The camera cuts to show the locker room, with Lesnar no longer being there.
Reigns asks where Lesnar is, only for the camera to cut again to Lesnar outside of Reigns's car with a pickaxe. Lesnar goes to town on the vehicle, and Reigns talks some trash before Lesnar leaves to make his way to the ring.
Lesnar makes his way through the crowd, standing on the announce table and having a stare down with Reigns. Lesnar grabs a chair, and uses it to smash security. The Usos show up, but they and Reigns make their way out of the ring when Lesnar comes in with the chair.
Lesnar beats on a security guard for a bit, before getting back on the table and raising the title to the crowd. The camera cuts to Reigns backstage, who says Lesnar will acknowledge him at WrestleMania. The camera cuts back to Lesnar to close the show.