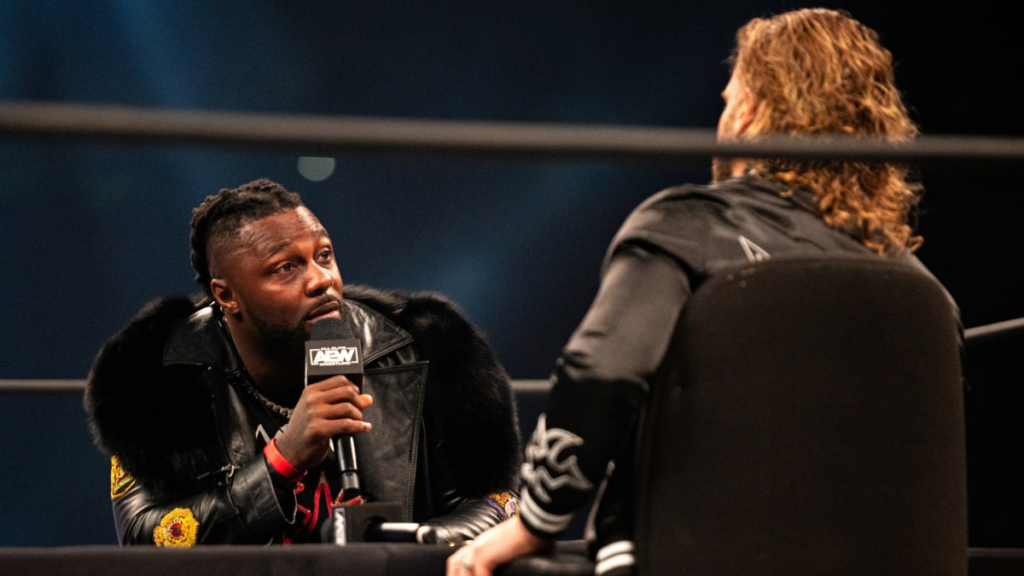 In All Elite Wrestling's early days, "Hangman" Adam Page quickly emerged as a future main event act. The former Bullet Club member headlined the first All Out opposite Chris Jericho in the match that determined the company's first world champion. To crown him there would have been too early. Not because he was bad. Far from it. He just wasn't… great. He needed a little more time to cook, if you will.
A little over two years later, Page won his first AEW World Championship. He dethroned former friend Kenny Omega in what, to that point, was the greatest world title match in the company's brief history. It brought a years-long story that doubled as a meditation on self-doubt and anxiety to the happiest, most logical conclusion. With him conquering his demons.
Adam Page's title reign was good. It was not great. Kenny Omega's "Belt Collector" reign was great, and may have set an unfairly high standard for future world title holders. Page had great matches, most notably a pair of unfathomably excellent ones against Bryan Danielson, both of which rank quite favorably among the best of the 21st century. But, it seldom felt like he was the top guy. That distinction, for the times he was there, went to CM Punk.
CM Punk and Hangman Page have real-life issues. That much has been made abundantly clear over the last year and a half. Considering how good the two of them are separate from one another, it was disappointing to see them have very little chemistry on-screen. The feud culminated in a match for Page's world title at 2022's Double or Nothing. The match was just fine, but Punk won the world title, ending Page's reign while it felt like there was still so much for him to do.
Page competed a few more times in 2022, perhaps most notably in the IWGP World Heavyweight Championship four-way match at Forbidden Door that temporarily put Adam Cole's career on hiatus. He also competed alongside the Dark Order's John Silver and Alex Reynolds in the tournament for the then-new Trios Championships, losing to Kenny Omega & The Young Bucks, who went on to win the whole thing at All Out. On the first Dynamite after Brawl Out, Page vs. Danielson III took place as part of a tournament to crown a new World Champion following CM Punk's suspension. Page lost that as well.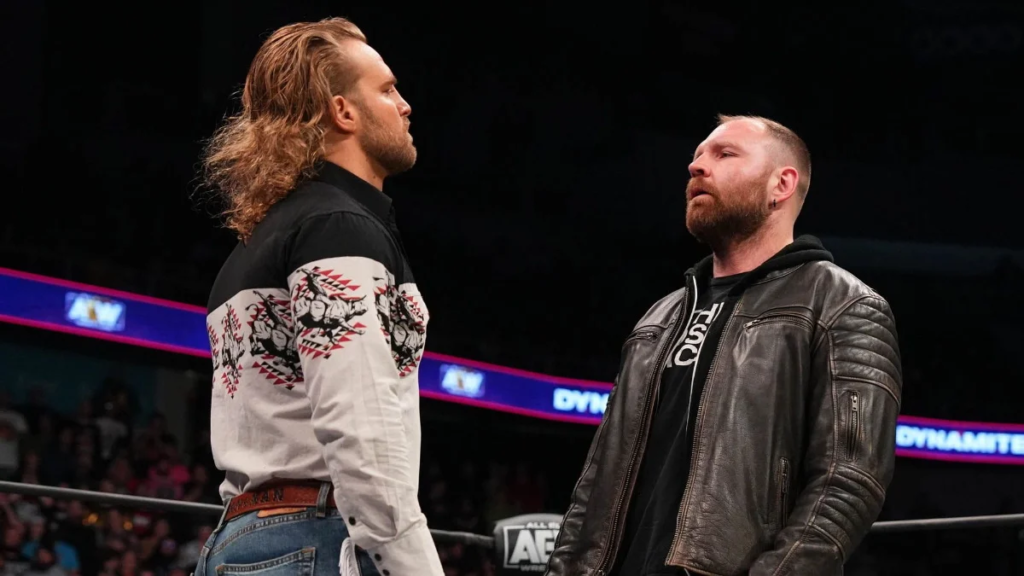 In October 2022, Jon Moxley and Adam Page had their first match against one another, for the world title that Moxley regained after winning the aforementioned tournament. The two were having a match that looked like it was going to cross into "great" territory before Page suffered a concussion following a Moxley lariat. The match was quickly called off, and Page was off TV for weeks. Page's return came with Moxley as his target, and the two had a rematch on the second Dynamite of 2023. Page won that match, becoming the first wrestler to beat Moxley on Dynamite in nearly a year and a half.
Their third encounter ended with a Moxley roll-up victory, so a fourth match was made for Revolution, this time in a Texas Death Match. The match at Revolution was special. It was everything you would want out of a feud-ending match (entirely too much for me to try to retell), with both men putting forth some of the best work of their entire careers and ending with Page becoming the first and only man to make Moxley submit in AEW.
The great Moxley and Page feud spun off into the much less great Blackpool Combat Club and The Elite feud, with Page rejoining his Elite friends after years apart. Since then, Page has competed in almost exclusively multi-man tag team matches, including a Blood & Guts match that went too long and failed to justify its length. He's not in the title hunt anymore. He had the fire needed to beat Moxley, but since then, he hasn't done much else as a singles wrestler. A dark cloud started hanging over his head in the post-title loss days of his career, and so far, he has not been able to get rid of it.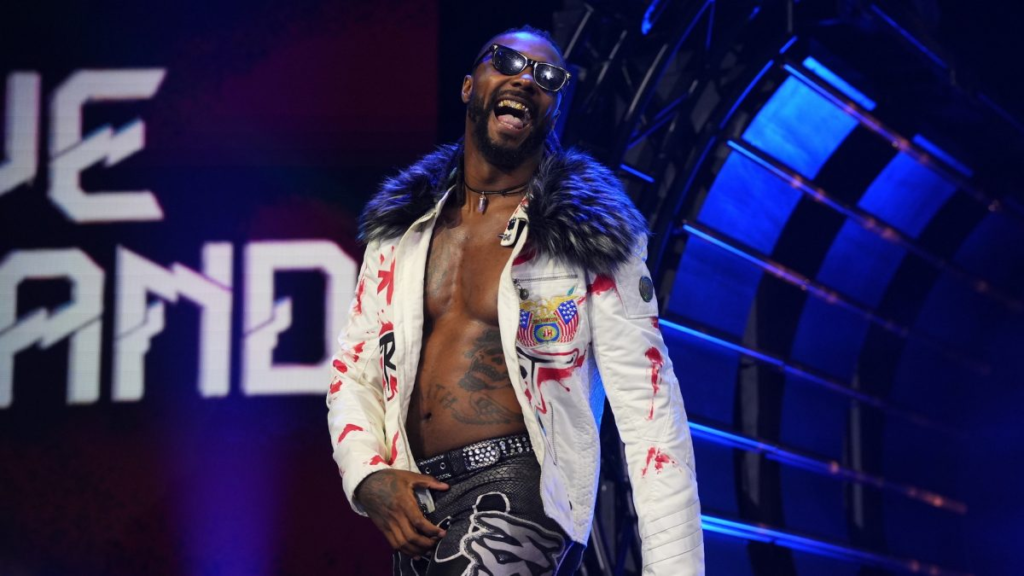 Swerve Strickland is anything but complacent. As Shane Strickland, he debuted in 2011 but started making a name for himself on the independent circuit, primarily in Combat Zone Wrestling, Evolve, and DEFY. By 2017, he held both the DEFY and CZW titles at the same time. He picked up titles everywhere he went and established himself as a wrestler that any major company in the world should have been interested in signing. In 2019, he got that chance. He signed with WWE in April of that year, being renamed Isaiah "Swerve" Scott and going to NXT.
Swerve's time in NXT, or WWE more broadly, was not even close to what it should have been. He worked on both 205 Live and NXT, losing a lot in NXT, but winning the majority of his 205 Live matches. He also became the leader of the heel faction Hit Row, a group that was entertaining together but featured more than one talent without much wrestling experience.
Swerve lost multiple matches for the NXT Cruiserweight Championship, though he and former Lucha Underground alum Santos Escobar had a great match at NXT Takeover 31. He briefly won the NXT North American Championship, even defending it once, but lost it to Carmelo Hayes in 72 seconds. Shortly after, he and the rest of Hit Row were called up to Smackdown, and a couple of weeks after their Smackdown debuts, they were all released. All of them went back to WWE when Triple H took over, except Swerve. When a wrestler gets released or leaves a company, people like to talk about how the company "fumbled" and they were a main event talent that needed an opportunity. Most of the time, it's not true. On this occasion, it was entirely true.
Swerve Strickland's AEW tenure has had high points. The highest point so far being he and Keith Lee's defense of the tag titles against The Acclaimed in one of the best tag matches that a company known for tag team wrestling has ever produced. Since turning heel, he's gone even further into displaying those ruthless tendencies that he showed while he was still a tweener. He's wrestled a collection of fun matches, most recently a tag team Coffin Match alongside Christian Cage against Darby Allin and Sting at All In. The Mogul Embassy has gotten over as a stable with Swerve standing out as The One. Prince Nana's "swerve" dance has gotten over as well. Despite Swerve doing some of the best work of his professional wrestling career and clearly having the makings of a main event heel, he has rarely interacted with the top guys in AEW (save for an International Championship match against Orange Cassidy). Until now.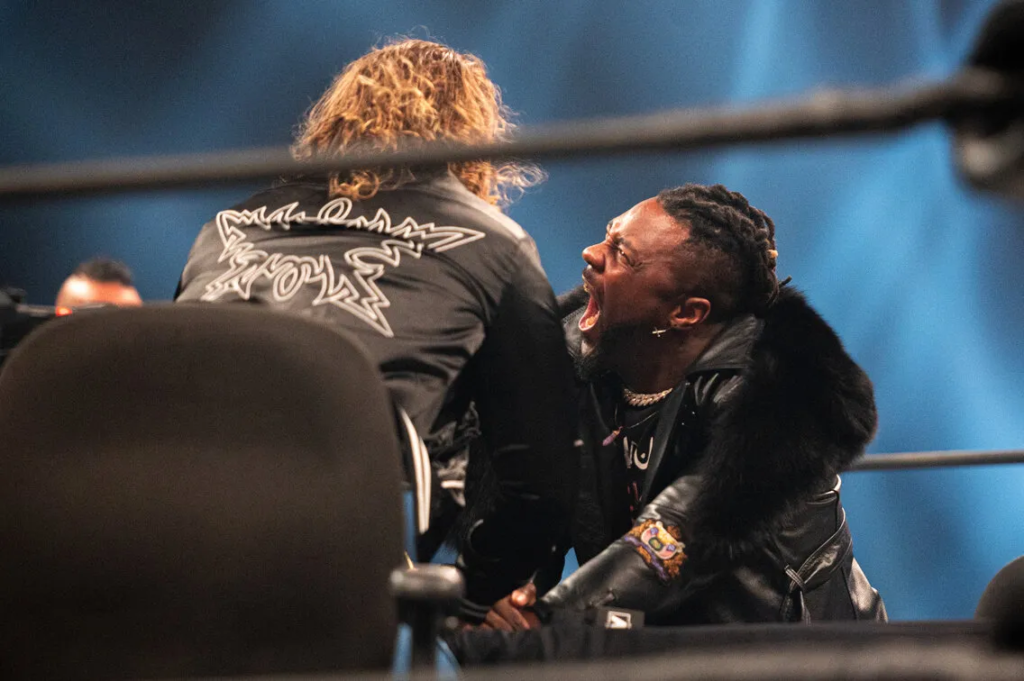 In three weeks, Swerve Strickland and Adam Page have turned their conflict into a feud worthy of a pay-per-view main event. During their first face-to-face segment, Swerve made a number of valid points. Page became complacent, being okay with teaming up with The Elite again instead of pursuing championship goals. If Swerve had even one opportunity that Page had gotten over the last year, he would have been the first Black AEW world champion by now. He's probably right. His last point speaks to a greater issue about how professional wrestling treats Black talent, but that's for another day.
At their contract signing this past Wednesday, Page talked about the dark cloud that followed him around. Even though all these great things happened (he reunited with The Elite and beat Jon Moxley), the cloud kept coming back and it started to rain. He cut a very earnest babyface promo, reminiscent of something that would have come out of a southern territory in the mid-1980s. Then Swerve came back with the line of the night.
"By the way, it rains an awful lot in Seattle."
If the preceding seven minutes or the first promo a few weeks ago didn't sell you on a match between the two, that line probably did. It's such a simple comment, but it cuts so deep. Adam Page's story for most of the last five years has been one of self-doubt, anxiety, depression, and overcoming those things to reach the pinnacle of this industry. With one line, Swerve made the match personal. Yes, Page talks a big game, but it has often felt like a front for his true feelings. For Swerve Strickland, this is strictly business. Adam Page is just in his way.
WrestleDream marks the first time that AEW is running a pay-per-view in Seattle. There will be two hometown (well, home state) heroes on the show, with Darby Allin facing Christian and Bryan Danielson facing Zack Sabre Jr. And though those will both be great, the most interesting match on the show is the one with the hometown villain. Swerve and Page have the potential to steal the show, and I hope it does. The man who got too comfortable against the man who's never satisfied. May the best competitor win.