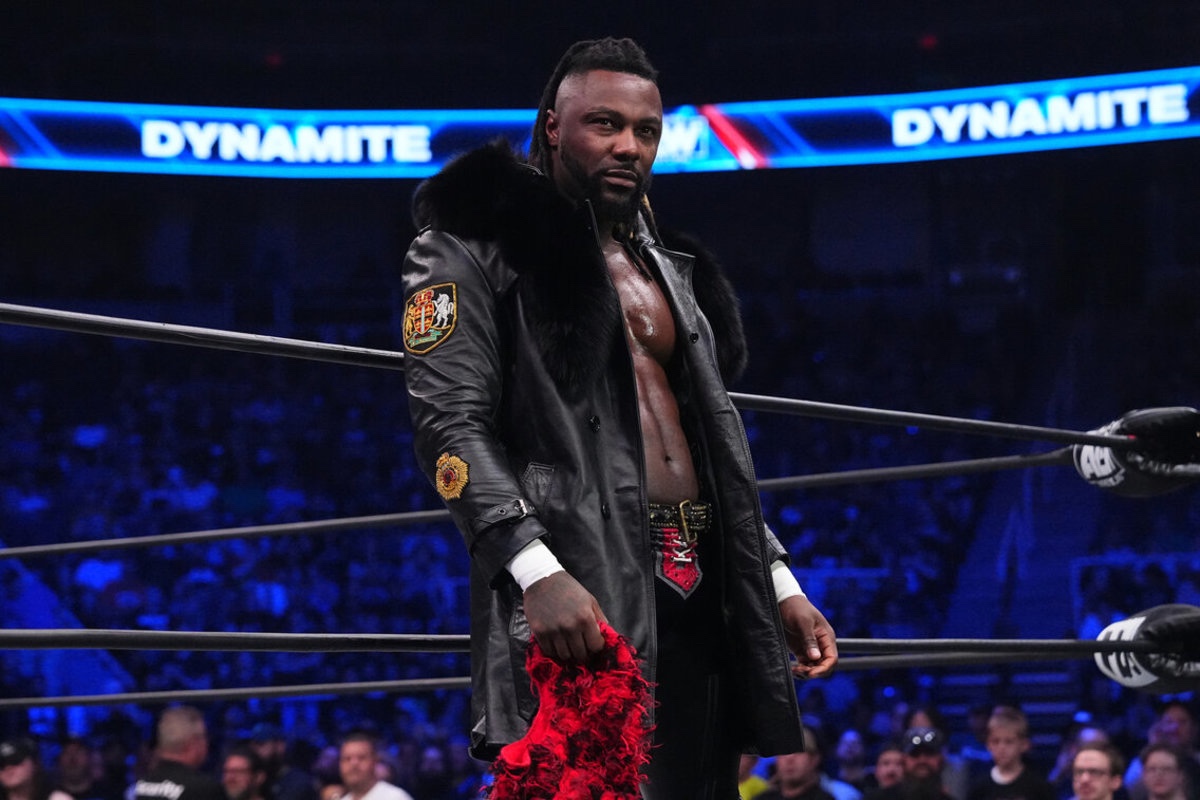 Swerve Strickland gives us his thoughts on how his character has developed, his relationship with Tony Khan and more.
Giving an interview to WrestlePurists, Strickland was first asked about the formation of The Mogul Embassy, where he revealed that the idea to merge the Mogul Affiliates with The Embassy was something which came from Tony Khan.
"Tony Khan came up with the idea of the merger, merging The Embassy with The Mogul Affiliates and putting that together"

-Swerve Strickland
Next, Swerve reflected on his recent character work, saying that he felt as if his on-screen descent into madness was a natural progression following the coffin match that he and Christian Cage lost at AEW All In: Wembley.
"Seeing the rise and the descent into madness of my character role and know that Sting has put me in a coffin at All In in front of 80,000 people, that should have some type of mental affect on someone. You don't want something like that to just go lost, y'know? Thats when I was like 'okay, I been in a coffin for a week and a half, that would do something to anybody.

"Some people were like 'Swerve should win', like, no, Swerve should be affected. This is a transition of a man's mental, like it was already on the brink with going to Nick Wayne's house and assaulting him at the wrestling school. So you already seen what I was capable of at my own free will.

"Now, seeing someone break me with Darby Allin & Sting in front of that many people, the biggest anticipation and the biggest creative way to come out of that is 'who is gonna be my first victim coming out of that? Who's gonna be the first person to truly feel the wrath of what my transition was gonna be, and it was Hangman Page."

-Swerve Strickland
Strickland then talked about his current relationship with Tony Khan, stating that he has been happy to trust the boss with his creative direction as of late. He'd elaborate by saying that the process is much more smooth these days with both sides cooperating well when it comes to what Swerve will do next.
"It's definitely changed in many ways, like the fact when me and Tony first year, he came on my podcast, we really chopped it up and stuff and he's always believed in me, it was just a matter of positioning me in a place where it benefitted me the most rather than just putting me anywhere. I've always been in a spot where I have my own creative control on certain things and points but then I have to be mindful of the fact this is his promotion, this is his show, he wants things to go a certain way and I gotta trust and respect that he's doing whats best for me in the long run too.

"So instead of me trying to take control of every single thing that I have and what I wanna do, I gotta understand and trust him to be like 'you know what? Ima take my hands of the steering wheel and let him drive it and let me just be passenger' and trust the creative process of the lead creator of this product and thats what got us to where we're at right now with Hangman. And I was right, my intuition was right to really trust him, and Tony in so many different languages he will speak was tryna speak that sentiment to me and now I'm listening. Now I'm like "Yes. What do you need? How do you see this going? What so you want?" Rather than tryna preach to him 'this will work, this is whats gonna happen, this is what I want', y'know?

"Now its kinda reversed but that built over a year of back and forth, now its not back and forth anymore. It's like 'alright, this is where we're going' and I'm listening. And then 'this where we're going' and he's listening. It's not necessarily a battle, I wouldn't say battle but yeah, it was never necessarily a battle, it's just like 'what about this? What about this? What about this?' And I was like "okay, we should go this way, okay I like that, can we do this? Sure. Can we do this? Sure" and now its like me asking what does he want and how does he want this portrayed and the second half of this year has been one of the smoothest rides I've ever had in my wrestling career anywhere."

-Swerve Strickland
To expand on the element of trust between himself and Tony Khan, Swerve discussed how much of a 'badge of honor' it was for him to be given the opportunity to work with Sting in front of 80,000 people at Wembley. Also, Strickland sees his recent 15-minute match with Bryan Danielson on Dynamite to be a further reflection of the great relationship he and Khan have.
"The fact that he trusts me, its a big badge of honor for me. In this past year he trusted me to go out there with Sting in front of 80,000 people, and another thing he trusted me to go out there 15 minutes in the ring with Bryan Danielson commercial free.

"Those two big things is like I trust him and he trusts me, and that's a great relationship to have."

-Swerve Strickland
To close, Swerve was asked about why the potential feud between himself and Keith Lee didn't come to be, as many fans are confused as to why no singles match has taken place between the two former tag team partners since Strickland broke up their alliance last December. The 33-year-old attempted to clarify the situation by saying that it is a creative decision that both he and Keith have to trust.
"That's a creative decision. I wouldn't say there's anything personal, it's a creative decision. And once again, that's something I have to trust, that's something Keith has to trust, and something the fans have to trust in watching the product. We haven't steered you wrong yet."

-Swerve Strickland
Strickland is set to battle Hangman Page in a Texas Death Match at Full Gear on November 18, the second match in their series after Swerve picked up a win over his opponent at WrestleDream. The star has been riding a huge wave of momentum as of late and is someone that many fans have touted as a future AEW World Champion.
If you use any of the quotes above, please link back to the video & credit WrestlePurists.com with a h/t for the transcription.