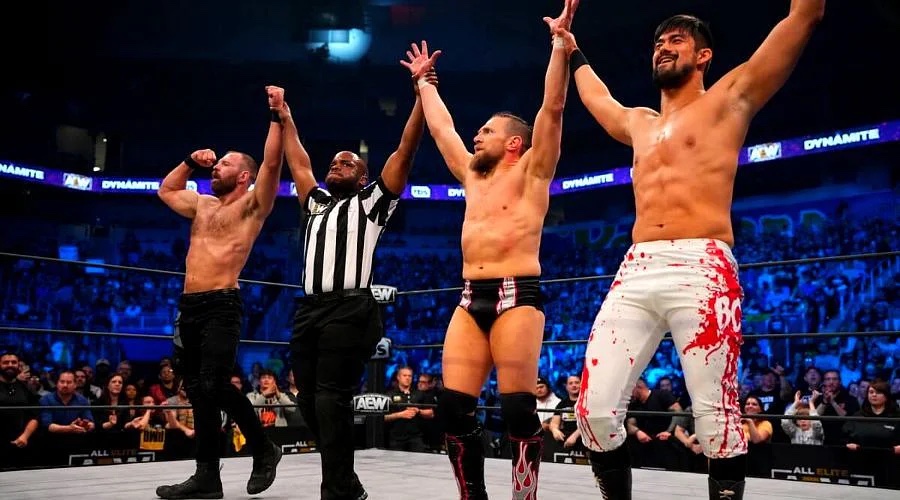 In wrestling, fans are occasionally given the treat of something special, not yet knowing just how special that thing is about to become. The rise of Becky Lynch, the Okada/Omega series, and BULLET Club are some, just to name a few.
I am predicting that the Blackpool Combat Club may be one of those things. A safe bet, seeing as it immediately consisted of Jon Moxley, Bryan Danielson, and William Regal, but that's the thing, this is setting up for a monumental future to come.
To set the stage, this budding group of wrestlers, already expanding, originates from two men.
Following his heartfelt and emotional return from rehab, Jon Moxley returned to Dynamite action on February 2nd. His opponent was Wheeler Yuta, accompanied by the promotion's resident goofballs, Orange Cassidy and Danhausen. Yuta would lose to Moxley, but this was not to be their final encounter.
During the purveyor of unscripted violence's celebration, Moxley would be interrupted by a cheery Bryan Danielson, who, instead of challenging Jon Moxley, extended an olive branch. The offer? To join in a union that could bring prominence to wrestlers that in Danielson's eyes, deserved to be AEW's biggest prize fighters.
There was to be no immediate answer until eventually, Jon Moxley was announced to make his decision to the whole world, and it wasn't a yes, no, or even a maybe. Instead, it was a challenge for the upcoming Revolution pay-per-view, as Moxley memorably stated that he doesn't stand side-by-side with anyone until he bleeds with them first.
Prior to Revolution, Moxley had never beaten Danielson on the independent scene. That hungry, angry young wrestler was not able to slay the American Dragon but he wasn't that same kid anymore. He's a vicious, bloodthirsty destroyer now, and nothing like what Danielson faced before. He's a monster, and the snapping of bones and tendons constitutes music for him in his bloody symphony.
Finally standing across the ring from each other at Revolution, both men would paint the mat with hues of maroon, pouring gallons of crimson from their bodies. Danielson, the technical wrestling wizard and Moxley, the brawling, bruising shark tore each other apart but in the end, the latter would achieve a career-first, barely emerging the victor.
The only celebration was continued violence though, as what once was a promise of union sealed in blood had quickly become an uncontrollable fight. That was until a man important to their respective pasts entered at least, stepping through the ropes with disgust, here to speak the only means of reason that these men knew.
William Regal. Fresh off of his WWE release, he knew only one thing was going to steer this stable of wrestlers in the right direction: someone who actually knew direction. He fought most of his life for direction and he wasn't going to let these men's rage get in the way of a perfect wrestling future. Literally slapping sense into Moxley and Danielson, Regal commanded respect and honor, for the ring is sacred and he shan't have it be dishonored.
With his authority, perhaps this vision of hazy dreams will become solidified into stark reality.
On the night that Bryan Danielson approached Jon Moxley, he mentioned a selection of younger talent: Lee Moriarty, Daniel Garcia, and Wheeler Yuta. 'The American Dragon' mused that Moriarty shouldn't be squandered by a merely good wrestler like Matt Sydal, that Daniel Garcia shouldn't be surrounded by stooges like 2point0, and that Wheeler Yuta would fare better not being aligned by the Best Friends stable.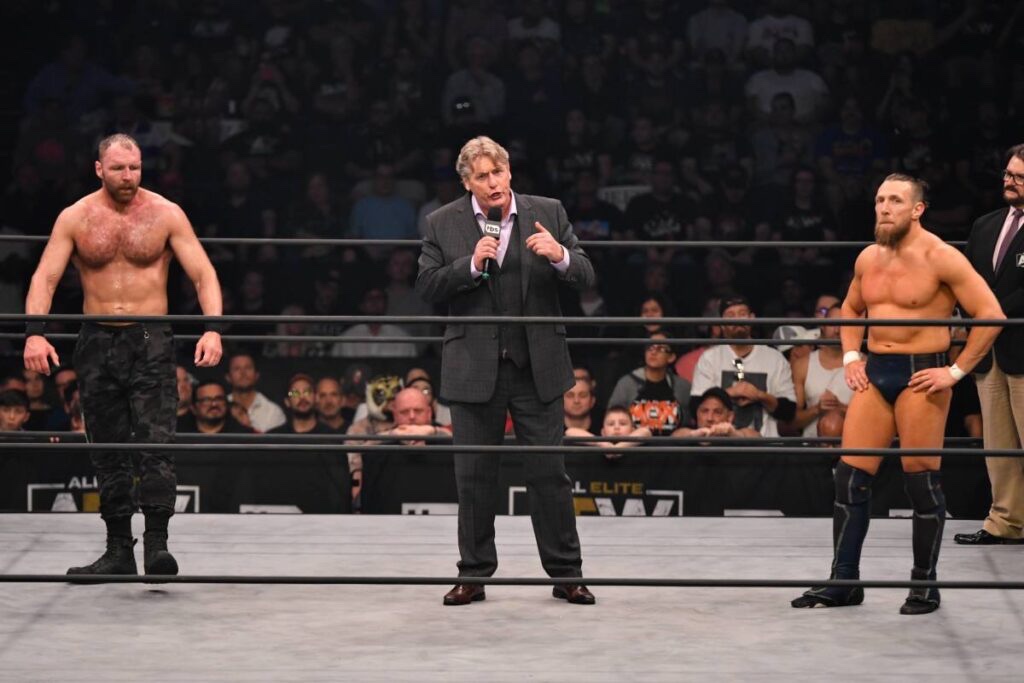 The trio of Regal, Danielson, and Moxley's prophetic premonition feels so obvious; salivating fans now not only want this, they need this. It dangles before us, so tantalizing, with pieces set in place for the team with the Moxley-coined name: Blackpool Combat Club.
Daniel Garcia as of now has joined his mentors in the ranks of Chris Jericho's Appreciation Society, with the titular wrestler and his lackey Jake Hager as sports entertainers – a phrase that many fans of Garcia bemoan. He's supposed to be a wrestler's wrestler, a chosen one at that. Yet, he's in the hands of those who are going to take advantage of his youth and mold him in their vision, as opposed to the path destiny itself has laid out for him.
Lee Moriarty is still evolving on AEW Dark and Dark: Elevation with Sydal, and yet it feels like he should be doing more. The peddler of Taigastyle (his own style of wrestling that sees him strike and pounce as, well, a tiger.) deserves to be in the marquee, to put on main event matches now. This is apparent in how insanely amazing his matches on the indies are. It is his time, but how he will see this remains unknown for now.
Now, we get to Wheeler Yuta – who independent wrestling fans see as someone truly sensational. A real star in the making, and he shone as one truly, on the April 8th episode of AEW Rampage, as a bitter member of the Best Friends, tired of the way he was treated by a contemporary in the group, Trent Berretta. Trent had been rude and disrespectful at many turns in Wheeler's story, cutting him down and insulting him at almost every instance, but on this night, fell to 'The American Dragon' in Rampage's opening match.
Meanwhile, Yuta entered this episode as ROH Pure Champion, winning the belt a week prior at ROH's Supercard of Honor. Jon Moxley, again Yuta's opponent tonight, spared no expense in telling the fresher face that he wasn't fighting by Pure rules. Instead, he promised to spill out Yuta's guts across the ring, finally finding out what he's really made of, quite literally perhaps.
In promoting the episode, Tony Khan himself would state that this match made Wheeler Yuta a star. Watch it yourself if you don't believe Tony, and see, see that young Yuta is someone who can carry a torch to those who came before. Witness as he is drained of that plasma, yet still giving no quarter. Every near-fall kick-out brings him closer, every refusal to tap speaks to how he is one to jump in to fight with the wild animal that is Jon Moxley. Bask with him as he finally gains not only Jon's respect, but that of Bryan Danielson and William Regal as the latter finally shakes his hand, marked by Yuta's own writing, the initials 'BCC' etched in blood.
The story hasn't ended from there, ahead of 2022's Double or Nothing. Since that brutal battle, Yuta has went on to represent the BCC during the Best of the Super Juniors in New Japan Pro-Wrestling, while his mentors have consorted with the likes of Proud 'n' Powerful and Eddie Kingston as they stand on defense from the Jericho Appreciation Society as their leader is apparently a wizard who throws fireballs in people's faces, a fact that he will repeat ad nauseum if you hadn't heard him say that the other fifty-two times he's said it. No, I didn't keep count.
Already in this short period of time, Blackpool Combat Club has carved out a niche in their matches, the sort of template they can copy and paste without growing stale. Its flames are sparked of the moments when their opponents try to charge the ring in attempt to rescue their teammates, all for naught, as they ensnare themselves in the net that is the barbaric takedowns simultaneously being ran by Moxley, Yuta, and Danielson, as they deliver their own personal brand of punishment until the bell rings and their song is sung.
Those that join Blackpool Combat Club's ranks find themselves in vicious company. Yuta was one of the first pins to drop, and there could be many more.
Perhaps Moxley's protégé from New Japan Professional Wrestling, Shota Umino, brings deliverance and pain when being Club affiliated. Maybe Lee Moriarty is tired of the meandering around with Matt Sydal and is willing to spill red to flank the gods who rain carnage on those they cross. I can see Daniel Garcia disavowing himself from the sports entertainers of the Jericho Appreciation Society, which already feels like a vehicle for Garcia to become who he is meant to be – after all, once he's spent long enough with them, he'll see they are stripping him of who he truly is…a wrestler. And if you dangle a bag of chips over his face long enough, there could stand chance that HOOK will abscond from Danhausen and further from Team Taz and joining The Blackpool Combat Club.
The Blackpool Combat Club give themselves not to any questionability, for they will bring all, and for all they bring in, they will carry that mantle. Joining them costs a small fee, however, and that debt is paid in blood. These are fighters, these are wrestlers and though their forms may be great, what they will do to you will not be pretty.
Stand in their way or get stepped on.