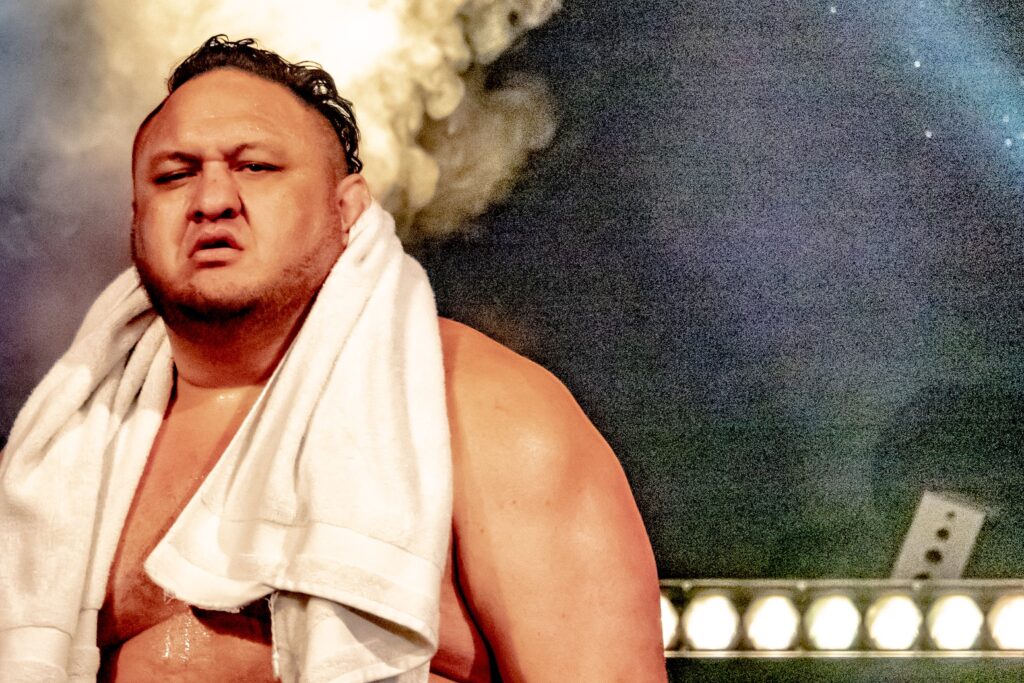 Though it increasingly feels like a distant memory, Samoa Joe's AEW debut wasn't even two months ago. Arriving at the conclusion of Tony Khan's first event as ROH owner, Joe was in action at the very next Dynamite. It's easy to forget now but in the months following his WWE release, there was understandable doubt surrounding Joe's potential place in All Elite Wrestling. Joe's battle with injuries had begun to dominate his story, increasingly showing the effects of a gruelling career. The recent inactivity had almost rendered Joe an unknown quantity, with many questioning what he had left in the tank as AEW already boasted an all-star roster.
Even then, a few things felt certain though, with the first being apparent just moments into Joe's debut. Wrestling fans love Samoa Joe, they always have, and they always will. In his first month and change as an AEW wrestler, Joe has received a hero's welcome at every turn. No matter how late into the show, those familiar 'Joe' chants emerge. That's important too, as in a generation of steady greats, there was always something slightly mercurial about Joe.
Don't get me wrong, Joe is a pro's pro and honestly, doesn't get enough credit for just how smart he is inside the ropes but there's always a sleeping giant within the man. Samoa Joe can produce solid, engaging efforts consistently but on the right night, with the right crowd, he can become a different kind of monster. Granted, once upon a time, the former ROH kingpin simply lived as that monster but even throughout his WWE stint, Joe would have these moments where once again, he was without peer.
Whether it was the rival standing opposite him or the audience watching on, Joe would explode with visible inspiration, rolling back the years in an instant. Compelling as he may be elsewhere, Samoa Joe is increasingly made for the big match, the big moment. Frankly, that's what always made AEW such an obvious fit for Joe, even before the purchase of Ring of Honor. With raucous crowds and stacked line-ups, AEW effectively hosts weekly TakeOver events and history suggested that if Joe landed in that setting, we'd quickly see the difference.
I say all this to concede that personally, I actually liked Joe's match with Karrion Kross. Certainly, it wasn't his finest hour and had its flaws but ultimately, I thought there was a decent amount of encouraging signs in there, especially considering the circumstances. After all, Joe was almost two years removed from the ring and in his last run, barely had the time to shake off any prior ring-rust anyway. Even still, I certainly understood the overarching concerns.
Try as he might though, the Capitol Wrestling Center just never seemed likely to truly reignite Joe's fire. Granted, that's where he had opted to be but as a fan, it certainly didn't feel like the correct place for Joe's career conclusion. Meanwhile, only two nights prior to that NXT Title match, CM Punk had returned to professional wrestling, making an iconic debut at 'The First Dance.' One month later, Bryan Danielson arrived too and as Joe's NXT Title reign came to a swift end, he suddenly felt like he was on the outside looking in.
Especially with the aforementioned purchase of ROH, that golden generation felt like they had a home on Wednesday nights, it just seemed like where Joe needed to be. Clearly, the audiences in attendance have agreed but I have to admit that beyond that, I was unsure of where Joe stood physically. Though he's since cleared it up, Joe's last in-ring return ended in medical mystery and he'd only had one match in the last two-plus years.
Just as the live crowd's response seemed certain though, it was always apparent that if nothing else, Joe would leave absolutely everything in that ring. The gravity of this moment was palpable, a chance for Joe to finish his story in style. On the big stage, with the wrestling world watching, Joe's legacy had been granted an extension and after so long just watching on, it was unfathomable that he'd leave any doubt.
It was hard to imagine Joe as anything more than an attraction for AEW though, even with that genuine optimism in mind. Weekly bouts were unlikely, with Joe instead probably pairing extended builds with eventual marquee matches. Well, that assumption couldn't have been more immediately wrong, as Joe has already wrestled five times in AEW, with just one of those being a short showcase match. That emphatic outing was Joe's debut, as he defeated Max Caster to earn a spot in the Owen Hart Foundation Tournament.
Honestly, that direction was as exciting as it was surprising, but Joe looked great against Caster, rightly protected by the dominant presentation. Two days later though, that protection would be quite violently erased. In a late addition to that week's episode of Rampage, it was announced that on the following Dynamite, Joe would be challenging Minoru Suzuki for his ROH Television Title. Only a week removed from his brief in-ring return, Joe would now enter a genuine dream match, battling one of the industry's most famed fighters.
Though it's eventual flavour seemed obvious, there was a mystery to that matchup, something strangely video game about it, especially with the ROH World Television Title hanging in the balance. Within seconds of the first bell ringing though, that mystery faded, replaced by something far simpler. Why? Well, Minoru Suzuki and Samoa Joe opened their Dynamite main event with a frenetic chop exchange, wild enough that Joe's chest wore the violence almost immediately. Even seventeen years later, it was hard to be anything but reminded of Joe's unforgettable duel with Kenta Kobashi.
Much had changed for Joe since that match, and perhaps those chops were a little slower now but to me, that moment represented something very special. After so little in-ring time in the previous two years, Joe refused to do anything but match the blistering pace of Suzuki's opening salvo. In fact, he actively encouraged its uptick. Almost two decades removed from that career-defining night in New York, Joe's eyes told a familiar tale. Just as he did against Kobashi, Joe stood defiantly, fighting with an absolute refusal of the pain that showed in his eyes.
Samoa Joe wasn't the same wrestler anymore but even after all these ups and downs, his spirit was as strong as ever. For me, that was enough to know that regardless of promotion, Joe was where he needed to be: back in the squared circle. Joe appeared actively debilitated by the bout's first act, but that was an endearing element of this bruising war. In truth, Joe probably wasn't fully prepared for a clash of the titans such as this but to me at least, that was really the point.
Joe had a choice to make and it was visually encapsulated in that first minute or two. Simply put, Joe opted to fight. With a hall of fame career behind him, Joe could have quite understandably stepped away, but he chose to give this thing one more shot. After a frustrating few years, Samoa Joe wasn't ready to concede defeat and as he stood in centre ring with Minoru Suzuki, not giving an inch, that passion poured through the screen.
Joe eventually closed the show, becoming ROH World Television Champion but from the outside looking in, it felt like he'd won far more than that against Suzuki. Since then, Joe has defended the Television Title, defeating Trent Beretta and also making it to the final of the Owen Hart Foundation Tournament, beating Johnny Elite as well as Kyle O'Reilly. Each time, Joe looks more comfortable, more and more like himself.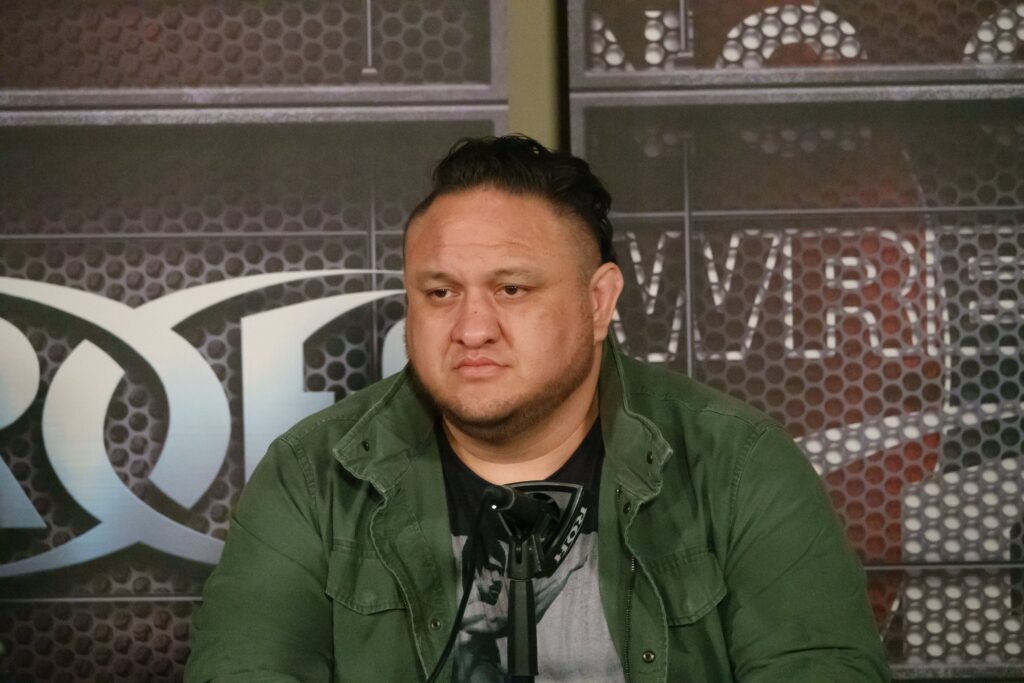 Slowly but surely, Samoa Joe is re-establishing himself as an active, competitive pro wrestler and honestly, we're still early enough in that process that it remains slightly surreal. Joe's not the same man that he was in 2005, but where his famed offence is a half-step slower, his wrestling mind is sharper than ever. With the audience behind him and his unparalleled aura still somehow intact, Joe is only just getting started in AEW.
As shown against O'Reilly, Joe is popular enough to successfully march to the beat of his own drum. After a night of high octane action, Joe and O'Reilly slowed things down, trusting themselves to work differently in the main event spot. After a detail-oriented match, the audience was still with them, their investment still leaning on the sheer adoration of Joe. With focused selling and mere bursts of his still electric explosiveness, Joe can take crowds on a ride, even in 2022.
That brings us to this Sunday, as Joe heads to The Owen Foundation Tournament Final, taking on Adam Cole, one of the few stars with an even comparable crowd connection. Two fan favourites with an already historic prize between them, this matchup only needed a few minutes to capture the imagination. Even on a line-up as loaded as Double or Nothing, this seems set to be one the night's most engaging encounters.
It's not lost on me how strangely sudden this whole process has been. It's still surreal honestly, perhaps due to the title or maybe the looming presence of Satnam Singh, I don't know. In many ways, Joe's existence in AEW still doesn't feel real to me, which is especially puzzling when you consider what a natural fit it's always been. Samoa Joe feels both at home while equally still seeming like a complete outsider. That's a bizarre mix, but seems ultimately fitting for Joe's cool, calm and yet also crazed demeanour.
Either way, Samoa Joe feels incredibly relevant once again, almost two decades removed from when he first ruled the wrestling world. That doesn't change the inevitable of course, Joe's story is still almost complete. Almost is the key word though, as that was previously vanishing from the tale. If indeed, Samoa Joe's in-ring career ended with that peculiar sight of him as NXT Champion again, he'd have been a credit to pro wrestling.
An absolute force of nature in his prime, Joe's legacy is etched in stone, one of the industry's most dynamic performers ever. Joe's place in history was and is secure but in AEW, he gets another chance to write his own ending. Whether this is Joe's final marquee match or just the first of a new series, it's a welcome addition to his already impressive catalogue. Two months ago, Joe's whole pro wrestling future seemed uncertain but on Sunday, another hero's welcome awaits him in Las Vegas.
As always, thanks to the remarkable JJ Williams (@JJWilliamsWON) for the fabulous photos.