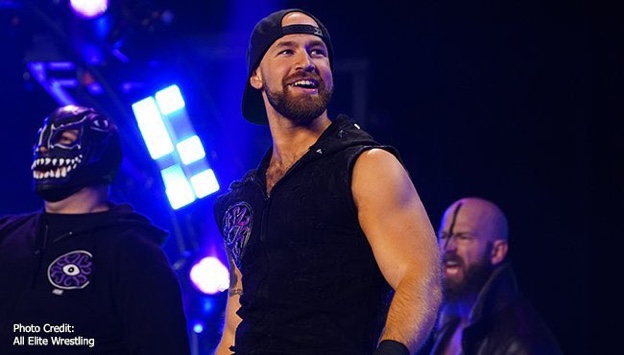 Following the departure of Stu Grayson earlier this year, it now appears that the Dark Order have lost another of its members, as Alan '5' Angels' AEW contract has now expired.
Rumours first began to circulate regarding Angels' AEW departure when a post was made on Reddit noting that The Dark Order's '5' had removed all references of AEW from his Twitter account, as well as changing his profile picture to all black.
Shortly after this, Bryan Alvarez of the Wrestling Observer confirmed that Angels' contract had in fact expired, although he noted that he is currenly expected to continue performing in AEW on a per-date deal.
Following on from this, the man joined Fightful Select's Sean Ross Sapp for an interview to discuss his future, where the Dark Order member officially confirmed that he would not be re-signing with AEW upon the expiration of his current deal, with Angels seeing more value and potential for growth elsewhere for the time being.
""My contract, I was told about a month and a half ago, that they are not going to re-sign me. They did offer me a per-appearance, which I decided not to take, just solely based off what I thought was best for me. I feel there is more room to grow outside of AEW, right now, at this point in my career. It's nothing against AEW or Tony Khan or any of the higher-ups in the business. It's a personal thing. I feel, me going on the Indies and showing people what I can really do and showing people that I am a good fucking wrestler, I feel that will raise my stock"

-Alan Angels
Additionally, Angels recently shared a statement regarding his future to his Twitter account (@Alan_V_Angels), where he once again reiterated that his departure solely came down to wanting prove himself outside of AEW, with the 24 year-old still having so much more to give.
Angels also shared that he now has his own merchandise on Pro Wrestling Tees.
Alan Angels recently made his NJPW Strong debut and has also been announced on an upcoming West Coast Pro show.
We look forward to seeing what the future holds for Alan Angels following his AEW departure,