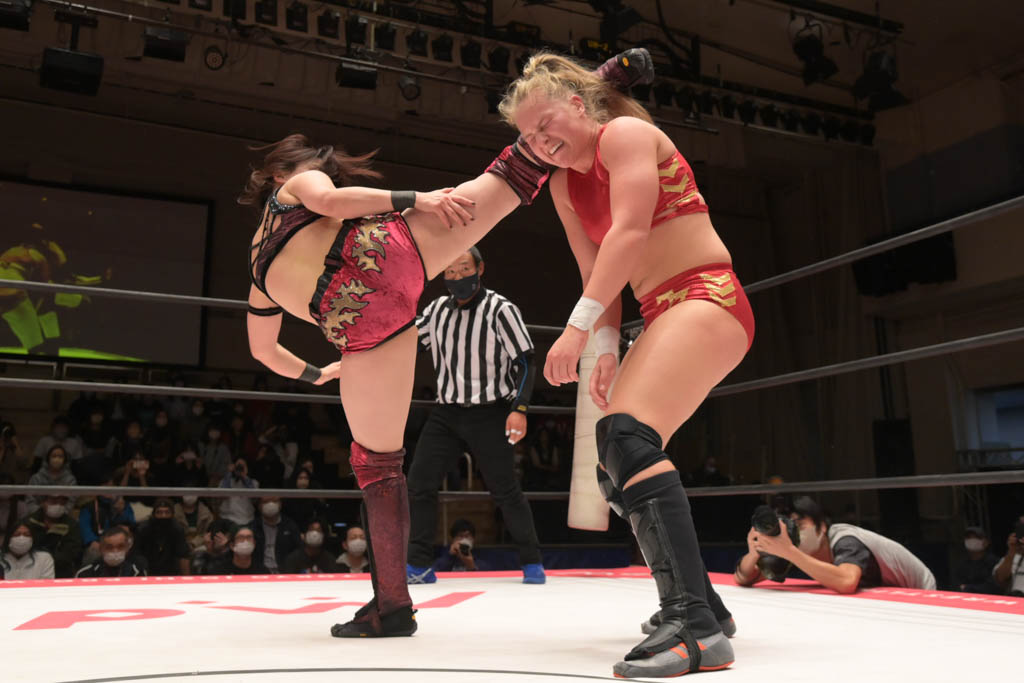 STARDOM
STARDOM had two Tag League shows last week with interesting results. After a 4-0 start, the team of Utami & Saya Kamitani have now lost two matches in a row against Thekla & Giulia and Inaba & Syuri. With that, they need to beat a 4-1 record on the first place in the Red Stars Block, sitting Natsupoi and Tam Nakano on the final day. Mafia Bella is also on 8 Points with a 4-2 record after losing to Momo Kohgo & Mayu Iwatani on Sunday. Syuri & Tomoka Inaba and Black Desire are also still in the race to win the block. The Blue Stars Block is as close as the Red Stars one. MaiHime is on top with a 4-1 record after beating Miyu Amasaki & AZM in the Korakuen Hall. The team that defeated them was Tora & Ruaka, who are dangerously waiting with a 4-2 record. The teams of Nanae Takahashi & Yuu and MIRAI & Ami Sourei are both at 7 Points with a 3-1-1 record. Not to forget last year's winner, FWC still have a chance with a 3-2 record. They will face MaiHime on the final day. Overall it is really close and the last two upcoming shows will decide the whole Tag League. Nothing is decided yet.

Also, STARDOM held another Showcase show. It had the typical vibe of the other Showcase shows, with the opener being a Falls Count Anywhere Four Way Match that was all about football due to the World Cup. All four Wrestlers had a jersey of a different nation on and just like in the world cup, Japan (Koguma) defeated Germany (AZM). Lady C won a four-way match against Kohgo, Kamitani and Himeka to win a free salon visit. Utami, Hina and MIRAI faced Hanan, Mayu and Maika in a Judo Jacket Rules Match. Maika is a 2nd dan Black Belt in Judo and has a track record of participating in national competitions with a corporate team after graduating from high school. She was the focal point of this match and made Hina tap out in the Rear Naked Choke to win the match for her team.
Natsu Sumire made her STARDOM comeback after leaving the promotion two years ago, teaming together with Hazuki against Natsuko Tora and Saki Kashima in a No Holds Barred Match. The Match was declared a No Contest after both STARS & Oedo Tai couldn't stop brawling inside the ring. After the match, Tora said that Natsu isn't part of Oedo Tai anymore. Unagi Sayaka made her return to STARDOM after starting the Gyan Period, where she wrestles all over the Indy Scene. She teamed with her Cosmic Angels Partners Natsupoi and Tam Nakano against Risa Sera, Suzu Suzuki and Hiragi Kurumi from Prominence in a hardcore Match. There were tons of crazy moments, like Tam and Risa having a Mob vs Kendostick Battle. In her return match, Unagi got pinned by Suzu. The Prominence Trio called out Oedo Tai and want a shot at the Artist of Stardom Titles. The Match will happen at the Queendom Show on the 29th of December. In the Main Event, The NEO Stardom Army defeated Thekla, Giulia and Mai Sakurai in an Exploding Coffin Match. The Mysterious Grim Reaper wasn't revealed and stays a mystery. It was a fun brawl with a weird ending. The exploding felt like the Moxley vs Kenny Revolution 2020 one.
Full Results for Stardom In Showcase Vol. 3 on November 26th
Nanae Takahashi & Yuu defeat Hanan & Saya Iida
Koguma defeats AZM, Ram Kaicho and Starlight in a Falls Count Anywhere Match
Lady C defeats Momo Kohgo, Himeka and Saya Kamitani
Maika, Hanan and Mayu Iwatani defeat Utami Hayashishita, Hina and MIRAI in a Judo Jacket Rules Match
Hazuki & Natsu Sumire vs Natsuko Tora & Saki Kashima ended in a No Contest
Risa Sera, Suzu Suzuki and Hiragi Kurumi defeat Unagi Sayaka, Natsupoi and Tam Nakano
Nanae Takahashi, Yuu and Mysterious Grim Reaper defeat Thekla, Giulia and Mai Sakurai in an Exploding Coffin Match

Official Goddesses Of STARDOM Tag League Standings after Day 8

RED STARS BLOCK –
8 – Saya Kamitani & Utami Hayashishita (4-2-0)
8 – Giulia & Thekla (4-2-0)
8 – Natsupoi & Tam Nakano (4-1-0)
7 – Syuri & Tomoka Inaba (3-1-1)
5 – Momo Watanabe & Starlight Kid (2-2-1)
4 – Mayu Iwatani & Momo Kohgo (2-2-0)
2 – Fukigen Death & Saki Kashima (1-4-0)
0 – Lady C & Mai Sakurai (0-6-0)

BLUE STARS BLOCK –
8 – Natsuko Tora & Ruaka (4-2-0)
8 – Himeka & Maika (4-1-0)
7 – Nanae Takahashi & Yuu (3-1-1)
7 – Ami Sourei & MIRAI (3-1-1)
6 – Hazuki & Koguma (3-2-0)
2 – Waka Tsukiyama & SAKI (1-4-0)
2 – AZM & Miyu Amasaki (1-4-0)
2 – Hanan & Saya Iida (1-5-0)
---
TJPW
Tokyo Joshi had the last big Korkuen Hall Show of the year on the 27th. The All Rise Show featured three title matches and a lot of angles for the upcoming January 4th Korakuen Hall Show. At the beginning of the show, Miu Watanabe announced that her next challenger is Trish Adora. The first title Match was an EVE Title match between the newly crowned Champion Miyu Yamashita against the former WWE Wrestler Millie McKenzie. Millie is just 22 years old and one of the best female talents the UK has and she showed here why she has so much potential. She put on a fight against the Ace of TJPW and came close to beating her multiple times, but in the end, the Pink Strikes wins the match and retains her title for the first time.
Yuki Arai & Saki Akai defended their Tag Team titles against Yuki Aino and Pom Harajuku. Pom replaced Raku who is out of the show with Covid. It is her first-ever title match and the crowd was fully behind her the whole match. For a last-minute replacement, Pom felt like a major focus of the match as, especially towards the end, she has multiple very near falls but in the end, Arai got her with her Axe Kick to retain. After Akai & Arai's victory, they were interrupted by a video from the Wasteland War Party. In it, Heidi Howitzer announced that she and Max The Impaler are the next challengers for the Tag Team Titles.
In the Main Event, 17-year-old Billie Starkz is challenging Yuka Sakazaki for the Princess Of Princess Title. Billie is one of the youngest Korakuen Hall Main Eventers and she showed out really well here. She isn't on the level of Yuka yet but in this Match, she showed how much potential is in her. She wants to improve and she will. I've no doubt about that. The Match turned out to be a pleasant surprise and the risk paid off. Yuka defeated Billie to retain her title for the first time. After the match, Miyu Yamashita challenged Yuka for a Match on the January 4th Korakuen Hall Show.
---
Match Of The Week
Millie McKenzie vs Miyu Yamashita for the EVE Title was the Match Of The Week. It was extremely hard-hitting. Great brutal-looking kicks, suplexes, forearms and knee strikes throughout and fast-paced match. Both were on the top of their game here, delivering a great match. Millie has the talent to hang with any woman from Japan. Win or lose, she has a hell of a future in that industry.

****