Hello all my fellow hoopers. Join me in my new stupid decision to do my own weekly match guide.
I decided to watch more wrestling like a sicko and follow the rush of yesterday from the newsletters. I'll do my own cheap version of that. Are the reviews going to make sense? Who knows. They're just my thoughts running wild on y'all. I can't promise you it'll be a weekly thing, but it's something I'm going to try to keep up with, whether it's one or two matches or all the matches I watch that week. We're going on this journey together. So let's hoop and watch some graps.
THE CRASH – FESTEJANDO XI JAN 28: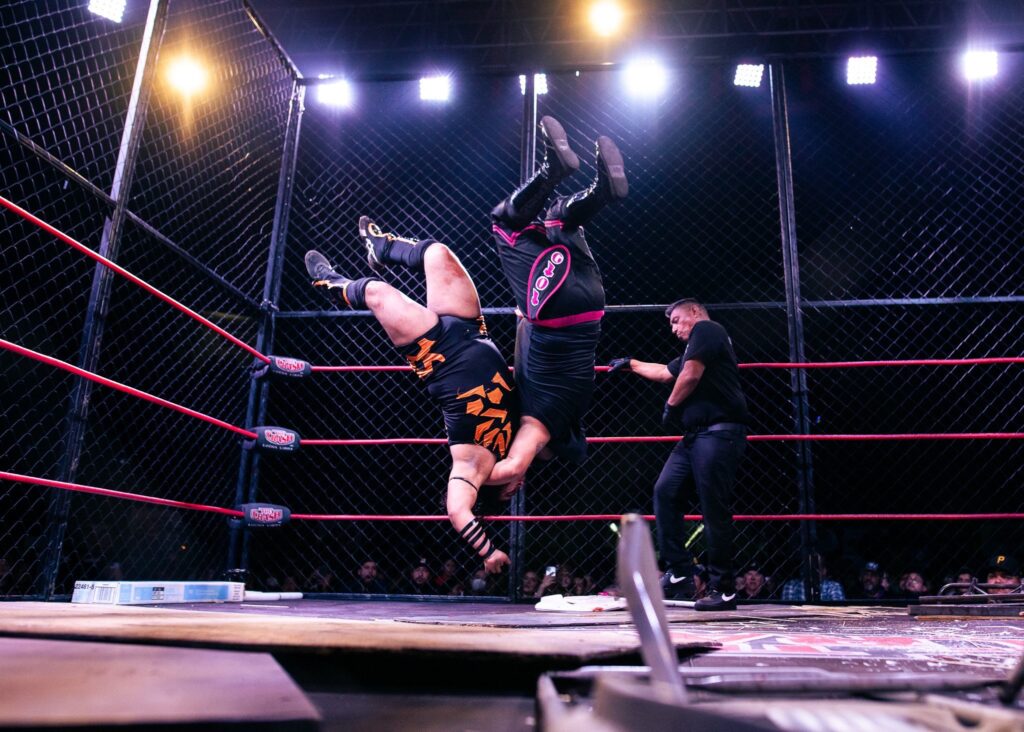 CABELLERA vs CABELLERA – Cagematch: Toto vs Proximo – ***
This match was something alright. It started with an outside brawl with Proximo attacking Toto during his entrance. The attack wasn't anything special, but the crowd were hot for it. After a minute or two Proximo finally gets Toto into the ring, and starts off working his forehead by stabbing him in the head with light tubes.
Toto is eventually able to fight off Proximo, but that was just a flash of light, not a real light at the end of the tunnel moment, as he's still drowning under this pressure. Maybe these lights might just be too bright. (Or perhaps too sharp depending on if Proximo keeps shanking him with them.) At one point Proximo finds himself setting up a table, although this ultimately leads to Toto finding that chance he's been looking for. He finally catches a break and catches him with a spear through the table, before following that up with a flurry of plastic chair shots to the head. Toto then gets his retribution for the earlier portion of the match by stabbing him in the head with light tubes.
The match isn't anything special up to this point. I usually don't care about selling or psychology, but for some reason, it was pissing me off during this match. They probably should've just done a hardcore match instead of a cage match. It's been like 12 minutes. I'm just begging someone to finally use the cage as a weapon, please. I'm praying to the lord El Santo. THANK GOD TOTO USED THE CAGE AS A WEAPON 15 MINUTES IN!!!! HE'S SLAMMING PROXIMO'S HEAD INTO THE CAGE.
If you're looking for a match where you can turn just off your brain and enjoy the carnage and sloppiness then this is the match for you. Overall, the final two minutes of this bout made it worth seeking out for me personally, but if you're a purist it might just piss you off. ***
CMLL Martes De Arena México JAN 31 –
CMLL World Trios Title Match: Los Infernales (Euforia, Hechicero & Mephisto) vs OneAtos (Esfinge, Black Star & Fugaz) – *** ½
Man, it's going to be weird rating and talking about these matches since CMLL uploads them all onto YouTube on a month's delay, but I can do what I want since this is my new gimmick. CMLL continues to be my new favourite promotion added to my rotation. It's been on fire ever since they got out of the pandemic and particularly on another planet since the start of 2023.
The first thing I'll say about this match is Los Infernales are now all on my first team drip squad.
Well anyways, let's talk about some graps. This was my first introduction to a lot of these luchadors. Black Star & Hechicero kicked off this match for their respective teams by jockeying for position until Black Star won the exchange, getting Hechicero in an abdominal stretch. Hechicero shifts his weight, taking the fight to the mat where it looked like he had the advantage, but Black Star wanted no part of that so he quickly sprawled to his feet.
Fugaz tagged in and paired up with Mephisto which wasn't a good start for him. He looked lost multiple times in this match, especially on the mat. I won't hold it against him too much because he's young, but it was definitely noticeable. The level of experience was apparent when Esfinge tagged himself in and started hooping with all three members of Los Infernales. Throughout the course of this match, I think I fell in love with Black Star. He was slow, big and stiffsky. He has a great charm to him.
The final 4 minutes of this match really kicked into another gear. It was honestly one of the most fun trios matches I've seen this year so far. Hechicero had a "holy shit" moment when he hit a flying tope to Esfinge at 100 Mph. Los Infernales defeated OneAtos in 13 minutes and whilst it wasn't a must-see match by any means, it's an exciting start if you're looking to jump into modern CMLL. – *** ½
And now after we had some fun in Mexico, it's time to travel to the Land of the Rising Sun for some beautiful puro. What better place to start than one of the greatest promotions in the history of this great sport, All Japan Pro Wrestling? To make things even better, we're starting with my favourite new wrestler, Kento Miyahara.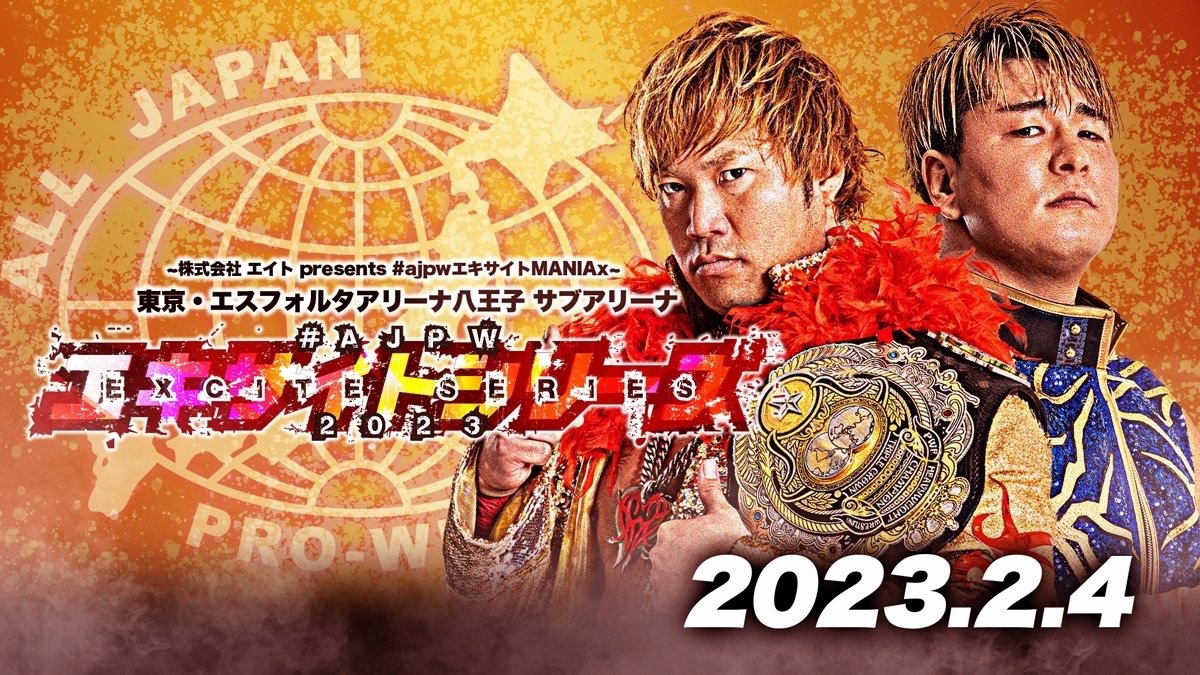 AJPW EXCITE SERIES 2024 TAG 1 FEB 4 –
Triple Crown Title Match: Kento Miyahara vs Yuma Aoyagi – **** ¾
To me, this is the match of the week and definitely one you should seek out. This was everything you could ever want in a big epic main event match. Kento Miyahara continues to be a shock to me. He's a wrestler I'd heard about and maybe seen a match or two of but this last month and a half has really opened my eyes to how much of a generational talent he truly is.
This match starts off hot with both guys fighting for position. No matter what Miyahara or Aoyagi do, they can't seem to outdo one another. They know each other so well. You can tell they've wrestled plenty before because they had counters for each other's early offence.
It looks like things are about to change once Aoyagi manages to get Miyahara to the outside. Aoyagi gets some early offence in until Miyahara's years of experience come into play, shifting the momentum of this match by body-pressing Aoyagi on a guardrail, hurting Aoyagi's neck. Aoyagi's fresh however, so he won't let a sore throat slow him down. He throws a shoot headbutt right after then continues to throw Miyahara into the ring posts. The score is even shortly after however, as Miyahara precedes to do the same to Aoyagi.
After this exchange on the floor, Miyahara is able to get the advantage and rolls Aoyagi back into the ring. It's starting to look like Miyahara is the clear alpha in this match. He's just oozing charisma. What a fucking beast. Aoyagi on the other hand is starting to fold under the pressure, it looks like there isn't light at the end of the tunnel. But when you can't find the light at the end of the tunnel, you have to create it! That's exactly what Aoyagi did. When there's a will then there's a way, that's what Aoyagi showed when he started to fight from underneath Miyahara to try to take the advantage.
Aoyagi is yelling at Kento to strike with him. Miyahara falls for the trap, allowing Aoyagi to take control of the match for the first time, but he once again fails to keep up the pressure. Miyahara is able to cut him off by kicking him off the top buckle, leading to a nasty fall to the outside. This is when I'm starting to notice that maybe these guys are going for the KO, especially when they're trying to kill each other on the aprons by exchanging bombs.
THEN HOLY SHIT KENTO MIYAHARA HITS AOYAGI WITH A HIGH-ANGLE SUPLEX TO THE FLOOR WHEN AOYAGI IS TRYING TO ENTER THE RING!!!!!! BUT BABA ENTERS THE BODY OF AOYAGI IN THE FORM OF FIGHTING SPIRIT BECAUSE HE'S BACK ON HIS FEET AND BREAKS THE COUNT. THEY START THROWING NASTY BOMBS THAT WOULD KILL NORMAL PEOPLE, BUT THESE GUYS ARE HOOPING AT ANOTHER LEVEL RIGHT NOW.
OH MY GOD OH MY GOD OH MY GOD KENTO MIYAHARA JUST HIT A MONSTER POWERBOMB/ V TRIGGER COMBO!!!!! NOT EVEN JESUS CHRIST COULD SCRIPT WHAT MY EYES ARE WATCHING. I'M ON MY FEET IN THE GARAGE PACING BACK AND FORTH WHILE THE SPIRITS OF ALL JAPAN'S LEGENDS START TO FLOW THROUGH ME LIKE THANOS WHEN HE COMPLETED THE INFINITY GAUNTLET.
I'm exhausted. The wrestlers are exhausted trying to get to their feet. This is pro wrestling. This is the thing people search their whole lives for. Passion, love, and fighting spirit. Both men are worn out but their pride is at stake. They begin to throw vicious forearms again at each other. It's beautiful. I might start to cry. Kento Miyahara is the best pro wrestler on God's green Earth. WAIT WAIT WAIT HOLY SHIT AOYAGI AIN'T DOWN YET!!!!!! HE FOUND HIS SECOND WIND!! HE JUST HIT MIYAHARA WITH 3 CONSECUTIVE HIGH-ANGLE GERMAN SUPLEXES. I DON'T KNOW HOW LONG I'VE BEEN ON MY FEET FOR!!! HOLY SHIT!!!
AOYAGI GOT MIYAHARA IN A SLEEPER!!! OH MY GOD OH MY GOD OH MY GOD MIYAHARA MIGHT BE OUT!!!!! NO NO NO, HE'S NOT OUT!! HE'S SURVIVED AOYAGI'S FINAL CHANCES OF HOPE!!!
I'm running out of things to say about this match. I'm speechless. This is everything I could ever want in my pro wrestling. KENTO MIYAHARA WON! HE WON!!!!!! What an awesome match that everyone has to go out of their way to watch. HOLY SHIT YUJI NAGATA IS HERE AND IS CHALLENGING KENTO MIYAHARA!!!!! – **** ¾
NJPW FEB 4 –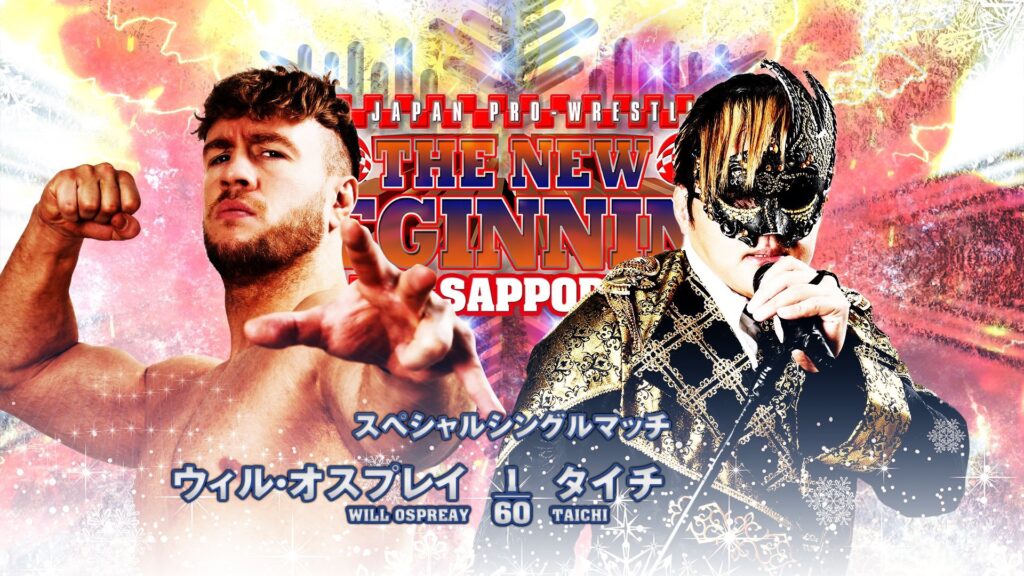 Will Ospreay vs Taichi – **** ½
Wow, this is my first time watching New Japan since the Dome and man, I don't know what happened to Taichi but he has this new swagger that I didn't know he had. And what is there to say about Will, besides him looking more serious and ready to take care of business, which is funny since he looks like a dork at the same time? I will say since his match with Kenny, Will does have this new kind of aura to me. I can't really explain it.
(plus where can I get a cool-looking UE flag like Great O Khan?)
Both competitors look serious. It's the calm before the storm. The bell rings and bombs start to fly. They're trying to take each other's heads off but no one is successful in the opening sequence. They're moving at an insane speed. They have counters for each other's offence. Will is finally able to take control by throwing Taichi to the outside where he continues his control by landing a huge dive.
The outside seems to be where Ospreay is able to establish his early dominance. He's violently starting to pick Taichi apart, showing a side to him I didn't know he had, especially by grinding on his neck with this chin lock. After a while, Taichi starts to fight back, getting to his feet after Will throws him to the corner. The Just Four Guys member cuts off Ospreay by doing a high kick and a corner lariat. He's finally starting to get control, especially when the crowd is getting behind him, so Taichi rips the pants off. It's showtime baby!
He's starting to counter Ospreay's offence. It's clear that he has everything scouted, especially when he starts to block and counter the Oz Cutter. On Will's second attempt to try to use the Oz Cutter, Taichi catches Will and just suplexes him right on his dome. I didn't know Taichi had this kinda music in his back pocket. Game respects game. Now I know for next time. These crazy motherfuckers then start exchanging Kawada kicks. God damn these dudes are hooping.
Taichi just reached deep inside, pulled out his inner dawg and told Will to start Kawada kicking him!!!!! Of course, Will ain't no sucker, he's going to take advantage of this moment. They just turned this into a bomb fest exchange, just nasty forearms, chops, and kicks!!!! No one is showing any quit here.
I THINK TAICHI MIGHT WIN!!! OH MY GOD!!! OH SHIT, WILL JUST CAME BACK AND KILLED HIM WITH A MONSTER HEEL KICK!!! TAICHI MIGHT BE OUT ON HIS FEET!!!
Will finally hits the Oz Cutter but Tachi manages to kick out at 2.9999! Tachi rises to his feet and hits Will with a Dangerous Backdrop!!! WILL CAN'T FEEL HIS ARM!!! I CAN'T BREATHE. Taichi continues by hitting Will with his own version of the Hidden Blade and follows that up with another Dangerous Driver. My gawd. My shirt is off.
Tachi goes for a pin attempt but Will kicks out and uses his momentum to hit the Hidden Blade. Both men make it to their feet and begin throwing nasty forearms, beating the sweat off each other. Just glorious stuff. Will hits a nasty blow to Taichi and it looks like he's out, but somehow he barely makes the count. Will doesn't want Taichi to recover, he doesn't want him to find his second wind. He continues the onslaught and hits him with a Hidden Blade/ Strom Breaker combo before he can even completely stand.
Taichi is done, he has nothing left. What a great match and performance from both men. This is a must-see match and borderline MOTYC. WOW. Will continues to show how great he is in this big match setting and it's crazy that he's still improving. And man what a performance from Taichi. Hope this isn't a one-off. – **** ½
Tetsuya Naito vs Shota Umino (2/4/23) – *** ½
Really disappointed. I don't have many thoughts on this match like all the other matches I watched. Just thought it was boring. Kinda put me to sleep and when I woke up, it was still going.
Dragon Gate Rey De Parejas 2023- Tag 1 FEB 3 –
Rey de Parejas 2023 B block tag match: Naruki Doi & Yamato vs Dragon Dia & Dragon Kid – *** ¾
I don't particularly have much to say about this match either besides that it was one of the best sprints I've seen. Those 12 minutes absolutely flew by. I'm possibly the most casual of the casuals when it comes to my fandom of Dragon Gate, but after this match, I'll keep a closer eye on it and this tournament.
I was also shocked to see Yamato and Doi with different promotions titles but man, they still got don't they? DoiYama, Dragon Kid, and Dragon Dia rocked it. I don't know if this makes sense and if you ask me to explain it I won't, but the first half of this match felt like a modern high spot take on southern tag mixed with Lucha rules.
I will also say that all four men had great chemistry together. There were a tonne of "holy shit" moments, but the one that stood out to me the most was Dragon Kid and Dia getting Doi up on their shoulders for what I assume is their finisher, but as Dragon Kid tried to complete the manoeuvre, Doi turned it into an avalanche powerbomb. That spot alone is worth everyone going out of their way to watch this tag. – *** ¾
And now time to hit the Great US of A.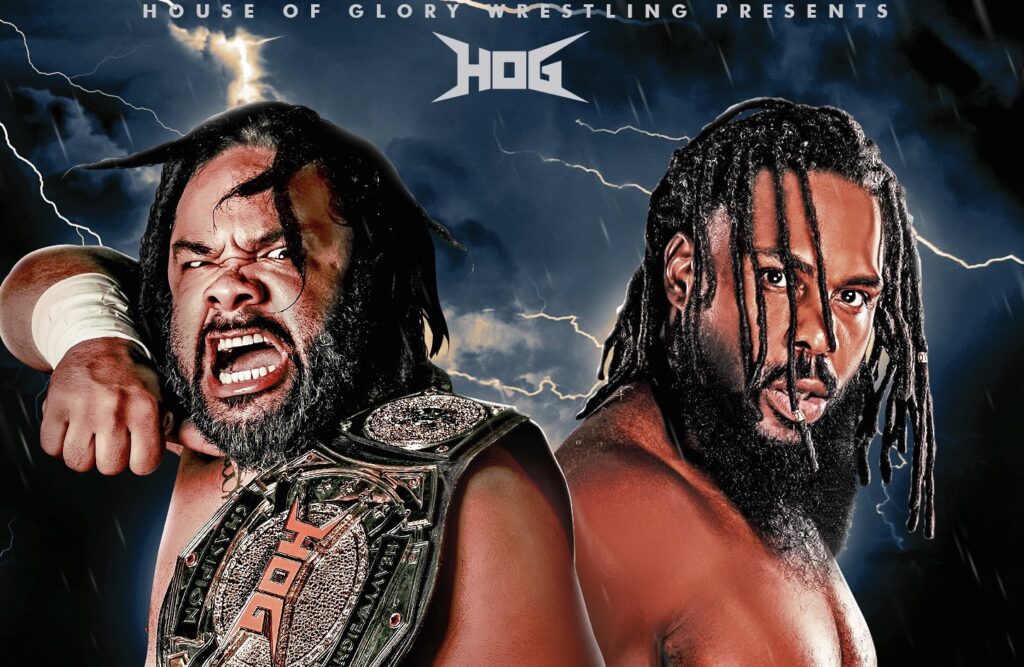 HOUSE OF GLORY FEB 3 –
HOG Heavyweight Title Match: Jacob Fatu vs JTG – *** ½
Y'all wanna talk about sprints, here's another good one. I'm really low on the indies as a whole at the moment but I saw this match and my weird matchup radar went off, so I decided I had to check it out and it blew my expectations away. It was fast and hard-hitting, and I was shocked to see JTG win back this crowd.
They started with a nice tight collar and elbow tie-up. They wouldn't let up even when they went to the floor, they kept that thing locked in. It was kinda beast, not going to lie. It was crazy when Fatu pulled JTG over the top rope in a collar tie-up.
Once the pair got on the floor all Hell broke loose. Fatu hits a nasty Samoa drop on the outside while telling a kid to "shut your bitch ass up", which added another 1000pts to his badass factor. Like how can you hate this dude? He fucking rocks as a pro wrestler and needs to be on TV! I'm not going to lie to y'all and say there was a lot to "break down" because there wasn't. They just kept the story nice and sweet. It was just a firey babyface trying to fight from under. JTG's efforts weren't working until maybe the final 4 minutes when he tried to powerbomb Fatu, only for his shoulder to give out, (a story beat of the match) which was a great sell.
The match ended well, especially in the final sequence when Fatu delivered two heat butts only for JTG to rebound into a lariat. Fatu being the human cheat code that he is, hit two monster super kicks and finished him off with the Arabian press. This is such a fun match that people should seek out. *** 1/2