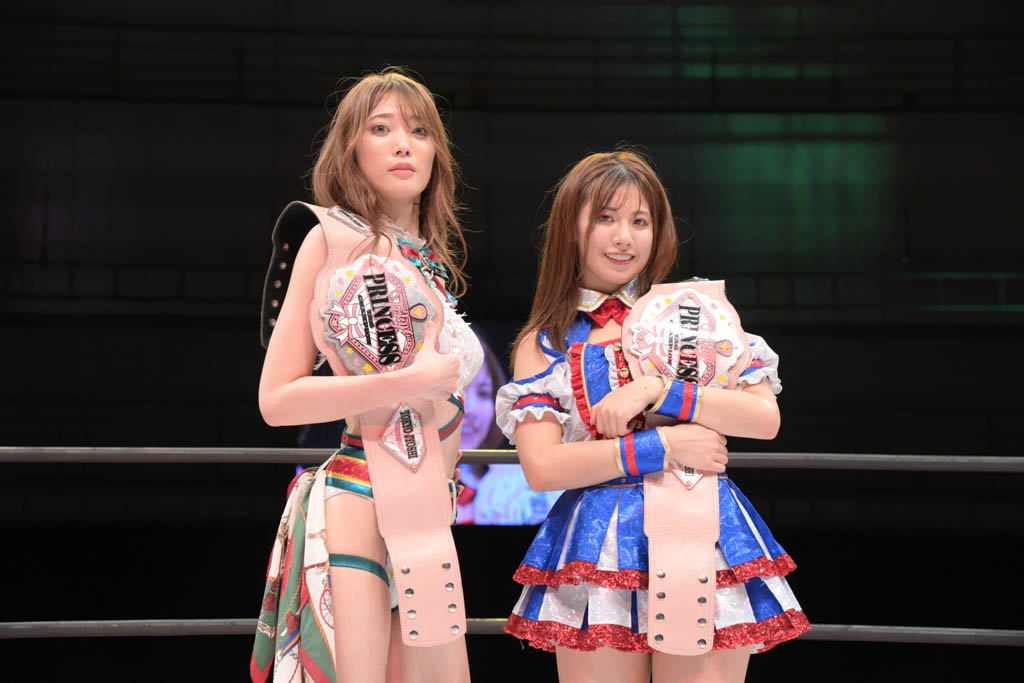 STARDOM:
We are slowly entering the hot phase in this year's 5STAR GP as it gets more and more intense. A lot of wrestlers are still in contention to advance to the finals on October 1st. A lot of top favourites are starting to lose more matches than expected.
The World Of STARDOM Champion Syuri lost her 3rd Match in a row on Saturday against the red-hot Maika, but was able to submit Himeka on Sunday. On the same show, Tam Nakano fell in a shocking way to Saki Kashima's Kishikaisei. Mayu Iwatani lost both of her matches this weekend against the Wonder Of STARDOM Champion Saya Kamitani & Natsupoi. The win over Mayu wasn't the only one for Saya Kamitani since she was able to beat Saya Iida as well which brings her to a 6-1 record near the top of the block. Hazuki who started with a 7-0 record lost her second 5STAR Match in a row against Ami Sourei to slowly lose more and more of her momentum. The gap between her and the rest of the field becomes smaller every weekend. Giulia was able to secure another two points against Mina Shirakawa and is now back in the race to win the Block after a Five Match winning streak. The next weeks going to be really interesting. Nothing is decided yet in the 5STAR GP.

Full Results Of The 5STAR GP Matches:
Day 11 on September 3rd in Takamatsu
Mai Sakurai defeats Himeka
Starlight Kid defeats Ami Sourei
Saki Kashima defeats Tam Nakano
Giulia defeats Mina Shirakawa
Maika defeats Syuri
Saya Kamitani defeats Mayu Iwatani

Day 12 on September 4th in Hiroshima
Momo Kohgo defeats Saki Kashima
Saya Kamitani defeats Saya Iida
Ami Sourei defeats Hazuki
MIRAI defeats Momo Watanabe
Tam Nakano defeats Maika
Natsupoi defeats Mayu Iwatani
Syuri defeats Himeka
Next Week's 5STAR Grand Prix Matches:
Day 13 on September 11th in Yokohama Budokan
Utami Hayashishita vs AZM
Himeka vs SAKI
Unagi Sayaka vs Risa Sera
Saya Kamitani vs Suzu Suzuki
Mayu Iwatani vs Giulia

Additional to the 5STAR GP Matches the Show will also include two Title Matches
Saki Kashima & Momo Watanabe & Starlight Kid (c) vs Hanan & Hazuki & Koguma – Artist Of Stardom Title
Natsupoi & Tam Nakano (c) vs MIRAI & Ami Sourei – Goddesses Of Stardom Title

Official 5STAR Grand Prix Standings following Day 12:

RED STARS BLOCK –
10 – AZM (5-2-0)
10 – Himeka (5-4-0)
10 – Maika (5-3-0)
8 – Utami Hayashishita (4-2-0)
8 – Mai Sakurai (4-4-0)
8 – Koguma (4-4-0)
8 – Syuri (4-4-0)
8 – Tam Nakano (4-2-0)
6 – Risa Sera (3-2-0)
6 – Saki Kashima (3-5-0)
4 – SAKI (2-3-0)
2 – Unagi Sayaka (1-4-0)
2 – Momo Kohgo (1-6-0)

BLUE STARS BLOCK –
14 – Hazuki (7-2-0)
12 – Saya Kamitani (6-1-0)
10 – Giulia (5-2-0)
10 – Ami Sourei (5-3-0)
10 – MIRAI (5-3-0)
8 – Mayu Iwatani (4-3-0)
8 – Natsupoi (4-4-0)
6 – Momo Watanabe (3-5-0)
6 – Starlight Kid (3-3-0)
4 – Mina Shirakawa (2-3-0)
2 – Saya Iida (1-5-0)
0 – Suzu Suzuki (0-3-0)
0 – Hanan (0-8-0) (OUT)

Match Recommendation:
Maika vs Syuri (03/09/2022)
Natsupoi vs Mayu Iwatani (04/09/2022)
Himeka vs Syuri (04/09/2022)
---
TJPW
Tokyo Joshi Pro held their City Circuit show in Nagoya. Since Arai is part of the popular Idol Group "SKE48". Since the group is based in Nagoya they decided to perform a few songs during the Show for the TJPW Fans to celebrate Arai here. Yuki Arai was the total focal point of this show since the Main Event was her & her Reiwa AA Cannon Tag Team Partner Saki Akai defending their Princess Tag Titles for the first time against Toyo University which is the team of Mahiro Kiryu & Yuki Kamifuku in a surprisingly really good match. The crowd was hot and Yuki Arai had her best Match for me in her young career. In the end, the Genius Girl was able to pin Mahiro to retain the Tag Belts with the "Finally".

On Monday it was announced that the next title defense of Arai & Akai will happen at Wrestle Princess 3 against Nightshade & Rhia O'Reilly from the Uprising Faction. They are a faction in EVE together with Syke Smitson and got the title shot after beating Harley Hudson & Rayne Leverkusen at the latest EVE Show. Also, Alex Windsor was able to retain her International Princess Title on the EVE Show against Hikari Noa.
Match Recommendation:
Yuki Arai & Saki Akai (c) vs Yuki Kamifuku & Mahiro Kiryu
---
Performer Of The Week
After an amazing performance in the Tag Title Match on Sunday Yuki Arai is this week's Performer Of The Week. Yuki was really over in front of the pro-SKE48 crowd and did an awesome job as the babyface in this match. She played really well with the crowd and made them ever hotter than they were before. Her getting the winning fall for her team was the cherry on the cake for her. The Genius Girl proved here why she's getting the push to the top of TJPW and it's only a matter of time till her first Princess Of Princess Title Challenge will happen.