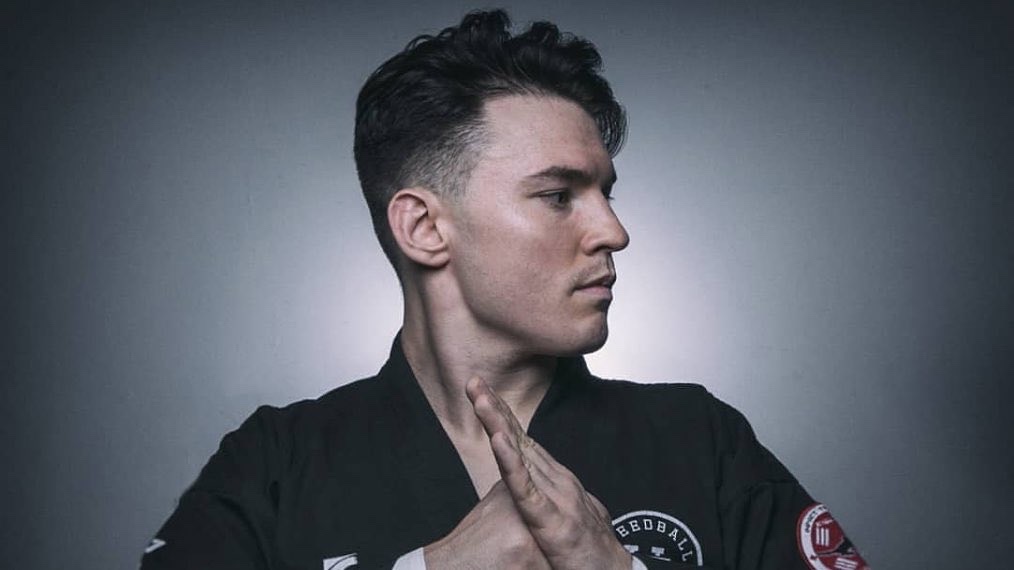 Taking advantage of your surroundings has always been a reliable source of success in the wrestling industry, but even more so in this current climate than in recent years. With established promotions in Japan, Mexico, England, Ireland and more, if you're willing to pack your bags and go across seas you could get some vital recognition.
'Speedball' Mike Bailey is the perfect modern example of how you can ideally execute this travelling tactic. With his recent appearances in GCW and Impact, Bailey's finally beginning to receive the fandom he's deserved for his commitment to the business. It's been a long journey for the Canadian but it's one that shouldn't go unnoticed, let me enlighten you.
Despite Canada being a notable factory of world class professional wrestlers, it's not got the most appealing scene in terms of actual places to wrestle. Due to this, Bailey didn't have the most decorated accolades in his home country. Fortunately for him though, he managed to find his feet in PWG in 2015, as many other rising stars did in that era. Bailey had some really entertaining encounters during that time with the likes of Kenny Omega, Drew Galloway (Drew Mcintyre), and the most well-received of the bunch, his bout with Roderick Strong from 'PWG Mystery Vortex III: Rock And Shock The Nation'.
In November of that year, he'd also make an appearance in the Mexican AAA promotion, competing in a tag team match. This would be just a teaser as to the influence that Bailey would have on the wider wrestling world. The Bailey World Tour would be in full force between the years 2016 – 2021. We'll divide this into sections, detailing his time in the various different countries he competed in throughout the set time frame.
England would be Bailey's second home for many years as he fought in RevPro, WCPW, Riptide & Fight Club: Pro. Whilst in RevPro, he'd face the best the business has to offer in Will Ospreay, Zack Sabre Jr, PAC, and fellow young guns such as Michael Oku. As for WCPW, his stint in the 'Pro Wrestling World Cup' was short but had its moments to make it a worthwhile viewing experience. Add to that a bout with KUSHIDA that also took place in WCPW, and a fierce war with the 'Ring General' himself WALTER in Riptide, it's no surprise as to why Bailey has such a prominent and dedicated fanbase in England.
Countless wrestlers have had dreams of travelling to Japan for wrestling purposes, and if you're familiar with the rich history and plethora of talent the country obtains, you can probably understand why. Bailey himself ticked this achievement off his list after making various appearances in DDT Pro Wrestling, which is famous for giving both Kenny Omega and Kota Ibushi the spotlight they needed to reach the next step in their prestigious careers. Although he didn't have the same quantity of bouts in Japan that he did in England, he still produced some interesting battles.
In late 2018 he faced the current AEW TNT Champion Sammy Guevara and another man that has previously stepped foot inside an AEW ring, Konosuke Takeshita, who is now currently the world champion of the DDT promotion. Bailey also formed a very enjoyable team with MAO, whom we can only hope have a reunion in the future! It's also worth noting the encounters Bailey had in Germany and Ireland, for both wXw and OTT respectively. It's important to take into consideration that these two countries aren't necessarily huge wrestling consumers, so for Bailey to make a name for himself in both of these locations is quite the remarkable feat.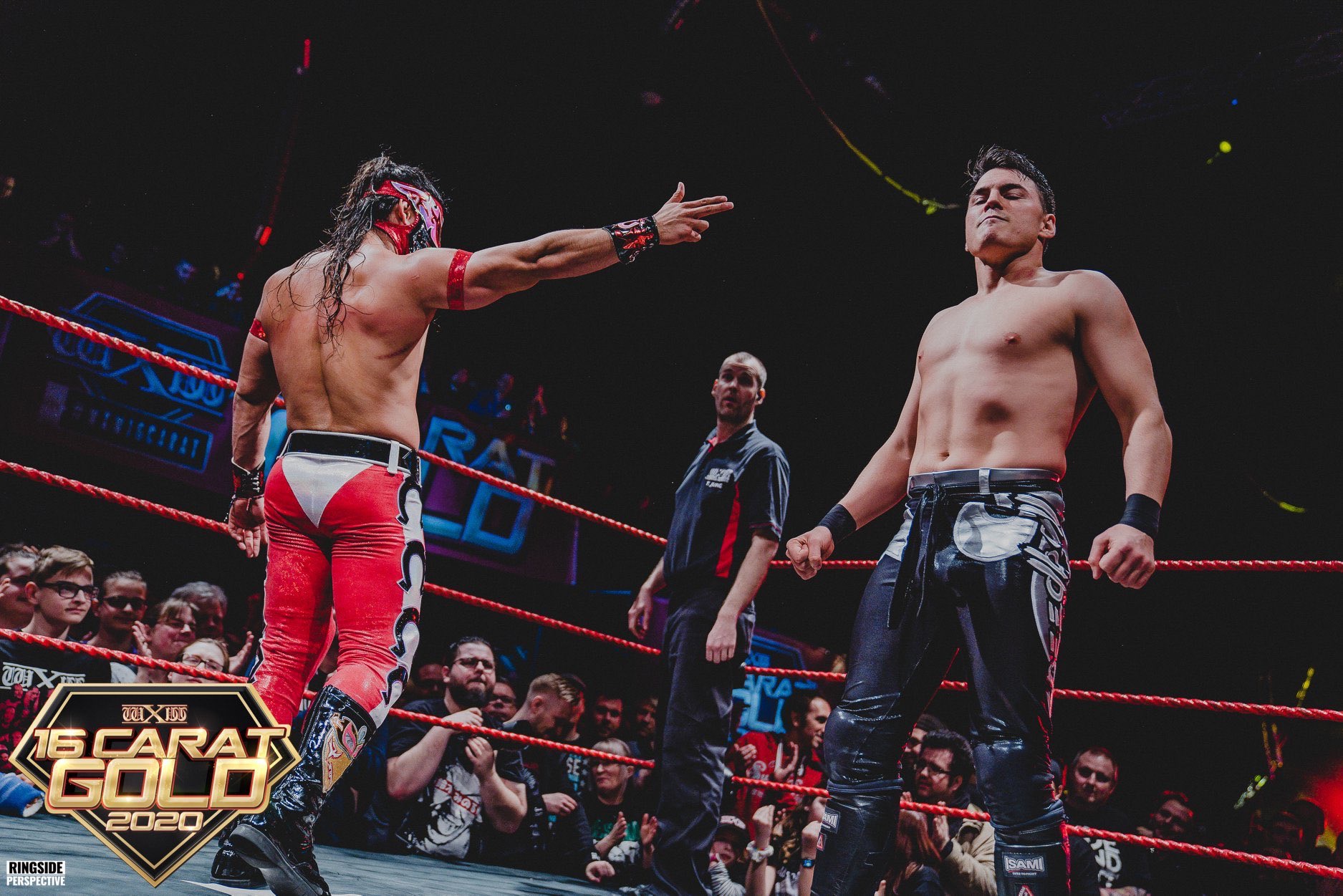 And with that we reach this current point in the wrestling timeline, and Bailey is at the peak of his powers in America, dominating the Indy scene and building himself up in Impact. There's no slowing down for him either, as he's scheduled to be extremely busy this week for Wrestlemania week.
It's the year of 'Speedball' ladies and gentlemen, so strap in and join us for the ride, as we bask in the brilliance of Mike Bailey.
Speedball's Wrestlemania Week:
As per tradition with WrestleMania week, we are presented with a thrilling selection of match-ups and shows throughout the duration of the week. It's a hectic time for Indy performers particularly with this being the hottest period of the wrestling year for promoters in the States, and few names have received more bookings than Bailey himself. It's not shocking that he's this sought after considering he's been arguably the most prominent worker on the US Indy scene Today, but the quantity of upcoming bouts he's involved in is absolutely preposterous. I'll give you a rundown of the matches, but don't say I didn't warn you…
Mike Bailey vs Yuya Uemura (Josh Barnett's Bloodsport 8) (March 31st)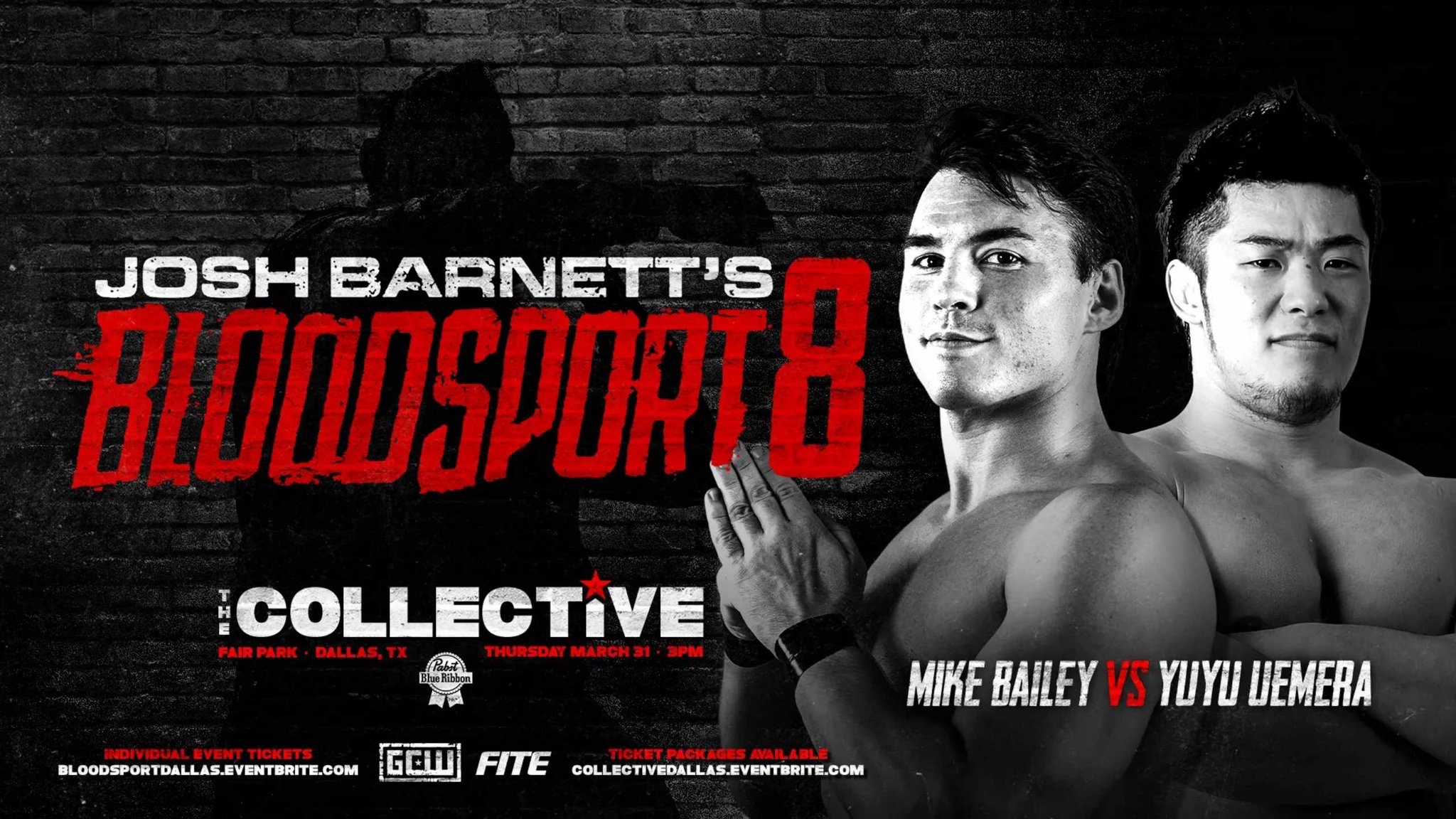 Bloodsport has built a reputation of being a barbaric event and this year appears to be no different. This may not be your standard Bloodsport war, but it'll be really exciting to witness Bailey take on a future star of NJPW in Yuya Uemura.
Mike Bailey vs Bandido (Mark Hitchcock Memorial Super Show) (March 31st):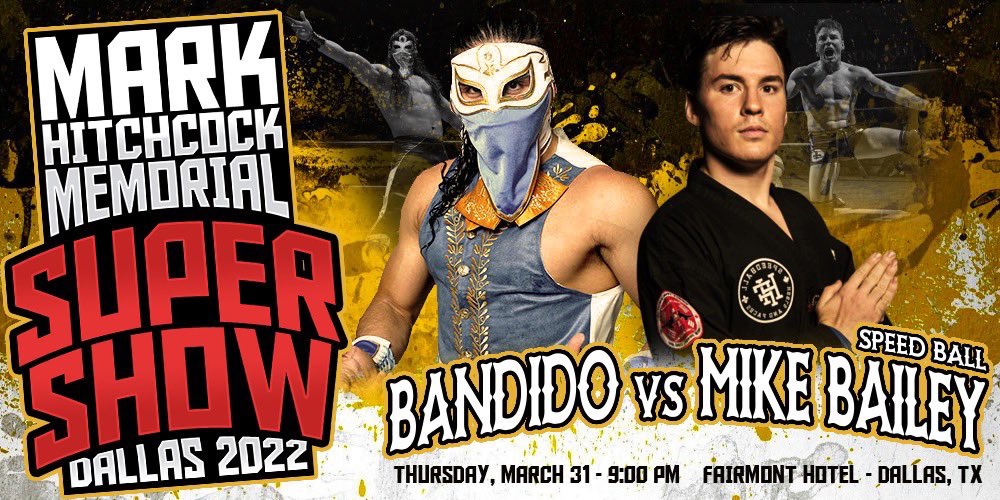 You may have noticed the image earlier in this piece that displayed both of these men inside a wXw ring, they've had battles all over the world and the chemistry is always off the charts. There's a $5000 match of the night bonus for this show, and if I was a betting man I'd be putting my money on this one earning that achievement (and that's saying something considering how freakishly stacked this show is !).
Mike Bailey vs Effy (Zicky Dice's Outlandish Paradise) (April 1st)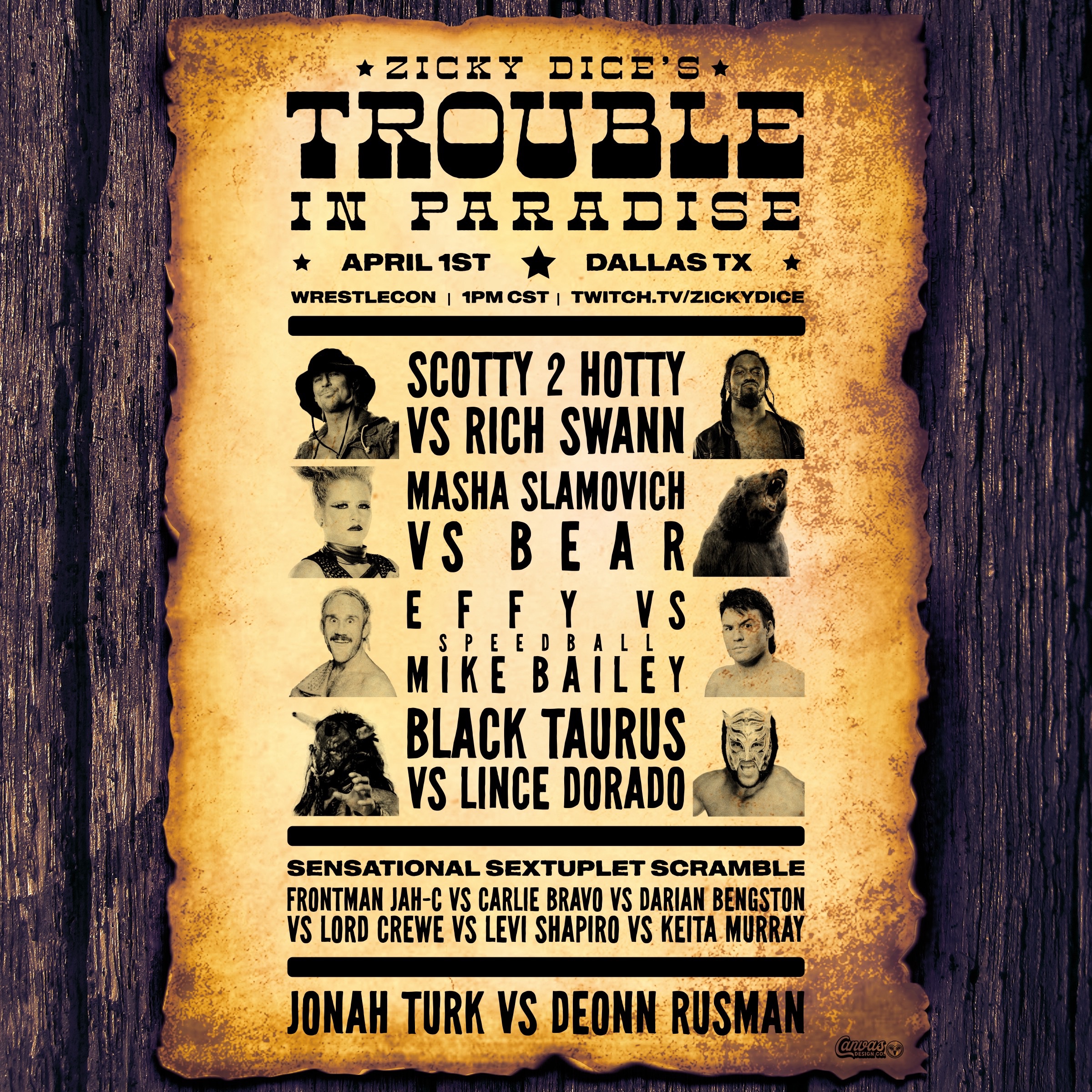 One of the downsides to WrestleMania week is that with the various amount of events available, it can be very costly. You won't have that issue here however as you can sit back and enjoy this show for free on Twitch!
Mike Bailey vs Jay White (NJPW STRONG LoneStar Shootout) (April 1st)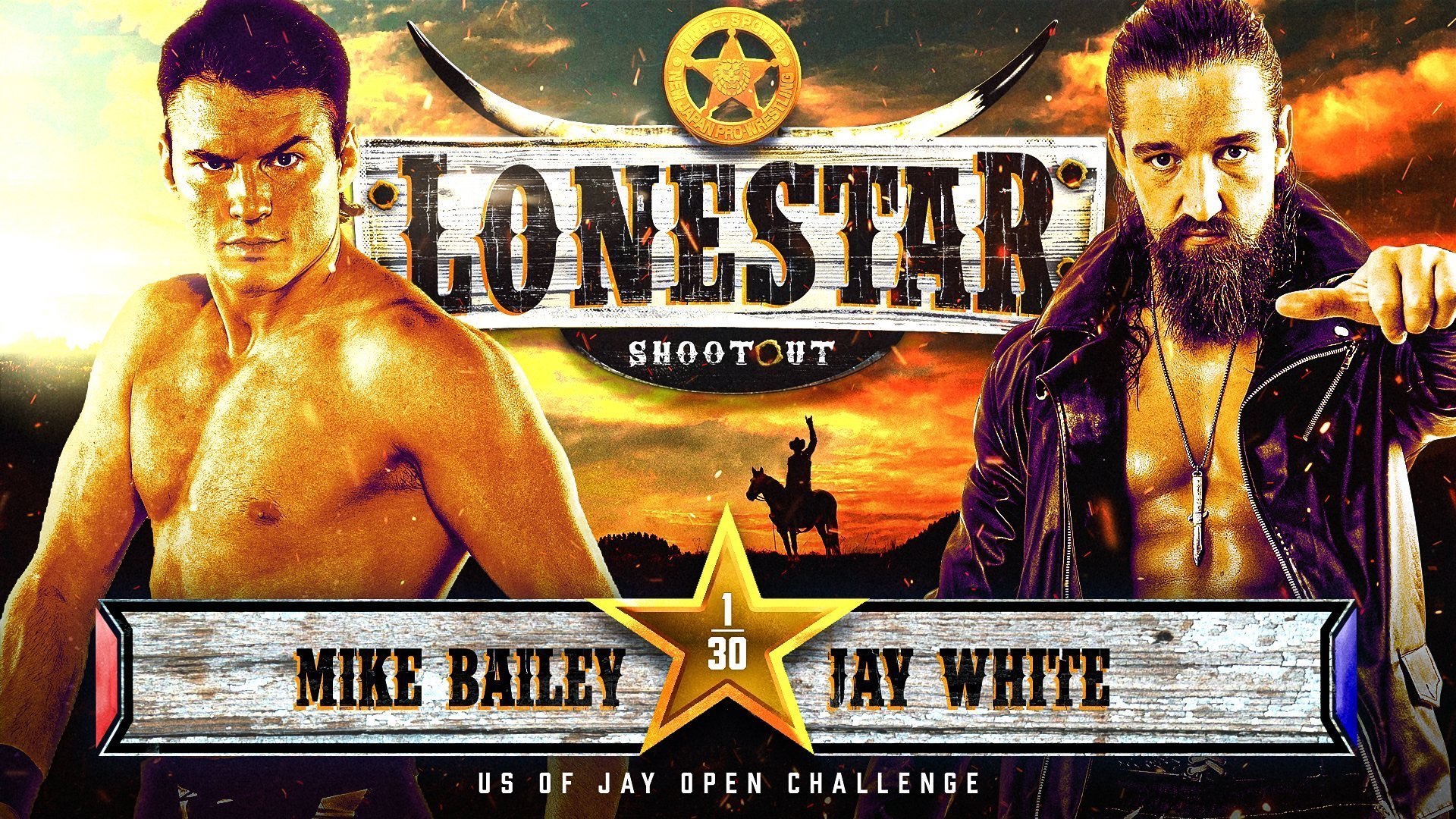 Oh boy this is going to be marvellous, it could very easily end up being the most stupendous match of the week. The US of Jay Open Challenge has produced some fantastic fights, most recently Jay White vs Swerve Strickland, but this could turn out to be the best one yet.
Mike Bailey vs Alex Shelley (Impact Multiverse Of Matches) (April 1st)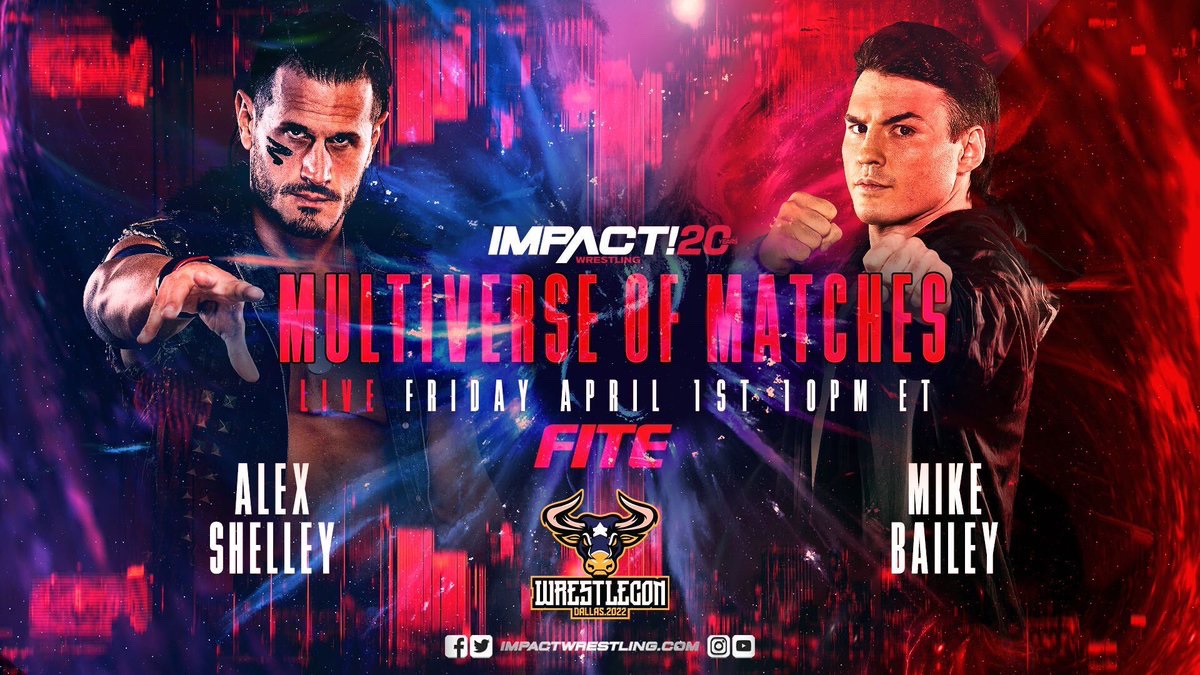 Although Bailey was originally scheduled to compete in an Ultimate X match on the same show, plans changed which led us to this dream match. In his brief return to Impact, Shelley has not missed thus far and you'd imagine he'll deliver yet again here.
Mike Bailey vs PCO (GCW Joey Janela's Spring Break 6 Part 2 – The Greatest Clusterfuck) (April 2nd)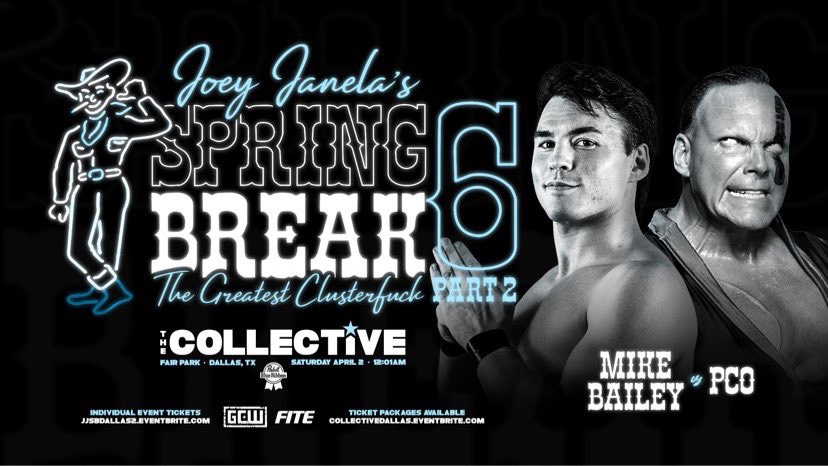 Not quite sure what to expect here, but there's bound to be some fun mayhem with PCO involved.
Mike Bailey vs Davey Richards (WrestleCon USA vs The World) (April 2nd)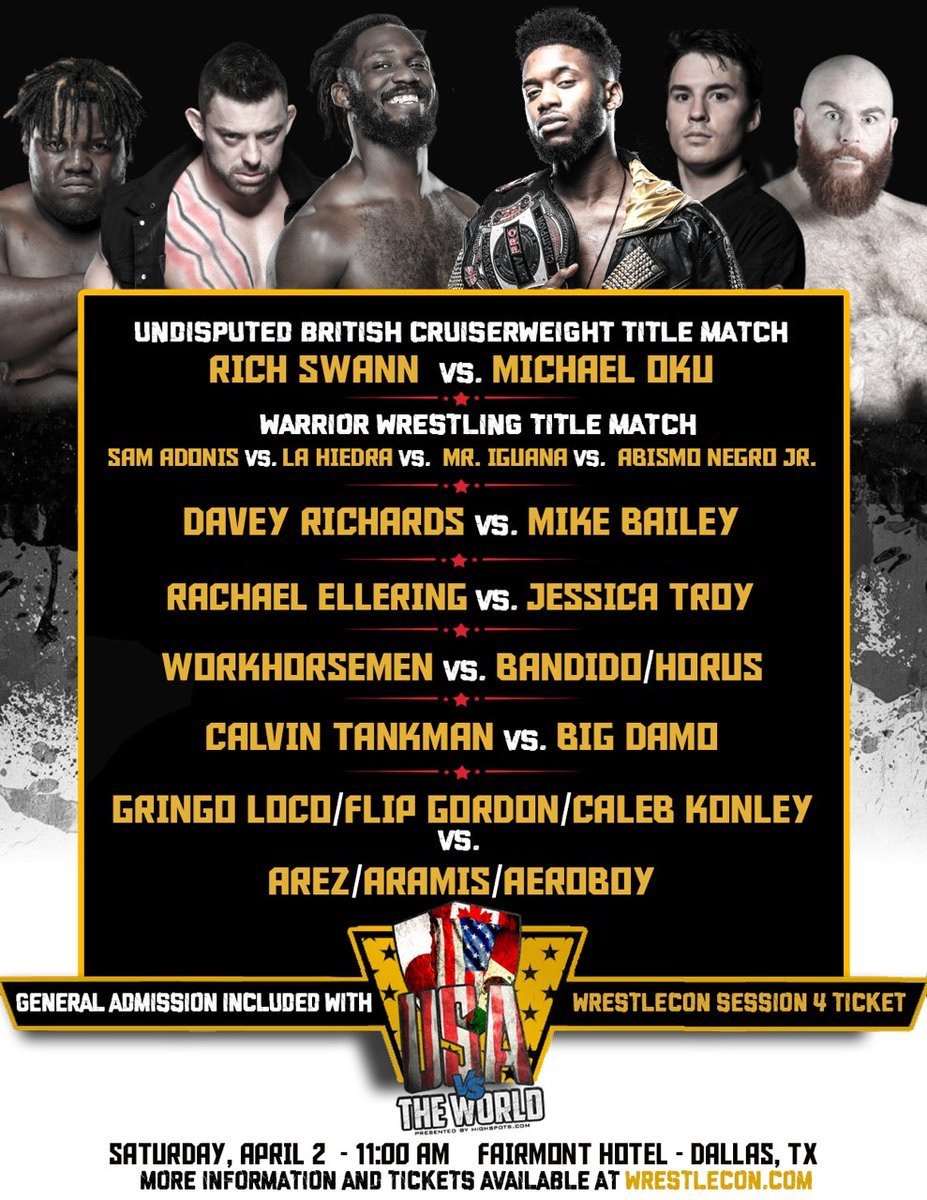 A veteran of the American Indies taking on a newcomer. There could be a good story told here, and undoubtably a great match too
Mike Bailey vs Cole Radrick (UP Mulligan) (April 2nd)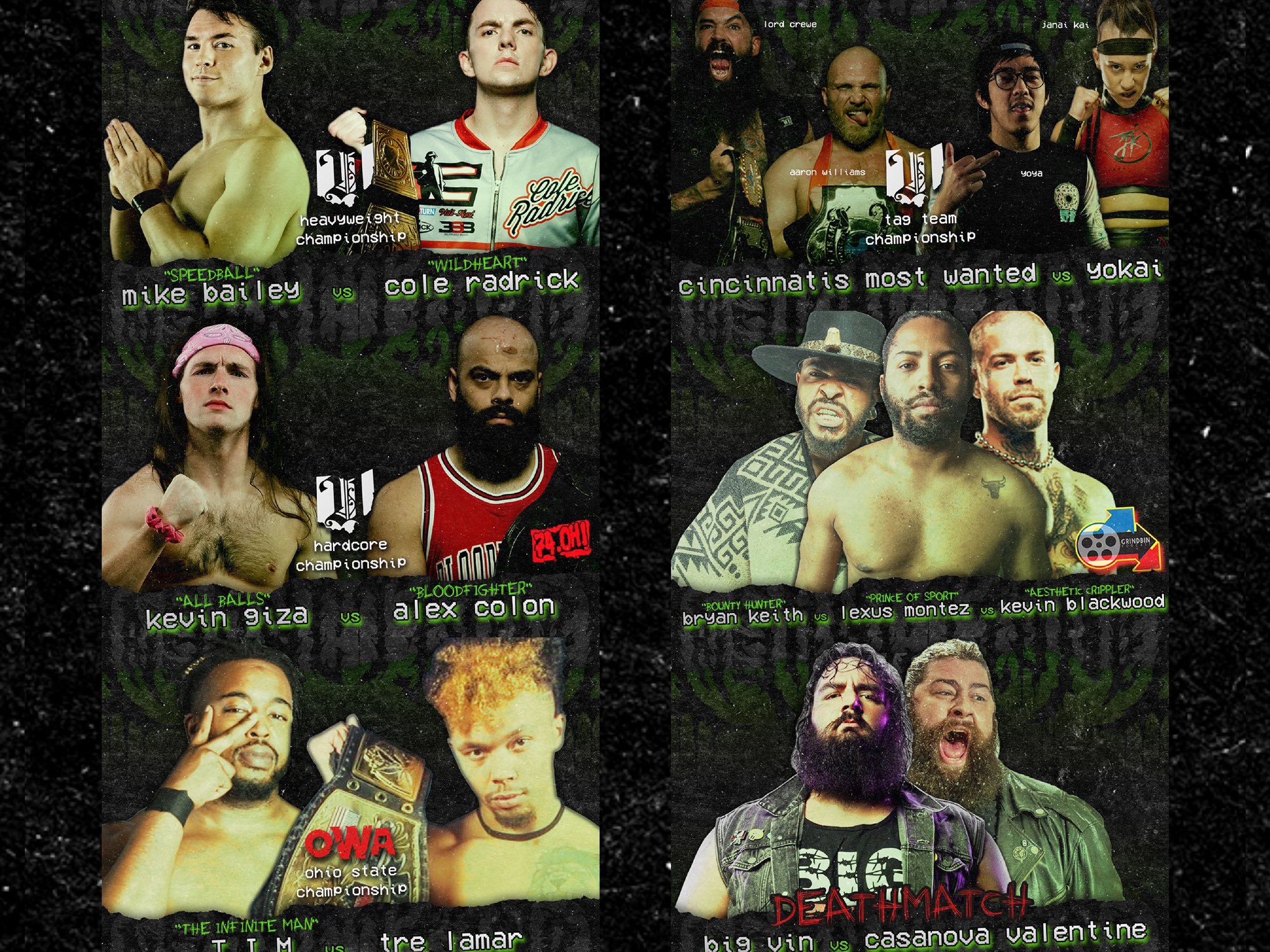 Bailey ends this chaotic week with a chance at gold as he aims to defeat Cole Radrick for the Unsanctioned Pro Heavyweight Title.
What a schedule that is. Bailey is so determined and motivated to show his class to the world and you've got to respect the dedication the man possesses. If you were unaware of Mike Bailey and his work before reading this and are interested in seeing what all the hype is about, try to tune into at least one of his bouts this week, you won't regret your decision. I'll leave a timetable below that Bailey himself created which contains all of the shows he'll be appearing on with a time slot