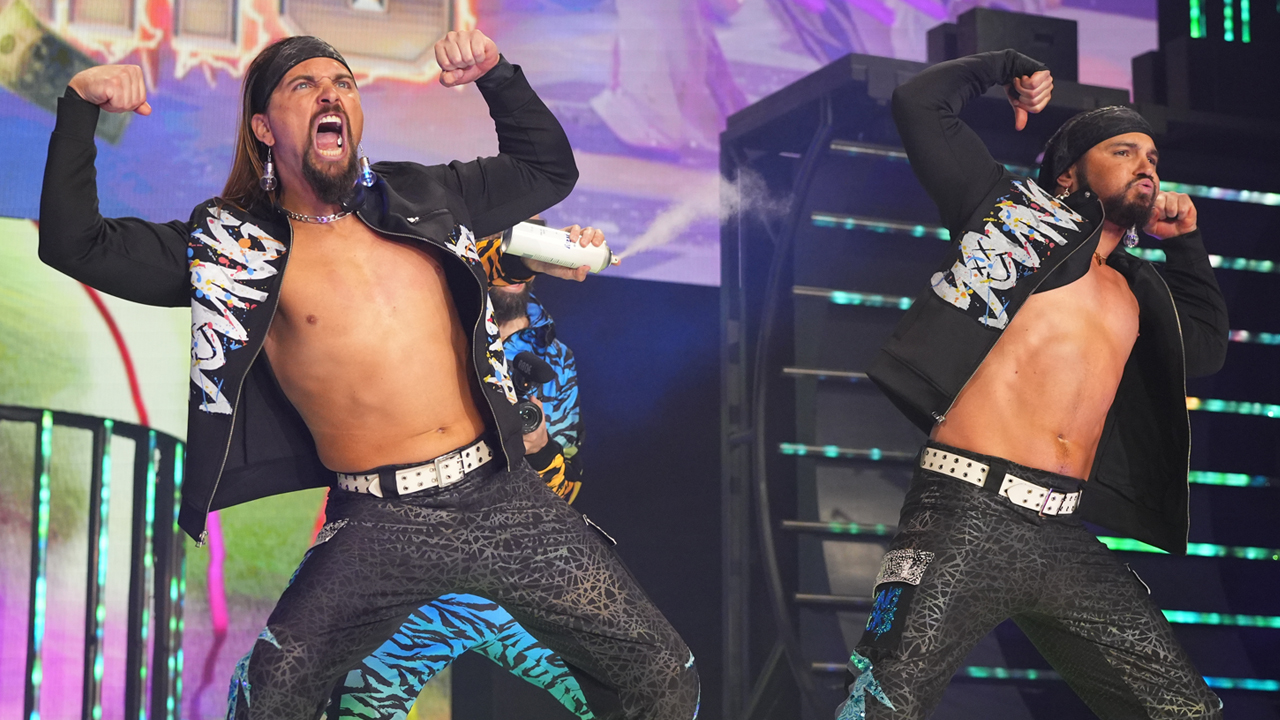 After weeks of teases, The Elite (Kenny Omega & The Young Bucks) made their return to AEW at this Saturday's Full Gear PPV, losing to Death Triangle in what would retrospectively be announced as the first match of seven to in a series for the AEW Trios Championships. The trio had been serving their suspension, along with CM Punk, Ace Steel, Michael Nakazawa, Pat Buck, Christopher Daniels, and Brandon Cutler, for their reported involvement in the Brawl Out incident in September.
As a result of their suspension, The Being The Elite YouTube series went on a temporary hiatus, although now that the AEW EVPs have made their return, the show has also made a comeback, as episode #323 premiered earlier today.
During the episode Matt and Nick Jackson spoke about how they feel about making their returns to the company, with Nick revealing his fears about not being at the level he was at previously, whilst Matt discussed how difficult the time away from AEW was for both of them.
Matt: It's the end of the loop. We're finally back home here in Ontario, California.

Nick: We're officially back.

Matt: We're officially back. We, however, have been technically back backstage a few weeks but now, we've been on-screen, we've wrestled, we've done it, we're back, now Being The Elite is back.

Nick: It didn't feel like we were officially back though until [Full Gear]. We were around for four weeks but it didn't feel like — there was something missing I think and I think that something missing was us performing live so, we did that, we scratched that itch and we're back. I was just gonna say I've had anxiety thinking of it. Been anxious, didn't know if I could still perform at a high level.

Matt: I was actually waking up in cold sweats. I haven't been sleeping. People, they don't really understand because we haven't been able to really talk about it but this has been two of the hardest months of my life. I know you too. My family and here we are, we got through it. You just never know what's gonna happen until you do it and just to hear the support and just to hear how happy and to see how happy a lot of people were to see us, that really meant the world to us and Kenny [Omega] and it felt good and we're going through the healing process right now but, I think last night was a big step for us to get there and I feel good and we got to come out to a song we grew up listening to with our dad.

Nick: Badass song too.

Matt: A song that we almost didn't get. A song that we used to come out [to] in the backyard. But yeah, a song that we literally didn't get until the 11th hour. That was stressful. Getting that the night before we finally knew so it was just collectively a really crazy, crazy time and now I see the end, almost a sigh of relief at this point.

-The Young Bucks
The Elite and Death Triangle are set to clash yet again in the second match of their best of seven series on this Wednesday's edition of AEW Dynamite in Chicago, Illinois.
The trio have undoubtably been missed on television during their absence, and we're certainly looking forward to seeing the remainder of the bouts between the two sides who've displayed their chemistry with eachother on a number of occasions.
H/T to POST Wrestling for the transcription.