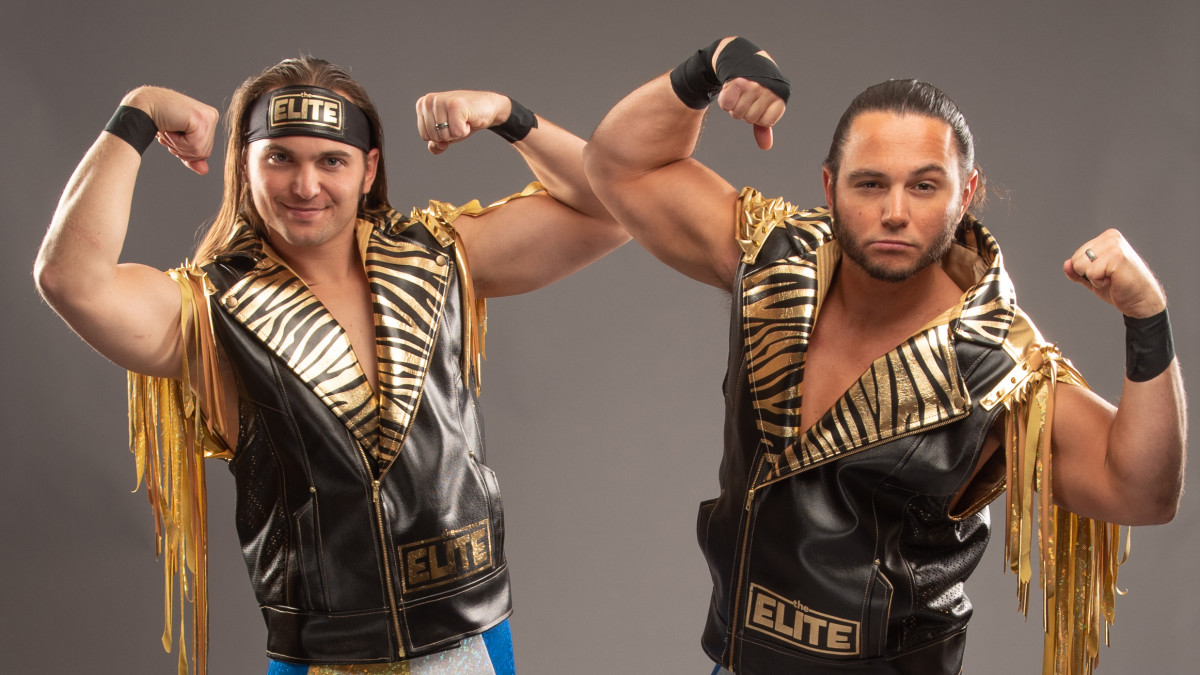 Tonight's episode of AEW Dynamite will feature the final match in The Elite & Death Triangle's best-of-seven series for the AEW World Trios Championships in an Escalera de la Muerte match, a match that will decide the series as both teams currently find themselves on three points each.
Speaking to Sports Illustrated, Nick Jackson of the Young Bucks highlighted the importance of this week's venue, the famous Kia Forum in Inglewood, California, particularly with the pair being from California themselves.
"Game Seven at The Forum, it doesn't get much bigger. Historically, there have been many Game 7s played here, so it's fun that we get to add to that history. I watched so many Lakers games there when I was a kid, so it's a little surreal every time we get to go there and roam the halls where all the greats used to walk."

-Nick Jackson
At first, many fans questioned the decision to pit The Young Bucks and Kenny Omega against the Lucha Bros and PAC in seven straight matches, believing that eventually they would become repetitive, however, the two teams have successfully managed to give each encounter their own feel, aided by the addition of stipulations in the final few matches.
As Nick Jackson explained, there was initially some trepidation around the idea, although ultimately the decision was made that the pros far outweighed the cons.
"At first, we kind of hesitated. That changed when we talked. We might not ever get this opportunity again to wrestle three of the best wrestlers in the world, and this will be the seventh time on TV. I guess we were all a little worried that fans might think it's repetitive, but that was the challenge, and it excited us to make every match a little bit different from one another."

-Nick Jackson
Whilst some fans may have initially doubted the concept due to the potentially repetitive nature, many also acknowledged the level of chemistry the Young Bucks have with the Lucha Bros, and thus the potential for the two teams to produce magic was never in doubt.
Realising the challenge that was ahead of the two teams, Matt Jackson revealed that the Bucks relished the opportunity, and have been set on ensuring that each match improved upon the last.
"Wrestling the Lucha Bros. just feels like home. When I started training to become a professional wrestler, I was first taught the style of lucha libre in the beginning, so bracing for intricate arm-drags, head scissors, fast-paced sequences is second nature. We've been consistently wrestling them for years now, and have trust in each other. I feel safe when I work with them—like I can do anything. No idea is too crazy. Nothing is impossible or too ambitious. With them, I can do anything and the impossible is possible. They're our current greatest opponents. So our goal quickly became: How can we top every match from before? How can we tell different stories every time? Can we keep fans' interest? Every wrestling fan assumes it'll go seven matches, so how do we keep the suspense? At this point in our career, the most fun part of wrestling is a good challenge. And I think we've all collectively done a fine job at answering the challenge that came with this."

-Matt Jackson
Touching once again on the chemistry between the two teams, Nick Jackson attributed said chemistry to two sets of brothers devoted to mastering their craft, and also claimed that the Lucha Bros are undoubtedly their greatest rivals.
"It definitely has something to do with being siblings. They're our greatest rivals of our career and my personal favorites. It's funny, we always compare each other and say Penta and Matt are the ones who love psychology, and Fénix and I love the crazy moves. They have a very similar story to us, and I think the chemistry comes from a lot of those things."

-Nick Jackson
Kenny Omega has long been affiliated with the Young Bucks, with the trio teaming as The Elite across NJPW, ROH, and AEW over the years. Explaining the story of how the pair initially met Omega, Matt Jackson explained that their common interests and situations as foreigners looking to make names for themselves drew them to eachother.
"Our goal was never to become millionaire wrestling stars on television. That didn't seem practical. We simply just wanted to make a living doing what we loved and being the best at it. At that time, it was rare to do that. I remember flipping the pages of the wrestling magazine that I bought at Lawson Station and seeing a curly haired Canadian kid using a vending machine in a Falls Count Anywhere Match. I'd heard of Kenny Omega and researched that this was also his first time touring Japan. When we finally met him stateside, we had the connection of talking about being foreigners in Japan and trying to make it. He was quirky, had a great sense of humor just like us, and shared the common goal of wanting to make a living showing the world what he felt wrestling could be: fun."

-Matt Jackson
Delving further into the trio's history, Nick revealed that their friendship truly began the night Matt tied the knot in November of that year.
"I left Matt's wedding early to make a PWG show, and that was the day I met Kenny. Kenny asked me where my brother Matt was, and I said, 'He just got married, and I left early to wrestle,' and we both laughed, and we bonded in that ridiculous moment. We'd also shared stories back and forth about Japan, where we had both just debuted. So we already had a lot in common. Once we were all in ROH, we naturally gravitated toward each other and we'd travel together. The bond only got stronger from there."

-Nick Jackson
The Bucks have been no strangers to controversy throughout their career, the most recent of these controversies coming shortly after the 2022 AEW All Out post-show press conference, as CM Punk and Ace Steel reportedly engaged in a backstage brawl with The Elite.
As a result of this, Steel was let go by the company, whilst Punk and AEW founders and EVPs The Elite were suspended whilst an investigation into the incident was conducted. Since the incident which has since jokingly been referred to as the 'Brawl Out' controversy, a number of rumours and stories have manifested across wrestling media, with Nick Jackson highlighting the duo's frustrations with being unable to share their side of the story due to investigation.
"We've always had controversy surround us, so it's nothing new, but it does get frustrating when you publicly can't defend yourself with things you see online that just aren't true. I guess it just comes with the territory. All I care about is being a good person, and I know who I am. I know deep down inside the type of person I am, and if the internet wants to think differently because of all these narratives that tell you otherwise, then so be it."

-Nick Jackson
The Elite officially made their return from suspension at the Full Gear PPV on November 19th, with the trio having been out of action for over two months. Discussing his time away from the company, Matt Jackson revealed that he leaned on both his intelligence and experience during this time.
"I remembered a time when it would be so frustrating to me, wanting to clear the air and win over the people who criticized our work, or even worse: those who attacked us personally. I think I finally came to the conclusion, after years of 'Young Bucks' being a dirty word in this business, and being dragged through the mud over false narratives, rumors and speculation, that we were simply cast as a certain role in this movie. These are our roles. There is no changing that, and it's a fool's errand to try to change it, because it'll drive you mad and destroy your mental health if you worry about it too much. Personally, you just have to keep on going and only concern yourself with the ones who truly matter in your life. I now only value the opinion of the people who know me best. Professionally, how do I fight off a career full of never-ending criticism? With great content."

-Matt Jackson
On January 4th, Kenny Omega made his return to New Japan Pro Wrestling as he defeated Will Ospreay to capture the IWGP United States Championship in the co-main event of Wrestle Kingdom 17. The match received rave reviews for its hard-hitting physicality and emotional storytelling.
The Young Bucks were notably absent from Omega's side during his recent trip to Japan, however, this wasn't for a lack of trying pm NJPW's end, as Nick Jackson revealed that the pair were asked to compete and be in Kenny's corner on the show, although ultimately vacation plans got on the way.
"We were actually asked to wrestle and be in Kenny's corner. But Matt and I had vacation plans that week. Maybe next year. Who knows?"

-Nick Jackson
"We got a fantastic offer," added Matt. "Personally the timing and the situation didn't fit for us. I'm sure one day you'll see us back in a NJPW ring."
Nick then hailed the match between Omega and Ospreay as an "absolute classic", and you'd be hard-pressed to find many fans that disagree.
The following night at NJPW's New Year's Dash show, Kenny Omega shockingly teamed with long-time rival Kazuchika Okada to defeat the United Empire's Jeff Cobb and Aaron Henare. When asked about a potential showdown between the all-star team and themselves, Matt Jackson told them to "bring it,", whilst Nick labelled it a dream match of his.
"Seeing Okada and Kenny in the ring together gave the wrestling world goosebumps. That tag match would be a dream match, and I'd be down for it."

-Nick Jackson
With the interview nearing its close, the pair circled back to their upcoming Escalera de la Muerte match for the AEW World Trios Championship on tonight's Dynamite. Emphasising the importance that this program has to them, Nick stated that these are the moments he's dreamed about since he was young.
"This is probably my favourite program I've ever done, and we're ending it in L.A. at the Forum with a packed house, with 30 family members in attendance. It really shows me that this is what I dreamed about as a kid. Moments like this."

-Nick Jackson
Many fans were excited at the announcement of tonight's decider's stipulation, as the two sets of brothers previously competed in an Escalera de la Muerte match back in 2019 that was widely praised by fans of both teams.
Touching upon the stipulation, Matt noted that the two teams will need to pull off something truly special to top their last outing, although they're certainly not ones to back down from a challenge.
"The first Escalera de la Muerte against the Lucha Bros. at All Out in 2019 is a very special match to me personally, so it's going to take a lot to either top it—or at least come close. This time around, we've got PAC and Kenny involved too, so you can only imagine the quality jumping up. We're in Los Angeles, and we're going for broke."

-Matt Jackson
The Elite's return to AEW thus far has undoubtedly been an exciting ride, and it'll be interesting to see where the trio go from here regardless of tonight's result.
Tonight's episode of Dynamite will also feature former AEW World Champions Jon Moxley and Adam Page facing off, a big-time bout between Konosuke Takeshita and Bryan Danielson, and a tag-team match pitting Jamie Hayter & Britt Baker against Saraya and Toni Storm, in a match that has long been rumoured to feature the debut of Mercedes Moné.